Asia
Asia dating guide advises how to pick up Asian girls and how to hookup with local women in Asia. Travel, enjoy and have fun with hot single girls and you might even meet the love of your life. Read more on how to date Asian women, where to find sex and how to get laid in Asia.
Asia is the world's largest continent by land area and population, home to 4.4 billion people; more than half of the world's population.
Asia Top 10 Overview:

Chance of picking up girls: 1.25-4.5 / 5

Picking up at daytime: 1.25-4.25 / 5

Picking up at nighttime: 1.25-4.75 / 5

Looks of girls: 2.5-5 / 5

Attitude of girls: 1-5 / 5

Nightlife in general: 1-5 / 5

Locals' English level: 1-4 / 5

Transportation: 2-5 / 5

Budget per day: US$10 - $200

Accommodation: US$3 - $150
Asian Girls
Asia is a huge continent. Therefore it's impossible to describe Asian girls in general. You can find white girls in Russia and Central Asia. Little bit darker girls can be found in the areas of Middle East and Persia. In South Asia you can find also different kind of girls with big eyes and brown skin, for example from India and Sri Lanka. If we are discussing about "Asian looking" girls globally, people usually imagine the stereotype of girls from East and South East Asian looks, such as China, Japan and Thailand.
| | |
| --- | --- |
| | Looks of girls: 2.5-5 / 5 |
| | |
As in anywhere in the world, you will find absolute stunners from each origin, but also not that attractive girls. Some of the best rated girls by their looks in Asia comes from Russia, Iran, Japan, Korea, Thailand, Cambodia, Vietnam, Philippines and Indonesia, just mention a few countries.
| | |
| --- | --- |
| | Attitude of girls: 1-5 / 5 |
| | |
The attitude of the girls in Asia is usually very good. Most of the girls, especially in South East Asia are really welcoming, and the best part is that they love foreign guys. The attitude has been rated here from 1 to 5. This is because in some religious and conservative countries it's almost impossible to even talk or flirt to the local girls. These kind of countries include some parts of Middle East. On the other hand, in some countries in Asia it's super easy to flirt with girls, for example in Thailand.
How to Pick Up Girls
Describing the pick up scene in whole Asia is impossible. Some of the countries vary a lot from each other.
| | |
| --- | --- |
| | Chance of picking up: 1.25-4.5 / 5 |
| | |
The above given rat from 1.25 to 4.5 tells us that picking up girls is possible everywhere in Asia. Unfortunately in some countries that's just extremely difficult. Have you ever heard about a tourist hooking up with a native local girl in Saudi Arabia, UAE, Qatar or Brunei? - That's very rare.
Tips for Daytime
You need to understand the culture of the country where you are visiting. In some countries it's just normal to go and chat with girls even on the street at day time. In some countries you can't even find a girls walking alone on the street. For example in Dhaka (Bangladesh) it's almost impossible to see any women walking alone the streets of the city.
| | |
| --- | --- |
| | Chance of picking up at daytime: 1.25-4.25 / 5 |
| | |
The best countries for daytime games are located in South East Asia. Thailand and Philippines are probably the best countries for day gaming.
Best Places to Meet Girls
Here are the best places for daytime gaming in general in Asia.
Tips for Nighttime
Hooking up with girls at night is easier than day time. This is because the girls who will go out and party are more open-minded than those girls who are just staying at home. Also alcohol is an important element of picking up girls at night. When the girls have got a couple of drinks, they are more relaxed and approachable.
| | |
| --- | --- |
| | Chance of hooking up at nighttime: 1.25-4.75 / 5 |
| | |
Hooking up at night is pretty easy in many countries in Asia, such as Thailand or Philippines. On the other hand, there are also countries which don't have any nightlife action. There are also Islamic countries which don't tolerate alcohol, except in the touristic hotels. A good example of this is Dubai and Abu Dhabi in United Arab Emirates. In this country if you're a westerner, you can drink alcohol in the hotel nightclubs, but you won't find native local girls doing the same. Therefore your only option is to hookup with foreign girls.
Best Places to Meet Girls
Best places to meet girls at night are obviously the venues which serve alcohol and has girls in a party mood.
Afterhour nightclubs (till early in the morning)
The streets in the nightlife area. A good example of this is Sukhumvit Road or Khaosan Road in Bangkok.
Afterhour fast food joints
Special events (for example Songkran water fights in Thailand)
| | |
| --- | --- |
| | Nightlife in general: 1-5 / 5 |
| | |
Nightlife in general is rated from 1 to 5. Some countries don't have any nightlife action for tourists, and some countries are one of the best party places in the world. For example in Bangkok you can party 365 nights a year!
Mature Ladies and Cougars
Hooking up with mature ladies is little bit different than in Western countries. You will find many cougars in Asia who are willing to have fun with younger dudes, but they rarely are showing it in public. Therefore your best bet is to use online dating apps, such as Tinder or Badoo. You can set the age limit in Tinder as you like and start searching for a perfect match.
Countries and territories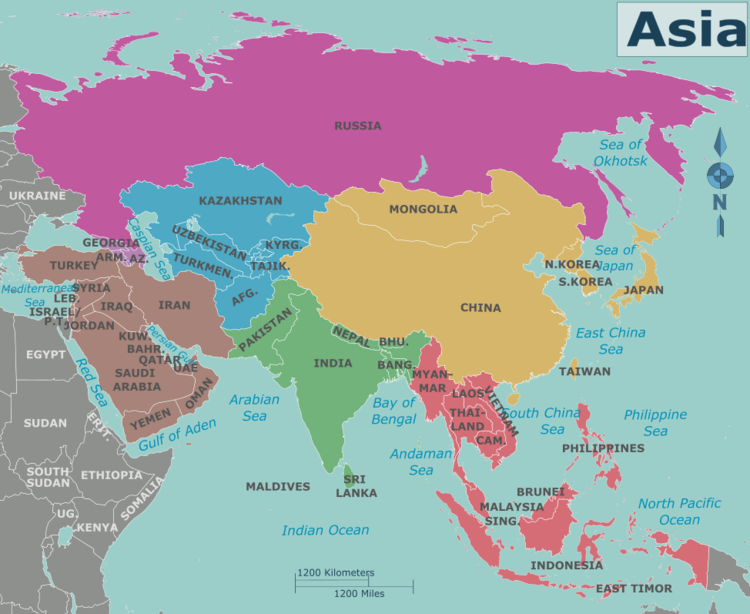 | | |
| --- | --- |
| | Middle East (Bahrain, Iran, Iraq, Israel, Jordan, Kuwait, Lebanon, Oman, Palestinian Territories, Qatar, Saudi Arabia, Syria, Turkey, United Arab Emirates, Yemen) |
Russia and the Caucasus (Azerbaijan, Armenia, Georgia, Russia)
Russia's a huge country of vast, empty expanses comprising much of Asia, while the Caucasus is densely populated, warm and friendly, but with some dangerous parts
| | |
| --- | --- |
| | Southeast Asia (Brunei, Cambodia, East Timor, Indonesia, Laos, Malaysia, Myanmar (Burma), Philippines, Singapore, Thailand, Vietnam) |
Cities
Other Destinations and Cities
Dating
When visiting Asia, dating can be a fun and interesting experience. AdultFriendFinder.com, lets you meet local members in Asia and get to know them on a personal basis before you arrive. It just takes a few minutes, you simply create an account, upload a few images and tell a little about yourself. Since time in your destination may be limited, get to know each other's desires beforehand so when you do meet, you can skip the awkward introductions and start having some real fun.
Top Dating Tips
Girls in Asia like different kind of dates. Wine culture is still very new in Asia, so taking her to a nice place for a glass of wine might be an experience for her. Asian girls also like to hang out outdoors, so taking her to a picnic in a park or beach might be a good idea.
Online Dating
Online dating is booming everywhere in the world and Asia is not exception with this. There are several popular online dating apps used all around Asia. In some countries they have specific dating apps for the country, such as ThaiCupid in Thailand and so on. Here are some of the most popular dating apps used in Asia:
Tinder - A good possibility also to meet tourist girls. What's good with Tinder is that the local girls who have downloaded this app are probably interested in hooking up with foreign guys.
Badoo - Local and foreign girls.
OkCupid - World wide app, working well in Asia as well.
Noonswoon - Thai-made app.
Woo - Dating app hailing from India, aiming to enable lasting relationships.
Omiai - Dating app from Japan.
Live Cam Dating
Are you looking for virtual satisfaction in Asia? Chat with live web camera models and find the best girl for your needs. There are thousands of girls online 24/7 waiting for you: Live Cam Girls
What Kind of Guys Have the Best Chances
Risks while Gaming
How to Get Laid as Soon as Possible
Gold Diggers and Sugar Babies
The Sugar Baby scene in Asia is still quite new but there are a lot of beautiful young girls looking for a Sugar Daddy. The best and safest way to hook up with a Sugar Baby is online. At SecretBenefits.com there is a wide selection of nice girls who are looking for an older guy to take care of them. These babes are easy to approach and you can settle everything before meeting up.
Anyone can be a sugar daddy. Just create your free account at SecretBenefits and start enjoying the wide selection of Sugar Babies available.
Swinging and Naturism
Costs of Living
| | |
| --- | --- |
| | Single traveler's budget per day: US$10 - $200 |
| | |
| | |
| --- | --- |
| | Accommodation per night: US$3 - $150 |
| | |
| | |
| --- | --- |
| | Beer in a grocery shop: US$XX - $XX |
| | |
| | |
| --- | --- |
| | Beer in a bar or restaurant: US$XX - $XX |
| | |
| | |
| --- | --- |
| | Meal in a restaurant: US$XX - $XX |
| | |
Accommodation
How to Get There and Move Around
By air:
By bus:
By car:
By train:
By boat:
Visas:
Digital Nomads and Remote Work
Internet and Mobile Operators
Gambling and Casinos
Weed and Drugs
Health, Fitness, Gyms and Massage
STDs and HIV
Stay Safe
Due to the vast size, safety in Asia varies wildly. It is a safe place in general and most tourist attractions on the continent are far from conflict. There are, however, some regions in which conflict and/or general lawlessness exists. East Asia is probably the safest area in the continent, but political tensions also exist in this region.
See Also