East Timor
East Timor dating guide advises how to pick up Timorese girls and how to hookup with local women in East Timor. Travel, enjoy and have fun with hot single girls and you might even meet the love of your life. Read more on how to date Timorese women, where to find sex and how to get laid in East Timor, Asia.
East Timor, also called Timor-Leste can be referred to as the youngest independent nation, gaining its independence from Indonesia, in the year 2000. It is officially known as the Democratic Republic of Timor-Leste and it covers half of the Island of Timor towards the eats. It is located in Southeast Asia and is neighbor to Australia to the northwest and borders the Lesser Sunda Islands to the east. This country is divided into thirteen municipalities and 65 administrative posts, and Dili as the capital, largest city, and main port. The economy of East Tumor is majorly from the export of goods such as coffee, marble, and petroleum and the population depends also on agriculture. 
Tourism is still a developing industry and is yet to contribute significantly to the economy. The major religion is Christianity as regulated by the Roman Catholic Church, there are also Muslims, Protestants, and Hindus. About four languages are majorly spoken in the country; Indonesian, English, Tetun and Portuguese which have been declared as the official languages. Though referred to as one of the poorest countries in the world, this country has beautiful beaches, amazing Islands, mountains, museums, lakes and other wonderful sights to behold!
East Timor Top 10 Overview:

Chance of picking up girls: 3.5 / 5

Picking up at daytime: 2.5 / 5

Picking up at nighttime: 3 / 5

Looks of girls: 3 / 5

Attitude of girls: 3/ 5

Nightlife in general: 3 / 5

Locals' English level: 3 / 5

Transportation: 2.5 / 5

Budget per day: US$100 - $350

Accommodation: US$40 - $200
Timorese Girls
Timorese girls are uniquely beautiful. They are cultured and homely women. They are known to show a lot of respect and submissiveness to the male folk. They are shy and find it difficult to be sociable. Due to the high rate of poverty, low level of literacy and urbanization, these ladies are no so exposed or refined. However, they make up for this with their conservative and reserved approach to life.                                                 
| | |
| --- | --- |
| | Looks of girls: 3 / 5 |
Though these ladies may not be said to be the most beautiful women in the world, it is also said that beauty lies in the eye of the beholder. These women have unique features that make them beautiful in their way. They come in different shades of skin colors from café to caramel. They have diamond-shaped faces, visible foreheads, small eyes, large flat noses, and cute thin lips. Most of them have very slender body frames, though you can also see the plump ones. They are not known to be very tall but mostly of average height.
| | |
| --- | --- |
| | Attitude of girls: 2.5 / 5 |
The Timorese lady is cultured and respectful. She is very accommodating and friendly, but you would need to earn her trust first. She is shy and has a very conservative approach to life, due to cultural and religious influences. You would not expect her to make the first move or try to approach you. They may not act so refined or classy, as the rate of urbanization and exposure in the country is quite low, but she sure would put in the effort to make her man feel like a prince.
Where to Get Sex Now
It is easy to get sex online in East Timor. You just need to find the best available girls. See Girls Online Here!
How to Pick Up Girls
Picking up a girl from East Timor would require you appreciating and respecting the cultural beliefs of the people. It would be great to also try to identify with them.
You should dress modestly as the people have a very conservative approach to life. Smart –casual is the dress code in East Timor and doing otherwise might offend the people.
English is widely spoken, especially among workers and professionals so you may have no communication barrier with your partner. However, if you do, you can enlist the help of a tour guide.
These ladies are friendly so you may have no issues getting their attention if you persist in asking for it. Speak nicely and politely to them. You can also throw compliments. However, remember that physical display of affection between unmarried people is highly discouraged. You can discuss issues relating to their cultural heritage.
Look good, smell nice and do not have any air of superiority. Greet the elders and be kind.
You can rent a car if you want to find your way around but remember the roads are not in the best of conditions. Fortunately, there are many places you can take your date to. You should have the financial capacity to give her a good time and to ensure she benefits from the interaction.
| | |
| --- | --- |
| | Chance of picking up: 3 / 5 |
You have an average chance of picking up a lady from East Timor, depending on the time of the day and the location. If you visit popular spots and have your best skills put to work, your chances are quite good. 
Tips for Daytime
During the day, you have to be conscious of security. Do not carry valuables or luxurious items around. Avoid walking alone in lonely places or entering strange vehicles.
Dress modestly and decently. These people are not so given to vanity and may perceive pride if you do otherwise. Besides, you would attract negative attention to yourself.
Look good for your date. There are several places to see during the daytime; from beaches to Islands to lakes. You have better chances of meeting and getting attention from these ladies when you visit these spots.
| | |
| --- | --- |
| | Chance of picking up at daytime: 2.5 / 5 |
There is a fair chance you would pick a lady from East Timor during the day. Most of the ladies would be involved either at work or majorly at home, attending to domestic issues relating to their husbands and kids. However, if you focus on the goal and get to the right places, you would probably meet a lady from East Timor who is willing to spend time with you.
Best Places to Meet Girls
Best places to meet girls during the day include:
The Islands: Several islands in the country are good spots for hanging out and meeting Timorese ladies. Examples are Atauro and Jaco Islands.
Lake Ira Lalaro: This beautiful lake with clear waters and amazing scenery is a good place to visit and meet up with the Timorese lady of your dreams.
Nino Konis Santana National Park: This lovely park allows you to meet different types of birds and bats, as well as beauty from East Timor.
Mount Ramelau: As a tourist in East Timor, visiting this awesome mountain would be a good decision. It is also great for hiking and climbing. You might meet the lady of your dreams here.
Tips for Nighttime
The night time in East Timor may not be as vibrant or bubbling. However, these people still have their way of getting their fun at night.
There are cool clubs, bars and lounges you can visit to chill, dance, drink and most especially meet a lady. Don't forget the dress code and remember to show courtesy to everyone you meet.
Also, ensure you keep to security precautions. You should avoid walking alone at night. 
While gaming at night, look and smell good. Remember to crack jokes and keep the humor high. This would earn you access to the hearts of these people.
| | |
| --- | --- |
| | Chance of hooking up at nighttime: 3 / 5 |
You have a good chance of picking girls up at night. If you visit the popular clubs, bars, pubs, and lounges, you should find a lady from East Timor who would be willing to give you her time.
Best Nightclubs to Meet Girls
Exciting places to visit at night in East Timor include:
Tower: This very hippy bar is a great location to meet a beautiful lady from East Timor, with great music, nice lights, and good drinks.
Club 88: Operating into the dawn, this club is a popular spot for party freaks. It is a good place to meet a lady from East Timor.
Sky Bar: This bar offers live music and good drinks. It is an excellent place to meet a lady from East Timor.
Moon Bar: This is a fantastic place to visit at night to catch your groove. You should also find a Timorese lady here.
Other bars and clubs include Kaliber 12, Miaow and Letefoho.
| | |
| --- | --- |
| | Nightlife in general: 3.5/ 5 |
Nightlife in East Timor, though not as vibrant as other neighboring countries, still has a life of its own. The capital city is a good place to spot bars, clubs, and pubs. They are also many located on the beachfront.
You can get good live music, DJs, tasty cuisine, good drinks, amazing ambiance and of course, a wonderful company in these spots. 
Ensure you are security conscious when exploring these places. Avoid moving with valuable or luxurious items so you are not preyed upon by thieves and pickpockets.
Mature Ladies and Cougars
19% of the girls of East Timor are given off in marriage before they turn 18. Many of the mature ladies are married and attending to their homes. The reserved nature and the firm belief in the Catholic doctrines of these women would make it quite difficult to meet a mature lady or cougar to date.
Regions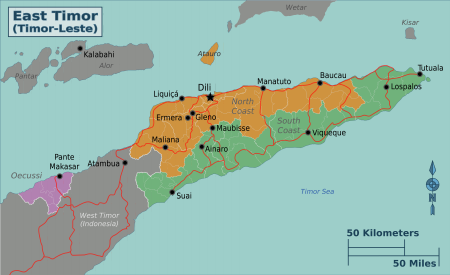 Cities
Dating
When visiting East Timor, dating can be a fun and interesting experience. AdultFriendFinder.com, lets you meet local members in East Timor and get to know them on a personal basis before you arrive. It just takes a few minutes, you simply create an account, upload a few images and tell a little about yourself. Since time in your destination may be limited, get to know each other's desires beforehand so when you do meet, you can skip the awkward introductions and start having some real fun.
Top Dating Tips
The people of East Timor have a reserved approach to life. Like it is said, 'when in Rome, act like the Romans.' You should identify with the culture of the people and avoid engaging in anything that would say otherwise.
Keep your looks sweet and dress modestly. You would not impress anyone by going overboard in your dressing.
If you understand Portuguese, Indonesia or English, you may have less problems communicating with your date. Include your interest in her family and cultural heritage while communicating with her.
You should express patience as these ladies can be quite shy and act unrefined. The level of urbanization and literacy is very low. So be kind, loving and tolerant. However, do not act superior.
There are many places to have a good time with your date. While doing so, ensure she profits financially from the interaction. 
Relationships and Love
Thousands of single women in East Timor are searching for a partner and potential future husband. Check out an ultimate guide for dating local girls, relationships, love and marriage: Relationship & Love Guide to East Timor
Online Dating
AsianDating - The leading Asian dating site with over 2.5 million members.
Topface: This app helps connect people from all over the world. It is one of the trendy online dating apps used in East Timor.
Firstmet: This online dating site is a great platform to meet with millions of singles across the town and the globe.
Loveawake: This is a 100 % free online dating site for single men and women of East Timor. It would be great to take advantage of the offer.
Mingle2: This is another 100% free online dating site for the single men and women of East Timor.
Badoo: This is another trendy online dating app used by the beautiful ladies of East Timor. You can meet a beauty on this platform.
Live Cam Dating
Are you looking for virtual satisfaction in East Timor? Chat with live web camera models and find the best girl for your needs. There are thousands of girls online 24/7 waiting for you: Live Cam Girls
What Kind of Guys Have the Best Chances
The kind of guy that has the best of chances is the one who has a lot of regard for the people of East Timor and does not give out any air of superiority. He has to be willing to gain insight on the cultural and traditional views of the people. If he loves to smile and crack jokes, that would further give him an edge. If he is good looking and dresses decently and smartly, his chances are increased. If he has the financial capacity to give a girl a good time and to ensure she benefits financially from the interaction, he has the best of chances.
Risks while Gaming
The major risks while gaming would be the differences in cultural and religious views. There is also the possibility of a language barrier, although a lot of people speak English within the country. The men of East Timor are very protective over their women, you have to be careful not to go approaching another man's girlfriend. The issue of security is another risk factor to consider while gaming, ensure you stick to security measures to keep safe.
How to Get Laid as Soon as Possible
Getting laid as soon as possible would have you sharpening your gaming skills, especially at night. Due to the influence of the Roman Catholic Church and its belief system, the people of the country have a very conservative approach to life, especially on sexual issues. You would have to put in your best effort to get laid quickly.
Gold Diggers and Sugar Babies
East Timor is full of hot girls looking for a mutually beneficial hookup with travellers. There are lots of girls who don't charge by the hour but who will do anything for a guy who is willing to help them pay their bills. If you are looking for a more personal and less transactional alternative to escorts, a good place to find these sexy open-minded girls in East Timor is SecretBenefits.
BDSM
Looking for a new bondage partner while traveling? ALT.com is a community of like-minded people with members around the globe. Our members are interested in submissive sex, power exchange, locating persons for new slave roles, erotic BDSM, bondage & fetish sex, as well as live sex dates. Find thousands of play partners for whatever your fetish may be; bondage, foot, cockold, spankings, role-play, electric or water play, sadism, and masochism all while traveling in East Timor.
Swinging and Naturism
There are no popular swinger clubs or nude beaches in the country, and this would largely be attributed to the conservative lifestyle of the people. However, there may be activities here and there but they will be done with utmost secrecy.
Costs of Living
The cost of living in East Timor is a bit expensive depending on your country of residence. The US dollar is the legal tender in the country.
| | |
| --- | --- |
| | Single traveler's budget per day: US$100 - $350 |
This budget would depend on your taste and choices. The daily budget would range from $100 to $350.
| | |
| --- | --- |
| | Accommodation per night: US$40 - $200 |
To plan for accommodation daily, budget $40 to $200. This would again depend on your choice of accommodation and the level of luxury and comfort you prefer.
| | |
| --- | --- |
| | Beer in a grocery shop: US$4- $6 |
Budget $4 to $6 for each bottle of beer you want to buy from a grocery shop, though this would depend on the brand and the size.
| | |
| --- | --- |
| | Beer in a bar or restaurant: US$5 - $7 |
To get beer in a bar or restaurant, you can budget from $5 to $7 per bottle.
| | |
| --- | --- |
| | Meal in a restaurant: US$30 - $200 |
For each meal per day and depending on where you want to get your meal from and the type and size of the meal, you can budget $30 to $200.
Accommodation
There are different options for accommodation in East Timor with varying fees. These options include hotels, guest houses, a convent for camping, lodges, etc. When making a decision, ensure you prioritize safety and comfort.
How to Get There and Move Around
There are several means of transportation available to get in and around the country. However, due to the high rate of poverty in the nation and ineffective transportation infrastructure, there are not so many good road networks.
By air:
Getting into the country by air would be from the major International airport, Presidente Nicolau Lobato International Airport which serves airlines such as Air Timor and Air north. There are also domestic air services within major cities in the country.
By bus:
There are direct and non-direct buses that visitors can also use to gain entry into the country. There are also buses, mikrolets and open-air tucks functioning within the country.
By car:
There are blue and yellow taxis which are the best means of transport in the country, especially its capital. The blue ones, though scarcer are newer and charge by meters. Motorcycles and scooters are also used for movement within the country.
By train:
There are no railways in East Timor.
By boat:
There are companies offering visitors cruises on ships. An example is P&O Cruises.
Visas:
Citizens of European Union countries are allowed visa-free entry for 90days for tourism purposes. Other nationals may obtain a visa on arrival if they travel by air or sea, but should have a valid passport.
Digital Nomads and Remote Work
 The internet connection in the country may not be said to be fantastic but it is considered okay. There are also internet cafes in the country that provide Wi-Fi connection for those who need it.
== Internet and Mobile Operators == 
Internet providers in East Timor include:
Telemor
Timor Telecom
Telkomcel
Gambling and Casinos
 All forms of gambling are illegal in East Timor. However recently, the government set up free trade zones for attracting foreign investors. Some casinos in the country. Examples are:
Golden Sands Dili
Casino Central – Audian
Club Timor
Weed and Drugs
Cannabis which is known as 'ganja' on the street is highly prohibited in East Timor. It is illegal to deal with or buy hard drugs in this country. You would be arrested and prosecuted if caught.
Health, Fitness, Gyms and Massage
In case of urgent medical care, some hospitals you can visit include:
Stamfrod Medical
Maliana Referral Hospital
Health Center of Dili
If you need a good gym to work out and say in shape, the following are recommended:
Sousa Fitness
Jar Fitness Centre
Osin Fitness
Some nice spas that offer quality massage and body treatment include:
Novo Turismo Resort & Spa
Lorosae Concept Spa
Pinky Medicure & Spa
STDs and HIV
Always practice safe sex to avoid any possible contamination.
Stay Safe
East Timor continues to face sporadic internal ethnic & political tension and related violence may occur. This may not be targeted at foreigners or tourists, but follow the guidelines below. There is still a considerable international presence in East Timor, including a United Nations mission and international police and military (mostly conducting capacity building and training for national security forces).
Foreigners or tourists have been targets for violence in East Timor, so visitors should be responsible and adhere to standard precautions as in any developing country. Remember, that you are traveling in a poor country, and crimes such as assault and theft do occur. The key to avoiding such a crime is to apply common sense and reduce your exposure to possible opportunity crime.
See Also