Saudi Arabia
Saudi Arabia dating guide advises how to pick up Arabian girls and how to hookup with local women in Saudi Arabia. Travel, enjoy and have fun with hot single girls and you might even meet the love of your life. Read more on how to date Saudi women, where to find sex and how to get laid in Saudi Arabia, Middle East, Asia.
Saudi Arabia which is officially known as the Kingdom of Saudi Arabia which occupies a major part of the Arabian Peninsula. It is one of the countries with names in line with the royal families, the second being Jordan which borders to the northwest. It also borders Iraq and Kuwait to the northeast, Bahrain and Qatar to the east, Oman and Yemen to the south and the United Arab Emirates to the southeast. Saudi Arabia is known for its large landmass which ranks as the second-largest in the Arab world and the twelfth in the world. Other notable facts about Saudi Arabia include that it has the world's youngest population.
It has the third-highest military expenditure in the world and ranks second among arms importers in the world. It is also the world's largest exporter of oil and has the sixth-largest gas reserves. Though there is no river in the country, you can get to see basins and oasis. There is also a good deal of wildlife to be seen in the country. Large scale agriculture is also carried out within the country making it self-sufficient in several foodstuffs. It also is an exporter of some agricultural and food products such as wheat. Tourism is also an important industry in the country.
Most of its cultural systems were got from Arab civilisation. The official language is Arabic and most of its citizens are Muslims. English is also widely spoken in the country. There is no room for the public practice of other religions, including Christianity. There are religious police officers who go around ensuring that citizens and residents adhere to religious laws. Even in State schools, a lot of what is taught borders on religious views. The country is at times referred to as the 'Land of the Two Holy Mosques' about Islam holiest sites located in Medina and Mecca. This also makes it a popular destination for religious pilgrimage among Muslims.
Saudi Arabia Top 10 Overview:

Chance of picking up girls: 1 / 5

Picking up at daytime: 1 / 5

Picking up at nighttime: 1/ 5

Looks of girls: 3 / 5

Attitude of girls: 2 / 5

Nightlife in general: 1 / 5

Locals' English level: 3 / 5

Transportation: 4 / 5

Budget per day: US$300 - $400

Accommodation: US$150 - $250
Saudi Girls
Saudi girls are beautiful women, even though this is usually hard to see as they are always covered in the hijab as a mark of respect for their religion. They mostly come from sophisticated and influential homes so you should expect them to be classy, educated and well-groomed. However, it would be very difficult to get a girl to date in Saudi Arabia. The people are very conservative and virtue is highly revered and expected, especially among the ladies.
The Saudi woman can be said to be weaker than ladies of other more liberal countries. The country is governed by religious laws and failure to abide by these laws comes with very harsh and stiff punishment. Women can never be said to be equal to men and every single lady in the country can only stay, work and move around with their male guardian, who is usually a relative. However, relatively, women are slowly being given more rights.
| | |
| --- | --- |
| | Looks of girls: 3 / 5 |
It is possible to see the faces of these women at times when it is not completely covered in the hijab and they are beautiful women. With very light skin, pointed noses, almond eyes, oval faces typical of Arab women and small lips. Their body frames are usually covered but it is safe to say that they come in different sizes. Women of the upper-class families are also known to be prone to obesity, as most times they are not allowed to move or drive around, and chores at home are being handled by house helps.
| | |
| --- | --- |
| | Attitude of girls: 2 / 5 |
The attitude of Saudi ladies cannot be ascertained. It can be termed as snobbish and shy. However, this is largely based on their adherence to religious laws. It is possible that on other grounds, they may reflect another kind of behavior. Saudi ladies are very conservative in their approach to life. They are respectful, polite, homely and cultured.
Where to Get Sex Now
It is easy to get sex online in Saudi Arabia. You just need to find the best available girls. See Girls Online Here!
How to Pick Up Girls
Picking up girls in Saudi Arabia is a herculean task. It would be very difficult to get a girl to oblige your request. You shouldn't get your hopes up. However, if you still want to give it a try. Ensure you are dressed appropriately, that you look good and you smell nice. Act sophisticated and refined. Walk and talk humbly and be as respectful and polite as possible.
| | |
| --- | --- |
| | Chance of picking up: 1 / 5 |
You have a very slim, if not non-existent chance of picking up a Saudi lady. These ladies would not oblige, and even if they do, there are religious police officers everywhere and then, you can get into very serious trouble.
Tips for Daytime
During the day, there are several places you can visit which can earn you a chance to meet a Saudi girl of your dream. However, be careful if you must make any kind of interaction. Whatever you do, always ensure you are in line with the rules and laws of the country and that includes your dress sense. Failure to do so can get you in a lot of trouble. Also, adhere to safety precautions so you don't fall victim to petty thieves and pickpockets, though the country is quite safe.
| | |
| --- | --- |
| | Chance of picking up at daytime: 1/ 5 |
You have a very low chance of picking a girl during the day. It is almost impossible. However, you can get to meet them. Even that is risky as two unmarried people of different genders are not expected to be seen walking together.
Best Places to Meet Girls
Due to the strict principles of dating in the country, there are hardly many places to see and meet a lady. However, in recent times, both genders are not allowed in the same cinema, malls, theaters, and museums. Examples include: 
Vox Cinemas in Red Sea Mall
Tanura Theatre
Scitech IMAX cinemas 
Granada Mall
Tips for Nighttime
The nightlife in the country is cold, with not much happening. There is a complete ban on alcohol, no night clubs, bars or pubs. You must adhere to the laws of the country while moving or living there, at any time of the day. You must be also careful on the road, as drivers can be very careless and many accidents occur. It is also advisable you stick to safety rules, even though the country is one of the safest in the region.
However, things are more liberal in the Western compound. You would be lucky if you get a space there, though it is really expensive. There are clubs said to be for men only. You are not restricted from going out at night, as long as anything you do has nothing to do with the opposite sex. The laws are very strict on issues like this and at times, people tend to go to more liberal countries to enjoy the weekend or the nightlife there.
| | |
| --- | --- |
| | Chance of hooking up at nighttime: 1/ 5 |
You have a very low chance of picking up a Saudi lady during the night. Most of the ladies would be indoors adhering to curfews. The nightlife in the country is also almost nonexistent, except for coffee shops, restaurants, and men-only clubs.
Best Nightclubs to Meet Girls
There are no night clubs in the country.
| | |
| --- | --- |
| | Nightlife in general: 1 / 5 |
In general, nightlife in the country is boring and on the low. If you want a taste of a great time at night, you would have to visit the Western compound. There are also activities organized by certain people, obviously of the rich and affluent families. They are said to be very private and open only to members of trusted circles. If the odds are in your favor and you can get an invite, it would be cool. If not, just get to other foreigners in the expat housing and take the best it can offer.
=== Mature Ladies and Cougars ===          
It would be almost impossible to get a mature woman or cougar to date in this country. The laws are very strict and usually are accompanied by strict punishment. Dating is not a popular term in the country.
Regions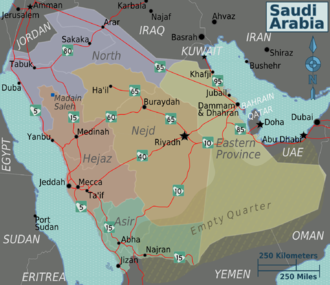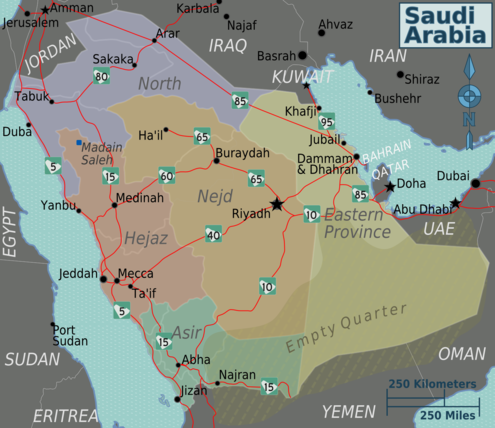 Asir
Southwestern highlands with a temperate climate and strong Yemeni influence.
Eastern Province
Covering the Gulf coast, the center of Saudi oil production
Hejaz
On the Red Sea coast, site of Mecca, Medina, Jeddah and the home of trade and commerce.
Nejd
The central highlands centered on Riyadh, the home of the Sauds and the most conservative part of the country.
North
Rarely visited, home to the Nabataean ruins of Madain Saleh.
Cities
Dating
When visiting Saudi Arabia, dating can be a fun and interesting experience. AdultFriendFinder.com, lets you meet local members in Saudi Arabia and get to know them on a personal basis before you arrive. It just takes a few minutes, you simply create an account, upload a few images and tell a little about yourself. Since time in your destination may be limited, get to know each other's desires beforehand so when you do meet, you can skip the awkward introductions and start having some real fun.
Top Dating Tips
The best way to get a Saudi girl to date is to use the available online dating apps. Dating is not a popular word in the country. It is frowned upon to see two unmarried people of different genders walking in public. The laws are very stringent and penalties hard. There are also religious police officers everywhere, ensuring the laws are followed.
However, just in case the odds are in your favor and you get to meet a Saudi lady during the day, ensure you are dressed appropriately as the Male Saudis do. You should look good and have a nice scent. English is widely spoken so it would be quite possible for you to communicate with your partner. Avoid any topic that may offend, especially bordering on religious views and relating to the royal family. You have to well exposed and classy.
Relationships and Love
Thousands of single women in Saudi Arabia are searching for a partner and potential future husband. Check out an ultimate guide for dating local girls, relationships, love and marriage: Relationship & Love Guide to Saudi Arabia
Online Dating
Saudiarabiadating.expatica: This app helps connect people from all over the world. It is one of the trendy online dating apps used in Saudi Arabia.
Lovehabibi: This online dating site is filled with genuine members who are ready to mingle and find love!
Buzzarab: This is a premium online dating site in Saudi Arabia where singles from all over connect.
Mingle2: This is a 100 % free dating site for single men and women. Sign up for free!
Firstmet: This is another trendy online dating app used by the beautiful ladies of Saudi Arabia.
Live Cam Dating
Are you looking for virtual satisfaction in Saudi Arabia? Chat with live web camera models and find the best girl for your needs. There are thousands of girls online 24/7 waiting for you: Live Cam Girls
What Kind of Guys Have the Best Chances
The guy with the best chances in the country are one with a lot of respect for the people's religious and cultural views. There is a lot of risks if you decide to do otherwise; there would be grave consequences to follow up. You can make good use of his online dating apps, as that is the best way to meet and follow up on these beauties. 
Risks while Gaming
The major risks are embedded in the religious and cultural views of the people. There are several rules and laws you are expected to follow, and you are not excusable even as a tourist. Be very very careful if you approach.
How to Get Laid as Soon as Possible
Getting laid with a Saudi girl in the country is something that is highly unlikely, almost to the point of being impossible.
Gold Diggers and Sugar Babies
Saudi Arabia is full of hot girls looking for a mutually beneficial hookup with travellers. There are lots of girls who don't charge by the hour but who will do anything for a guy who is willing to help them pay their bills. If you are looking for a more personal and less transactional alternative to escorts, a good place to find these sexy open-minded girls in Saudi Arabia is SecretBenefits.
BDSM
Looking for a new bondage partner while traveling? ALT.com is a community of like-minded people with members around the globe. Our members are interested in submissive sex, power exchange, locating persons for new slave roles, erotic BDSM, bondage & fetish sex, as well as live sex dates. Find thousands of play partners for whatever your fetish may be; bondage, foot, cockold, spankings, role-play, electric or water play, sadism, and masochism all while traveling in Saudi Arabia.
Swinging and Naturism
There are no known swingers' club or nude beaches in the country. A country like Saudi Arabia has very strict laws on issues like these. Anyone being indecent in public is subjected to harsh punishments.
Costs of Living
The cost of living in Saudi Arabia is average compared to other cities in the Middle East. It is not as expensive as other popular tourist destinations like Dubai, and not as cheap as Manama. Accommodation for foreigners is quite expensive in the country due to high demand. It would be quite expensive to get a place in the Western compound. 
The local currency used is the Saudi riyal and credit and debit cards are widely accepted. Foreign currencies are usually not accepted by traders.
| | |
| --- | --- |
| | Single traveler's budget per day: US$300 - $400 |
As a tourist within the country, you should make a budget of $300 to $400 to cover expenses per day.
| | |
| --- | --- |
| | Accommodation per night: US$13- $500 |
To cover expenses for accommodation per night, make a budget of $13 to $500 per night. Expat housing is expensive in the country.
| | |
| --- | --- |
| | Beer in a grocery shop: NOT AVAILABLE |
It is illegal to produce, brew, import or consume alcohol in Saudi Arabia. As the location of Mecca which is the sacred land of Muslims, they make every effort to adhere to the teachings of the Qur'an. There are severe punishments if caught drinking in public. However, there is home-brewed beer called Siddiqi (sid), though they can be quite strong and at times toxic, because they are brewed according to proper standards. There are also distilled liquors, though in small quantities and found only among expatriates.
Officers also turn a blind eye to those drinking within the Western compound, and foreigners usually have a venue where they get beer within the location. There are also nonalcoholic beer you can get from $1 to $6.
| | |
| --- | --- |
| | Beer in a bar or restaurant: NOT AVAILABLE |
You can get nonalcoholic beers in bars and restaurants for $2 to $6.
| | |
| --- | --- |
| | Meal in a restaurant: US$5 - $65 |
You can also get meals in different places such as restaurants and hotels. You can make a budget of $5 to $65 per meal which this would depend on the type and size of food you want to buy.
Accommodation
There are different types of accommodation offered within the country. These options include rented apartments also called shigka-maafroosha, flats, villas, gated compounds also called Western compounds and hotels of different standards.
How to Get There and Move Around
You can get in and around the country using the following means of transportation; planes, taxis, buses, and cars.
By air: Four international airports can be used to get into the country and the official airline is the Saudi Arabian Airlines. These airports can be found at Riyadh, Jeddah, Madinah, and Dammam. There are also domestic flights within the country.
By bus:
Some buses operate across the border from Saudi Arabia to some of its neighbors. There are also buses operating within the country, run by the Saudi Arabian PUBLIC Transport Company.
By car:
Cars can also be used to access the country from neighboring countries. Car rental companies are also available in the country and you can get fuel for quite a low cost.  It should be noted that accidents on the roads are common in Saudi Arabia. Taxis are also available within the country, although it is advised you know the route to where you are going as there are no street names.
By train:
No railroads are connecting Saudi Arabia to other countries. However, several railway companies are operating within the country. Saudi Arabia is a country with large land mass so this means of transport are needed for people to move from one location to the other.
By boat:
Some ferries run from Egypt and Sudan to Saudi Arabia. They are known to be quite slow and expensive.
Visas:
Saudi Arabia has stricter visa policies than any other country. Any foreigner wishing to visit must adhere to the laws. One of such laws is dressing modestly and women not exposing their shoulders or knees. Any female below 30 who wishes to visit must come with a male guardian and non-Muslims are not allowed entry into the cities of Mecca and Medina.
Except for exempted countries, nationals of other countries are expected to have their passports and valid visas before gaining entry into the country. You would also need to calculate the precise expiry date of your visa by using the Islamic calendar.
Digital Nomads and Remote Work
There are functional internet cafes in the cities within the country. There are also hotels offering free Wi-Fi connection. To get a working visa, you would need a Saudi sponsor. Other factors, such as the cultural difference and harsh laws, make it just an average place for digital nomads and remote workers.
Internet and Mobile Operators
Internet Service Providers in the country include:
Gambling and Casinos
Saudi Arabia is a Muslim country and based on Islamic beliefs, gambling is not permitted. However, illegal gambling dens are operating under secrecy. There are also other casinos used for entertainment only where poker games are played without wagering. An example is Jeddah-Casino.
Weed and Drugs
The use, possession, and sale of cannabis and other hard drugs are highly prohibited in Saudi Arabia. If arrested for any of these offenses, you can be prosecuted and made to serve a sentence of up to a decade.
Health, Fitness, Gyms and Massage
In case of urgent medical care, some hospitals you can visit include:
Erfan & Bagedo Hospital
Kingdom Hospital, Riyadh
Soliman Fakeh Hospital
If you need a good gym to work out and say in shape, the following are recommended:
Nuyu Fitness Dammam
Fitness First
Gold's Gym
Some nice spas that offer quality massage and body treatment include:
Al Faisaliah Spa
Fairmount SPA
Menz Room Salon & Spa 
STDs and HIV
The prevalence rate of HIV/AIDS in Saudi Arabia is quite low with 0.02%. However, you are advised to always protect yourself while having sexual intercourse, especially with a stranger.
Stay Safe
Realistically speaking, the biggest danger a visitor to Saudi Arabia faces is the lethal driving: drive or pick your drivers carefully and buckle up your seatbelt.
See Also