Lagos
Lagos dating guide advises how to pick up Nigerian girls and how to hookup with local women in Lagos. Travel, enjoy and have fun with hot single girls and you might even meet the love of your life. Read more on how to date Nigerian women, where to find sex and how to get laid in Lagos, Nigeria.
Lagos is the most populous and most developed city in Nigeria. Formerly the country's capital, the city of Lagos is popular for its energetic nightlife and lavish lifestyle, and it is home to the hottest girls in Nigeria. Over 9 million people reside in Lagos.
Lagos Top 10 Overview:

Chance of picking up girls: 4.5 / 5

Picking up at daytime: 4 / 5

Picking up at nighttime: 4.5 / 5

Looks of girls: 4.5 / 5

Attitude of girls: 4.25 / 5

Nightlife in general: 4.5 / 5

Locals' English level: 3.5 / 5

Moving around the city: 4 / 5

Budget per day: US$20 - $100

Accommodation: US$15 - $160
Girls in Lagos
Lagos is divided into two major parts. The Island and the Mainland. Also, there are two major classes of girls in Lagos. The higher class and the lower class. The higher classed girls are usually found on the Island while the lower classed girls are found on the Mainland.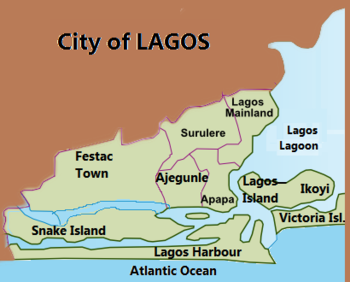 Cost of living on the Island is higher than the cost of living on the Mainland. Because of this, most girls found on the Island are usually wealthy or at least financially comfortable. There are also wealthy girls on the Mainland but they are less common than wealthy girls on the Island.
When it comes to physical appearance, there is a wide variety to be found in Lagos. There are tall girls, short girls, light skinned girls, dark skinned girls. Like most African girls, Lagos girls have good bodies. The average girl either has big boobs or a big ass. There are also a lot of girls who have the perfect combination of a good face, big boobs and a big ass.
Most girls with natural African hair have dark colored hair (mostly black or dark brown). However, it is common to see girls using artificial attachments or wigs.
| | |
| --- | --- |
| | Looks of girls: 4.5 / 5 |
Nigerian girls are one of the most beautiful in the world. The Miss World contest has been won by a Nigerian before. This tells you about how good looking a lot of Nigerian girls are. It is no news that some of the most beautiful girls in Nigeria are found in Lagos. Therefore, it will be quite easy to hook up with a lot of pretty girls.
| | |
| --- | --- |
| | Attitude of girls: 4.25 / 5 |
Girls in Lagos are generally open minded. Due to much exposure they are mostly accommodating. The average Lagos girl is fun loving and loves to party almost every weekend. For foreigners, it is easy to catch the attention of a Lagos girl.
Where to Get Sex Now
It is easy to get sex online in Lagos. You just need to find the best available girls. See Girls Online Here!
How to Pick Up Girls
| | |
| --- | --- |
| | Chance of picking up: 4.5 / 5 |
The chances of picking up girls are relatively high. It is easier to pick up girls when you are good looking and very conversational. A good sense of humour is also helpful.
Tips for Daytime
| | |
| --- | --- |
| | Chance of picking up at daytime: 4 / 5 |
Best Places to Meet Girls
Address: 5, Obafemi Awolowo Way, Alausa, Ikeja, Lagos
Ikeja City Mall is one of the biggest shopping malls in Nigeria and West Africa. Housing over 100 different stores, the mall is always full with people. This makes it a hot spot for meeting people, especially people of the opposite sex. There are some activities that you can carry out at the Ikeja City Mall which can increase your chances of linking up with a girl. Ikeja City Mall contains a large number of places where you can get something to eat. Places such as Spurs (where Native American dishes are served), KFC (where fast food is served), Cold Stone Creamery (where ice cream is sold). The mall also has a cinema, called Silverbird Cinemas. Both Nigerian and foreign movies are shown at the cinema at affordable prices. There is also the option of cloth shopping at the Nike, Adidas and Puma stores. The mall is generally open from 9am - 9pm.
Palms Shopping Mall Lekki
Address: 1, Bisway Street, Maroko, Lekki, Lagos
The Palms Shopping Mall offers a wide chance of meeting new people due to its larger size and popularity. Part of the features include several food stores and restaurants such as; Cold Stone, On the Run, Soul Lounge, Caffe Vergnano, Charcoal Food Outlet, Chocolat Royale. There is also a high standard cinema called Genesis Deluxe Cinema and a bowling bar (Let's Go Bowling Bar). Other things to be gotten at the mall are fashion items, clothing accessories, telecommunication gadgets, books, and furniture. The mall is open between 9am and 8pm.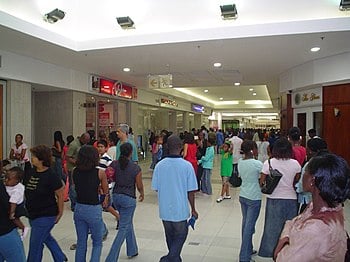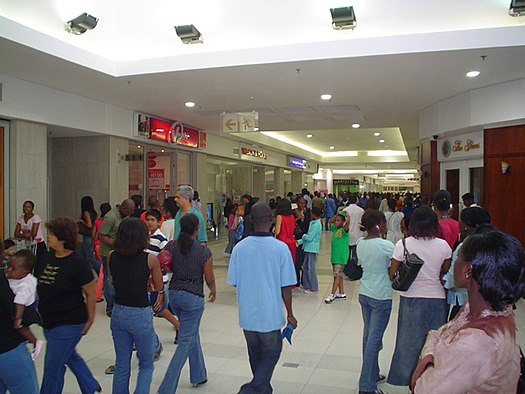 Cafe Neo is a Nigerian-owned chain of coffee shops. Known for its quality taste and variety of coffee drinks, there are always a number of ladies going there to have moments of relaxation. It isn't unusual to strike up a conversation with a random stranger over a cup of coffee. Cafe Neo outlets are established at different locations in Lagos such as:

1436, Lafayette Mall, Sanusi Fafunwa Street, Victoria Island. Monday - Friday (7am - 8pm), Saturday (10am - 6pm), Sunday (closed)
1st Floor, E-center, Sabo-Yaba, Lagos. Monday - Saturday (8am - 8pm), Sunday (10am - 7pm)
UBA House, 57, Marina. Monday to Friday (8am - 4pm), Saturday - Sunday (closed)
12E Emperor Chopsticks Plaza, Admiralty way, Lekki Phase 1. Monday - Friday (7am - 6pm), Saturday - Sunday (7am - 4pm)
Address: 168 Awolowo Road, Ikoyi, Lagos.
The Jazzhole has been described as "A haven for music, literature and art". It is a bookstore, a music store and it also serves as an avenue for art exhibition. With its peaceful setting, the Jazzhole is frequently visited by people who have a taste in reading books and listening to classical music. It is easy to relate with strangers at the Jazzhole because you most likely share the same interests. There is also a Mini restaurant where coffee and homemade cakes are sold.
Opening hours: Mondays-Saturdays: 9am - 8:30pm, Sundays: 4pm - 6:30pm
Tips for Nighttime
| | |
| --- | --- |
| | Chance of hooking up at nighttime: 4.5 / 5 |
Lagos is a city that comes alive at night. The whole beauty of Lagos becomes more visible after dark. After the stress of daily activities, a lot of people use the night time to relax and have a good time. Night time is an excellent time to get girls because a lot of girls might be busy during the day and are free at night. Also, a lot of girls might not want to be seen with men during the day in order to uphold a good reputation, so they prefer the night time to meet up and socialize. Among the girls you can meet, there are regular girls who are looking for fun and there are also professional sex workers looking to make some money. Both categories of girls can be found in different locations, ranging from nightclubs to hotels to private house parties. Musical shows and concerts are also good places where girls can be found at night.
Best Nightclubs to Meet Girls
Luxury Nightclubs:
Address: 873, Ozumba Mbadiwe Ave, Victoria Island, Lagos.
Quilox is probably the most popular nightclub in Nigeria. It is also the biggest nightclub in Nigeria and one of the biggest in Africa. It is frequented by high class members of the society due to the high price list, with cost of drinks ranging from $20-$900. Due to it's high level of luxury, Quilox is often frequented by celebrities and other important personalities, Nigerian and foreign. The club also has a restaurant where exotic meals and drinks are served. Part of the club's features is an ultra modern swimming pool where pool parties are frequently organized. Other features include karaoke (from 4pm to 11pm). Quilox also boasts VIP and soundproof VVIP sections. The club can be visited during opening hours and table reservations can be made online.
Opening Hours: Sunday: 10PM–4:30AM, Monday: Closed, Tuesday: Closed, Wednesday: 10PM–4:30AM, Thursday: Closed, Friday: 10PM–5AM, Saturday: 10PM–5AM.
Address: 234B, Adeola Odeku Street, Victoria Island, Lagos.
Also very popular in Nigeria, Escape is a high grade nightclub which is notable for the number of celebrities that visit frequently. The club is known for its quality customer reception service, as members of staff are very welcoming and accommodating, treating their guests like friends. There is also a large number of bouncers who are in place to ensure the safety of those visiting the nightclub. The prices of some of the most popular drinks sold at Escape Nightlife are: Ace of Spades – N150,000 ($411), Dom Perignon – N100,000 ($274), Gold Label – N50,000 ($137), Moet Rose – N60,000 ($164), Ciroc – N55,000 ($150), Cristal – N150,000 ($411). Depending on changes in the conversion rate, the prices might vary from time to time.
Opening Hours: Monday – Friday: 10am – 5pm. Friday – Saturday: 11pm – 5am.
Address: 57 Awolowo Road, Ikoyi, Lagos.
Club 57 is an ideal place to eat, drink and party at the same time. Like every other high scale nightclub, there are numerous girls looking to have a good time. The club boasts three floors where people can dance to good music. There are also tables and sofas for relaxing in the VIP section. The opening days for the club are Thursdays, Fridays and Saturdays. Party time is from dusk till dawn.
| | |
| --- | --- |
| | Nightlife in general: 4.5 / 5 |
You can find many bars and nightclubs in Lagos where people like to go and party.
Mature Ladies and Cougars
Lagos is a city known for having a lot of older women who are interested in younger men. Most of them are wealthy (sugar mummies) and are looking for long or short term relationships with younger men. There are also some who are only interested in one night stands. The best places to meet mature ladies are at gyms and massage spots. Most older women who frequent such places are more likely to be into younger men because they go to these places in order to look good in order to catch the attention of young men. Also, there are online dating sites such as afrointroductions, sugarmummyapp and lagosparol where older women can be met.
Dating
When visiting Lagos, dating can be a fun and interesting experience. AdultFriendFinder.com, lets you meet local members in Lagos and get to know them on a personal basis before you arrive. It just takes a few minutes, you simply create an account, upload a few images and tell a little about yourself. Since time in your destination may be limited, get to know each other's desires beforehand so when you do meet, you can skip the awkward introductions and start having some real fun.
Top Dating Tips
There are several places to go with a girl for a date. You can watch cool movies at the cinema, eat good food at restaurants, or go for drinks at a bar. There are also parks and gardens where you can go for quiet conversations. It is best to ask the girl where she wants to go, so that she can choose a place where she will be comfortable. Some girls might try to be modest when picking a location so that they won't seem like gold diggers, but you can encourage her to pick wherever she wants.
On your date, the kind of conversation that a girl likes depends on the girl. You can ask her what are interests are so that you will know what and what to talk about. However, there are some general conversations that girls like to get involved in. Together, you could talk about trending music and the popular musicians. Also, most girls are interested in talking about movies. Some girls prefer to watch and talk about Hollywood movies, some prefer Bollywood movies (Indian movies), while others prefer Nollywood movies (Nigerian movies). English is Nigeria's major language so most Lagos girls can speak fluent English. Communication should not be much of a problem, but just in case you meet a girl who is an exception, keep the English simple.
Depending on the type of girl, you meet, she might also be interested in reading books. A lot of girls spend time reading on the Wattpad app, where they find a lot of romantic stories.
If a girl is comfortable enough with you, she can discuss her love life with you. Her past relationships, how they started and how they ended. Most girls like talking about their love life if you seem like someone that they can confide in.
Relationships and Love
Thousands of single women in Lagos are searching for a partner and potential future husband. Check out an ultimate guide for dating local girls, relationships, love and marriage: Relationship & Love Guide to Lagos
Online Dating
Online dating sites are not very prevalent in Nigeria, but there are still a number of people who engage in online dating. The most used conventional online dating platforms are Tinder and Badoo.
Instead of using conventional dating websites, most Nigerians use general social media apps. Most popular among these apps are Instagram, Twitter and Facebook. These apps are excellent ways to meet girls. However, on these social media platforms you have to be convincing, because a lot of Nigerian con men and scammers pretend to be foreigners on social media. So, some girls might think you are just another scammer who is trying to make money off unsuspecting victims.
There are no ladyboys in Nigeria that can be found on dating sites, because being gay or transsexual is illegal in the country.
Live Cam Dating
Are you looking for virtual satisfaction in Lagos? Chat with live web camera models and find the best girl for your needs. There are thousands of girls online 24/7 waiting for you: Live Cam Girls
What Kind of Guys Have the Best Chances
Just like anywhere else in the world, one factor that makes women attracted to men is money. Rich guys always have an advantage when it comes to meeting girls and getting them to like you.
Most times, when girls see a foreigner on vacation, they assume that he is rich. This is because poor people hardly ever travel out of their countries for vacations. So even if you do not flaunt your wealth, they might still be attracted to you initially. However, to be 100% safe, it is best to let them know that you have money using indirect ways. Direct statements about how rich you are might make you seem proud and this can be a turn off sometimes. If the girl is a gold digger, she might not mind you stating how rich you are. The best place to show off financially is in nightclubs. If you book a table in the VIP section, girls will definitely be attracted to you. Also, girls notice the people that order the most expensive drinks. If you order the most expensive drinks, most girls will be very receptive if you approach them. Some bolder girls might walk up to you by themselves if they realize how rich you are.
The average girl (not a gold digger or commercial sex worker) might not want to be seen in public with men who are of foreign nationality. This is because a lot of girls who hang around foreign men are gold diggers or sex workers, so regular girls would not want people to think the same about them. Although, some bold regular girls might not mind being seen in public with foreigners. For regular girls, they prefer Black-Americans first, then Hispanics, then Whites, then Asians. Gold diggers do not really care about nationality, as long as the man is wealthy.
When it comes to physical appearance, the most important factor is for you to be well dressed. Get a nice haircut, a good cologne, and nice clothes. Facial features are not too important for a foreigner, as long as your looks are decent. You do not need to have a supermodel face for high class girls to be interested in you.
Having expensive possessions such as a car or a boat is also helpful in picking up girls. This is because such possessions always remind girls of how rich you are. However, if you have a car and you are new to Lagos, it is advisable to hire a driver instead of driving around yourself. Driving in Lagos is not easy for strangers because of the generally rough driving of most other drivers. Also, in case of any incident that might happen, it is better if a local is driving because he will be able to handle situations better. Drivers can be hired on online platforms like driversng and rideonnigeria. If you have a boat, there are waterways on the Island where people use their private boats. Boat parties are usually organized too.
When it comes to hotel accommodations, lodging in expensive hotels makes it easier to pick up girls. If you want a girl to come to visit you in a hotel room, she would be more enthusiastic if the hotel is big and popular.
Hotel reservations can be made on the airbnb website. On airbnb, there are also flats available for rent on a pay-per-night basis.
The number of dates that should happen before sex is dependent on you and the girl and whatever you both want. There are girls who just looking for one night stands. These girls are mostly found in nightclubs and bars. With girls like this, just one date is necessary, and that is right there and then at the nightclub where you meet.
Also, with sex workers, there is no need for dates or anything. Since the only objective is paid sexual satisfaction, their only requirement is that their money gets paid.
If there is a regular girl who you want to have sex with, the number of dates should be determined on the chemistry between you. The amount of sexual connection, and ultimately, her willingness to have sex with you.
However, if you are interested in being with a girl on the long term, and probably even starting a relationship with her, it is best to delay sex till after about five or more dates. This delay is necessary so that your relationship would not be based mainly on sex. Having several dates gives you both a chance to get to know each other better on a personal level.
Risks while Gaming
Lagos is a city full of people looking to make quick money. There are many people out there who want to exploit wealthy men.
Some girls are known to secretly give sleeping drugs to men that they have sex with, and when the men are asleep, they steal their expensive possessions. Most girls who do this are sex workers who sleep with men for money. The best way to avoid this is to avoid sleeping with sex workers in the first place. However, if you intend to sleep with one, make sure that she is from a reputable organization such as massage centers and not just a random sex worker on the streets. Though, not all street sex workers engage in that kind of stealing, it is best to be safe.
Some girls who go out to parties and nightclubs might just want to have fun on their own. So sometimes, they bring friends along to act as cockblockers. A lot of times, girls in groups are not as accommodating as girls who are alone. If a girl comes around with friends, it is best to approach her with your own friends, so that your friends can distract hers.
When you begin to get involved with a girl, you should try to find out if the girl has a boyfriend or not, to avoid any risk of having to face a jealous boyfriend. Sometimes girl who has a boyfriend might lie that she is single, in order to keep you attracted to her. This happens especially if she feels that her boyfriend is not rich enough to take care of her and she sees you as someone wealthy. Also, she might just be interested in getting down with a foreigner. Even if a girl claims to be single, you can ask a local who knows a lot about girls in a particular social circle. They might provide some helpful information about the girl of interest.
If you are getting involved with a girl, that is, going on regular dates with her, the question of her family might come into play. Most families who belong to the higher class of Lagosians do not really mind if their daughter or sister is getting involved with a foreigner, since they themselves are used to relating with foreigners.
Also, some families of girls who belong to the lower class might not mind too. They might see it as a good thing that their daughter or sister is getting involved with a rich foreigner, especially if you send money and/or gifts to members of her family, particular her parents and siblings. This is not the case for everyone though. There are Nigerians who are traditionalists, and who believe in preserving the African culture. Families who fall into this category might not support you having a relationship with the lady of interest, especially if she is close to marriage age.
How to Get Laid as Soon as Possible
It should not be surprising that the best way to get laid as soon as possible is to patronize a sex worker. It is very unlikely that a girl who you just met would want to have sex with you if she is just a regular girl that does not give sex for money. The chances are a lot less during the day. During the night time, it is possible to find a regular girl in the club who wants to have a one night stand, but you have to be sure that she is not a sex worker. Sleeping with a sex worker without the intention of paying her can end up in a very embarrassing way.
Your best options to get laid with a regular girl in Lagos is using the dating apps or searching for girls from nightclubs who are willing to have some fun.
Gold Diggers and Sugar Babies
Lagos is full of hot girls looking for a mutually beneficial hookup with travellers. There are lots of girls who don't charge by the hour but who will do anything for a guy who is willing to help them pay their bills. If you are looking for a more personal and less transactional alternative to escorts, a good place to find these sexy open-minded girls in Lagos is SecretBenefits.
Gold diggers are quite common in Lagos. A lot of girls are interested in having short term or long term sexual relationship with wealthy men in order to get mostly financial benefits. These girls are found on the university campuses in Lagos and in nightclubs.
BDSM
Looking for a new bondage partner while traveling? ALT.com is a community of like-minded people with members around the globe. Our members are interested in submissive sex, power exchange, locating persons for new slave roles, erotic BDSM, bondage & fetish sex, as well as live sex dates. Find thousands of play partners for whatever your fetish may be; bondage, foot, cockold, spankings, role-play, electric or water play, sadism and masochism all while traveling in Lagos.
Swinger Clubs and Naturism
There are a number of swinger clubs in Lagos but their locations are kept secret. Most times, swinger club activities are organized by private individuals at private locations, and are not open to the general public. Also, there are a number of beaches in Lagos, but none of them are nudist beaches.
The closest thing to swinger clubs in Lagos are the strip clubs. There are many strip clubs with hot strippers. These strip clubs function mainly at night. A few are mentioned below:
Address: 17, Joel Ogunnaike Street, Ikeja GRA, Ikeja, Lagos.
The Cave is one of the most expensive strip clubs in Lagos. This club generally has no entrance fee to the external bar, but in order to gain entrance into the main stripper room, a fee of N5000 ($13.7) must be paid. In the strip club, for a lap dance, a payment ranging from N2,000 ($5.5) to N5,000 ($13.7) is made. A lap dance lasts between five to ten minutes. Also, there are several private strip rooms which serve as the VIP section. To get a VIP room costs between N20,000 ($55) and 30,000 ($82). When the VIP payment is made, you have the room to yourself for the night and you do not need to pay extra money to strippers for a lap dance and any other service rendered.
Address: 70B, Allen Avenue, Ikeja, Lagos.
Less expensive than The Cave, Wall Street Pub has an entrance fee of N2000 ($5.5) on weekdays and N3000 ($8.2) during the weekend. A lap dance costs a minimum of N1000 ($2.75) and the duration is between five and ten minutes. Each of the VIP rooms costs between N4000 ($11) and N5000 ($13.7). In the VIP section, some strippers go as far as giving oral sex. There are also bedrooms where people can have sex with strippers for about N12,000 ($33) per night.
Costs of Living
| | |
| --- | --- |
| | Single traveler's budget per day: US$20 - $100 |
| | |
| --- | --- |
| | Accommodation per night: US$15 - $160 |
| | |
| --- | --- |
| | Beer in a grocery shop: US$0.82 - $2.75 |
| | |
| --- | --- |
| | Beer in a bar or restaurant: US$1.37 - $5.51 |
| | |
| --- | --- |
| | Meal in a restaurant: US$1.37 - $13.7 |
Accommodation
In Lagos, there are hotels close to most hangout spots. Hotel owners realize the need to build hotels close to nightclubs, so you can move easily from a hangout to your room. The prices of hotel accommodation differs depending on the standard and the location of the hotel. On the average, a 3-star hotel costs about $40 per night and a 5-star hotel costs about $160 per night. However, these prices are just average prices. Some luxury hotels can be as expensive as $1500 per night and some low grade hotels can be as cheap as $15. However, these prices differ from time to time due to economic changes.
There are also flats (ranging from one to four bedrooms) which are available for rent on a pay-per-night basis. Hotel room and flat reservations can be made in person or on online platforms like airbnb.
How to Get There and Move Around
By air:
Lagos is home to Murtala Muhammed International Airport (MMIA). It is located only 4km to the capital of Lagos. This airport is the busiest airport in Nigeria and West Africa, with over 7 million passengers each year. Major hotels like Sheraton Hotel and Best Western Lagos Hotel are located close to the airport. Bus services are usually arranged to transport customers from the hotels to the airport. Due to the size and popularity of Lagos, most major cities in the world have direct or indirect flight routes to Lagos.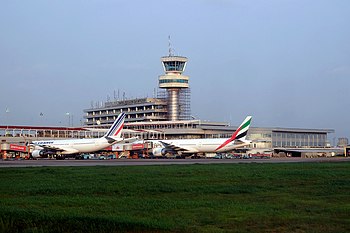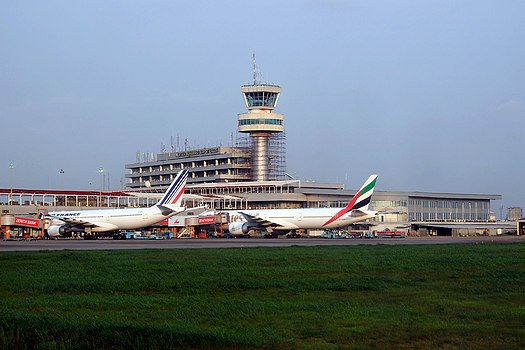 By bus:
The common bus transport systems in Lagos are the regular yellow coloured buses called the "molue" or "danfo". These buses have designated routes and most times, each bus has a conductor and they are mostly privately owned. However, "danfo" buses are not usually patronized by foreigners because boarding the buses and moving around is quite stressful. Lagosians are easily identified by the way they struggle vigorously to enter buses. The struggle is due to the high population of people living in Lagos. The other type of buses in Lagos are the BRT buses which are long blue buses and the BRT system is run by LAMATA, a government organization. They are also more convenient that the regular "danfo" buses. They have air conditioning and people queue up calmly when entering unlike the "danfo" buses where it is "every man for himself".
By car:
There are several options when it comes to moving around Lagos in a car. Apart from driving yourself, there are passenger pick up services such as Uber and Taxify which operate in almost all the major parts of Lagos. There are particular restrictions when it comes to a tourist driving around. However, you can hire a car from online platforms like carrentals, sixt and avis. You can also hire a driver from online platforms like driversng and rideonnigeria.
By train:
Lagos Railway Mass Transit in Lagos is currently under construction.
By boat:
When it comes to boat transportation, there are certain ferry companies that have boats that transport people back and forth, between the Mainland and the Island. Some people who patronize these ferries claim that the journeys are less stressful than sitting in Lagos traffic for hours. Some of these companies are Metro Ferry and Sea Coach Ferry Services.
There are also boats that move from Lagos and are headed to neighboring countries like Cameroon. Other boat movements are by people who own private yachts.
Lagos Traffic:
Another notable aspect of Lagos is the traffic jams. Lagos is the smallest state in Nigeria in terms of geographical size but one of the most populated. This means that a lot of people are living in a very small space. Thus, Lagos is jam packed. The best way to avoid the hold ups is the understand the flow and structure of the city.
Lagos is divided in the two major parts. The Mainland (where the middle class and lower class live) and the Island (where the higher class live). A lot of business establishments are set up on the Island since it is where a lot of the Lagos money is made and spent.
During weekdays in the morning, the direction of traffic is from the Mainland to the Island, since most people live on the Mainland and work on the Island. When it becomes evening, the direction of traffic flow reverses when people close at work on the Island and begin to return home on the Mainland. So, in the evenings, traffic jams occur on the roads leading to the Mainland from the Island.
If you want to move about Lagos without encountering too much traffic, there are three main periods of time that are best to move about.
First, very early in the morning (4am - 5am), when most people are still at home. Sometimes, this is not very effective, since some people trying to get to work early might also leave home early.
Second, late morning or early afternoon (10am - 1pm). At this time, most workers have already arrived at work so the roads are not as jam packed as they might have been around 6am - 9am when most people would be moving around.
Third, late night (from 9pm or 10pm), when most people are back indoors. Most workers close at work between 2pm and 4pm so the roads are usually blocked until from late afternoon till night. It is usually at late nights that the roads become empty. A lot of workers now wait at the office until it is night before they leave their office so that they can have a smooth ride home.
However, if you intend to move around early in the morning and late in the night, you should be extra careful. Some criminal minded people might want to take advantage of the fact that the streets are empty and attack or rob you. Just in case you fall victim of such a robbery, it is important that most robbers are armed with guns or knives. So, it is best to be calm and fully cooperative to avoid getting physically harmed.
Motorcycles:
Apart from cars and buses, motorcycles are also a major form of transport in Lagos. Though, they are mainly used when passengers need to enter inner roads where most public buses do not enter. These minor roads are not part of the major routes taken by the buses. Motorcycles might carry one or two adults, depending on the passengers specifications and the nature of the road that is to be taken. The local motorcycles and their drivers are called "bike" or "okada". While most motorcycles are simply flagged down by calling out or whistling, there is a pick-up motorcycle service in Lagos called Gokada. Gokada works like other pick-up services such as Uber and Taxify. When the mobile app is downloaded, the nearest Gokada motorcycle rider can be seen and called via his mobile number which is available on the app. The Gokada service is safer than regular "okada" rides because the rider and the passenger are assigned with standard helmets unlike regular riders. Also, all riders have their profiles submitted to officiating personnel of the app, so that complaints can be made in case a rider does something inappropriate like riding recklessly.
Visas:
It is quite easy for a foreigner, especially out of Africa to get a visa into Nigeria. If you are coming to Lagos for a short period of time - maybe a vacation - it is best to apply for a tourist visa. Applications can be made on the home page of Nigeria Immigration Portal. The requirements for a tourist visa are written below:
1. Passport valid for at least 6 months
2. Completed visa application form
3. Two recent passport size photographs
4. A Letter of Invitation from a company/host in Nigeria accepting immigration responsibility
5. Visitors/Tourists are required to show evidence of sufficient funds
6. Nigeria Immigration Service Visa Payment Receipt and Visa Acknowledgement Receipt
Most times, it is easier to employ the services of travel agencies in your country. They would handle most application, flight and accommodation processes for a fee.
Digital Nomads and Remote Work
With its high population and thriving IT scene, Lagos is a haven for digital nomads. Among its features are coworking spaces, entrepreneurs, freelancers, broadband internet and tech hubs. There is good internet connectivity, with WiFi networks and other service providers having 4G connectivity. There are also numerous spots to relax and work at the same time such as the hotels mentioned above. A working visa is not really necessary. So if you love traveling while working on your laptop, Lagos is a good place to be.
Internet and Mobile Operators
There are four main network providers in Nigeria (MTN, Airtel, 9mobile and Globacom), all of which are fast in most parts of Lagos with 4G connectivity available. There are also several WiFi router companies such as Spectranet, SWIFT Networks Limited, SMILE Communications Nigeria and IPNX Nigeria. They also offer 4G connectivity in most parts of Lagos. These different networks offer a wide range of data plans. Commonly used plans range from $7 - $14 for 10GB. There are also free WiFi spots in designated areas such as: Murtala Muhammed International Airport 2, The University of Lagos, Ikeja City Mall (ICM), The Palms Lekki and Computer Village in Ikeja. There is the option of cyber cafes which are mostly open from 8am-7pm.
When it comes to making phone calls, airtime of N100 lasts for about 15 minutes for most of these telecommunication companies.
Gambling and Casinos
Most forms of betting and gambling are illegal in Nigeria under Chapter 22 of the Criminal Code. There are a few exceptions such as skill based card games, backgammon and the national lottery. There are a few licensed casinos in the country.
Address: 6-8 Ahmadu Bello Way, Victoria Island, Lagos
The Federal Palace Casino is one of the few licensed casinos in Nigeria. It is located in the lobby area in the hall within the Federal Palace Hotel at the address given above.
SLOTS:
The Federal Palace Casino has over 100 state-of-the-art slot machines. At the Federal Palace Casino, there is definitely a slot machine which can cater for your gaming budget, no matter how little it might be. Various slot machines allow you to play with denominations ranging from as little as $0.01 to $0.5.
Hours: Monday – Friday: 12pm - 3:15am, Saturday, Sunday & Public holidays: 10am - 3:15am
TABLES:
There are five game tables at the Federal Palace Casino. The game tables offer Black Jack and Hold'Em Poker and you can place your bets at an American Roulette table.
Hours: Monday – Sunday: 7pm - 3am
Address: 2/4, Adetokunbo Ademola Street, Victoria Island, Eti Osa, Lagos, Nigeria
Located on the Lagos Island, The Green Lion Casino is known for its high hospitality standards and its relaxed environment. At the tables, there is a wide variety of games available such as Texas Poker, Baccarat, Omaha, Roulette, Black Jack, and Caribbean poker. There are also lots of slot machines available. The Casino is open 24/7.
Another form of gambling in Nigeria is sports betting. There are numerous indigenous sports betting sites, most of which offer a maximum winnable amount of N40 million ($110,162). Nigerians mostly bet on football matches. The betting platforms have offices where people go to place bets, but it is more convenient to carry out betting online on betting websites. Some of the platforms include: bet9ja, nairabet, betking, betway, 360bet, surebet247, merrybet, and supabet.
Weed and Drugs
Normally, weed and most drugs are illegal in Nigeria and the police usually arrest people caught smoking or in possession of weed and other drugs. Most times, these policemen can be bribed with high amounts of money. However, there are some locations in Lagos where the police do not come to make arrests. These places are well known spots that people go to get high and are quite safe. Places like Elegushi Beach at Lekki Phase 1 and the New Africa Shrine at Ikeja. Strains of weed popular in Lagos are Arizona, Loud, SK, Colorado, and Pawpaw. Generally, weed is often called "blaw" or "blow" or "trees" or "grass". Weed can be bought at those safe places mentioned earlier. At the New Afrika Shrine, most of the food being sold contains some amount of weed and it is a very good place to come and get high while listening to good music by live bands and sometimes celebrity musicians. The price of weed depends on the particular strain been sold, but on the average, weed is not expensive. Other drugs often used are Tramadol (Trams), Codeine (Coda), and Refnol (Ref). They are mostly pills and syrups and they can be gotten at local pharmacies. It is advisable to buy these drugs at pharmacies that are managed by young guys. Other foreign drugs like LSD and coke are hard to find and very expensive. Another place to get high without risk of police arrest is inside private estates. People who live in most private estates are wealthy people who have high connections, so the police do not bother to enter such estates to arrest anyone. Students in Lagos universities also have some safe spots inside the campus. Some nightclubs do not allow smoking of weed, but they allow shisha (hookah) instead.
Health, Fitness, Gyms and Massage
Health:
Due to its high population and high revenue, Lagos has a large number of good hospitals which meet up to world standard. Popular among the hospitals are First Consultant Hospital (the hospital where the Ebola outbreak in Nigeria was treated and stopped), Lagos State University Hospital (LASUTH), Eko Hospital, and Reddington Hospital. In case of any health issue, it is best to ask around for the hospital closest to you. Avoid local clinics because even if their treatment is cheap, some of them have quack doctors or low quality equipment. Generally, it is better to seek treatment at government owned hospitals rather than private hospitals because they offer healthcare at cheaper prices and they are usually better equipped than private hospitals. This is because of government funding which subsidizes the cost of healthcare.
Fitness and Gyms:
As expected in such a mega city, there are hundreds of gyms and fitness centers in Lagos. If you stay in a proper hotel, you are most likely to have access to free gym services, courtesy of the hotel. If not, you can always do a search on the internet for a gym close to you. You can also ask people around for the closest standard gyms.
Massage:
There are numerous massage spots in Lagos that tend to both male and female customers. Some of these massage spots are run by Nigerians, while others are run by foreigners, mainly Asians. While some massage spots are strictly for massages alone, others are also for sexual services which usually come after the massage. If a client is interested in sexual activities, he/she asks for a "happy ending". Depending on how much a client is willing to pay, the "happy ending" could be a hand job, a blow job or sex. However, you should be careful regarding the massage spots you visit since not all massage spots offer sexual services. In order to avoid an embarrassing situation, it is best to ask the management staff if the establishment offers "happy endings", before you even begin the massage. The names and locations of such massage spots are usually kept secret and are known by people within certain circles. Most people who patronize these spots are foreigners, since natives prefer to go to a brothel for sex, in order to save cost.
STDs and HIV
As expected in any big city, there are cases of people STDs. However, these STDs are easily preventable by using protection. Condoms are available in local pharmacies and there is hardly any street that doesn't have a pharmacy.
Stay Safe
In general, Lagos has become a much safer place to visit than before, with the state spending huge budgets on security with police patrol cars, CCTV cameras (though this isn't always the case). etc. But beware of deals or businesses that sound too good to be true (especially e-mails soliciting your help), and do not openly flaunt your possessions, especially in public places.
While it is rare for a tourist to be a victim of a violent crime, it is still wise to stay safe and be alert, especially during late night outings. Stick to crowded streets and make sure to go out in groups as against going out alone.
Lagosians are generally nice and friendly people, most of whom will readily offer directions to you if you are lost.
Things to watch out for in Lagos
Scammers
Lagos has a reputation for having many people who are involved in elaborate scams. Foreigners are usual targets, since most foreigners visiting Lagos are wealthy and mostly naive when it comes to being streetwise. You might have someone come up to you, offering something that has high value for a low price. A lot of times, those goods being offered might be faulty or stolen. In such situations, politely decline the offer and walk away.
Another popular form of scams in Lagos is currency exchange scams. Con artists pretend to be currency exchange traders. As a foreigner, you might be wanting to change your foreign cash currency to Naira in order to spend it in Nigeria. Some of these scammers actually give you the currency, but sometimes the currency offered would be fake. The safest way to change your currency is to visit a bank.
Another prominent form of scams is property scams. Someone might offer a piece of land or a house for sale or rent. After you pay to the person, you might eventually find out that you paid to someone who is not the owner of the building or land. The real owner will then come to claim his land, while you are stranded, having paid to a scammer. There are some few things that might tip you off to a property scam. If you notice that the seller is in a hurry to sell off the property, the property is being sold at a surprisingly low price, or the property is an uncompleted building, then the whole offer might be a scam. The best way to avoid property scams is to buy property via popular estate agencies.
Pickpockets
There are a lot of people with fast fingers on the streets of Lagos. Pickpockets mainly operate on crowded streets. Someone might accidentally bump into you only for you to realize later that your wallet or phone is gone. A popular spot where pickpockets operate is the Computer Village in Ikeja. Some few procedures can prevent you from falling prey. You can out your wallet and phone in your front pocket instead of behind. Spread out your valuables, don't put everything you have in just one pocket. Make sure your phone and other devices are password protected. Phone tracking apps can also be helpful.
See Also