South America
South America dating guide advises how to pick up Latin American girls and how to hookup with local women in South America. Travel, enjoy and have fun with hot single girls and you might even meet the love of your life. Read more on how to date South American women, where to find sex and how to get laid in South America.
Nestled between the Caribbean, the South Pacific, and the South Atlantic Oceans, South America is the wilder part of the Americas.
South America Top 10 Overview:

Chance of picking up girls: 2.25-4.25 / 5

Picking up at daytime: 2-4 / 5

Picking up at nighttime: 2.5-4.5 / 5

Looks of girls: 2.5-5 / 5

Attitude of girls: 2.5-5 / 5

Nightlife in general: 2-5 / 5

Locals' English level: 1-4 / 5

Transportation: 2-4.5 / 5

Budget per day: US$20 - $200

Accommodation: US$7 - $150
South American and Latin American Girls
Overall the beauty of the girls in South America are well above the international average. You have probably heard about the gorgeous latin girls from Colombia and Venezuela who are conquering the top positions in Miss Universe beauty contest over and over again.
There are many different type of girls living in South America. You can meet stunning latin girls in some countries, such as Colombia, Venezuela, Brazil and so on. In all countries in South America you can find several mixes. Girls with white skin, dark skin, indigenous, Asian Indian, and so on.
Bolivia has lots of indigenous girls which are usually not very hot.
Brazil has a great mix of white, black and latin girls.
Chile has lots of European looking girls, and also mixes from indigenous.
Colombia has stunning latin and Caribbean dark skin girls.
Ecuador has many indigenous looking girls, but also white, black and other mixes.
Paraguay has girls similar than Brazil and Argentina.
Peru has probably the easiest girls to get laid with. Some of them are very beautiful with latin, indigenous or dark skin mix.
Uruguay has pretty much the same selection than in Argentina.
Venezuela has gorgeous latin girls and Caribbean mixes.
| | |
| --- | --- |
| | Looks of girls: 2.5-5 / 5 |
| | |
You can find attractive girls in every country in South America. Some may not find indigenous type of girls as attractive than latin or Caribbean. The most beautiful girls can be found mostly in Colombia, Venezuela, Argentina, Brazil, Chile, Uruguay and Paraguay.
| | |
| --- | --- |
| | Attitude of girls: 2.5-5 / 5 |
| | |
Overall the attitude of girls is really good throughout the continent. The language barrier is your biggest concern. Some of the sophisticated women in the most developed countries may be difficult to approach. This might be the case in some famous cities, such as Buenos Aires, Santiago de Chile or Rio de Janeiro. Some good-looking posh girls are looking for wealthy men only.
How to Pick Up Girls
Picking up girls varies a lot depending of the country. For example Argentina, Chile and Uruguay has quite similar girls than in Europe. They aren't the easiest ones, but when you get to know them better, expect to have some wild sex.
Brazilian girls are pretty easy to pick up and get intimate on the dance floor of a nightclub, but often they will set the limit at that point. Getting laid with a Brazilian girl is much more challenging than just French kissing.
Peruvian girls are probably the easiest ones in South America. If you will meet a Peruvian traveler girl in other parts of the world than their home country, you will be quite sure to have sex with her if she shows any interest in you.
Most girls in whole South America like foreign men. The biggest issue is finding a common language. In some countries English is a common language, for example in Suriname and Guyana. But if you know some Spanish or Portuguese, that will help you a lot in other parts of Latin America. If you can dance salsa, even better!
| | |
| --- | --- |
| | Chance of picking up: 2.25-4.25 / 5 |
| | |
Chance of picking up girls is easier in some parts of South America than others. However, hooking up with locals is very possible all around the continent.
Tips for Daytime
You can meet girls almost anywhere at daytime. In Latin American culture there is nothing wrong to talk to the girls in public places. Just remember good manners and don't be too pushy. If the girl is not interested in you, she will probably let you know that in no time. The local girls are used to that local men are watching their bodies when they walk by. It's not considered as harassing if you just look. Touching is a whole different story. Never lay your hands on a girl's body that you don't know.
| | |
| --- | --- |
| | Chance of picking up at daytime: 2-4 / 5 |
| | |
Best Places to Meet Girls
Here are the best places for daytime gaming in general.
Tips for Nighttime
Meeting girls at night is much more easier than daytime. When girls go out and party, they have forgotten their work stress. Latin girls love to dance. You have no idea how big advantage it is if you have some latin dancing skills, such as salsa.
Girls like to drink alcohol everywhere in South America. After a few drinks they are much more welcoming to strangers than daytime. Play your cards well and you might be banging a hot latina at the same night.
| | |
| --- | --- |
| | Chance of hooking up at nighttime: 2.5-4.5 / 5 |
| | |
Some countries are easier in night time gaming than others. For example Argentina, Colombia and Brazil have a really famous partying culture.
Best Places to Meet Girls
Best places to meet girls at night are obviously the venues which serve alcohol and has good vibes with the music.
Afterhour nightclubs (till early in the morning)
The streets in the nightlife area. A good example of this is Lapa district in Rio de Janeiro.
Afterhour fast food joints
Special events (for example Samba Carnival in Brazil)
| | |
| --- | --- |
| | Nightlife in general: 2-5 / 5 |
| | |
South America has some of the best nightlife cities in the whole world. Here are some of the great party cities in South America:
Mature Ladies and Cougars
Cougars can be found from all the countries in South America. The culture varies a lot. For example the indigenous older ladies in Ecuador, Peru or Bolivia aren't probably interested in hooking up with young dudes. At the same time some latinas in Brazil or Colombia may be interested in some younger foreign guys.
You can set the age limit as you wish in some online dating apps, such as Tinder. If you will find older ladies' profiles in these apps, they are probably looking for fun.
Countries and territories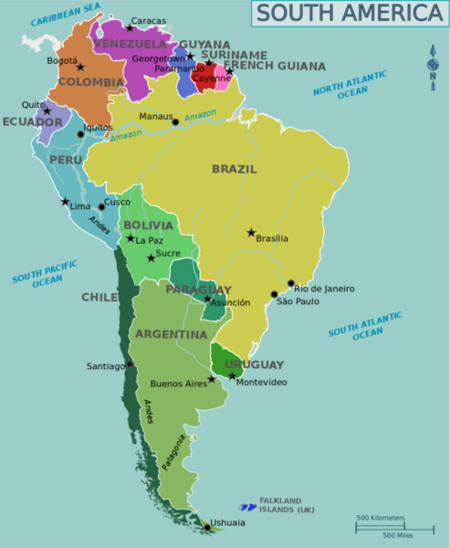 Cities
Top Dating Tips
Online Dating
Live Cam Dating
Chat with live web camera models and find the best girl for your needs. Check out which girls are online now: Live Cam Girls
What Kind of Guys Have the Best Chances
Risks while Gaming
How to Get Laid as Soon as Possible
Gold Diggers and Sugar Babies
The Sugar Baby scene in South America is still quite new but there are a lot of beautiful young girls looking for a Sugar Daddy. The best and safest way to hook up with a Sugar Baby is online. At SecretBenefits.com there is a wide selection of nice girls who are looking for an older guy to take care of them. These babes are easy to approach and you can settle everything before meeting up.
Anyone can be a sugar daddy. Just create your free account at SecretBenefits and start enjoying the wide selection of Sugar Babies available.
Swinging and Naturism
Costs of Living
| | |
| --- | --- |
| | Single traveler's budget per day: US$XX - $XX |
| | |
| | |
| --- | --- |
| | Accommodation per night: US$XX - $XX |
| | |
| | |
| --- | --- |
| | Beer in a grocery shop: US$XX - $XX |
| | |
| | |
| --- | --- |
| | Beer in a bar or restaurant: US$XX - $XX |
| | |
| | |
| --- | --- |
| | Meal in a restaurant: US$XX - $XX |
| | |
Accommodation
How to Get There and Move Around
By air:
By bus:
By car:
By train:
By boat:
Visas:
Digital Nomads and Remote Work
Internet and Mobile Operators
Gambling and Casinos
Weed and Drugs
Health, Fitness, Gyms and Massage
STDs and HIV
Stay Safe
South America has some reputation for crime, including armed robberies, with Brazil, Colombia and Venezuela being noted as the most dangerous. Read up beforehand about the individual destinations you're planning to visit. As with anywhere else in the world, the right travel planning can mitigate any dangers.
Wearing or carrying items which may identify you as an affluent tourist can be a mistake. You shouldn't pack anything that you would be upset to lose. Leave expensive jewelry, watches and other items of value at home and only carry what you need. That goes for credit cards and other documents as well; if you have no need for them leave them behind in the hotel safe, only take what money you are likely to spend with you.
While tropical storms are rare, flash floods do occur in various parts of South America. Earthquakes and to some extent volcanic eruptions are a risk in the Andean countries, especially Chile.
See Also