Myanmar
Myanmar dating guide advises how to pick up Bamar girls and how to hookup with local women in Myanmar. Travel, enjoy and have fun with hot single girls and you might even meet the love of your life. Read more on how to date Burmese women, where to find sex and how to get laid in Myanmar, Asia.
Myanmar, officially known as the Republic of the Union of Myanmar or the Union of Burma is a country located in the South East region of Asia. It is called Burma because of the predominant Burmese ethnic group. Over the years, the capital has been moved from Mandalay to Yangon, and now to Naypyidaw. The largest city and the most important economically and politically, however, remains Yangon (Rangoon). On the northwest lies Bangladesh and India. On the east and southeast Laos and Thailand. To the south and southwest lies Andaman Sea and Bay of Bengal.
The country has had its fair share of ethnic strife as a result of minority groups protesting the Burmese dominated government. The Burmese also control the military. This country has experienced one of the longest periods of civil war in the world. Myanmar is home not just to minority groups but also to the Chinese and Indians. There was also the unrest caused by communists who had China's backing. However, the country has known more safety in recent times and is still a popular destination for tourists.
The people are involved in agriculture and under British rule, Burma was the world's largest exporter of rice. Though, things are quite different now. Other industries also include textiles, mining, construction materials and manufacturing of fertilizers. Myanmar exports agricultural produce and precious stones. The country is also known for its oil and natural gas reserves, Myanmar other thriving industry is the export of illegal opium and heroin where it tops the list globally. It also has the widest income gap in the world, because despite it being very rich in natural resources, the funds are being diverted and controlled by loyalists of the former military government. 
Myanmar Top 10 Overview:

Chance of picking up girls: 3.5 / 5

Picking up at daytime: 3 / 5

Picking up at nighttime: 3.5 / 5

Looks of girls: 3/ 5

Attitude of girls: 3 / 5

Nightlife in general: 3.5 / 5

Locals' English level: / 5

Transportation: 2.5 / 5

Budget per day: US$120 - $300

Accommodation: US$80- $250
Burmese Girls
Burmese Ladies are beautiful and friendly women. These ladies are bold, strong and confident. There was time, the society one had a matriarchal system when women were allowed to own oil wells, preserve their economic and legal rights and their independence. Hence, the Burmese lady is not one to be easily intimidated. However, due to cultural and religious beliefs, these ladies are homely and well mannered. There is a lot of value for respect so be sure they would deliver that.
The rate of urbanization is not so high, neither is the rate of literacy so do not expect them to be as exposed as their Asian counterparts in other well-developed countries.
| | |
| --- | --- |
| | Looks of girls: 3 / 5 |
Burmese ladies are beautiful women with the usual Asian features; round faces, small eyes, long flat noses, full cheeks, and small thin lips. They are mostly light-skinned, though you would see some with darker shades of color. They are mostly slim with long attractive necks, small hips, and buttocks. The women of Myanmar pride themselves in their long necks and some even go the extra mile to make it much longer.
| | |
| --- | --- |
| | Attitude of girls: 3 / 5 |
Burmese ladies are friendly, accommodating and respectful. They are also bold, confident and can be assertive. They may act a little snobbish when you approach as a foreigner but that is just because they are yet to trust you. When they do, they would make a great company. 
Where to Get Sex Now
It is easy to get sex online in Myanmar. You just need to find the best available girls. See Girls Online Here!
How to Pick Up Girls
Picking up girls in Myanmar would require you identifying and respecting the views of the people, especially the religious views. This is the most important part of their lives and it would be a great advantage if you act in consideration of that.
Respect and humility are also values they hold dear. While with your date, be gentle and affectionate.
With the inflow of tourists, the country has become more open to foreign cultures. So you may dress in loose and casual clothes. However, there would be no need to over bare your body parts.
Look good and smell nice. Speak confidently as these are bod ladies. You can have conversations around their cultural heritage but avoid political topics.
There are a lot of cool places to pick up Burmese girls. Ensure you have the financial capacity to give her an exciting time. Avoid public display of affection.
| | |
| --- | --- |
| | Chance of picking up: 3.5 / 5 |
You have a good chance of picking up a Burmese lady. Though the people are predominantly conservative and reserved, these ladies are bold enough to know what they want. If you play your cards right, it would not be hard for you to get a Beauty from this country as a date.
Tips for Daytime
During the day, the country is quite safe and crimes against tourists are taken very seriously. However, you would still need to follow safety measures by keeping valuables and bags at home to discourage thieves and pickpockets.
The roads are in poor condition, it would be great to rent a car and hire a car driver as well. If you must cross the road, pay special attention as most of the vehicles are old and the drivers rough.
The major language spoken is Burmese but a lot of people take English as a second language so you may have no problems communicating with your date.
You can dress casually as long as it is decent. You should also smell nice and look good. These people pay a lot of attention to cleanliness.
| | |
| --- | --- |
| | Chance of picking up at daytime: 3 / 5 |
You have a fair chance of picking a lady from Burmese during the day, as long as you know the right places to visit and you unleash the best of your dating skills.
Best Places to Meet Girls
Best places to meet beautiful women from Myanmar include:
Beaches: This country is the location of many exciting beaches from the luxurious Ngapali beach to the affordable Ngwe Saung Beach and Chaung Tha, you would likely meet a lady from Myanmar here.
Mergui Archipelago: Often referred to as the Last Paradise on Earth, this is where you get to see about 800 isolated Islands that make perfect spots to meet your dream lady from Myanmar.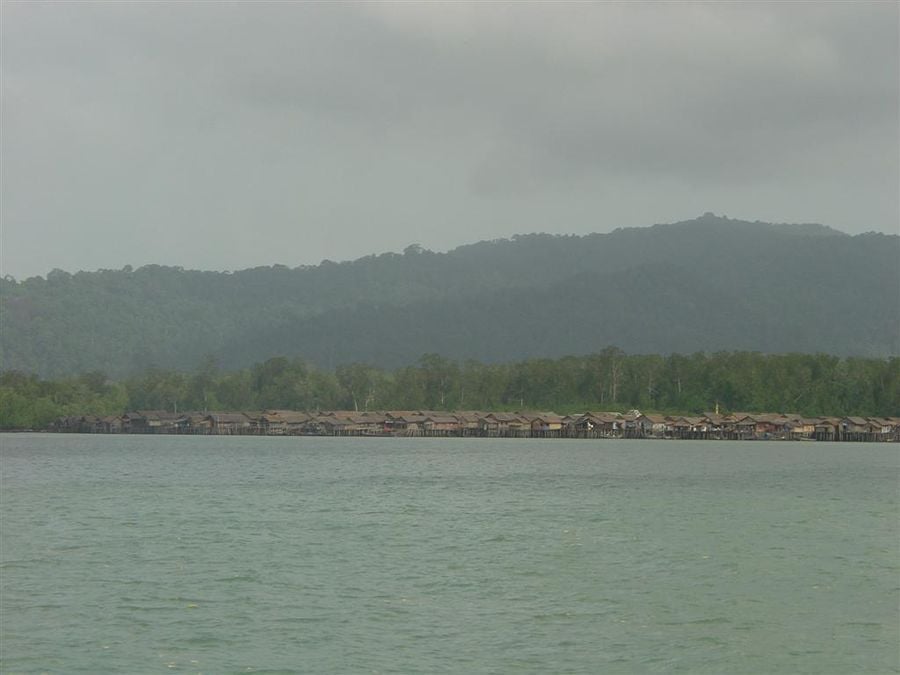 Bagan: This is the major reason tourists visit Myanmar. You would find exotic archaeological structures here and probably a beauty from Myanmar.
Inle: This Lake which is found among mountains offers amazing scenery and is a site you should visit. You would likely find a gorgeous lady from Myanmar here.
=== Tips for Nighttime ===        
The country is alive at night, especially in major cities like Yangon. You can visit the clubs, pubs, bars and disco houses there.
The region can be said to be safe, especially for tourists. However, it is advised you stick to security measures.
It would be great to rent a car and hire a driver as the roads are in poor conditions. Also, avoid walking alone at night.
Be kind, respectful and polite. You can dress as casually as you desire but avoid over exposure of your body.
| | |
| --- | --- |
| | Chance of hooking up at nighttime: 3.5 / 5 |
You have a good chance of hooking up with a Burmese lady at night. The night time in the country is quite vibrant, so if you visit the right places, you would find a Burmese lady who would be willing to give you her time.
Best Nightclubs to Meet Girls
There are several cool places to visit at night. Beer, rum and whiskey are majorly served in Myanmar. You also get to enjoy Karaoke, live music, beautiful scenery, and even massages. Some of these places include:
Pioneer Club: If you want to get cool drinks, and great music, you should visit this club. You would likely meet a girl from Myanmar here. 
Club 5: This club located in the Parkroyal Hotel is an exciting place to see. You have better chances of meeting a lady from Myanmar if you sit within the central circular bar.
Fuse: This club that offers electronic music and nice drinks is a place to see. You would likely meet a lady from Myanmar here.
Channel V: This club is accessible by people from all walks of life because of its very affordable entrance fee. It offers great music too. You would find a lovely lady from Myanmar here.
| | |
| --- | --- |
| | Nightlife in general: 3.5 / 5 |
Myanmar offers tourists a great time at night, especially at Yangon the country's former capital. Besides the traditional culture that you get to enjoy seeing, you can also enjoy live music, DJs, beautiful scenery, karaoke at the clubs, bars, pubs, discos, and lounges.
Mature Ladies and Cougars
Myanmar is one of the countries in Asia with a high rate of child marriage; from age 14. Due to the religious views of the people, it would be quite difficult to find a mature lady or cougar to date. However, you can always get in touch with willing women in this category through online dating sites such as justdate.com.
Regions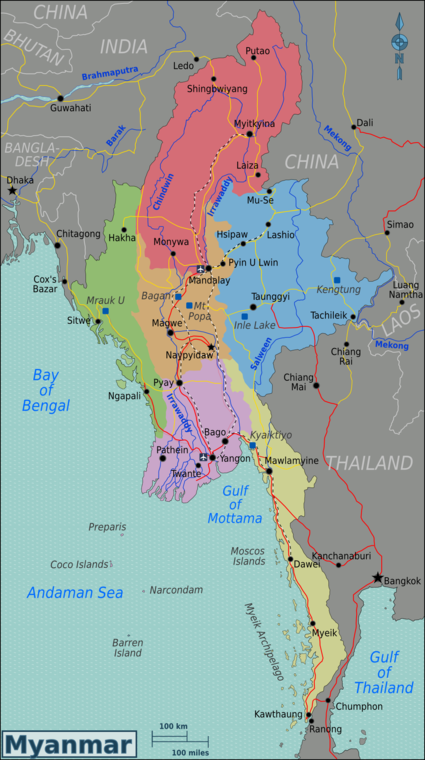 Irrawaddy 
The lowlands of the Irrawaddy Delta with the largest city and former capital Yangon.
Central Myanmar
Mandalay, historical and archaeological sites and cool hill towns.
Western Myanmar 
Remote mountainous regions and some lovely beaches on the Bay of Bengal.
Northern Myanmar 
A huge, fractious region including the southern reaches of the Himalayas and many ethnic tribes.
Eastern Myanmar 
The infamous Golden Triangle and a bewildering number of ethnic groups.
Southeastern Myanmar 
The southern coastal stretch bordering Thailand with a vast number of offshore islands.
Cities
Dating
When visiting Myanmar, dating can be a fun and interesting experience. AdultFriendFinder.com, lets you meet local members in Myanmar and get to know them on a personal basis before you arrive. It just takes a few minutes, you simply create an account, upload a few images and tell a little about yourself. Since time in your destination may be limited, get to know each other's desires beforehand so when you do meet, you can skip the awkward introductions and start having some real fun.
Top Dating Tips
The first dating tip would be to pay close attention to people's religious views and try not to offend in any way. Like you have to remove your footwear if you intend visiting the temples.
You should arm yourself with respect, courtesy, and humility. These people are majorly conservative and reserved due to their religious beliefs.
There are many places to take your date too during the day and at night. Ensure you have the financial capacity to do so.
Speak intelligently and be confident. Compliment your lady and discuss matters around her cultural heritage. Be kind and affectionate. The Asian woman loves romance so make an effort to be romantic. 
Relationships and Love
Thousands of single women in Myanmar are searching for a partner and potential future husband. Check out an ultimate guide for dating local girls, relationships, love and marriage: Relationship & Love Guide to Myanmar
Online Dating
Datememe: This app helps connect people from all over the world. It is one of the trendy online dating apps used in Myanmar.
Loveawake: This online dating site is filled with genuine members who are ready to mingle and find love!
Cupidhit: This is a premium online dating site in Myanmar where singles connect.
Mingle2: This is a 100 % free dating site for single men and women in Myanmar. Sign up for free!
Firstmet: This is another trendy online dating app used by the beautiful ladies of Myanmar.
Live Cam Dating
Are you looking for virtual satisfaction in Myanmar? Chat with live web camera models and find the best girl for your needs. There are thousands of girls online 24/7 waiting for you: Live Cam Girls
What Kind of Guys Have the Best Chances
The type of guy with the best chances in the country is romantic, smart, confident guys. They also have to be good looking, polite and respectful. They should also have a deep appreciation for people's cultures and traditions.
Risks while Gaming
The major risks while gaming would be cultural and religious issues. The people of Myanmar center their lives on the Buddhist religion making it the most important factor of their culture.
Another risk would be the issue of safety, though is generally safe. There may be a need to follow safety precautions to avoid being victims of petty thieves and pickpockets. The roads are not so good and many old vehicles are plying the road, you must be careful while driving. Avoid walking alone at night and pay attention while crossing the roads. If you wear a tattoo of spiritual significance, it is advised to keep it hidden from public view.
How to Get Laid as Soon as Possible
Getting laid as soon as possible would require you using the best of your dating skills and gaming more at night. At night, the ladies are more relaxed and ready to have a good time.
Gold Diggers and Sugar Babies
The Sugar Baby scene in Myanmar is still quite new but there are a lot of beautiful young girls looking for a Sugar Daddy. The best and safest way to hook up with a Sugar Baby is online. At SecretBenefits.com there is a wide selection of nice girls who are looking for an older guy to take care of them. These babes are easy to approach and you can settle everything before meeting up.
Anyone can be a sugar daddy. Just create your free account at SecretBenefits and start enjoying the wide selection of Sugar Babies available.
BDSM
Looking for a new bondage partner while traveling? ALT.com is a community of like-minded people with members around the globe. Our members are interested in submissive sex, power exchange, locating persons for new slave roles, erotic BDSM, bondage & fetish sex, as well as live sex dates. Find thousands of play partners for whatever your fetish may be; bondage, foot, cockold, spankings, role-play, electric or water play, sadism, and masochism all while traveling in Myanmar.
Swinging and Naturism
There are no popular swingers club in the country and nudity is frowned upon by the people, so no popular nudists or naturalist activities are going on in the country. However, it is possible that these things are being carried out with maximum secrecy.
Costs of Living
Living in Burma is a little more expensive than living in Thailand or the Philippines. This is most applicable to accommodation because of the inflow of tourists.
| | |
| --- | --- |
| | Single traveler's budget per day: US$120 - $300 |
Plan with a budget of $120 to $300 per day, but this would depend on your needs and preferences.
| | |
| --- | --- |
| | Accommodation per night: US$80 - $250 |
For accommodation per night, budget $80 to $250 daily. This would, however, be determined by your choice of accommodation.
| | |
| --- | --- |
| | Beer in a grocery shop: US$3 - $5 |
To buy beer per bottle in a grocery shop, budget $3 to $5, though this would depend on the rand and the size of the beer.
| | |
| --- | --- |
| | Beer in a bar or restaurant: US$4 - $6 |
To buy beer per bottle in a bar or restaurant, budget $4 to $6.
| | |
| --- | --- |
| | Meal in a restaurant: US$50 - $200 |
To plan per meal, you should budget $50 to $200. This is dependent on where you decide to get your meal from and the type of meal.
Accommodation
Different hotels with varying prices are available in the country. You can also get cubicle rooms and guest houses. Airbnb and couch surfing services are also available in the country.
How to Get There and Move Around
Getting in and around the country is done with these means of transportation; planes, buses, taxis, cars, trains, though the railways are in a bad condition.
By air:
Some airlines operating within the country include Myanmar Airways International and Asian Wings. Yangon International Airport serves all domestic flights.
By bus:
You can have entry into the country by land using the Thai/Myanmar road. Different types and sizes of buses are found in the country. Buses are quite affordable but not so comfortable. Old trucks also move within the country. Motorcycles and bicycles are not allowed in the old capital, Yangon but you would find a lot on the streets.
By car:              
Taxis are identified by their red and white license plates. You can also get to rent a car, and hire a driver with it.
By train:
The rail network is functional but old. Its trains are slow and rather noisy.
By boat:
There is a huge ferry network. Some are run by the government while others are managed by private companies.
Visas:
With the exemption of very few countries, most foreign nationals are expected to have their visa, passports and other necessary documentation before entering the country.
Digital Nomads and Remote Work
Internet connection in the country is quite good and stable, though some sites are yet to be accessed. There are also internet cafes in larger cities. Hotels also provide free Wi-Fi.
Internet and Mobile Operators
Internet providers in the country include:
Gambling and Casinos
Gambling is illegal for locals in Myanmar. However, there are 5 casinos in the country:
Golden Triangle Paradise Resort
Allure Resort
Regina Entertainment Resort
Andaman Club & Casino
Treasure Island
Weed and Drugs
Possession, cultivation, sales, and supply of cannabis in the country are highly prohibited. If caught, a person stands the risk of a death penalty. There are also laws in place prohibiting the sale and supply other hard drugs.
Health, Fitness, Gyms and Massage
In case of urgent medical care, some hospitals you can visit include:  
Sakura Hospital
New Yangon General Hospital
Academy Hospital
  If you need a good gym to work out and say in shape, the following are recommended:
Balance Fitness
Infinity Fitness
Power House Fitness Club
  Some nice spas that offer quality massage and body treatment include:  
The Spa Signature
Inya Day Spa
La Source SPA
STDs and HIV
Though quite low with a percentage of 0.8%, Myanmar ranks as the second country with the highest prevalence rate of HIV/AIDS. You are advised to protect yourself while engaging in sexual intimacy, especially with a stranger.
Stay Safe
The government punishes crime, particularly against tourists, severely; as a result, as far as crime and personal safety go, Myanmar is extremely safe for tourists, and it is generally safe to walk on the streets alone at night. You are less likely to be a victim of crime in Myanmar than in Thailand or Malaysia. However, as with anywhere else, little crime does not mean no crime and it is still no excuse to ditch your common sense. As a foreigner, the most common crime you should be worried about is petty theft, so keep your belongings secured. Physical and verbal harassment towards foreigners is uncommon, even on urban walks near bars.
See Also