Beijing
Beijing dating guide advises how to pick up Chinese girls and how to hookup with local women in Beijing. Travel, enjoy and have fun with hot single girls and you might even meet the love of your life. Read more on how to date Chinese women, where to find sex and how to get laid in Beijing, China.
The city of Beijing is located in the northern part of the People's Republic of China. It's the capital city of China and also one the most populous cities in the world. The city is governed directly by the central government along with 16 districts, both rural and suburban. Beijing is a crucial world capital, apart from which it is also a global powerhouse as a city, due to its immense influence in world politics, finance, economy and business, culture, education, architecture, technology, innovation, diplomacy, and language.
Beijing Top 10 Overview:

Chance of picking up girls: 3.5/5

Picking up at daytime: 2/5

Picking up at nighttime: 3.5/5

Looks of girls: 3.5/5

Attitude of girls: 3/5

Nightlife in general: 4/5

Locals' English level: 1.5/5

Moving around the city: 3/5

Budget per day: US$30 - $200

Accommodation: US$20 - $100
Girls in Beijing
The city of Beijing has a large number of women who are localities, these women have been born and brought up in the city itself. They mostly belong to Chinese families, have traditional values imbibed in them right from childhood and they do follow the traditions religiously. However, since Beijing is the capital city, the residents of the city have a more global outlook. They are not extremely traditional either, much like the various other cities and towns situated in the People's Republic of China. The younger women of the city are care-free in their approach towards life, they work hard and they party even harder. The women do not hesitate in spending a wild night at some of the most happening clubs or house parties across town. They do have multiple restrictions, but the women do manage to work their way around these quite easily. The younger women can be safely labelled as horny girls as these girls have a high libido and are usually sexually available.
Beijing is an extremely developed city and it is without a doubt that the girls in the city are well educated, as the city itself is home to some of the most premier institutes, not just in the country of the People's Republic of China, but also across the world. Most of the women who reside in the city have attained a bachelor's degree at minimum, while a greater percentage of the immigrants are women who have a masters degree, as they have settled in the city to gain higher education. Most of the women who reside in Beijing have an advantage over their counterparts from the smaller towns, as they are free to pursue their dreams without the fear of constantly being judged by society or being dictated by other family members. Hence, the women in the city of Beijing are extremely focussed, they are highly ambitious, competitive, and they have detailed short and long-term goals.
The women in Beijing, work hard to provide for themselves and their families. Those who are single, work with the aspirations of having a luxurious life. Many of the women have migrated to the city from smaller towns, where they have families, who needs to be taken care of by them. There is a huge number of women in Beijing, who are self-sufficient and financially independent. These women are extremely wise with their money and spend it on only things they need. They do have a soft corner for Western brands, electronics, and various other quirky buys, but they aren't spendthrifts in general. Hence, one can safely assume that many of the women in Beijing are not very materialistic and they value their money.
One can describe the physical features of women of Beijing without many difficulties. The women are not too tall, they usually are in the range of 5 feet to 5 feet and 6 inches tall. The local women have typical Asian features, such as small eyes, which are either black or brown in colour. They have extremely straight hair, that has a shine and are extremely silky. They have a pale complexion and they have smaller breasts. The women of Beijing have a slim body type, they do not have big buttocks either, they are usually petite and have delicate features. The women take good care of themselves and they ensure that they are presentable at all times. Many of the women have good figures due to their slim body types. However, the women of Beijing have very limited knowledge about cities outside China or even about cultures and global affairs, hence, it is better to stick to having a general conversation with them in the Beijing dialect of spoken Chinese. Also, learning some Mandarin shall score you some brownie points with the stereotypical Chinese girl.
| | |
| --- | --- |
| | Looks of girls: 3.5/5 |
Girls in Beijing are generally beautiful but lack the bosom size which a lot of Caucasian men desire. However, they are fit and take good care of themselves.
| | |
| --- | --- |
| | Attitude of girls: 3/5 |
As a foreigner, girls in Beijing will be quite friendly to you. A lot of them may be very curious to know about you and your country.
Where to Get Sex Now
It is easy to get sex online in Beijing. You just need to find the best available girls. See Girls Online Here!
How to Pick Up Girls
The culture of the citizens of the People's Republic of China is completely different in comparison to some of the biggest countries across the globe. The society is extremely conservative, they have preconceived notions about the people from the West and they don't mingle with them easily. They do take a lot of time to get friendly with the tourists and often the language is a barrier. Some of the girls in Beijing are extremely beautiful and they do have distinct features. However, the cultural differences may result in some difficulties while picking up girls and one must ensure that they overcome the various issues in the most efficient manner possible, in order to be successful while picking up girls.
| | |
| --- | --- |
| | Chance of picking up: 3.5/5 |
Chinese women love Western men and fascinate about them. It would not be very hard to pick up women, especially at night. Men from Africa or South East Asia may find it harder to pick up women.
Tips for Daytime
| | |
| --- | --- |
| | Chance of picking up at daytime: 2/ 5 |
The city of Beijing does exhibit an immensely quick lifestyle, where women (and even people in general) are rushing from one place to another during the daytime. This usually involves travelling from home to their place of education or work, then on the way back home they meet friends or run errands. This hectic schedule of most of the women gives them very little time during the daytime to flirt with men who visit the city as tourists. However, they do have a slight obsession with men who hail from any foreign country, but they are usually too shy to indulge in a conversation. To make things worse, the women barely know English, so it is of utmost importance for you to know some spoken Chinese/Mandarin and be able to captivate her in the conversation. If you lack the conversational skills in Mandarin, it is of little use trying as it will lead literally nowhere.
How to approach the girls?
Approaching women during the daytime is an extremely tricky prospect as there are various parameters that one has to consider, such as the availability of the women, the willingness of the women to talk to you, your ability to hold a conversation that too in Mandarin. Apart from this, if you have these skills, you must be dressed well and at your charming best in order to have sex with naughty females in the city of Beijing.
The chances of picking up at daytime are low and one must not have high hopes as there is a high chance of you being left disappointed. This is justified by the above rating.
Best Places to Meet Girls
Visiting densely crowded public places is your best option if you want to hook-up with horny girls in Beijing. It isn't part of the culture of the city to walk up to random the strangers and engage in a conversation with them but since you are a tourist there is a slight chance that you will be entertained. Some of the most popular malls that one can visit to pick up naughty females are listed below:
The Malls at Oriental Plaza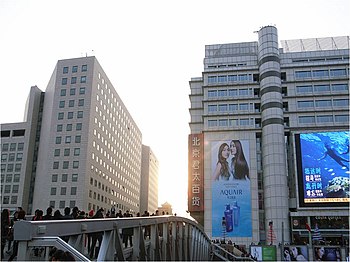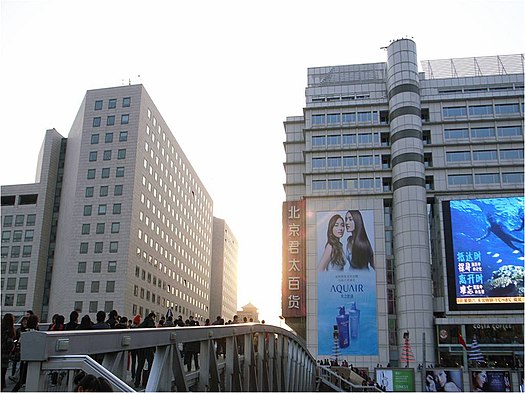 Apart from the malls and the coffee shops that are situated in these malls, one can also try and visit some of the most popular colleges and universities in the city. Like most of the young Chinese girls, despite being shy, are known to be well versed in global knowledge and have an incredible appetite for sex. However, one must be careful and not flirt aggressively as it made lead to dire consequences.
Tips for Nighttime
| | |
| --- | --- |
| | Chance of hooking up at nighttime: 3.5/5 |
The night time is a relatively better time to pick up girls in the city of Beijing. It is at this hour that most of the women are done with their college/work/daily chores. It is their time to let their hair loose and step out to down a few shots of liquor and dance all night to their favorite tunes. Hence, if you are traveling to Beijing to hook up with naughty females and have sex with them, the night time is your best chance. Make sure that you are dressed well, you have a sizeable amount of money to spend, and your Mandarin skills are on point. If you ensure this, you can be sure of taking home the hottest girl, out at night, back to your accommodation.
The chances of hooking up at night considerably increase and one can definitely try their luck at night. The women are in better spirits and eager to hook up with men, including tourists.
Best Nightclubs to Meet Girls
In any city that is popular globally, the nightlife is undoubtedly excellent. The case is no different when we consider Beijing. Beijing has an incredibly electric nightlife, which includes some of the most popular nightclubs not just of China, but also those popular across the globe. Beijing's nightclub scene is extremely active post 11 pm and goes on to be so until wee hours of the morning but this does not encompass all the bars and nightclubs in the city. Instead, this generalization includes only some of the topmost bars and clubs in the city and the especially notorious pickup bars.
Some of the Best Nightclubs to visit in Beijing are as follows:
Mix Club at Workers' Stadium N Rd
Element at 58 Gongti Xilu
Space One at No.1 Sanlitun South Road
V Plus Lounge at Top Floor, Building No.3, China Red Street
Spark at B108, The Place, 9 Guanghua Road
Maggie`s Bar at Jianwai Street
Global at B1 Dongyuan Building, 35 Chengfu Road /
Club Suzie Wong at No.9 Chaoyang Park West Road
Vic's at Worker Stadium North Gate
Latte at Gongti Beilu
Modo Ultra Club at 4F U-Town Shopping Mall Chaowai Street Chaoyang District
Chocolate Nightclub Beijing at No.19 Ritan North Road, Chaoyang District
Paddy O'Shea's at 28 Dongzhimenwai Dajie
In the above list, the club in the number one position is Mix Club, which is situated at Workers' Stadium N Road, and the reason behind the club being high up in the list is the ease with which one can pick up horny girls at this club. The club has an amazing atmosphere and is packed with the hottest women in Beijing on almost all days.
Similar is the case with Vic's as well, as this club is situated in the same area and has a similar crowd. The club is packed with gorgeous women who are willing to get laid at a moments notice. These women are surely going to be successful in arousing you. But all this comes with a catch, these clubs are undoubtedly famous amongst foreigners visiting the town. This is because the women here are ready to get down and dirty, but this is seldom because of your charm and skill, rather it is because most of the horny girls in these two clubs are prostitutes. It is an easier way to be guaranteed sex, but it may cost you a lot, and even land you in trouble at times.
Apart from these clubs, there are a few famous pickup bars. These are known for the naughty females that frequent them and walk out with potential pleasure giving tourists. Some of these pickup bars are listed below:
The club is hidden via mirrored hallways. The Hallways have lasers, loud music, and vibrant dance flashes, It is home to some of the most attractive horny girls of the city and if you play your cards right you just may get laid.
Spark is situated at B108, The Place, 9 Guanghua Road.
Maggie's bar is undoubtedly the most well-known place to find some beautiful chicks whom you can take home or to your hotel room. The club is an extremely big one and the party usually begins quite late. The bar also employs extremely attractive females to serve at the bar, but there is a strict policy that prevents these women from dating the customers during working hours, so you could try your luck later here at night. The place is infused with new lusty girls later around midnight as the women visit the place after work. Most of these women are from Malaysia or other parts of China.
Maggie's Bar is situated at South gate of Ritan Park (Outer E 2nd Ring Rd) in Chaoyang District, Beijing
| | |
| --- | --- |
| | Nightlife in general: 4/5 |
The nightlife in Beijing is great. There are a lot of clubs and pubs to find the most gorgeous women in the city. Local girls are much more open minded after a couple of drinks.
Mature Ladies and Cougars
The women in the city of Beijing are not very orthodox neither are these women bound by the social and cultural norms of the city. However, most of this applies to the younger women. The older women are conservative in their nature and they are expected to be at their best behaviour at all times, thereby fulfilling their roles as an honest wife/sister/mother etc. These women must be an example to the younger generation and uphold the values and traditions. Hence, the chances of hooking up with mature ladies are quite minimal and one must not expect too much. There are, however, some women who are divorced, widowed, and unusually single post-40s. These women are sexually available and they are ready to have sex with you in an instant after a good encounter. However, naughty females who are mature age-wise are hard to come by and they can mostly be found in certain parties involving the privileged upper classes, or one can find them on online dating apps where they can flirt and chat in complete anonymity until they meet face to face.
Dating
When visiting Beijing, dating can be a fun and interesting experience. AdultFriendFinder.com, lets you meet local members in Beijing and get to know them on a personal basis before you arrive. It just takes a few minutes, you simply create an account, upload a few images and tell a little about yourself. Since time in your destination may be limited, get to know each other's desires beforehand so when you do meet, you can skip the awkward introductions and start having some real fun.
Top Dating Tips
The women in Beijing are not really exposed to the Western culture, they are primarily influenced by the Chinese culture itself, so if you wish to take a woman out on a date, you shall have to take her out to a family style karaoke restaurant. This would be an ideal choice as the local women prefer such dates. The women do not drink much either so don't be surprised if she does not drink more than two glasses of wine. Usually, western culture dates involve going to a nightclub or a restaurant with soft music and good food, but Chinese culture dates involve going for dinner and then karaoke is a pleasing activity for most of the women. Other places that you can take a girl for a date include the magnificent parks, where if the weather permits, you can stroll with the woman of your choice, perhaps hold her hand, enjoy some ice-cream as well. Some of the parks that you can go on a date for, in Beijing are Beihai Park, Yuanminguan Park and Jingshan Park.
Apart from this, like most of the women across the globe, women in Beijing, too love going to a restaurant that is dimly lit, has soothing music, and thus, you can take a woman out for a romantic evening at the below-given restaurants:
Lost Heaven Beijing at No.23, Qian Men Dong Da Jie
Le Pre Lenotre at Tower C, Wanda Plaza, 93 Jianguo Road
Fratelli Fresh at 61 Dongsanhuan Middle Road
Tiki Bungalow at 46, Fangjia Hutong
Botany Concept at Yongli International Apartment building 2, room 1209
TRB Hutong at No.23, Songzhu Temple, Shatan N St
1949 The Hidden City at Workers' Stadium N Rd, 4
Il Ristorante Niko Romito at Building 2 Courtyard No. 8 Xinyuan South Road
Infusion Room at D Lounge Upper Level, Courtyard 4, Gongti Beilu
Mao Mao Chong at 12 Banchang Hutong (at Jiaodaokou S St), Guān jié
Black Moth at 4/F Nali Patio, 81 Sanlitun Beijie
Relationships and Love
Thousands of single women in Beijing are searching for a partner and potential future husband. Check out an ultimate guide for dating local girls, relationships, love and marriage: Relationship & Love Guide to Beijing
Online Dating
There are just a few people in big nations across the globe that have not heard of online dating, the general public has at least heard the term once in their lives. Almost 70% of the youth in some of the biggest countries across the world have signed up on a dating website. In comparison to China, the Western countries have different apps such as Bumble, Happen, Tinder etc., these are the apps which most of the teenagers and adults use to get laid or at least meet strangers who are good dating prospects. These apps are mostly unknown to the people in China. In Beijing, you shall find a few alternatives to western dating apps such as Tinder. The apps on which you can hookup with horny chicks, are listed below:
Momo: It is the best dating app in the entire country, many of the naughty girls enroll themselves on the app and meet prospective hookup partners. If you look to get laid with women in Beijing via online dating, Momo must be your first choice.
TanTan: The app is closest to Tinder in terms of user experience. The app has a similar layout and interface. It makes use of the same swipe left or swipe right mechanism to match people. The additional feature of the app is how it has quirky ice-breakers to help you get things started.
Qing Chifan: This online dating app is unique in its own way. The app requires you to sign up and then list a variety of preferences, most of which are based on the food you eat. Then by making use of the very same choices, you are matched with people who have a similar choice.
Most of the women in Beijing are open, but that does not imply that she will hop into bed the same night you meet her, it may take some time, but in a few dates time you shall get there. There are quite a lot of prostitutes and sex workers who are at nightclubs and karaoke restaurants, you may be approached by them, the rest is up to your better judgment.
Live Cam Dating
Are you looking for virtual satisfaction in Beijing? Chat with live web camera models and find the best girl for your needs. There are thousands of girls online 24/7 waiting for you: Live Cam Girls
What Kind of Guys Have the Best Chances
If you want to get laid without much effort then you must hit a few checkboxes. First of all, like most of the other cities across the globe, in Beijing too, the women prefer it if you have a lot of money to spend. If you stay at a 5-star hotel, offer her all the perks at the restaurant or nightclub, then you are more likely to have sex with her. Those men who dress well, have well-trimmed beards, smell good, and most importantly have no foul breath, these men tend to have a better chance with women. If you have a fancy car you shall also have a better chance with women. The women of Beijing usually prefer foreign men, those who hail from North America and Europe especially. This can be primarily attributed to the Western influence of pop culture. The girls in Beijing are averse to dating men from African nations and also some other countries in the southeast Asian countries.
Risks while Gaming
While getting close to women in the city of Beijing there are quite a few risks that one must assess, those include cockblockers primarily. The women in the city hang out together and mostly these women avoid letting go of their friend to interact with a tourist, they are shy, and if you manage to break the ice, there might be a friend who shall advise her against taking things further with you. Then there is always the risk of family, most of the women are close to their family and the brothers might be protective of their sisters, so if you try to act too friendly at a restaurant, it might result in some verbal or physical altercations. Another important point to consider while hitting on women is to ensure that she is not committed to someone else, for you might be stepping on toes and this situation would not just be awkward, it will also be aggressive.
How to Get Laid as Soon as Possible
To get laid as soon as possible in Beijing, one can enlist the help of the various online dating websites as mentioned above. Also, one can go and visit the pick up bars which are listed in the sections above, here you can meet women of various kinds, chat with them, have a drink or two and then choose with which girl you would like to have sex, this is not exactly prostitution, but there might be some financial transaction in some cases. Also, hanging out amongst affluent single women above the age of 40, you might just get lucky as they are ready to have sex like there is no tomorrow.
Gold Diggers and Sugar Babies
Beijing is full of hot girls looking for a mutually beneficial hookup with travellers. There are lots of girls who don't charge by the hour but who will do anything for a guy who is willing to help them pay their bills. If you are looking for a more personal and less transactional alternative to escorts, a good place to find these sexy open-minded girls in Beijing is SecretBenefits.

Beijing is a city where are quite a few people who migrate from smaller surrounding towns and districts. They usually come to live in the city in search of a better lifestyle. There are many women who are ready to go to any extent to achieve this, it does include young girls who are ready to hop into bed with older men in exchange for money, house rent, and other expensive clothes and accessories. These young girls are sugar babies for these older men, and you might encounter quite a few of them in Beijing but due to the conservative approach, it is not easy to find them. Similarly, there are a few women who in exchange sexual favors, live a better lifestyle with the rich and mighty. These women can usually be found at some of the best clubs in the city.
BDSM
Looking for a new bondage partner while traveling? ALT.com is a community of like-minded people with members around the globe. Our members are interested in submissive sex, power exchange, locating persons for new slave roles, erotic BDSM, bondage & fetish sex, as well as live sex dates. Find thousands of play partners for whatever your fetish may be; bondage, foot, cockold, spankings, role-play, electric or water play, sadism and masochism all while traveling in Beijing.
Swinger Clubs and Naturism
There are quite a few circles in which rampant swinging, naturism, and a host of other sexual activities take place. But as discussed earlier, the Chinese capital city has a conservative approach towards this and they prefer involving only the known people. Tourists are often unwelcome, but in certain cases, exceptions are made and you might get lucky. The last nudist beach in China was closed in 2014 after protests about the presence of naked men.
Costs of Living
Beijing is one of the most expensive cities in China, however, in comparison to other western countries, Beijing is relatively cheap.
| | |
| --- | --- |
| | Single traveler's budget per day: US$30 - $200 |
The entire daily cost of a person who enjoys a simple stay without splurging on nightclubs or other activities can be somewhere around 30 USD. Daily budget for $50 includes a visit to a few free sites and perhaps a paid attraction at the cost of 15 USD for travel and tickets. Accommodation at a decent hostel shall be approximately 10 USD per night.
| | |
| --- | --- |
| | Accommodation per night: US$20 - $100 |
Tourists can choose from a plethora of options, right from 3-star hotels to 5-star hotels. These shall offer you a range of amenities along with a host of other services. These hotels ensure you enjoy your trip to the city in the lap of luxury. These are, however, limited only to the elite and those who are willing to spend a lot of money. The other options for tourists on a budget include Couchsurfing and renting a shared accommodation via Airbnb. These options are extremely economical and they give you the option of living in some of the most prime areas of the city without spending a lot of money. You can find cheap hostels with a dormitory room for less than $10 per night, but in this case you can't bring a girl to your place, so it's not recommended if you're searching for female company for the night. Upgrading accommodation to anywhere between 3 stars to 5-star hotels shall cost you 30 USD per night to 200 USD per night.
| | |
| --- | --- |
| | Beer in a grocery shop: US$01 - $02 |
Beer in a grocery shop is cheap; all it costs is $1-$2.
| | |
| --- | --- |
| | Beer in a bar or restaurant: US$XX - $XX |
A pint of beer at a restaurant does increase the cost to 4 USD but if you buy it at a student-friendly bar, a local pint won't cost more than 1 USD.
| | |
| --- | --- |
| | Meal in a restaurant: US$20 - $50 |
Basic food in Beijing is quite inexpensive. While the food expenses shall be 10 USD as the breakfast shall cost not more than 2 USD, lunch shall not be more than 4 USD while dinner should again cost 4 USD. The other 5 USD can be used for treating oneself, such as desserts, a glass of wine and so on. If you choose to have a meal at a lavish restaurant the meal could cost you 15 USD or more.
Accommodation
Tourists can choose from a plethora of options, right from 3-star hotels to 5-star hotels. These shall offer you a range of amenities along with a host of other services. These hotels ensure you enjoy your trip to the city in the lap of luxury. These are, however, limited only to the elite and those who are willing to spend a lot of money. The other options for tourists on a budget include Couchsurfing and renting a shared accommodation via Airbnb. These options are extremely economical and they give you the option of living in some of the most prime areas of the city without spending a lot of money.
How to Get There and Move Around
Beijing is the capital city of China and there is no doubt in the fact that the city is well connected by all the means of transport, this includes by air, bus, car, train, and boat as well.
By air:
Beijing has a world-class international airport in the form of the Beijing Capital International Airport. The airport has flights coming in from all the prominent cities across the globe. The airport has some stupendous facilities and shall cater to all your needs. However, the size of the airport may confuse a few and make sure you know your way out. The airport is often crowded, but it also has flights that go to various cities within the country itself. Overall, this is the only airport in the city and it is your destination if you wish to visit the country by Air. Another airport is currently being planned at Daxing.
By bus:
The City bus which Beijing offers is the most frequently used and the most affordable when compared to all the other means of public transportation. However, these are not very public friendly as they are very crowded and get delayed in traffic.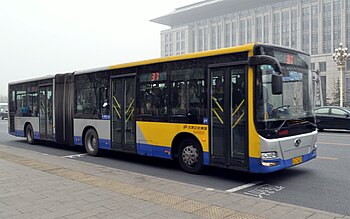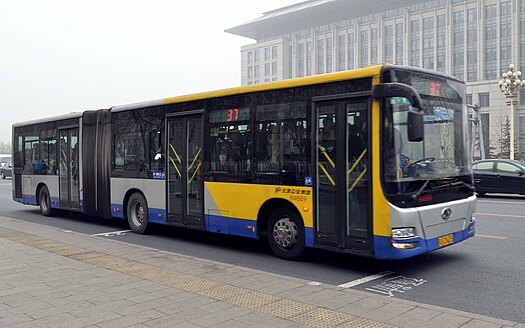 Until the year 2017, the public bus network had more than 1,200 routes on which there would be 29,515 buses plying. All of these public buses are recognized either by Chinese characters or their numbers. The stations shall be announced in both English and Chinese by the automatic station reporter.
By car:
Beijing has a number of private cabs which you can hire to travel in and around the city, but one must always be well informed to hire the legal taxis, which have the necessary certifications, these taxis have the necessary signage and they also have a government certified meter. The taxi plaque has a unique identification number which begins with the letter "B".
By train:
Beijing railway station is located in the southeastern area of the city, in the Dongcheng area. The railway station handles most of the daily local load as well as the intercity load. If you wish to travel around the country, without spending a lot of money, the railway is your best option.
By subway:
The Beijing Subway has 22 lines, 370 stations, and 608 km (378 mi) of lines. It's the second longest subway system in the world.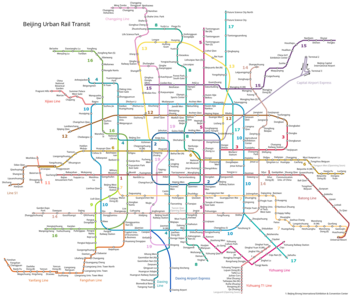 By boat:
The city of Beijing has got a variety of waterways, there are three waterways on which the entire water tourism is dependent. The Kunyu and Changhe river are immensely popular for this reason and are frequented by tourists at all times.
Visas:
If you wish to visit Beijing it is essential that you obtain a visa from the consulate in your country of origin. The country of China does allow you to visit the country without a visa only for 72 hours though. There is a specific list of countries whose citizens experience this privilege.
Digital Nomads and Remote Work
The city of Beijing his quite good for digital nomads as it has lightning fast internet speeds and an extremely good tech and electronics setup for co-working. But the biggest setback is China's strict monitoring laws and blocking of several mega global websites. This does discourage many people from working in the country.
Internet and Mobile Operators
The city of Beijing has an excellent internet setup, the speeds are fast and reliable. But the strict internet policy of the country is a drawback. As far as mobile operators are concerned, the country has only three, namely China Mobile, China Telecom, and China Unicom.
Gambling and Casinos
In China gambling is legal and there are various casinos across the country. There are quite a few casinos in Beijing as well, and they do have strict door policies. However, if you visit one to gamble, make sure it has all the necessary fair play certifications, failing which you shall lose all your money to gambling frauds.
Weed and Drugs
The two areas of Sanlitun and Wudaokou are immensely popular for their illegal drug peddling. Drugs and weed are illegal in China on the whole, but these two areas in Beijing have shady dealers who supply you the drugs you need at a considerable price nonetheless.
Health, Fitness, Gyms and Massage
The people of Beijing eat well and stay healthy, they are also obsessed with fitness, but they usually avoid conventional gymming and prefer other forms of martial arts. Massage is popular in Beijing as tourists love getting traditional massages with the use of herbs, spices, and ancient Chinese knowledge and therapy.
STDs and HIV
For every tourist visiting Beijing for sex, it is recommended to use protection at all times and one can find condoms easily from vending machines at public places. STDs are rampant and higher in Beijing than the other parts of the country.
Stay Safe
Despite its size, Beijing is a very safe city, and violent crime is extremely rare. However, tourists are often preyed upon by cheats and touts, who attempt to pull a number of scams on tourists. Be especially cautious in the inner city, around Tiananmen Square, and on the tourist-crowded routes to the Great Wall. Petty crime is also relatively common, so you should beware of pickpockets in crowded areas and avoid leaving your belongings unattended.
On the other hand, fears of scams have led many travelers to be overly dismissive of Chinese people who approach them. Many Chinese are tourists in their capital for the first time as well and they are genuinely curious about foreigners and may just want to practice their English and get a picture with you. Being asked to have your picture taken is very common and there are no known scams associated with this. Be friendly but don't feel pressured to go somewhere you hadn't planned on going in the first place. If you are outside the tourist areas then your chances of being scammed drop dramatically.
Chinese people are very friendly to travelers and expats in general; seeing through a scam requires the same common sense as traveling anywhere in the world. Beijing scams are not particularly innovative or brutal in world-wide comparison, and as long as you keep your wallet out of sight, you can always walk away without fear of violence or theft.
See Also