Bangladesh
Bangladesh dating guide advises how to pick up Bangladeshi girls and how to hookup with local women in Bangladesh. Travel, enjoy and have fun with hot single girls and you might even meet the love of your life. Read more on how to date Bangladeshi women, where to find sex and how to get laid in Bangladesh, Asia.
Bangladesh is a South Asian country situated to the east of India on the Bay of Bengal. It is marked by lush greenery and several waterways. Travel by boat in Bangladesh is prevalent. Dhaka is the capital and largest city of Bangladesh. The official language is Bengali.
The official religion of Bangladesh is Islam. Abdul Hamid is the president of Bangladesh; Sheikh Hasina is the prime minister. The total area of Bangladesh is 147,570 square kilometre. It has a total population of 161,376,708 people. And the density of Bangladesh is 1,106 per square kilometre. More details about Bangladesh, it's girls, and nightlife is provided below. 
Bangladesh Top 10 Overview:

Chance of picking up girls: 3 / 5

Picking up at daytime: 3 / 5

Picking up at nighttime: 3 / 5

Looks of girls: 3 / 5

Attitude of girls: 3 / 5

Nightlife in general: 3.5 / 5

Locals' English level: 2 / 5

Transportation: 3 / 5

Budget per day: US$50 - $100

Accommodation: US$25 - $50
Bangladeshi Girls
Bengali girls are quite beautiful, and most westerners are in awe of their thick black hair, olive skin, and deep brown eyes. Bengali girls are of various types some are slim, while others are fat or obese. Most Bengali girls are a tad bit tanned. These girls are strong and independent. They have their opinions. Not only Bangladeshi girls are beautiful but they are also sweet-natured and soft-spoken. Bangladesh is a developing country and women here know how to voice their opinion. They are not suppressed. They can make their life's decisions themselves. 
| | |
| --- | --- |
| | Looks of girls: 3 / 5 |
As mentioned previously, these girls are quite beautiful. They love to take care of themselves. And most of these girls have thick long hair. Some girls are chubby, while others are skinny. They don't always wear makeup but don't avoid it either. These girls wear all types of clothes from skinny jeans to traditional salwar kameez and look pretty in them. These girls are mesmerising and smart. 
| | |
| --- | --- |
| | Attitude of girls: 3 / 5 |
When it comes to the attitude of girls, then you must know that these girls are quite loyal. They are useful in both bed and kitchen. Most of these are modern and independent while others have a conservative mindset. Most of these girls are also funny and carefree. They love to take care of their family and household. They are educated. Most of these girls are working in famous companies and have created a name for themselves. 
Where to Get Sex Now
It is easy to get sex online in Bangladesh. You just need to find the best available girls. See Girls Online Here!
How to Pick Up Girls
To pick up a Bangladeshi girl is not difficult because most of these girls are modern and liberated. But there are also a few families in Bangladesh that are very conservative and have an orthodox mentality. Before getting serious about any girl, you need to try to know about her family and background as well. Bengalis are fond of fish and you should never ask the girl if she likes fish. It may offend her. Bong girls are also quite dedicated to what they are doing. So you must not stop her when she's doing something. Bengali girls are also aware of politics; therefore, you must have little knowledge about what's going around you. 
These girls love to discuss different topics and that's why before approaching any Bong girl you must brush up your General Knowledge. Bengalis are fond of food and they also like to give food to their visitors. If they provide you with the food you shouldn't deny it. Bengali girls are fond of surprises. Therefore, you should not forget to surprise her. If you are a singer or can sing for her, then you will get her attention in no time because these girls are impressed by romantic songs. Bengali girls are career-oriented and love to have their own space. You shouldn't restrict her from that. These girls like to be independent. 
| | |
| --- | --- |
| | Chance of picking up: 3 / 5 |
The chances of you picking a Bengali girl is high because these girls are independent and have the liberty to choose their partner for themselves. These girls also do not hesitate to express their feelings and can be found at various places during the daytime or at nighttime. Some girls go for shopping during the day, and you can approach them at these places. They are quite carefree and don't mind talking to strangers. These girls are also shopaholic and you can meet them at any store. They also love their culture and tradition and want men to respect that. 
Tips for Daytime
To impress a Bong girl during the daytime is not difficult; you can quickly meet her in a park, mall, supermarket, or bookstore and try to impress her. These girls like men who are truly impressive and not someone who only seek to influence. These girls love handsome and fair-skinned men. As having a fair complexion is considered as a blessing in Bangladesh. To seduce a Bong woman at day time, you can send her flowers and expensive gifts. 
These girls also don't like men who are miser and cheapskate. Men should be willing to spend their hard-earned money on their lady though these girls are career-oriented and independent but most of the time they expect men to pay their bills. More importantly, these girls are not fluent at speaking English. Though they are taught English in school, they don't talk about a lot. Therefore, you may need to learn Bengali to woo these girls. 
| | |
| --- | --- |
| | Chance of picking up at daytime: 3 / 5 |
The chances of you picking up a Bong girl at daytime is moderate because they are busy with their work and education but get time for their lover as well. If they find someone they love, they try to give their all to them including time. These girls also go to chill and relax in the park in the evening and you can approach them at those places. You can ask them out if they are alone and in a good mood. You should avoid approaching girls who are preoccupied with something else because these girls don't like to be interrupted. 
Best Places to Meet Girls
As mentioned previously, there are many places where you can meet a Bong woman in the daytime. Most of these places include universities, parks, malls, bookstores, shopping centres, and cafeteria. Given below is the name of a few places in Bangladesh where you can meet a Bengali woman. 
Bashundhara City Shopping Complex (Dhaka)
Abloom Cafeteria (Faridpur)
Tips for Nighttime
To seduce a woman at nighttime is even more accessible in Bangladesh because there are many nightclubs, bars, pubs, disco, and discotheque present in Bangladesh where you can find women for one night stand or a serious relationship. You can go to a nightclub and approach the girl if she intrigues rather than waiting for long. Because if you remain for insecurely longer, you will get more nervous. Another tip is to approach the girl from the side. You shouldn't contact the girl from behind because if you do, so she won't get receptive to you. When you approach a girl in a nightclub chance are that she will be in a group of 2 or 3 friends. 
You must acknowledge the whole group and give them proper attention. After accepting the group, you can say that 'You all are looking stunning today? I'm sure you all have boyfriends. Right?' This question will give you the information on which girls are in a relationship and who is single. Most importantly, at the time of talking to her, you shouldn't speak too fast. Make sure to pause better intonation. Another important thing is to make sure to make eye contact from time to time and also listen to her patiently. After greetings, you can pass positive compliments to the lady. Make sure to add a unique tribute and not generalized one. Moreover, if a girl starts talking to you, then you must assume that she's interested in you. If she didn't like you, she wouldn't have initiated the conversation. 
| | |
| --- | --- |
| | Chance of hooking up at nighttime: 3 / 5 |
The chances of you hooking up with a Bong lady at nighttime is high as many girls step outside of their home at night and go to parks, clubs, bars, and discotheque. These girls go to these places to distress themselves because of the workload of the day. They go there to drink, dance, and enjoy. 
Best Nightclubs to Meet Girls
As mentioned previously, there are many nightclubs and other places where girls go during nighttime to chill and relax. Given below is the name of a few nightclubs in Bangladesh that are quite popular. 
St. Francis Xavier's Club (Dhaka)
Brac Bank Ltd. (Jessore)
Sadab Nightclub (Darshana)
Bangladesh Bank Club (Dhaka)
C & D night club (Sonapur)
| | |
| --- | --- |
| | Nightlife in general: 3.5 / 5 |
Bangladesh is famous for its vibrant nightlife culture. Most leading hotels have bars. Western-style night clubs also exist in Bangladesh. Westin hotel is a popular hotel in Dhaka that offers an open-air terrace with live music. Other cities in Bangladesh also has many places to drink or dance and mingle. There is also an ex-pat scene in Dhaka that provides plenty of partying and dancing. Aside from partying and clubbing, people can also enjoy the culture of Bangladesh at night and can have delicious food. 
Mature Ladies and Cougars
The chances of you getting hooked with a mature lady are minimum as most Bengali girls prefer to marry and run households. They don't usually betray their husbands or family to have sex with younger men. But exceptions are everywhere. There may be a few mature ladies in Bangladesh who get interested in dating younger men. But such type of women in Bangladesh is quite limited in number. 
Regions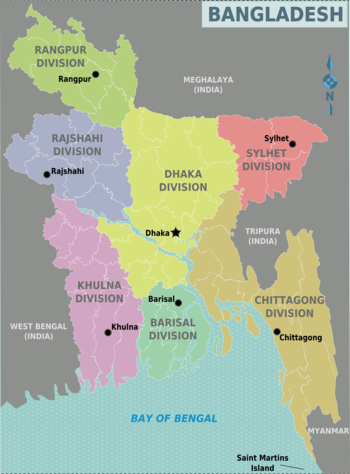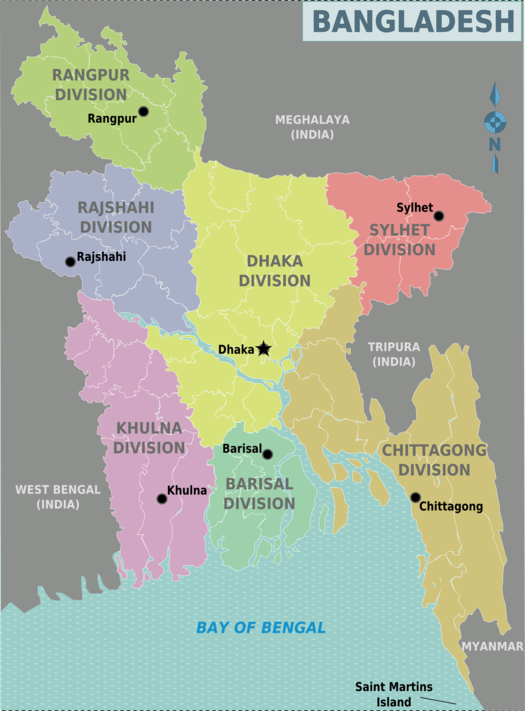 Dhaka Division
Home to the capital city, jute, and rice paddies.
Chittagong Division
A picturesque hinterland of large hills, forests, and beaches.
Rajshahi Division   ( )
Known for its silk, mangoes, and dozens of archaeological ruins.
Khulna Division    ( )
A relaxing, slow paced area; home of the Sundarbans.  
Sylhet Division    ( )
Home to endless rolling tea estates and beautiful natural scenery.  
Barisal Division    ( )
The land of rivers, paddies, and green.  
Rangpur Division    ( )
Temples, culture, and a rural lifestyle.
Cities
Dating
When visiting Bangladesh, dating can be a fun and interesting experience. AdultFriendFinder.com, lets you meet local members in Bangladesh and get to know them on a personal basis before you arrive. It just takes a few minutes, you simply create an account, upload a few images and tell a little about yourself. Since time in your destination may be limited, get to know each other's desires beforehand so when you do meet, you can skip the awkward introductions and start having some real fun.
Top Dating Tips
As mentioned previously, to impress a Bong woman is not a big deal, but you need to keep a few things in mind. First and foremost, you need to know that these girls are susceptible, and you shouldn't say anything to the girl that will offend her. You should think before you speak. You should also avoid talking about your ex and past affairs with the girl but that doesn't mean you should hide it from her. 
Another important thing that you need to know that these girls are seeking a person who can understand them and support them. You should always support your lady and help her in work as well. More importantly, you can cook for her on a special occasion. Even if you don't know how to cook if you prepare for your lady, they will like this sweet gesture. Most of all, you should take care of yourself. You should show the lady that you can take care of yourself by doing simple stuff like ironing your clothes. 
Relationships and Love
Thousands of single women in Bangladesh are searching for a partner and potential future husband. Check out an ultimate guide for dating local girls, relationships, love and marriage: Relationship & Love Guide to Bangladesh
Online Dating
Online dating has also become quite popular in Bangladesh. Many Bengalis use popular online dating apps and sites to find their perfect match. Because of these popular online dating apps, many Bengalis are living a happy and satisfying life as they have found their ideal partners using these apps. Most popular social dating apps in Bangladesh are Tinder, Badoo, Prospr, Bumble, Luxy, and Tantan. Here are more details about popular dating apps in Bangladesh. 
Tinder: Tinder is accessible in every part of the world including Bangladesh. It has millions of users worldwide. Using Tinder people can find many suitable matches for themselves in Bangladesh. Many hot and sexy Bong girls use Tinder. 
Badoo: Badoo is another useful app that is quite popular but for hookups only. It is an excellent place to date honestly. It is a dating app and social discovery app in one. You can download it on your IOS or Android devices. It allows you to find people from 190 countries and in 47 languages. 
Tantan: Tantan is a social media dating app that uses your phone's GPS location to find a perfect match. It is almost like Tinder but is a Chinese dating app. It is also available in many languages and has millions of users worldwide. 
Live Cam Dating
Are you looking for virtual satisfaction in Bangladesh? Chat with live web camera models and find the best girl for your needs. There are thousands of girls online 24/7 waiting for you: Live Cam Girls
What Kind of Guys Have the Best Chances
Guys who are patient have high chances of getting hooked in Bangladesh because these girls take time to recognise and express what they feel. Showing wealth and success can prove to be useful because Bangladesh is a developing country and people here are not so costly. Men of all caste and religion are accepted but they must be well-groomed and clean. 
Risks while Gaming
There are slight risks in gaming in Bangladesh because a few families are still conservative and don't allow their girls to choose a partner for themselves. Therefore, if your girl belongs to a traditional family, you may get into a fight with her brother or another family member. But most girls and families are modern, and you wouldn't have to worry about such things in Bangladesh. Moreover, when it comes to other threats, then you need to be aware and not trust any person in Bangladesh blindly. 
How to Get Laid as Soon as Possible
The best avenues to get laid quickly in Bangladesh are nightclubs and online dating apps. Nightclubs will also help you find a woman for casual sex or as a one night stand. Online dating apps are also helpful as the purpose of these apps is to help you find a girl. 
Gold Diggers and Sugar Babies
Bangladesh is full of hot girls looking for a mutually beneficial hookup with travellers. There are lots of girls who don't charge by the hour but who will do anything for a guy who is willing to help them pay their bills. If you are looking for a more personal and less transactional alternative to escorts, a good place to find these sexy open-minded girls in Bangladesh is SecretBenefits.
BDSM
Looking for a new bondage partner while traveling? ALT.com is a community of like-minded people with members around the globe. Our members are interested in submissive sex, power exchange, locating persons for new slave roles, erotic BDSM, bondage & fetish sex, as well as live sex dates. Find thousands of play partners for whatever your fetish may be; bondage, foot, cockold, spankings, role-play, electric or water play, sadism and masochism all while traveling in Bangladesh.
Swinging and Naturism
Swinging and naturism are not quite popular in Bangladesh but there are a few places where such type of activities takes place. Inani beach is a famous nudist beach in Bangladesh. 
Costs of Living
The cost of living in Bangladesh is quite cheap as Bangladesh is a developing country. The price of accommodation, transport, and food is quite affordable. You can easily explore Bangladesh on a budget. More details about the cost of living in Bangladesh is provided in various sections below. 
| | |
| --- | --- |
| | Single traveler's budget per day: US$50 - $100 |
The single traveller's budget per day in Bangladesh is also low. It can be anything between $50 to $100. The cost highly depends on your choice for food, accommodation, and transportation. 
| | |
| --- | --- |
| | Accommodation per night: US$25 - $50 |
The cost of accommodation in Bangladesh depends upon the type of accommodation you choose for yourself. If you are okay with staying in a hostel or sharing your room, you would have to spend only $25. But if you want to stay in an expensive hotel, you may need to spend up to $50. 
| | |
| --- | --- |
| | Beer in a grocery shop: US$3 - $5 |
Beer is not readily available in Bangladesh because it is a Muslim country, but for foreigners and people of other religion, it is available at high costs. The cost of a bottle of beer in a grocery shop can be anything between $3 to $5. 
| | |
| --- | --- |
| | Beer in a bar or restaurant: US$5 - $10 |
Many hotels and bars also serve beer to foreigners at a high rate. The cost of a bottle of beer in a bar or restaurant in Bangladesh can be anything between $5 to $10. 
| | |
| --- | --- |
| | Meal in a restaurant: US$20 - $40 |
The cost of a simple meal from an ordinary restaurant in Bangladesh is quite low, which is around $20. But for a remarkable meal from an expensive restaurant, you may need to pay up to $40. 
Accommodation
As mentioned above, there are many accommodation facilities available in Bangladesh. Most of these are hotels, motels, inns, residence, and boarding houses. According to your choice and convenience, you can choose your accommodation. 
How to Get There and Move Around
Getting in and moving around Bangladesh is quite convenient and affordable. Boat and yacht transport is the most popular because of various lakes and rivers that are present in Bangladesh. Other accessible carriers of Bangladesh include buses, cars, rickshaw, and trains. More details about multiple means of transport in Bangladesh are provided below. 
By air:
Airways in Bangladesh are also popular. You can easily reach Bangladesh via plane. Helicopters and private jets also fly high in the sky of Bangladesh. Hazrat Shahjalal International Airport, Dhaka is the largest and the principal airport in Bangladesh. 
By bus:
When it comes to bus transportation, various local and private buses run on the roads of Bangladesh. Local buses are cheaper and more people in Bangladesh use them while private buses are a luxury. 
By car:
Car or cab booking services in Bangladesh are also top rated. You can't get into Bangladesh via a car but can explore the various cities of Bangladesh by booking a cab for yourselves. The drivers of these cab service providers are also friendly people and can easily let you explore different parts of Bangladesh. 
By train:
Train services in Bangladesh are also convenient. Many local and private trains run on the railroads of Bangladesh. Among passengers, local trains are more popular as they are cheaper. 
By boat:
Water transport is an essential means of travel in Bangladesh because it has around 700 rivers and many lakes. Traditional country boats are available at low cost and are quite popular. Yacht services are also popular. If you want to enjoy a boat ride in Bangladesh, then you are not going to be disappointed. 
Visas:
The visa policy of Bangladesh states that all foreigners need a valid visa to enter Bangladesh. Citizens of a few visa-exempt countries can get a visa on arrival. However, it is still advised to check for the visa policy of Bangladesh for the state where you reside before planning your trip to Bangladesh. 
Digital Nomads and Remote Work
Bangladesh can be quite the right place for digital nomads because it is clean and healthy. It has many hospitals and clinics where people can go in case someone falls sick. Bangladesh has many attractive spots for tourists where digital nomads can work. Most of all, Bangladesh provides quite a functional internet connectivity. Many digital nomads visit Bangladesh every year. 
Internet and Mobile Operators
As mentioned previously, Bangladesh provides good network connections. Here is the list of popular mobile operators of Bangladesh. 
Airtel
Banglalink
Citycell
Grameenphone
Robin
Tele talk
Gambling and Casinos
Gambling is illegal in Bangladesh, but a few people may play secretly. Online gambling is also becoming quite popular in Bangladesh. There are also not any casino in Bangladesh. 
Weed and Drugs
Bangladesh is a Muslim country and consumption of any weeds or drugs is strictly prohibited in Bangladesh. 
Health, Fitness, Gyms and Massage
Healthcare facilities in Bangladesh are top rated. There are many hospitals present in Bangladesh. Given below is the list of a few famous hospitals in Bangladesh. 
Apollo Hospitals Dhaka
Square Hospitals Limited (Dhaka)
Nexus Hospitals Bangladesh (Mymensingh)
For those who want to become healthy and fit, many gyms are also present in Bangladesh. Given below is a list of a few gyms present in Bangladesh. 
Body shape Gym and Health Club (Dhaka)
Bangladesh Gym (Dhaka)
Power Fitness Gym (Savar Union)
Given below is a list of a few spas in Bangladesh. 
Breeze Spa at Amari Dhaka
Reera Spa (Dhaka)
STDs and HIV
Rate of STDs and HIV is not so high in Bangladesh, but precaution is a necessity. Make sure to wear protection before coming in contact with a girl in Bangladesh. 
Stay Safe
Dial 999 from any Bangladeshi mobile phone number or landline for police, fire or ambulance in case of any emergency. Bangladesh is a country full of friendly and open-minded people. But some people may find ways to exploit a foreigner or tourist.
Speeding buses, coaches or trucks may cause accidents. Traffic lights are often manually overridden by traffic police and in large metropolises traffic jams are always a given, making it very difficult for vehicles to travel. It is wisest not to drive yourself or to walk roads without pavements (sidewalks) alone.
See Also