Cambodia
Cambodia dating guide advises how to pick up Cambodian girls and how to hookup with local women in Cambodia. Travel, enjoy and have fun with hot single girls and you might even meet the love of your life. Read more on how to date Cambodian women, where to find sex and how to get laid in Cambodia, Asia.
Cambodia is a hidden gem located in the southern portion of the Indochina peninsula. A country 181,035 square kilometers in area, having a population of over 15 million. The official language of Cambodia is Khmer although it's just referred to as Cambodian. The country's 95 percent of the population is Theravada Buddhism, also the official religion of Cambodia. With a long and recent history of war and terror, Cambodia is not as developed as some of its neighbors such as Vietnam or Thailand. The Cambodian genocide between 1975 and 1979 killed almost three million people and lead to the death of an estimated 25 percent of the total population. The country has come back strong and is catching up with the world with rapid development taking place all over the country. 
Cambodia Top 10 Overview:

Chance of picking up girls: 3 / 5

Picking up at daytime: 2.5 / 5

Picking up at nighttime: 3 / 5

Looks of girls: 3 / 5

Attitude of girls: 2.5 / 5

Nightlife in general: 3 / 5

Locals' English level: 2.5 / 5

Transportation: 3 / 5

Budget per day: US$30 - $400

Accommodation: US$3 - $270
Cambodian Girls
Girls in Cambodia are polite and easy going and have a great sense of humor. Since Cambodia is a Buddhist majority country most girls are religious and devoted to their culture and tradition. Family and friends are a top priority in their life and they love to go out and have some fun. The girls are up-to-date with fashion trends and know how to dress for every occasion. There's something special about the Cambodian Girls that makes you feel special. Although they live in a male-dominated society, girls know how to grow and be independent. Many of them speak several languages and like to have a say on issues worldwide. Cambodian women tend to be faithful and maintain virginity until marriage. With gender equality becoming prevalent in Cambodia, the girls are coming out more and have actively participated in government services and major working sectors. The recent increase in tourism has also made Cambodian girls less conservative and more social.   
| | |
| --- | --- |
| | Looks of girls: 3 / 5 |
Cambodian girls are beautiful with elegant and chiseled bodies. They are well-groomed and have a sense of dressing making them look even beautiful. They are elegant dancers with smooth dark skin, gentle looks, and a friendly smile. Although most people find Asian women beautiful and sexy, there are a good amount of people not very fond of them. So if you do like Asian beauties, Cambodia is a treat for you. 
| | |
| --- | --- |
| | Attitude of girls: 2.5 / 5 |
Cambodian girls are highly conservative. It might not be easy to start a conversation at first but once you have broken the initial barrier, they like making new friends and having fun. Due to the recent boost in women becoming employed and more independent, the conservative nature is slowly depleting, so it shouldn't be hard for you to get going. Another fact is that Cambodian girls like serious relationships and wait for the right man to make any commitments. So if you have time on your hands, it increases your chances. On the other hand, foreigners visiting Cambodia have a very friendly attitude and love socializing. 
Where to Get Sex Now
It is easy to get sex online in Cambodia. You just need to find the best available girls. See Girls Online Here!
How to Pick Up Girls
Picking up Cambodian girls might not be an easy task. Impressing a religious girl and asking her out can be a really hard nut to crack. The recent growth in the number of working girls and tourist interactions have opened up the girls in Cambodia to be asked out. However, if you are up for easy pickups, girls working in the bars and restaurants can be a soft target. They are used to interactions, and if you can impress them, they might even give it a go.
Another way to pick up girls is to hit on tourists rather than the locals. Cambodia is filled with tourists throughout the year and the conversion rate on tourist is good. Since the tourist are also in the mood to relax and have some fun, casual sex is always a possibility, given you pick your cards right. One last thing to keep in mind is that there are prostitutes who often work at restaurants and bars, who are easy to get. So if sex workers aren't your thing, keep a distance. The biggest factor that plays in is the city you are staying in. If you are in the capital city or tourist hotspots nearby, your chances of picking up are good, but if you are in some remote village, your chances become very low. 
| | |
| --- | --- |
| | Chance of picking up: 3 / 5 |
Picking up locals is a hard task and requires some effort. Most of the local girls will be with friends and its difficult to find a girl sitting alone. However, you should be ready to capitalize on every possible opportunity you get.
Tips for Daytime
Daytime is mostly for tourists and finding a local girl is pretty difficult. Your prime target during the daytime should be other tourists who are on the lookout for fun and are down with the idea of hookups. Almost all tourist attractions will be filled with foreign travelers and making your way to ask out a girl shouldn't be a difficult task. Locals are mostly busy with their daily chores and if you want to give it a go, you can find some at the malls. The best malls to visit should be dependent on the city you are visiting. We advise keeping your focus on foreign tourists during the day to increase your chances of a hookup. 
| | |
| --- | --- |
| | Chance of picking up at daytime: 2.5 / 5 |
If you are seeking foreigners, then you have a fair shot of picking a girl up in the daytime, but if you are after local girls, finding one and then interacting with her is going to be difficult. Most of the locals are either going to be busy with their daily work or will be with friends and family, making it difficult for you to approach. Stick with foreign girls during the daytime to increase your chances of pickup. 
Best Places to Meet Girls
Cambodia offers beautiful temples and sites where you will find people all day long. Most of the girls here are foreigners, so if you are looking for locals, you will have to head towards the shopping districts and malls. Your chances of meeting local girls during the day depending on the city you are in. The capital city is the most visited and you will have your best shot here. The two best malls in the capital city Phnom Penh are:
Other than this, the best places to find quality tourists are: 
, Combodia]]
Tips for Nighttime
If you are looking to pick up local girls in Cambodia, nighttime is the best. Most girls are out during the night and like to socialize with others. Chances of finding single girls also increase and it's easier to make your way up to a girl by offering her a drink. You will find lots of girls willing to talk to you at restaurants and bars. Make sure to dress up well and put on your A-game. Cambodians love western foreigners and if you are good looking, you won't be going back to your room alone. Nighttime is also good to hit on the foreigners. They are present in good numbers and since they are not as conservative as the locals, they will be much more willing to hookup and have sex. The key to a successful night in Cambodia is to dress well, smell nice and always have a smile on your face. 
| | |
| --- | --- |
| | Chance of hooking up at nighttime: 3 / 5 |
Chances of hookup at nighttime are way better than during the daytime. You can easily score a local or even a foreigner in Cambodia during the night. All you have to do is to play your game right. If you are good looking, it shouldn't be a difficult task at all. 
Best Nightclubs to Meet Girls
If you are hoping for a similar nightlife as Thailand, then you will be disappointed by Cambodia. The Cambodian nightlife scene is more locally oriented, but it amply caters to the foreigners as well. Every major city like Siem Ream, Phnom Penh, Sihanoukville, etc. have designated 'pub streets' and riverside boulevards. If you are looking for laid back beach time, then head to the islands of Koh Rong and Koh Rong Sanloem. Here are some of the best bars and nightclubs in Cambodia:  
| | |
| --- | --- |
| | Nightlife in general: 3 / 5 |
Nightlife is decent in Cambodia. There are elegant and modern nightclubs and bars, some dating back to the colonial era. All the 'pub streets' and river boulevards are filled with foreigners and locals alike. Restaurants stay open till late too. Some bars stay open for 24 hrs. and small street vendors also stay open till late. The busy streets during the night also increase your chances of picking up girls.  
Mature Ladies and Cougars
Cambodia is a conservative country, so the chances of meeting mature ladies are pretty low. Most of them are looking after their families and are devoted to religion. However, Cambodia is also very popular among middle-aged tourists, so finding a mature tourist wouldn't be hard. If you want local ladies, there can be a possibility to meet them on online dating sites. Please see the online dating section to know more. 
Regions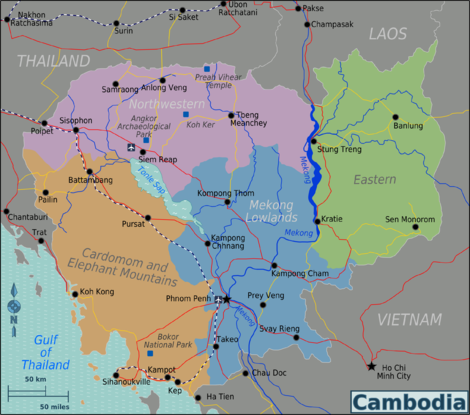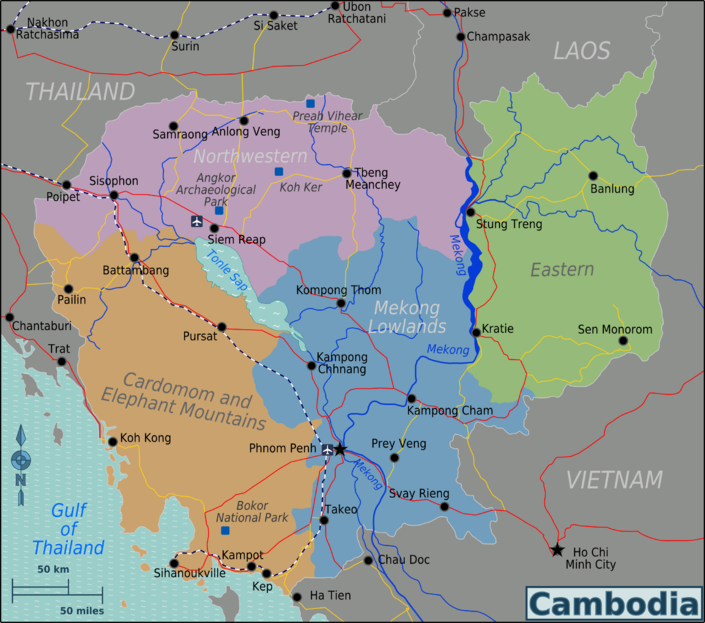 North-western Cambodia (Angkor Archaeological Park, Siem Reap, Sisophon, Koh Ker, Poipet, Tonle Sap Lake, Preah Vihear)
Angkor, the main reason most visitors come to Cambodia, plus a huge lake and the northern mountains
Cities
Dating
When visiting Cambodia, dating can be a fun and interesting experience. AdultFriendFinder.com, lets you meet local members in Cambodia and get to know them on a personal basis before you arrive. It just takes a few minutes, you simply create an account, upload a few images and tell a little about yourself. Since time in your destination may be limited, get to know each other's desires beforehand so when you do meet, you can skip the awkward introductions and start having some real fun.
Top Dating Tips
If you are looking to date a local girl in Cambodia, then you should know a few important things to increase your chances. Cambodian women have lived in a male-dominated society for years and have suffered a lot because of men. They were not allowed the right to education as well as job. So showing them respect automatically puts you ahead of the locals and establishes your good nature. There will also be a lack of communication as not a huge population speaks English, so learning a few local catchphrases will take you far. Learning the local language Khmer will also give you the confidence to approach local women. Another thing to keep in mind is to dress well. Cambodian women love good looking men and can even make the first move if you are dressed well. If you have a good sense of humor, you already know that it works its charm almost everywhere. Another thing to keep in mind is that Cambodian girls are looking for long term commitments, and if you indicate a long term presence, your chances of dating will increase considerably. Keeps the basics right and do not let any opportunity go. If you don't think you will get lucky with the local girls, try your luck on the foreigners.  
Relationships and Love
Thousands of single women in Cambodia are searching for a partner and potential future husband. Check out an ultimate guide for dating local girls, relationships, love and marriage: Relationship & Love Guide to Cambodia
Online Dating
Online dating is probably better than the day game in Cambodia. The conservative society does not allow women to go out and enjoy freely, but by the means of online dating apps, they can have initial conversations and set up meetings without anyone noticing it. The platform also provides an opportunity of knowing each other before committing to a date. Here are a few dating apps that are popular among Cambodian girls:
Live Cam Dating
Are you looking for virtual satisfaction in Cambodia? Chat with live web camera models and find the best girl for your needs. There are thousands of girls online 24/7 waiting for you: Live Cam Girls
What Kind of Guys Have the Best Chances
Cambodian girls love good looking guys, and if you are rich, then you might just get lucky enough to get laid on the very first night. If you are average looking with no deep pockets, all you can do is to be nice and look confident. Dress up well and respect the girls. If you have a good sense of humor, you might increase your chances, but don't be cocky or creepy. Guys who out rightly seek sex are not at all desirable, so don't be that guy. 
Risks while Gaming
One thing to always keep in mind wherever you go is to never misbehave with the locals, especially women. Women are conservative and if they feel threatened by your behavior, you might have to spend a few hours with the National Cambodian Police. Having sex with strangers can also land you in trouble sometimes as some girls can be easy to please but end up putting you in trouble the next morning. As a safety measure, always keep your necessary documents and some cash in a safe place. 
How to Get Laid as Soon as Possible
The fastest possible way to get laid is to try and hit on girls in bars, even bartenders and restaurant workers. Try initiating a conversation such as to suggest you a drink and try extending the conversation from there. Pass along sweet compliments and if you made a good impression, you should be able to get a number or she can even agree to have a drink with you later. Remember to hit on the right girls, if you are hitting on women above your grade, you will only be wasting time. 
Gold Diggers and Sugar Babies
Cambodia is full of hot girls looking for a mutually beneficial hookup with travellers. There are lots of girls who don't charge by the hour but who will do anything for a guy who is willing to help them pay their bills. If you are looking for a more personal and less transactional alternative to escorts, a good place to find these sexy open-minded girls in Cambodia is SecretBenefits.
BDSM
Looking for a new bondage partner while traveling? ALT.com is a community of like-minded people with members around the globe. Our members are interested in submissive sex, power exchange, locating persons for new slave roles, erotic BDSM, bondage & fetish sex, as well as live sex dates. Find thousands of play partners for whatever your fetish may be; bondage, foot, cockold, spankings, role-play, electric or water play, sadism and masochism all while traveling in Cambodia.
Swinging and Naturism
There aren't any specified swinger clubs in Cambodia but there are a lot of nightclubs that have girls that offer sexual services for money. Similarly, there are massage parlors that offer sexual services. One should be careful before visiting these places as they are constantly raided by police forces and getting caught in such a raid can spoil your whole vacation. 
Naturism or Nudism is strictly prohibited in Cambodia. The country is religious and has conservative beliefs. There may be resorts that offer optional clothing but the existence of these resorts is not confirmed. Also to be noticed is that tourists have been arrested in the past for public nudity. Thus, Naturism or Nudism is not encouraged in Cambodia.   
Costs of Living
Cambodia is an affordable country as the conversion rate from US$ is quite low. Dollars are also widely accepted here, so there's no immediate need to get your currency exchanged. The country offers affordable hotels, food, and transportation. It's great for you even if you have a low budget. Most of the ATMs dispense dollars, so you don't have to worry about carrying enough cash. Another thing is to always carry small denominations as people freak out when they see a $20 bill and refuse to give change.  
| | |
| --- | --- |
| | Single traveler's budget per day: US$30 - $400 |
Your average day including accommodation, food, a couple of drinks, traveling and sightseeing should not cost you more than $30. However if you like to party and like staying in 3 - 5-star hotels, you will be spending $200 - $400 on an average per day. 
| | |
| --- | --- |
| | Accommodation per night: US$3 - $270 |
Hostels are readily available in almost all major cities. A shared dormitory can cost you $3 whereas a private room can go up till $10. Airbnb is also an option and you will be spending $20- $30 on a shared space. This doesn't mean you cannot enjoy a luxurious stay if you have your pockets full. %-star hotels are also available and could cost you as much as $270 per night.
| | |
| --- | --- |
| | Beer in a grocery shop: US$1 - $2 |
Beers are available in grocery shops and you will be paying $1 - $2. However, you can pay close to 50 cents and get local beers. It's also a good practice to try the local beer. 
| | |
| --- | --- |
| | Beer in a bar or restaurant: US$1 - $3 |
Local beers are priced around $1 in most bars however, foreign beers are a little costly as compared to the local varieties. They cost $2 -$3. One thing that you should always keep in mind while in Cambodia is to avoid taking drinks from strangers, as they can be spiked. 
| | |
| --- | --- |
| | Meal in a restaurant: US$4 - $35 |
A good meal in a budget restaurant will cost you around $4 a meal. The local food is not that great so be surprised to see a lot of Chinese as well as Thai-joints. English meals are also available but cost a little more, so try out different joints and see what all options are available. Nice fine dining restaurant could charge as much as $35 for a meal. 
Accommodation
There are a lot of options available for a budget as well as lavish stay. You can get hostels or cheap hotels for $2- $15. If budget isn't a thing for you, you can get lavish villas or hotel rooms starting from $80 and upwards. Airbnb also works pretty well in Cambodia. 
How to Get There and Move Around
Cambodia is a well-connected country. It has transportation facilities from almost every corner of the world. Internally as well, Cambodia isn't a difficult place to travel in. Online app-based options like Uber is also available for a comfortable and hassle-free travel experience. 
By air:
The two main airports in Cambodia are Phnom Penh International Airport and Siem Reap International Airport. Both are well connected with the rest of the world and have over 15 airlines connecting it to all major south-Asian cities like Bangkok, Singapore, Honk Kong, New Delhi, and Kuala Lumpur. It also has direct flights from European as well as American countries.
By bus:
Buses are an important part of the Cambodian transportation system. They connect all cities as well as run within the city too. The intercity buses connect all major tourist spots. The infrastructure is still being developed, so you might experience difficult roads once you enter villages or less populated areas, but otherwise, the roads are great. 
By car:
Cambodia has fairly good roads and renting a car is not at all difficult. You can get a local cab with a local driver for a full day for $15 - $20. You can also take a ride in the famous tuk-tuk. Uber is also available, so if you don't want to go through the hassle of booking a local cab, just call an Uber. You should try and avoid driving a car by yourself as the roads are confusing as well as congested. 
By train:
Cambodia lacks train systems. So the best options to travel internally as well as externally are flights and road transportation.  
By boat:
You can travel between cities via boats but major cruise services are not available for Cambodia. The local boat ferries are also not getting too much traffic due to the improvement in the road services. 
Visas:
Entry into Cambodia requires a valid passport along with a visa. The visa can be obtained online or at arrival on all major border crossings in Cambodia. The cost of a Cambodian visa for one month is $55. Working visa first needs a work permit from an employer and then the visa can be obtained from the airport itself. 
Digital Nomads and Remote Work
Cambodia is a good country for Digital Nomads as the major cities have good network coverage and internet speed. The housing is also affordable and there are a lot of places to sit around and work without getting disturbed. But as compared to some of the other countries neighboring Cambodia like Thailand, the facilities are still not good enough for Digital Nomads. To obtain a working visa, you will have to obtain a work permit from your employer. The work visa will be available to you on arrival or at your nearest Cambodian Embassy. 
Internet and Mobile Operators
Mobile network coverage is still being set up in the remote parts of Cambodia, but the major cities are well connected and have decent internet speed. There are four major telecom providers in Cambodia: 
Xinwei
Telecom Cambodia
Camintel
Cootel
Gambling and Casinos
Gambling laws in Cambodia are weird as it is legal for foreigners to gamble and not for the locals. Although the law is loosely enforced and thus everyone finds a table to try their luck. There are roughly 25 casinos operational throughout Cambodia. As there are constant upstart and closure of casino joints, listing all the joints is difficult. But here are some of the famous casinos in Cambodia: 
Weed and Drugs
Drugs are strictly illegal in Cambodia. However, the law enforcement is not that strict so getting weed and possessing small quantities of it should be okay. There are rumored pizza shops that sell weed, and if you get a little local help, reaching to these shops shouldn't be a big problem. 
Health, Fitness, Gyms and Massage
There are numerous health and fitness centers throughout Cambodia. The capital city, as well as all other major cities, have excellent fitness options. There are massage parlors spread all across the major cities, however, in a lot of cases, these massage parlors are also used for the sex trade. So avoid going to a suspicious-looking massage center. 
STDs and HIV
HIV in Cambodia has not been on the rise and has a very low rate of 0.003 percent. However, one should always use protection while engaging in sexual intercourse with a stranger in the country.  
Stay Safe
Cambodia is a safe and friendly country, with the usual exception for large cities late at night, particularly Phnom Penh. Dont't leave your luggage or wallets unattended. Bag snatching, even from those on bicycles and motorcycles, is a problem in Phnom Penh. Be discreet with your possessions, especially cash and cameras, and as always, take extra care in all poorly lit or more remote areas.
In general, Cambodia is a safe country as the local Khmer people are friendly and welcoming. But it's always important to be cautious as in major cities, bag snatching is very common. So always keep your stuff close and secured to yourself. If you are riding in a tuk-tuk, keep your bag and camera close to your body. Before inviting someone to your place, place your important documents, valuables, and cash in a safe place. It often happens that the girl you bring to your place gets hold of your money or valuables and disappears after that.
One major thing is to always check the age of the girl you are going to spend a night with. There have been cases where underage girls have slept with foreigners and then have threatened them to call the police to extort money. Such cases are common in Cambodia and you should always be cautious.
Another important fact that you should always keep in mind is to never wander off in rural areas like forests or farms without a guide. During Cambodia's history of war, landmines were deployed throughout Cambodia and it is possible to stumble upon unexploded mines even today. Most of the frequently visited places do not have any active mines, but if you wander off to undiscovered or rarely traveled lands, you can land into some serious trouble.   
See Also