Nepal
Nepal hookup guide advises how to pick up girls. This single man's travel guide reveals everything about dating in Nepal. Read more how to date Nepalese women and how to get laid in Nepal, Asia.
Nepal is a Sovereign independent nation in the middle of the Himalayas surrounded by India on south and China on the north. Nepal has a population of 29 million out of which most follow Hinduism and Buddhism. Nepal is known for its cultural heritage, breathtaking mountain landscapes and people with strong ethnic or national pride. It has always been a famous destination for foreigners all around the world due to its high scenic back roads and yoga ashrams that are believed to change people's perspective on life. Nepal cuisine is quite similar to Indian cuisine consisting of rice and roti and with spicy curries that are served along with them.
Nepal Top 10 Overview:

Chance of picking up girls: 1.5 / 5

Picking up at daytime: 1.5 / 5

Picking up at nighttime: 2.5 / 5

Looks of girls: 4 / 5

Attitude of girls: 2.5 / 5

Nightlife in general: 3 / 5

Locals' English level: 2 / 5

Transportation: 2.5 / 5

Budget per day: US$30 - $250

Accommodation: US$20 - $300
Nepalese Girls
Nepal is a patriarchal society where women are often controlled by men at every point of their life. Lives of women in Nepal are often uncontrolled by them, especially in rural areas where Ethnicity, Status, Caste, Class everything comes into action before women's wishes. Only half of the women are literate in the country, making it one of the most difficult places to get started with even a casual conversation. However, most of the urban Nepalese women that are educated and good looking are welcoming with foreigners when approached and have no problem in talking with them. There is no doubt that Nepalese women are one of the beautiful women in entire Asia. They are women with varying facial structure, mostly oval and heart-shaped, thin pointed noses and thick eyelashes and eyebrows. Nepalese women value beauty deliberately and always dress elegantly with a lot of jewelry on their body. They have short eyes and a great feminine body that can captivate anyone. They have medium sized tight breasts with round shaped asses that can make any man, crazy for them.
In Nepal, people with a little extra weight are often considered to be wealthy and well educated, so don't hesitate to go and chat with girls with a little extra weight as they are often educated and fantasize about westernized sexual practices which are not possible in a conservative country like Nepal. Casual sex and quickie don't work in Nepal. You have to gain her trust before progressing into the game. Don't spoil your chances by making her feel that it was all planned. Think of taking her to a lunch or a movie before advancing into getting her laid. There is no chance of foreigners talking with rural Nepalese girls as they are often surrounded by male relatives or husbands. Only regions where you can try to talk with women in Nepal are in cities like Kathmandu and Pokhara.
Almost every woman in Kathmandu and Pokhara are educated and often have strong opinions in western culture. Nepalese girls would love to hear and crack jokes instead of speaking about sensitive topics like caste, politics, marriage, and poverty in their country. You can score some brownie points if you can appreciate their cultural heritage. Nepalese girls will never approach to any foreigner by themselves, even in rich and modernized cities like Kathmandu because of the high chances of people ridiculing her. Nepalese women love men with good dress sense and well hygiene.
Don't try to talk with a girl when you are wearing shorts as it may end in a very bad response from her. Nepal is a poor country with almost one by a fourth of the country living below the poverty line. Although most of the rich and educated girls with western values and surrealistic fantasies live in cities in Nepal, they are often attracted to people with wealth. They always prefer white skin toned men, as they see darker complexion as a sign of poverty. Women in Nepal are not fluent in English, so practice gestures which can make conversation smooth and cute in a way.
| | |
| --- | --- |
| | Looks of girls: 4/5 |
| | |
Nepalese women are extremely pretty and have a great smile that can seduce men. They dress elegantly with a lot of jewelry on their bodies. They try to cover their body till legs with traditional saree and blouses from which you can see their well-built buttocks and arousing waist. With their beautiful complexion and clear white skin, they can easily dominate any other south Asian women in terms of beauty.
| | |
| --- | --- |
| | Attitude of girls: 2.5/5 |
| | |
Women of Nepal are usually shy and speak less. Of course, they will give a blissful smile and a traditional "NAMASTE" when foreigners approach to talk to them with a smile. But due to the conservative and patriarchal society that spreads rumors on women character, she may not continue to talk with you other than for few minutes, except in rare cases when she is extremely attracted and was dying to make love.
How to Pick Up Girls
Picking up girls in Nepal is very tough and challenging. They are often surrounded by men and when they are not with men they are surrounded by a female friend who will not leave her alone with a stranger. But if you are in luck, you can find some rich girls with strong desires and fantasies for western sex practices. Try to have a casual talk, crack some weird jokes, be well dressed and always be confident with a seducing smile.
| | |
| --- | --- |
| | Chance of picking up: 1.5/5 |
| | |
The chance of picking up horny girls in the country of Nepal is very unlikely to happen, as they are often afraid of societal norms or afraid of making a sin according to Hindu culture that they live with. A Nepalese girl will never approach herself or make the first move to seduce you. You need to make the first step. The only strategy to attract her is by gaining her trust slowly unlike trying to get her laid the same day.
Chance of mature ladies:1/5
Nepalese women feel family as the most important social elements in their lives. It is very rare to find married women wishing to have sex with other men. Don't even think of wooing married women as this may cause you in serious trouble. Divorce is quite uncommon in Nepal. But there is a quite a small section of divorced woman that often indulge in sex with foreigners. This will only happen in very urbanized areas of the capital city Kathmandu or Pokhra. If you didn't find luck anywhere, it is your only last resort.
Tips for Daytime
The daytime chances of meeting a girl are very difficult compared to other countries in Asia, there is no surprise in this due to the male patriarchal society that made Nepalese women restricted to households for many decades. Although now due to technological advancement and widespread of internet, many girls got accustomed to western culture and practices. Still, there are a lot of woman who are afraid to go alone out especially at night, without a male companion. That is the sole reason why you will be able to spot very less women without a male relative or in a group. If you are lucky, you can find some girls alone in shopping malls & coffee houses in the cities of Kathmandu & Pokhara. When you find a girl alone try to act as a confused traveler at first and slowly ask her for a coffee. Don't try to talk about sex or anything related to sex, as she may try to leave you abruptly making you embarrassed. Remember in Nepal you need to play smart, without letting her know your true intention of laying her out on a bed.
How to approach the girls?
You need to develop a gameplan to approach girls as said before. Try to travel to places like shopping malls, rich luxurious restaurants & coffee shops where you can find liberal Nepalese women, who adore western ideologies, rather than theirs. Don't try to approach girls who are in groups, which is a thing you will see often. Try to find a girl who is alone and approach her as a traveler who needs to know more about Nepal's culture. While you are in a talk with her start giving a smile and crack one-liners that would attract her.
Let the first meet be short and ask her mobile number so that you can meet her the next day. This strategy works well because this gives her time to decide what to do next or she may even fantasize making out with you. Take her to small trekking across the hills or to a fancy rich restaurant for a date. You need to be slow & romantic rather than making her feel about you like a prick who just wants sex in Nepal.
| | |
| --- | --- |
| | Chance of picking up at daytime: 1.5/5 |
| | |
Chances of picking up women at daytime in Nepal are quite difficult, as there are numerous social pressures and norms that can stop a Nepalese girl to talk or advance further with a strange foreigner. Often, when women are with their female best friends and male relatives, the probability of striking a conversation with her is very less. But if you are lucky, you can attract some metropolitan college girls with your wealth and charm. These girls are often vulnerable to foreigners with wealth and a great sense of humor.
Best spots to meet girls:
Nepal is a small country with very less recreational or entertainment destinations. A lot of women are religious and follow Hindu virtues strictly. Obviously, If you want to meet local girls, temples are the best bet because you can see some stunning people there in traditional Nepalese attire, but it can difficult to advance your game as they would not talk to you a lot, as it is a religious place. You need to visit some shopping malls and coffee bars/ restaurants where there would be a high chance of meeting college girls and independent working women who already have a good idea about hookup culture.
Nepal's capital city, Katmandu is a place for huge shopping malls, luxurious five-star restaurants and coffee houses where you can find your luck. An added advantage is that it is highly likely that you can meet a lot of foreigners in these places and it is often easy to talk with them compared to local girls. So if you didn't find any local girl to hookup, you can try to woo a toursist.
Given below is a list of some of the best malls, restaurants, and temples to visit in the country of Nepal to pick up horny girls:
Pasupatinath temple, Kathmandu
Manakamana temple, Manakamana
Muktinath temple, Muktinath
City center, Kathmandu
Bhat bateni supermarket, Kathmandu
Midtown galleria, Pokhara
Mithro restaurant, Kathmandu
Melarose restaurant & Bar, Kathmandu
Blueberry kitchen & coffee shop, Kathmandu
Rosemary kitchen & coffee shop, Kathmandu
Tips for Night-time
Nepal, A culturally proud country has a good nightlife too because of a high number of tourists that visit the country. People wanted to make money from nightlife, so a lot of pubs, bars, and casinos have increased in recent years. Due to widespread internet and women getting educated rapidly has changed the lifestyle in Nepal. You can see girls in skirts in any infamous pubs/bars. But you still need to play smart rather than being a guy who just wants to get laid. Chances are good if you can charm girls with your beauty and wealth. Offer her a drink when she is alone. Nepal girls like people who dance, so brush up your dance moves to impress her in a pub. Stay cautious all the time and don't get drunk; there may be chances of being looted. Drink responsibly and try to flirt with girls who are alone in a pub.
| | |
| --- | --- |
| | Chance of hooking up at nighttime: 2.5/5 |
| | |
The chances of hooking up at night time are better due to the frequent visit of women who are open to sex to pubs and bars. There is a very exorbitant number of bars, night clubs you can visit that can make you feel like you are any western country. You can talk about sex in general with whomever you met in nightclubs, bars, casinos as they are often mature and can accept the western practices. Nightclubs are a destination for any traveler to increase his probability of being laid.
Best nightclubs to meet girls:
Until a few years, there was no significant good number of night bars and clubs in Nepal, even in the capital city Kathmandu. But with girls trying to break their stereotypes and increase of college girls and an increase in the visit of foreigners made this a booming business for locals. So there are a very good number of destinations where you can get entertained, get a hot beer and see a lot of sizzling women with skirts and jeans in these nightclubs. However don't try to touch them, as most of the girls will not be comfortable. Nightclubs and bars are definitely the best places to increase the odds of getting control of a local girl, seduce her and get her laid in a few days.
Club dejavu, Kathmandu (Pub)
Karma bar, Kathmandu (Bar)
Rum doodle, Kathmandu (Pub)
Purple haze rock bar, Kathmandu (Bar)
Old house cafe, Bandipur (Night club)
Old blues bar, Kathmandu (Bar)
Mikes place, Pokhara (Pub)
Koyla lounge, Pokhara (Night club)
Movie garden, Pokhara (Outdoor Movie theatre with Bar)
Sam's bar, Kathmandu (Bar)
Everest bar, Kathmandu (Bar)
| | |
| --- | --- |
| | Nightlife in general: 3/5 |
| | |
The nightlife in the country of Nepal is better than the gloomy day life where you have fewer chances of meeting a girl. It's a very exciting experience to see hot and sexy young Nepalese women in skirts showing their beautiful breasts and smiling at foreigners. Nightlife in Nepal can surprise you.
Regions
Nepal is officially divided into 14 administrative zones and five development regions, but travelers might be more comfortable with the conceptual division below (based on the country's elevation). From north to south: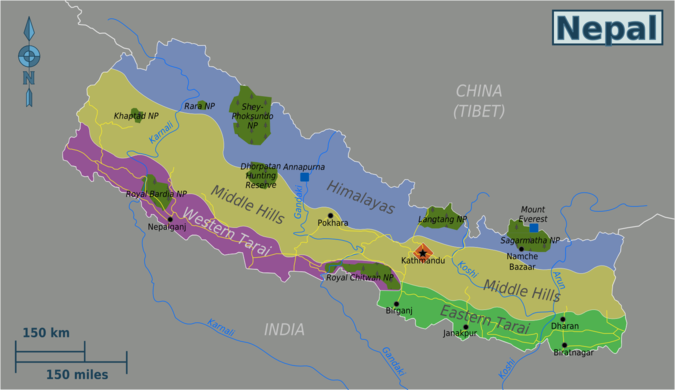 Himalayas
The roof of the world, including Mount Everest, Annapurna, Langtang National Park and The Great Himalaya Trail with numerous sightseeing, trekking, and other adventure sports opportunities.
Kathmandu Valley
Home to Kathmandu, Boudhanath, Patan and Bhaktapur, this is in the heart of Nepal and a crossroads of cultures with numerous sacred temples and monuments.
Middle Hills
The Hill Region (Pahar in Nepali) is mostly between 700 and 4,000 metres altitude. This region is split from the Terai Range by the Mahabharat Lekh (Lesser Himalaya) and forms a geographic midlands between the Terai and the Himalayas. It includes the scenic Pokhara valley, a popular base for activities in the area.
Western Tarai
The western side of the Terai mountain range with the Chitwan National Park and Bardia National Park.
Eastern Tarai
Quite a populated area with Biratnagar, Nepal's second largest municipality.
Cities
Kathmandu — capital & cultural center of Nepal, with the stupas at Boudhanath and Swayambhu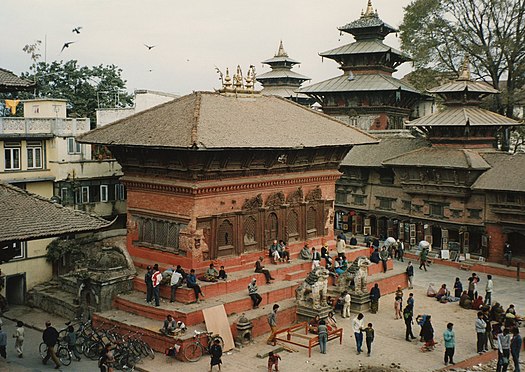 Top Dating Tips
Dating women in Nepal can be quite complicated, as they wish relationships to be long and forever. So you need to convince her with your charm and sexy seducing looks and let her think that she can have sex with you. Bollywood movies are what Nepalese girls go crazy for; try to take her to a movie and let her know that you value her tastes. Talk with her about her family & her relation with them, which will give a soft corner on you. Try to gift her as often as possible; it need not be expensive but gifting her often make her more drawn towards you. Like in cliched Bollywood films, Nepalese girls fantasize more about romance rather than about sex. Try to be more romantic as possible, sing a song for her, gift her flowers or make her a dish. This will make her want you more on the bed. Don't smoke in front of her, as Nepalese girls get irritated with it. Drinking is fine, but it's better to not smoking when you are with a Nepalese girl.
Online Dating
Although being a highly conservative and religious country, Nepal is booming recently in online dating culture. Girls, especially from Kathmandu are getting used to these dating apps where they can find people to have fun.
As a foreigner, using dating apps can tremendously increase your chances of getting laid soon. These apps often show you girls so you can select or swipe people you want to spend time with. Below are the famous three dating apps in Nepal that can speed up your game.
Asian Dating: This is an exclusive app in Asia by cupid media that works well to connect with local women due to its complex algorithms that deliver best results based on your needs. You can use this app to increase your chances of meeting local Nepalese women.
Tinder: Tinder is a dating app that is famous all around the world due to its ease of finding girls. You can find both foreigners and local Nepalese while using the app. Tinder is now a pop culture phenomenon among urban women. So don't forget to check tinder to find the hottest chicks around you.
Badoo: Badoo is another famous dating app that is known for its simple and innovative user interface which can let us filter out results according to your wish. Although it is not as famous as the other two dating apps in Nepal, it is used by college girls. If you like to have sex with teens, this app will prove good for you.
All dating apps are safe but you need to be cautious when dealing with girls, who are fake accounts, who may be gay or people who are trying to loot your money. So stay safe and cautious while meeting people from these dating apps.
What kind of guys have the best chances?
Nepalese girls are mostly from a middle-class lifestyle, so they are naturally attracted to guys who spend more money and appear like they are from a wealthy family. Nepalese women prefer guys with their own vehicle. So try to get yourself ready with a car when you are meeting Nepalese girls. You can get car rentals for cheap prices in Kathmandu. This will increase your chance of moving privately with a girl rather than by public transport/ cabs on which girls are often afraid of being spotted a relative/friend. Nepalese girls are fondly attracted towards guys with sense of humor. Try to shape up your funny side and be as natural as possible. White skin and good hairstyle can make her go gaga over you. Always try to be confident and whenever you can look at her eyes in a seducing way.
Risks While Gaming
The major problem with Nepalese women is they are always surrounded by male relatives or friends. Even a casual 'hi' can bring long stares from them. Also avoid approaching married women, as this may lead to very bad situations. There are also high chances of girl best friends who act as cockblockers, they try to preach her with moral values and her religious ethics when she shows a sign of interest in you. So try to impress the girls beside her too with your wit and intelligence. Always remember that public display of affection can lead you bad results and sometimes can even lead to the approach of cops. So don't indulge in PDA which will become a nightmare apart from moral policing.
How to Get Laid as Soon as Possible?
Being a highly religious country, one-night stand and hookups are not common in Nepal. But there are still chances of meeting some well educated and mature girls who are ready to have some fun with foreigners. Try to travel to shopping malls, night clubs, and casinos where you can find women who can work for you. Dating apps can increase your chances of getting laid soon.
Gold Diggers and Sugar Babies
Nepal is a poor country and has a very good number of gold diggers and sugar babies. Of these, most girls come from semi-urban regions of Nepal to get a better life in the capital city of Kathmandu. However, the huge discrimination of independent women makes them work for very fewer wages. So naturally, a huge number of women are waiting to be sugar babies for foreigners who can shower them gifts and money. They love to stay in luxurious five-star hotels and travel in modern cars. Here gold diggers will do anything to get to live some extravagant lifestyle.
Swinger Clubs and Naturism
There are no traces of swinger clubs and naturism parks in Nepal, being a Hindu dominated nation. There are rumors that there are swinger clubs in Kathmandu but it is very difficult for you to find those places as they want it to be a secret. Kathmandu is a highly conservative country and doesn't accept these things as a society.
Costs of Living
When compared to budget one spends in other countries it is quite cheap to travel in Nepal. You can get along with very fewer expenses and can live with as little as 20$ even in cities like Kathmandu if you are low on budget. In Smaller towns and other cities, you can spend your day for as little as 15 USD.
| | |
| --- | --- |
| | Single traveler's budget per day: US$30-250$ |
| | |
Solo travelers who are traveling to Nepal can live in local cheap lodges and dormitories that often come for very less price ranging from 10$-20$. Nepal local food also tastes good and you can get along with a mere 10$ with breakfast, lunch, and dinner if you are tight on budget. When you visit a few scenic places foreigners need to pay between 1USD and 2USD to visit these places. Public transport is often cheap in Nepal. So if you are on budget control with 30$ you can spend a good day in Nepal.
| | |
| --- | --- |
| | Accommodation per night: US$20 - $300 |
| | |
As travelers are common in Nepal there are quite a good number of hotels that offer rooms for as low as 10$ a night. However, if you want to spend your night in luxurious five-star hotels it may cost you between 100 USD to 200 USD depending on the hotel range.
| | |
| --- | --- |
| | Beer in a grocery shop: US$1.5 - $3 |
| | |
You can find beer for as cheap as 1.5 $ in Nepal grocery shops. But if you want good quality beer it may cost you 3 USD.
| | |
| --- | --- |
| | Beer in a bar or restaurant: US$5 - $8 |
| | |
A good beer can be found in bars & restaurants for 5$ and if you want to drink a foreign brand in exclusive restaurants and bars of Kathmandu and Pahora you may need to spend 6$ to 8$.
| | |
| --- | --- |
| | Meal in a restaurant: US$30 - $50 |
| | |
Nepal cuisine tastes spicier but an average foreigner will enjoy the taste of it. Local Nepal restaurants offer Meals for very less price, as less as 1$. If you want to enjoy the luxury of a five-star restaurant you might spent somewhere between 10$-20$.You can even find American restaurants for very fewer prices in Kathmandu.
Accommodation
Accommodation is very cheap when compared to other Asian countries. You can find good three-star hotels for 30$. Airbnb is still rising inn popularity and you can try your luck in choosing the best independent houses from them. It will be very good for your game if you can live in a 5-star hotel which ranges from 200 - 300 USD. These lavish hotels can attract girls from Nepal.
How to Get There and Move Around
Nepal is well interconnected by roads. When you start moving from farther the capital you will find roads getting bad. So get ready to face humps if you want to travel to rural Nepal.
By air:
Although there are many local international airports, there is only one international airport called Tribhuvan international airport in Kathmandu that connects the world to Nepal. The international airport is well connected by roads from Kathmandu.
By bus:
Buses are the cheapest solution to travel if you are low on budget. There are many bus services that offer services from Kathmandu to different parts of the country. Traveling by buses may be uncomfortable, but you can meet some local Nepalese girls in buses, as it is the best way to travel long distances in Nepal.
By car:
If you want to tour alone around the city or travel nearby towns to Kathmandu, you can rent a car from many car rental shops that are available in the city. Having their own transport can make Nepalese girls more attracted to you.
By train:
Nepal's rail system is almost non-existent. Try to avoid trains, as this may lead to inconvenience.
By boat:
Nepal is a landlocked country in the Himalayas. There is no major transport by water.
Visas:
Upon visiting Nepal, a tourist can easily get a 30-day transport visa for a very nominal price. Check instructions and details before entering the country regarding the visa details in Nepal government websites.
Digital Nomads and Remote Work
Kathmandu have good places where you can do your office works with great scenic beauty. Other Nepal cities have very poor infrastructure and can be of no use to you if you are trying to spend some quality time to do remote work. Apart from these, constant power cuts and very fewer internet speeds may irritate you.
Internet and Mobile Operators
Owing to its geographical conditions until a few years ago, Nepal is very poor in telecommunication. But recent developments had significantly increased the network coverage area and also internet speed. However, when compared to other countries, it is very low. A smart cell has started 4G services recently all around Nepal.
Top networks in Nepal
Nepal Telecom
Ncell
Smart Cell
Gambling and Casinos
Gambling and casino are legal in Kathmandu and other parts of the country. Casinos are often restricted to only foreigners. There are eight gambling facilities in Kathmandu open every time. Here are a few casinos that you can visit in Kathmandu
Casino Rad
Casino Royale
Casino Anna
Bally's Nepal
Weed and Drugs
Lord Shiva bhakts ( disciples) who are in large number in Nepal still use Weed in Nepal. Although weed is illegal in Nepal, you can find it many places. Often, locals will approach you and ask whether you want weed. Nepal banned weed on American pressure due to a large number of travelers coming to enjoy marijuana. Finding drugs may be a bit difficult for foreigners as police have a strict eye on people using drugs.
Health, Fitness, Gyms, and Massage
There are quite good massage centers in Kathmandu, especially for foreigners. You can find very fewer gyms with the high-class facility. You may find them, to be quite average but they can be enough to a normal person who is just wanting to work out for a few time.
The Globo gym
The Fern Residency gym
Gymkhana
STDs and HIV
Nepal once suffered a lot due to the widespread of HIV. There are a lot of migrated people from Mumbai, India working as prostitutes in the country infected with HIV. It is always necessary and a must to have protected sex in Nepal.
Stay Safe
Nepal's cities are safer than most, and even pickpockets are rare. Nevertheless, don't flash cash or make ostentatious displays of wealth.
Sometimes, there are strikes ("bandas") and demonstrations to contend with. Some businesses close, but many allowances are usually made for tourists, who are widely respected. Ask about strikes at your hotel or read the English language Nepali newspapers.
See Also