Brunei
Brunei dating guide advises how to pick up Bruneian girls and how to hookup with local women in Brunei. Travel, enjoy and have fun with hot single girls and you might even meet the love of your life. Read more on how to date Bruneian women, where to find sex and how to get laid in Brunei, Asia.
Situated in Southeast Asia and Borneo's north coast island, Brunei is a tiny Asian country with a population of 442,400 people. Sarawak, which is a Malaysian state, surrounds the country except for the coast. It became a British protectorate in 1888 and also allied with them during World War II for fighting the Japanese.
Brunei is now an industrialized country with natural gas and petroleum being its sources of income. Tourists looking for an Asian country for visiting find Brunei as a perfect destination since it is a developed state.
Brunei is a highly conservative country with influences of Islam. The government is also a little harsh when it comes to free speech. Even the news media are pro-government. The government laws have been made with Islamic sharia stitched into it.
Brunei Top 10 Overview:

Chance of picking up girls: 2 / 5

Picking up at daytime: 1.75 / 5

Picking up at nighttime: 2.25 / 5

Looks of girls: 3 / 5

Attitude of girls: 2.75 / 5

Nightlife in general: 3.5 / 5

Locals' English level: 2.75 / 5

Transportation: 3.5 / 5

Budget per day: US$50 - $500

Accommodation: US$20 - $300
Bruneian Girls
Girls in Brunei have a conservative nature due to their strict household rules and social culture. Most of the people in Brunei come from Malay ethnic background, and they look similar to Malaysians.
Most of the Bruneian girls can be found wearing tudong. It is a headscarf and used as a replacement for the hijab. Even though the government does not force women to dress modestly, they still try to follow the Islamic rules of dressing. It is a result of their strict household and the social environment where they grow up.
If you compare the women of Brunei to the girls of other developed countries, you would understand how females are seen as inferior because of the Islamic culture.
| | |
| --- | --- |
| | Looks of girls: 3 / 5 |
There are some good looking girls in Brunei, but you won't find them as hot as Japanese or Filipina girls. They have Malay ethnicity, which makes their faces round, eyebrows light, and noses small. They're quite short and don't have a perfect figure. Most of the girls have pale skin and dark eyes.
| | |
| --- | --- |
| | Attitude of girls: 2.75 / 5 |
The local women aren't rude to tourists, but they have a shy nature and have an inferiority complex. If you approach someone, the chances are that she'll try to avoid it. But the girls are loving to their partners and show a very caring nature.
Where to Get Sex Now
It is easy to get sex online in Brunei. You just need to find the best available girls. See Girls Online Here!
How to Pick Up Girls
Needles to say, the chance of picking up girls in Brunei is not so high. Since you are in a conservative country, typical picking up strategies won't be helpful. As we have stated before, the women are quite shy and have an inferiority complex, which stops them from having a conversation with strangers. So, follow these methods for picking up girls in Brunei:
Approach women with modern clothing: Most of the time, you'll see the girls wearing their traditional simple dress, which is a sign that can be interpreted this way - "I'm a conservative woman who follows Islam and social laws." You have to stay away from them. Instead, go for the girls that have slightly modern clothing. Chances are, you'll find girls like these near tourist areas.
Go to tourist spots: Going to tourist spots means you'll not be able to pick up local girls. What you'll find is foreigners, and there is a good chance of hooking up with them.
Use social media and dating apps: A girl can show her true self through online platforms. Maybe they are maintaining their family rules, but inside, they are horny and looking for the right partner. Using social media and dating sites are great options for hooking up fast.
| | |
| --- | --- |
| | Chance of picking up: 2 / 5 |
Due to the Islamic values and social culture of the country, picking up girls in Brunei is not very common for foreigners. Most of the women you'll find are married at a young age (20-25). There is a small opportunity of finding liberal-minded girls or foreigner women that have come to Brunei for working purpose.
Tips for Daytime
Daytime is not a preferred period of finding girls in the country, but that doesn't mean there are no chances. Usually, you would want to visit nearby shopping malls, tourist places, or café to find girls in the daytime.
If you find a beautiful girl whom you like to approach, you need to do it carefully. You have to be casual about it to make the girl feel safe. Also, you need to understand her body language to make sure she's comfortable.
Do not approach a girl who seems uninterested to you or who is with her family members. It is a bad idea, and you can get into trouble.
| | |
| --- | --- |
| | Chance of picking up at daytime: 1.75 / 5 |
The chances are feeble when it comes to picking up Bruneian girls in the daytime. You'd want to approach a girl who is wearing modern clothing, but you would require to have good luck finding them.
Best Places to Meet Girls
In Brunei, the best option for a tourist would be to search for foreign women because hitting on a local girl is hard and risky. Make sure you visit these popular tourist destinations to meet with foreigners in Brunei:
Brunei Darussalam Maritime Museum
Masjid Omar Ali Saifuddien
Jame'Asr Hassanil Bolkiah Mosque
The Nurul Istana Royal Palace of Brunei
For the best experience and finding girls quickly, go there during Eid. For those who don't know much about Islam, Eid is the biggest celebration for Muslims. There is no actual date for it as they only follow the Arabian calendar, but you can gather the information with a simple Google search.
If you want to find a local girl, visit these shopping malls:
Mabohai Shopping Complex – Jalan Kebangsaan, Bandar Seri Begawan BA1111, Brunei
Times Square Shopping Complex – Jalan Perdana Menteri, Bandar Seri Begawan BB2713, Brunei
The Airport Mall – Bandar Seri Begawan BB2713, Brunei
The Mall Gadong - Bandar Seri Begawan, Brunei
Rimba Point – Jalan 18, Perumahan Negara Rimba, BE 3119, Brunei
Tips for Nighttime
At night, there aren't many girls outside. Even if you find a girl roaming around alone, keep yourself from approaching her in a quiet place. The safest option for a tourist would be to visit the places we are going to mention.
| | |
| --- | --- |
| | Chance of hooking up at nighttime: 2.25 / 5 |
The chances are not that great for hooking up at nighttime. There are no bars or nightclubs available in Brunei, and most of the girls are indoors after dark due to the strictness of their families. Visit cafés and tourist destinations, and you might find some tourists roaming around.
Best Nightclubs to Meet Girls
Even though there are no nightclubs or bars where you can go to meeting local girls, you can go to the following places:
Jerudong Park: This amusement park is top-rated amongst both tourists and locals and can be a good option for spending your time after dark for finding local girls.
Gadong Coffee Bars: Consider them as a pub without alcohol. Young people go there to spend their time after dark, and there's a good chance of finding local girls.
Dining: Kuala Belait and Seria have some great dining places where you can go at night. Such sites are mostly visited by tourists, and meeting a foreigner woman wouldn't be a rare thing.
| | |
| --- | --- |
| | Nightlife in general: 3.5 / 5 |
Even though finding girls at night is not so typical, the nightlife, in general, is pretty good in Brunei. There are popular eating places where you can go, and the city is also very safe for tourists at night. Overall, the experience is pleasant. If you are someone who likes to party and go to nightclubs, Brunei isn't the right destination.
Mature Ladies and Cougars
Dedication and commitment are strong amongst the Bruneian women. It means that even if they are in a marital relationship where it's getting toxic, they do not separate. As a result, you will rarely find a single mature lady.
Also, mature women follow religion strictly and consider having non-marital relationships as a crime. So you shouldn't expect to hook up with a cougar in Brunei except if you find a foreigner.
Regions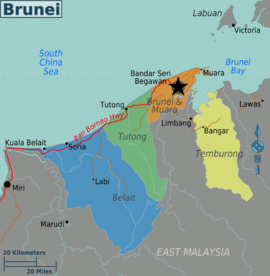 Tutong
Lies under the coverage of the virgin forest, scattered small scale plantations.
Belait
Western-most district, also the centre of the country's petroleum industry.
Temburong
Isolated eastern district, separated from the rest of country by the Malaysian district of Limbang in Sarawak.
Cities
Dating
When visiting Brunei, dating can be a fun and interesting experience. AdultFriendFinder.com, lets you meet local members in Brunei and get to know them on a personal basis before you arrive. It just takes a few minutes, you simply create an account, upload a few images and tell a little about yourself. Since time in your destination may be limited, get to know each other's desires beforehand so when you do meet, you can skip the awkward introductions and start having some real fun.
Top Dating Tips
If you get a girl who is willing to go on a date with you, you can take her for lunch or to popular tourist places. One thing that you should always remember while dating local Bruneian girl is - do not be too direct.
The girls who date foreigners do not know what kind of behavior to expect, and if you're not acting casual and friendly, they might get scared. So you have to approach slowly.
Most of the girls won't get in bed with you after the first date. You have to meet them several times and spend a lot of time with them to earn trust. And when you're a trusted figure, the girl you're dating might open herself to you.
Relationships and Love
Thousands of single women in Brunei are searching for a partner and potential future husband. Check out an ultimate guide for dating local girls, relationships, love and marriage: Relationship & Love Guide to Brunei
Online Dating
Online dating is probably the best option of hooking up in Brunei. Because the social culture doesn't allow women to express their feelings well, and the girls who are trying to hook up with a suitable partner often choose to use online methods. Most of the time, girls use social media and dating apps. Use these apps to find a girl who is interested in hooking up:
muzmatch: muzmatch is highly popular in Brunei as it is a dating site for single Muslims. It has over 2,000,000 users and available in 190 different countries. Even though a lot of Bruneian girls are available on this platform, chances are they have a conservative mindset.
LoveHabibi: LoveHabibi is another Muslim dating platform with over 500,000 active users. It is decent for tourists trying to find Bruneian girls but mostly suitable for Muslims.
Badoo: With over 460 million users in 190 different countries, Badoo does have some decent results in Brunei. Through the app, a tourist can find suitable matches during their stay in Brunei.
Live Cam Dating
Are you looking for virtual satisfaction in Brunei? Chat with live web camera models and find the best girl for your needs. There are thousands of girls online 24/7 waiting for you: Live Cam Girls
What Kind of Guys Have the Best Chances
Good looks, confidence, and decent behavior, these are the qualities that local women love. You would be wrong to think that money would attract them. Brunei is a developed country, and the people there have experienced luxury. So showing off wealth doesn't have much effect.
Focus on your looks and clothing. Formal clothing attracts Bruneian girls while hipster looks do not. Show confidence in your body language and way of talking.
Knowing the local culture is an additional advantage since it becomes a topic of conversation.
Risks while Gaming
Due to the lack of Western influences, you mustn't approach a girl with the intention of hooking up. If a girl seems uninterested, stay away. If you try to approach a girl that looks too scared or shy, you might even get into trouble with the police. The punishment is very severe in this country, and they do not hesitate to take in foreigners if they sense anything suspicious. So be very careful with your approach.
How to Get Laid as Soon as Possible
Hooking up fast could be a challenging task in Brunei, and you already know why. But there are small chances of getting girls quickly, even in such a conservative environment. Follow these methods for taking a girl in your bed in Brunei:
Look for foreigners: Since local girls are tough to catch, you can opt for foreigners. A lot of girls come to Brunei from third world countries to find a good job. You can choose them for dating. Also, there would be some female tourists who can be interested in you.
Use online method: Before you go to Brunei, use social media like Facebook and Instagram and dating apps for finding a girl that has liberal views and would be willing to hook up with you. That way, you can quickly get a date as soon as you reach the country.
Gold Diggers and Sugar Babies
The Sugar Baby scene in Brunei is still quite new but there are a lot of beautiful young girls looking for a Sugar Daddy. The best and safest way to hook up with a Sugar Baby is online. At SecretBenefits.com there is a wide selection of nice girls who are looking for an older guy to take care of them. These babes are easy to approach and you can settle everything before meeting up.
Anyone can be a sugar daddy. Just create your free account at SecretBenefits and start enjoying the wide selection of Sugar Babies available.
BDSM
Looking for a new bondage partner while traveling? ALT.com is a community of like-minded people with members around the globe. Our members are interested in submissive sex, power exchange, locating persons for new slave roles, erotic BDSM, bondage & fetish sex, as well as live sex dates. Find thousands of play partners for whatever your fetish may be; bondage, foot, cockold, spankings, role-play, electric or water play, sadism and masochism all while traveling in Brunei.
Swinging and Naturism
As you have already guessed, there are not swinging parties of naturism spots available in Brunei. Just like most other Islamic countries, sex is seen as a forbidden act if a couple is not married, and the government also takes harsh actions against such acts. In rare cases, some tourists often arrange such parties with the help of influential people, but they happen secretly. So, do not expect to get invited to a swinging party.
Costs of Living
The cost of living is slightly high in the country of Brunei but not so significant for western residents. One needs to have a decent amount to stay in a commercial city. Let's have a look at the budget of travelers:
| | |
| --- | --- |
| | Single traveler's budget per day: US$50 - $500 |
As it is a developed country, the budget of a traveler per day needs to be slightly high. You need $50 at the least amount to spend a day, but most tourists spend $100 on average to experience the best stay.
| | |
| --- | --- |
| | Accommodation per night: US$20 - $300 |
There are many cheap accommodation options available if you go for hostels or Airbnb. The price will be more if you're trying to stay at the fancy palace-like hotels as there are many of them available in the country.
| | |
| --- | --- |
| | Beer in a grocery shop: US$0 - $0 |
As selling alcohol and drinking them in public is forbidden in Brunei, no grocery shops sell beer in the country. But if you are a drinker and need alcohol every day, you can bring alcohol with you as it is legal for tourists to carry a drink. You can only bring 12 cans of beer or 2 liters of alcohol every 48 hours in the country.
| | |
| --- | --- |
| | Beer in a bar or restaurant: US$0 - $0 |
Like we have mentioned above, there are no bars available where you can buy alcohol. So, stick to the beers you have brought from home.
| | |
| --- | --- |
| | Meal in a restaurant: US$7 - $40 |
Beef Rendang, Nasi Lemak, Udang Sambal Serai Bersantan, Serongeng Padang, etc. are the famous dishes of Brunei that can be found in restaurants. A simple lunchtime meal, including a drink in business areas, would cost at least $7.
Accommodation
Airbnb, hostels, and hotels are available in Brunei, and the accommodation price can be a little lower if you're not staying in a 4-star or 5-star hotel. The cost of Airbnb starts from $19 per night, and on average, you'll have to spend $30 for a decent room. Here are some accommodation options in the country:
BWN Bed Station – Unit 8, 2nd floor Tian & Chuan Building, Simpang 88 Jalan Pangkalan Kiulap, Bandar Seri Begawan BA 1712, Brunei
Radisson Hotel Brunei Darussalam – Jalan Tasek 2203, Bandar Seri Begawan BS8674, Brunei
Hostelite Brunei – Bandar Seri Begawan BS8511, Brunei
The Brunei Hotel – 95 Jln Pemancha, Bandar Seri Begawan BS8811, Brunei
The Empire Brunei – Kg Jerudong, Muara – Tutong Hwy, Brunei BG3122, Brunei
All of these accommodations are highly rated for visitors.
How to Get There and Move Around
Almost all of the Brunei residents have their private vehicles, which means that there is not much public transportation available. Minibusses are a preferred method of travel.
By air:
Brunei International Airport is the main airport in this small country that controls the flight of Royal Brunei Airlines. After getting off the plane, you'll be able to find a few taxis and can take them to go to your destination.
By bus:
Brunei residents don't usually travel by bus because of the increased ownership of private vehicles. There are purple minibusses available in Bandar Seri Begawan, and mostly foreign workers use this service.
By car:
There are not many taxis available in Brunei since almost all families own a car. If you are going to stay in Brunei for a long time, you can drive a vehicle for traveling if you have an International Driving Permit. Also, make sure that you have your license, passport, IDP, insurance paper, and car registration papers with you while driving.
By train:
Unfortunately, Brunei does not have a train service available for public transportation.
By boat:
Serasa Ferry Terminal at Muara is the main ferry of Brunei, where one can get in or out of Brunei. The ship is far from Muara's center, and you need to get a taxi or bus to get there. Also, you need to pay extra taxes for traveling by ferry. Brunei to Sabah car ferry is also available.
Visas:
Citizens of the USA and European countries can go and stay in Brunei for 90 days without obtaining a visa. Brunei has no visa policy for specific states that allow visitors to stay there 14, 30, or 90 days. Citizens of other counties need to get the visa of Brunei before traveling there.
Digital Nomads and Remote Work
Brunei is not a suitable place for digital nomads. Even though it is a developed country with a population that can speak English pretty well, the forced Islamic laws, censorship of the government, and mediocre internet connection makes it a lousy option for outsourcing workers and digital nomads. One will find it very difficult to settle in, especially if they come from any western countries.
Internet and Mobile Operators
The internet speed is not the best in Brunei. It needs some development, but you will not find many issues with it. Here are the mobile operators of the country:
DST Com
Progresif Cellular
Brunet
Secure Internet LLC
PureVPN
Digital Energy Technologies Chile SpA
Progresif Cellular Headquarters
Simpur ISP
Jabatan Telekom Brunei
BruNet, Telekom Brunei Berhad (Telbru)
Gambling and Casinos
Due to Islamic laws, gambling is illegal in Brunei, and the government does not show mercy to people who gamble illegally. As a result, you shouldn't expect to see any casinos in this country.
Weed and Drugs
The possession and sale of weed and other drugs are completely illegal in Brunei. The law is very harsh against drugs, and if someone is found with more than 500 grams of marijuana, they can be punished by death. Less than the amount can cause 20 years of jail time. Even if you find dealers selling weed illegally, it will cost you more than $70 for one gram of marijuana. So it's not worth it to put yourself in risk.
Health, Fitness, Gyms and Massage
There are a handful of great fitness centers in Brunei, where tourists can visit for their daily workout sessions. Here are some of the best gyms in the country:
Premium Gym Box Brunei – Bandar Seri Begawan, Brunei
Fitness Zone Kiulap – Bandar Seri Begawan, Brunei
Harun's Gym and Fitness – Bandar Seri Begawan, Brunei
Bodymax Gym Brunei – No 5, spg 7 Jalan 88, RPN Lambak Kanan BC2515, Brunei
A good massage session is often travelers' top choice. When you are in Brunei and want to go to a spa, only go to the following ones as they are the best in the country.
Thann Sanctuary Spa – Jalan Kommercial Kiulap, Bandar Seri Begawan BE1519, Brunei
Zen Spa Healthcare Kiulap – Suria Kiulap, Bandar Seri Begawan, Brunei
Tenderly Touch Wellness & Beauty House – Bersurat Building, Simpang 18, Jalan Batu Bersurat Unit 106, 1st floor, Bandar Seri Begawan BE3519, Brunei
Bayu Permai Wellness Spa – Unit 25 & 26, Berjaya Complex, Tutong, Brunei
Hanan Tasnim Spa & Reflexology – Unit B3, 1st Floor, Block B, Simpang 150-5-13-18, Setia Kenangan ll, Kuilap, BE1518, Bandar Seri Begawan, Brunei
STDs and HIV
There are more than 260 HIV patients in Brunei, and it is scarce. The STD rate is also shallow. However, taking protective measurements is essential whenever you have sex in a foreign country.
Stay Safe
In terms of personal safety, Brunei is a very safe country, on par with Japan, though you should use common sense no matter what.
Brunei, like Malaysia, Indonesia, and Singapore, has stringent laws when it comes to drugs. Drug trafficking, to a certain degree, has a mandatory death sentence. Other crimes, such as murder, kidnapping, and unauthorized possession of firearms, are also punished with death. Brunei uses caning (for males only) for rapes, as well as for less severe crimes, including illegal entry, overstaying your visa for over 90 days, robbery, corruption, and vandalism. Caning is no slap on the wrist. Strokes from the thick rattan cane are excruciating and very painful. They can take weeks to heal and even scar for life. These laws apply to foreigners as well.
See Also