Bogotá
Bogotá dating guide advises how to pick up Rola girls and how to hookup with local women in Bogotá. Travel, enjoy and have fun with hot single girls and you might even meet the love of your life. Read more on how to date Colombian women, where to find sex and how to get laid in Bogotá, Colombia.
Bogotá is the capital and largest city in Colombia. The city is nestled high in the Andes at 2,620 meters or 8,646 feet. It is a cycle-friendly paradise, a haven of green spaces and a culinary capital. It is diverse and multicultural, from world-class museums and art galleries to street art and graffiti, the old cobbled streets of the Candelaria to the fashionable chic of Zona Rosa and from skyscrapers to 400-acre parks, you will be fascinated with the rich red of its many brick buildings.
Bogotá Top 10 Overview:

Chance of picking up girls: 4.7 / 5

Picking up at daytime: 4 / 5

Picking up at nighttime: 4.8 / 5

Looks of girls: 4.5 / 5

Attitude of girls: 4.5 / 5

Nightlife in general: 4.8 / 5

Locals' English level: 3.5 / 5

Moving around the city: 4.2 / 5

Budget per day: US$30 - $200

Accommodation: US$7 - $150
Girls in Bogotá
Foreigners think Colombian girls look like Sofia Vergara or Shakira, but you can find white/brunette/dark skin Colombians, blonde or dark hair and green/blue/brown eyes. Ladies are short, the average height is 5'2. Most of the girls are slim with nice bodies but you can see chubby girls as well. Boobs are medium or big, some of the girls have silicon breasts, as it is a common thing in the country and big butts as they have a good genetic. Plus is that they take very good care of themselves, high heels, makeup and fly clothes are mandatory.
Rolas, the local name for Bogotans, have a bad reputation in Colombia. They are known for being more European in attitude and less friendly, but the truth is Colombian women themselves are friendly, outgoing and good-looking women. They won't be like "I do not talk to strangers", but if you come with a perverted talking, it will be a bad idea, so try to be nice and you will make many girl friends to go out for party or for drinks.
A lot of the 'single' girls you meet will have boyfriends. A lot will be playing multiple gringos at the same time for free drinks and meals. Colombian girls flake so much because in many cases they have made plans with other guys. You might think you will be able to spot this stuff, but man, they are experts.
They have been playing at this their whole lives and they know how to do it convincingly. Colombian girls are known as the best liars on the continent, and chances are you will be burned at least once.
| | |
| --- | --- |
| | Looks of girls: 4.5 / 5 |
If you are attracted to Latina type of women, you will find Colombian girls are gorgeous. There is a large diversity of looks and skins in Colombia, there are blondes, brunette and black women. Women seem to enjoy dressing very nice any time they go out and they are extremely feminine in behavior and looks. During the day girls dress jeans, a casual shirt , jacket as it is usually cold, a scarf and boots but at night even when it is cold women wear skirts or tight jeans, tight top that is low cut and the highest heels they could find, and it does not matter the age or size, pretty much all the women dress that way which works perfectly in Colombia lots of beautiful women. The women on Bogota Rolas are probably the most light-skinned of Colombia, there are plenty of cute girls in Bogota, but the top tier does not match up to the women from Medellin. So, if you are looking for a natural Colombian body, Bogota is your place.
| | |
| --- | --- |
| | Attitude of girls: 4.5 / 5 |
Colombian women are friendly and confided. This is attractive. Many of them are anything but boring: they like to go out, dance and travel. When it comes to relationship like all the Latinas, they have a strong personality but on the other hand can be very passionate and great givers. Most of the girls in Bogota are in general more educated, intelligent and they have their own professional careers and interests than other cities in Colombia, so it is a good sign they are not just trying to get money from you. If looking for Long Term Relationship, heading to Bogota is highly recommended. They seem easier to relate to than Paisas (A Paisa is a person from a region in the northwest of Colombia, for example from Medellín). In Colombia, you will see 45-year-old guys dating 20-year-old women, there's far less social stigma about age differences. It is okay for a woman to marry a much older gentlemen, as long as he can provide for her.
Where to Get Sex Now
It is easy to get sex online in Bogotá. You just need to find the best available girls. See Girls Online Here!
How to Pick Up Girls
| | |
| --- | --- |
| | Chance of picking up: 4.7 / 5 |
Picking up girls in Bogotá is really easy for a foreigner. Foreigners are treated very friendly because Colombians are fascinated with people from other parts of the world and they always want to make you feel welcome. Hanging out with girls can be challenging as not many Colombian girls speak good English, however, the upper class speak English fluently but start practicing your Spanish skills prior to your arrival. Do not be intimidated by their beauty, have a good personality, be a cool person, girls are fun, they like to party, they are easy going and they are always looking for a good time. Get ready to get some attraction from the girls on the street.
Tips for Daytime
| | |
| --- | --- |
| | Chance of picking up at daytime: 4 / 5 |
Bogota has good options for daytime games but if you do not speak a little Spanish, picking up girls could be more difficult than during the night.
Best Places to Meet Girls
People from Bogota love shopping malls so you can find many along the city and girls feel safe inside malls so are easier to approach than on the street or in other public places. Just go and talk to women there, just try to ask something easy like: "Sorry, do you know where the bank in this mall is?" or "Do you know where X store is?", then you can continue the conversation flattering with her and if they show interest in you, getting a phone number is easy. Here are just a few recommended shopping malls:
Andino Shopping Mall
Unicentro Mall
Titan Plaza Shopping Mall
Santa Ana Mall.
Zona Rosa is the best area for looking for professional women many of them are busy with work and they are often going to be single, but they still want to get laid from time to time. Many of these gals won't be in a rush to find a foreign husband and a quick hook up will be fine with some of them. There are tons of places around there, walk around and see what catches your eye. This area is a great place for a nice dinner. You can get dinner at one place and walk around with your stunning Colombian and find a fun bar where you can get few drinks before heading back to hers or your place.
You have many other good spots to find attractive women at day time. You can talk to them at parks or on the streets pretending to be lost is a good strategy to start talking with a Colombian girl. If you want to get young girls who have good English level you should go to Chapinero area, close to Javeriana University, La Salle University and Catolica University you will find many sexy young Colombian girls and if you get a date there are bunch of good cafes or pubs in the area.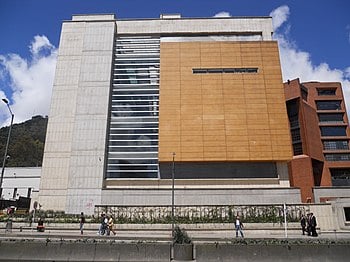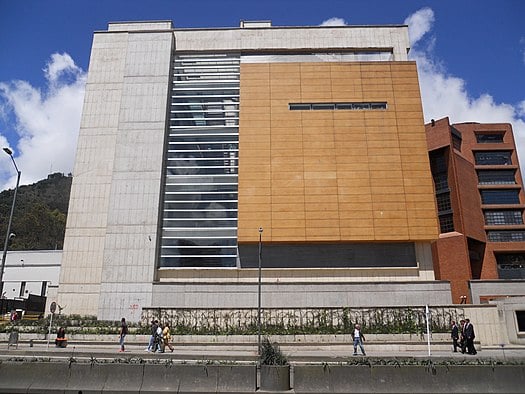 If you are in Bogota during the weekend you can also check some spots for brunch in the city as the one in W Hotel or Click Clack Hotel you can have good drinks, good food and find beautiful chicks.
Tips for Nighttime
| | |
| --- | --- |
| | Chance of hooking up at nighttime: 4.8 / 5 |
Hooking up with girls at night time is easy. Bogota has hundreds of nightclubs and bars, but the biggest parties are normally on Friday and Saturday. Nightclubs charge you a cover, depends on the place but it could be between $7 to $12. Nightclubs in Bogota have a dress code and don't allowed flip flops, sandals, caps, shorts or sportswear so try to wear your best shirt, jeans and shoes.
The night clubs are the best choice for meeting girls for sex in Bogota, and you have lots to choose from in the northern part of the city. The usual protocol at clubs in Bogota: music is loud, girls love compliments, and you should try to escalate the physical interaction if you're getting the right vibes.
You will never expect a Colombian woman going up to you in a club, they love to get approached and have attention so if you try to be indifferent to get her attention you are failing. Most of the girls who goes to a night club are with their girlfriends waiting for someone to get ask to dance but if she rejects you, move on and get another girl. If you want to get along with a Colombian girl, you better know how to dance or at least practice one or two moves because they are way too crazy about dancing. When you are already talking with her, dancing, sharing a good time, little bit of kisses and touching. Don't ruin it by saying, "Let's fuck". Colombian woman doesn't like to be too direct, they will instantly say no. Try to make it casual like "Let's go and finish this in another place".
Best Nightclubs to Meet Girls
Vintrash: Located at Calle 85 #11-53, the best day to go there is on Tuesday, they have a big party called "Gringo Tuesday" where from 5-8 pm you can have a language exchange but after 8 pm until 3 am they have party, they charge a $7 cover after 8 o'clock. They have two dance floors. The first one is more to dance reggaetón and Salsa. And the second one is for electronic music. If you want to increase your chances of meeting girls, you better go to the first floor.
Theatron: Located at Diagonal 58 No. 10-18. There are over 14 different bars and dance areas on 5 different floors, including a great rooftop terrace, dance floors and bars. It supposed to be a gay club, but many regular people come here because it's a trendy, big and very crowded place. You can find in this place a bunch of naughty females. Paying a $17 cover gets you a plastic cup that can be filled for free at any of the bars with any of the well cocktails, soda or just water.
Andres DC or Andres Chia: There are two locations. You can go to the one in Zona T. It's a must go in the city. You can have party from Wednesday to Saturday, the best days to go there is on Friday and Saturday. It is a worth it place. You can go in for a meal or just for drinks and the bar. If you just go to the bar / disco after 8 pm on the weekends they will charge $8 and you will need to a previous reservation. Plenty of beautiful girls to get along with because is one of the most popular spots in the city mostly rich girls with a good English level. The one in Chia is much better, but not worth it if you are just there for two nights.
Armando Records: Located at Calle 85 # 15-30 in the heart of Bogotá's nightlife. The club is divided into different floors and areas that are open during the weekend. Each area has a different style of music, on the ground floor usually Latin music, while on the roof is more electronic techno, nice atmosphere, it is place with young gals who speak good English. They charge $ 6 coverage on Thursday and $ 10 coverage on Friday and Saturday.
Video Club: Located at Calle 64 #13-09 is a hidden club in the heart of Chapinero neighborhood. This place has the best electronic party in Bogota. Always good DJs and beautiful girls visit this nightclub. Video club is divide in 2 levels. The first one is downstairs more chill out and upstairs half is for techno and house. It is open just on Friday and Saturday usually till 5:00am.
Baum: Located at Calle 33 #6-24 is famous for the international underground artists who regularly play in fact this party attract many girls. It's a place for after party they open doors at 10pm but people arrive there after 3am. They charge you a $14 cover.
Another fun nightlife and party spot is Chapinero where there are many university students. There are lots of single beauty girls looking to party here, and foreign men will stand out because there are less tourists around.
Disco Jaguar: Located at Cra 7 #59 -34. With a relaxed vibe and simple decor, this bar is a beautifully planned out venue. There is a balcony, good DJs, strong drinks and a friendly crowd. Cover cost $10, university and youthful atmosphere, live music at times, the ambience of the place is very pleasant, ideal for find young ladies.
Hooking up with tourists and local girls:
El Candelario: Located at Cra 5 # 13 – 14 close to historical nighboorhod La Candelaria where you can find lowbudget hostels and guest houses where backpackers like to go. El Candelario is open as a restaurant serving cheap but good food during the day, and at night from Thursday to Saturday evening it's the Candelaria club more crowded with an enthusiastically friendly mix of locals and gringos.
Afterhours:
If you go to Baum or Theatron, you can party there until 6 am but normally after 3 am it is illegal for clubs to stay open so if you last that long you will be asked to leave. Some few nightclubs called "amanecederos" close the door and keep the party going inside until sunshine, late at night those places are usually crowded, full of drunk guys and prostitutes. Please be careful, amanecederos are illegal, girls there are paid for make you drink as much liqueur as possible, there are also drugs all around.
Some afterhour club recommendations are:
Salon La Fortaleza: Avenida Caracas # 40-53. It's open from 8pm to 4 am. Prices are really convenient.
Mint Social Club: Calle 84 # 14-02. It's open from 9pm to 6 am.
Garage Bar: Located at Carrera 14 #82-26. They charge a $5 USD cover.
| | |
| --- | --- |
| | Nightlife in general: 4.8/ 5 |
Bogota is one of the best party capitals in South America. You have endless options to find different kind of clubs, bars, pubs and lounges. The best part is that you will find attractive women everywhere, especially during the weekend.
Mature Ladies and Cougars
Colombian girls are hot and even the older women are bangable, so if you are into mature ladies, you can find older ladies partying in Bogota. Some of them are married or divorced but this is not a problem for Colombians girls as frequently they are open-minded and looking for fun while partying. Many of the older ladies are into younger guys, so don't be ashamed to flirt with them. If you want to get mature women during the day you can go to a local café or to the gym to approach these beautiful ladies.
Also, you must know many older women are single moms so if you date them you have to deal with her kids and so on, many of these girls are women marriage material, so you better play a good game with them as these ladies already know how treat a man well.
Dating
When visiting Bogotá, dating can be a fun and interesting experience. AdultFriendFinder.com, lets you meet local members in Bogotá and get to know them on a personal basis before you arrive. It just takes a few minutes, you simply create an account, upload a few images and tell a little about yourself. Since time in your destination may be limited, get to know each other's desires beforehand so when you do meet, you can skip the awkward introductions and start having some real fun.
Top Dating Tips
Going for a date with a Colombian girl is sometimes complicated and it will be better if you set up at least 3 dates at the same. This is because girls here are flaky and even if they have a date with you, they will cancel for no reason minutes before, so you need to text them throughout the entire process. Give them a time. Ask them when they are leaving. Tell them to call a taxi and even pay for it. If she appears you can go to a restaurant, cinema or for a drink. There are also plenty of cafes for a date during the day, coffee dates are a better setup than drink dates, as it will be cheaper and easy to get along with the girl. Try to get a sofa at the place you choose so you can expect your conversational partner to sit close to you and look you in the eyes. Be prepared for a casual touching. For Latinas it is considered a sign of trust, respect and attention.
Do not get mad if your girl is late, it is a cultural thing. In the Latino culture when you invite a girl for a date normally the man is who pay the check, so girls are used to that a Colombian guy will propose the date, pay for it, and take you home but you have to have this clear: in Colombia a dinner is not indicative of sexual interest just in case you are thinking you are going to have sex with her just because she said yes to go out with you.
Depending of the girl and her language skills, you can talk pretty much about anything you like on a date. If she doesn't speak English too well, you can have the conversation as simple as possible. Making funny jokes about your bad Spanish is a good option to reach relaxed atmosphere and of course using google translator as a perfect tool. Please never make jokes about Pablo Escobar or Cocaine, Colombian girls are not happy to talk about it and do not find those jokes funny.
Here some recommendations for dates:
Juan Valdez Origenes: Located at Calle 70 # 6-09. This cafe has lots of space and a lovely rooftop for sunny days, it is a perfect place to grab a coffee with your chick.
Varietale: Located at Cl. 41 #8-43. Perfect if you are around Chapinero area, you can take your lovely date to the patio and grab a delicious organic coffee.
BBC (Bogota Beer Company): There are many locations along the city. It has the best crafted beer, so you can take your date here and have few drinks before taking her to your room.
Centrico: Located at Cra. 7 #32-16, 41st floor. It has an amazing view. It's a place for food and drinks.
Irish Pub: Located at Cra 12A # 83-4. It is perfect to grab a beer with your date before clubbing.
Di Lucca: Located at Cra.13 No. 85-32. It's an Italian restaurant and Trattoria with amazing dishes and lots of options. Reasonable prices and incredible food. Perfect for a romantic date.
Bandido Bistro: Located at Cll 79B No. 7 – 12. It's a French restaurant, super chill vibe, especially when they have live music, and the food is superb to boot. It is better to make a reservation.
If you want to visit some touristic place here are some recommendations to take your date with you:
Graffiti Walking Tour:Graffiti has been a part of Bogota for decades, with street artists working under the cover of darkness to express themselves and their talents on walls across the city.
Monserrate: The panoramic views of the city and the sunset, Monserrate offers amazing views and takes around an hour. Many people will tell you that it's not safe to walk up or down the hill, but if you go in the morning you will be fine as many people walk up as a way to working out, try to avoid it during rainy days as it can be unsafe, robbers take advantage of the weather to stole people around Monserrate. Take precautions, just take the funicular train to avoid this situation and ask for an Uber as soon as you are down the hill.
Take a food tour: Colombian cuisine has a reputation for deep-fried, heavy on the rice and beans and even at times labeled as bland. Colombia also cultivates over 150 different fruits and an equally impressive number of vegetables, so it is not hard to find fresh, healthy dishes here. There are some mercados where you can get fascinated of the fresh and good quality of food you can get for just few dollars. Give it a look to Plaza de Mercado Paloquemado located at Av Cll 19 #25-04 it will be worth seeing!
Bike tour: There are many tours and you can even find private excursions and bike rental, but the most popular day tours take place between 10.30am and 1.30pm in La Candelaria, for around 4 hours you will see plazas, beautiful parks, historical monuments and more or less the real Bogotá.
Gold Museum: The entire collection comprises 55,000 pieces of ancient works by indigenous cultures of Colombia, made from gold, pottery, rock, precious stones and textiles, which have given scientists and archaeologists a deeper insight into the lives and cultures of South America civilizations before the arrival of Europeans. This museum is probably the most beautiful and richest museum of its kind, a must!
Simon Bolivar Park: Including all of the adjacent green spaces which connect to the park, Simon Bolivar Park extends over 970 acres, making it larger than New York's Central Park. People is everywhere enjoying themselves. It has an outdoor exercise equipment, walkways, sandpits, playgrounds, a lake with boats, and lots of little ice cream and food stalls. This is an amazing way to escape the city, without actually having to leave the city!
Relationships and Love
Thousands of single women in Bogotá are searching for a partner and potential future husband. Check out an ultimate guide for dating local girls, relationships, love and marriage: Relationship & Love Guide to Bogotá
Online Dating
A good strategy for hook up is playful flirting because with Colombians being too direct or too sexual is ineffective. Don't ask her what she is looking for on here since almost every girl won't admit they are looking for sex. Don't call the girl mami or mamacita, it sounds dumb and you don't want to sound like an idiot. You need to download WhatsApp because normally the conversations will continue there. Colombian women will judge you by the quality of the neighborhood you are staying in, so make sure to stay in a better quality neighborhood but don't try to meet them directly at your place as many of the girls won't accept to meet there directly. Later on you can invite her for drinks or dinner and it's always a good idea to have a bottle of wine at your place.
Tinder: It's the best way to meet gorgeous Colombian women. Try to get at least 3 dates per night. If you get Tinder plus you can change your location and plan everything out before you arrive. Also, you can get other premium membership option, called Tinder Gold, it gives you all the perks of Tinder Plus and a special section where you can instantly see all the women who liked your profile, it is a convenient grid view and a huge time saver. You can find good girls to hanging out in here but sometimes you can find girls who ask you for money for hook ups.
Happn: It is much like Tinder in the way that it creates your dating profile. It then uses GPS tracking to present you with a list of people near you. It tells you whether you have crossed paths with them once or several times. It will work only when you have arrived already in Bogota.
Bumble: Is an app like Tinder as far as the swipe/match/message format. With this dating app only women can start a conversation once a match has been formed. As it is less popular than Tinder in Colombia you can find girls from not only from Bogota, also from across the country. It can be a good idea if you are planning to visit other cities as you will have more potential hook ups.
Badoo: It will be an OK option for get girls in Colombia. There are three options when signing up for Badoo: looking to date, meet new friends or just chat.
Transgenders aren't that common in Colombia, but you can find few, just in case double check its pictures and as soon as she gives you her WhatsApp number ask for a voice message.
You can find prostitutes in the online dating scene, they are easily recognized by the photographs listed, usually when you match with a sex worker, she will tell you her rates after few lines of talking.
Other useful Apps you could need in Colombia:
WhatsApp: Girls prefer to talk here than in dating apps, so normally the conversation will have stopped on there after you ask for her WhatsApp number.
Duolingo: If you want to increase your bangs you better practice your Spanish skills.
Rappi: It's an app for delivery any thing. You can ask for food, groceries, clothes, flights, money.
EasyTaxi: It's an app to get a safe taxi.
Maps.Me: It's an app for offline maps. It will be really useful in a big city as Bogota.
Live Cam Dating
Are you looking for virtual satisfaction in Bogotá? Chat with live web camera models and find the best girl for your needs. There are thousands of girls online 24/7 waiting for you: Live Cam Girls
What Kind of Guys Have the Best Chances
The average temperature in Bogota is around 12 degrees celcius and it is a rainy city, thus if you are going to have a date don't do wearing flip flop and shorts. You can wear casual clothes depending on your set plan.
If you are European, Australian or North American you have better chances. If you are Asian in general gives you an exotic factor -good or bad- as you can't see many in the city as in other countries.
If you want to increase your chances of hooking up with Colombian girls, learn some Spanish and you will have an advantage. The girls have a silly sense of humor and they will laugh at anything. If you already have a date set up: please pluck your nose and ear hair, do shave your armpits, take a shower, brush your teeth - Colombians are obsessed with teeth - and wear cologne. She will notice you put effort on your date, and she will love you.
Many girls will agree to have sex with you at the first date, but you have to come across as relaxed, charming, confident, polite and most importantly, normal. She wants to be relieved you're not a creepy so she can feel comfortable enough to fuck you, but if it does not normally happen. Girls in Colombia believe in the third date rule.
As you are a foreigner guy, girls are not expecting you to have a car there but is better if you offer to pay for her taxi, she will think you are a gentleman and banging her will be easier as she already has a good impression of you.
Risks while Gaming
If you have got game and you hook up with that younger 18-year-old, you will often meet push-back from her family and parents. The age of consent in Colombia is 14 but penalties for sex with minors are severe thus if you are dating or hooking up with a girl, make sure that she is not under-age!
Some girls might already have children, or they already have a Colombian boyfriend, and, in many cases, her Colombian boyfriend already know about she is dating bunch of gringos in order to get advantage of them.
Make sure that the girl you are with is not just interested in your money. If you take the girl to your place beware of tricks where a girl will look to distract you in order to steal your wallet or your possessions.
Even when you take her to your place pay attention to your drink and what she does as she can steal your possessions even when she is at your apartment, there is drug called "Scopolamine" that makes you lost the conscience and she can take advantage of you.
Always use a condom, you can find condoms in all the stores in Colombia specially in "droguerias", but if you prefer to go to a big store like Exito, you can find different types of condoms prices which are between $3 to $6 a pack, and you will find them close to the cashier. Also, for less than a dollar you can find cheap ones from a bar or discoteca bathroom. If possible, bring your favorites from home as the selection is limited.
It is not too much to say, keep your condoms inside a drawer next to your bed. If your girl sees them before the game, she will see you only as a player and that is the worst way to turn off her.
How to Get Laid as Soon as Possible
As a gringo, you're exotic and desired, but at the same time gringos have a bad reputation for shamelessly chasing prostitutes. They are suspicious that you are in Colombia just there to hook up with prostitutes. But once you are "in" with a girl, she is much more liberal about jumping into bed with you. The quickest way to get laid is probably using the dating apps and chat with as many girls as possible, some girls will agree to have sex with you during the first date, but you must make the correct moves as be too sexual sometimes is ineffective, never say to her like "let's have sex" or "let's fuck" because they will immediately answer no.
You can sometimes bring your date to your hotel room at day time and get laid, make sure your place is a guest friendly place depends on the hotel policy you can't bring guest or you have to pay extra for your guest even if they don't stay the whole night and your girl should show her ID to come in. It can be a pain in the ass! As a plan B you can go to a Motel, while it is difficult for a foreigner to accept the idea of taking his/her girlfriend or boyfriend to have sex at a motel for one or few hours, here in South America, the notion is quite different.
When you are from a country like Colombia where most adults live at home until they are married and there is no privacy to explore intimacy, a love motel becomes a perfect and safe alternative. Depending on which one you go to, they can be very private, clean and very cool. It is a playground for sex fantasies and sensuality. It also can give you a better understanding why Latinos are so passionate and intimate. Some rooms are very elaborate, complete with statues, props and a menu where a guest can order anything from food to drinks to sexual toys. Other rooms have the essentials: a bed, a chair, maybe a window. Don't get shy to ask your girl to go there it's almost guaranteed that she has already been there.
Gold Diggers and Sugar Babies
Bogotá is full of hot girls looking for a mutually beneficial hookup with travellers. There are lots of girls who don't charge by the hour but who will do anything for a guy who is willing to help them pay their bills. If you are looking for a more personal and less transactional alternative to escorts, a good place to find these sexy open-minded girls in Bogotá is SecretBenefits.
Of course, you can find gold diggers and sugar babies in Bogota who are looking for a sugar daddy to make them have a better-quality life and help to pay their debts. The thing usually is that the young pretty girl gets to know usually older or ugly men. You just need to be a respectful gentleman. There are websites as seeking.com and sugardaddy sites which works well in Bogota and where you can find thousands of beautiful women.
BDSM
Looking for a new bondage partner while traveling? ALT.com is a community of like-minded people with members around the globe. Our members are interested in submissive sex, power exchange, locating persons for new slave roles, erotic BDSM, bondage & fetish sex, as well as live sex dates. Find thousands of play partners for whatever your fetish may be; bondage, foot, cockold, spankings, role-play, electric or water play, sadism and masochism all while traveling in Bogotá.
Swinger Clubs and Naturism
If you are open minded and looking for fun, Bogotá has quite few clubs for swinging couples but also access for singles, you can give it a look to these places:
INTERspa Swinger Bar: Located at Carrera 18 # 78-50. It opens from 7pm to 2 am. It's rated as the best swinger bar in Bogotá. So, if you want to try a new experience definitely go there!
Relax Club Swinger: Located at Avenida Primera de Mayo # 40B - 57 Sur. It opens normally from 6pm to 2am. If you decide to go to this place, better take an Uber from/to there as it's located at the south of the city and it can be an unsafe area at night.
Colsexy: Located Carrera 75 # 54-36. It opens just on Thursday from 4pm to 11pm and Friday from 6pm to midnight.
Costs of Living
Bogotá is the capital city of Colombia. It is an expensive city compared with other cities in Colombia, especially on the renting and going out. But the Colombian Peso is dropping and you can get a good exchange rate.
| | |
| --- | --- |
| | Single traveler's budget per day: US$30 - $200 |
It depends from day by day on your budget, but you can live decently with $30 or less per day in Bogota, if you will choose your accommodation in La Candelaria and like to eat cheap food around that area. If you are looking for nicer places you can stay in Chapinero, there are hostels/ hotels and Airbnb close to the financial area, you should consider a budget of at least $50 per day. If you like to stay in finer places like in Zona Rosa then you should consider a budget of at least $100 for hotels, restaurants and so on.
| | |
| --- | --- |
| | Accommodation per night: US$7 - $150 |
You can have different type of accommodation there, it will depend on your needs and how much are you willing to pay for. Hostels can be found for $7 to $15 per night depending on their location, near to Candelaria is cheaper but Chapinero have nicer places. Close to Zona Rosa rooms can be found with around $50 USD it will be more expensive but higher quality because it's close to nightlife clubs and restaurants. You can also rent an apartment on Airbnb prices varying depending on the location that you stay in, but it will be better for bring girls to your place because compare with the hostels/hotels nobody will bother you about it.
| | |
| --- | --- |
| | Beer in a grocery shop: US$1 - $2.5 |
Colombia has different beer brands as Poker or Aguila and you can buy them from all the stores, a bottle of 330ml cost less than a dollar and a bottle of 660ml cost around $1.5USD. Imported beer are more expensive around $2 or more. Drinking beer on the street in forbidden so you better avoid drink in the street.
| | |
| --- | --- |
| | Beer in a bar or restaurant: US$3 - $8 |
In a normal bar the usual price for a Colombian beer is around $3. Fancy bars and nightclubs are selling Colombian beer from $3 to $7 and imported beers or crafted beer from $5 to $8. There are happy hours from Monday – Thursdays as many people have to work the next day it's not that popular for locals to go out those days, so places offer good deals like buy 2 beers and get one for free, 2x1 in cocktails or half price beers.
| | |
| --- | --- |
| | Meal in a restaurant: US$3 - $12 |
Street food in Bogota is really good, you can find empanadas or pasteles for less than one dollar and cheap hot dogs with a glass of soda for $1. Also, you can find exotic fruits as are extremely plentiful, delicious and cheap in Colombia on the streets for around $2 you can get some mangoes, watermelon, or any of the fruits in season. If you want to go to a restaurant you can find cheap places for lunch with menu ejecutivo for between $3 to $5 normally is soup of the day, rice, steak/pork/chicken -just one-, plantain, salad and juice, If you don't want soup you can have a cheaper menu known as Corrientazo it's almost the same as ejecutivo but a smaller portion of everything. You can also find some incredible restaurants ranging from every cuisine in the world at really amazing value in Bogota in Usaquen, Zona G and Zona Rosa where you will need to pay around $20 per meal. If you want to get good quality food and try different Colombian dishes it is recommend to go to Andres DC or Andres Carne de Res the menu is literally a magazine so you will have plenty of options to try delicious Colombian food and by the way the waitresses there are gorgeous.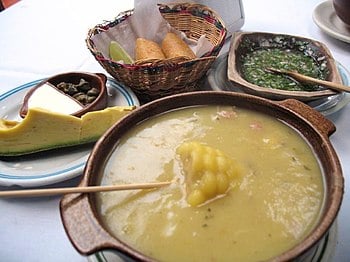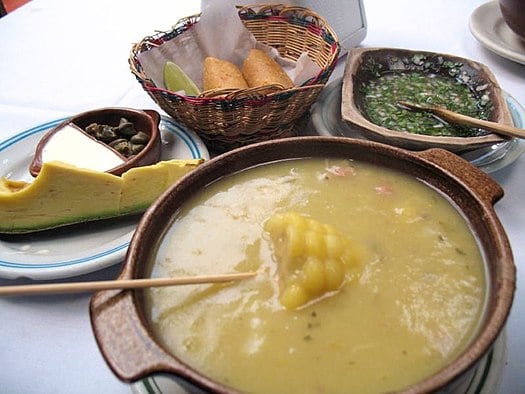 Accommodation
Backpackers are staying mostly on La Candelaria area which is around 5 to 10 minutes by walk from the touristic places as Bolivar Square, Gold Museum and Chorro de Quevedo. Shared rooms starting from $7USD per night and private ones per $12USD per night.
If you want a better-quality hostel, you can find a bunch Chapinero close to the financial district prices starts at $21, they have a good location close to good restaurants, few malls and, cafes. Also, the area isn't that far from nightlife Zona Rosa an Uber ride from there cost around $4 USD.
Hotels can be found in Zona Rosa and Usaquen, prices varying from $20 to around $150 it will depend on what amenities are you looking for, rooms can be found from basic ones with a bed and tv till really fancy 5-star hotels.
There are few hotels which are sleeping and girl friendly hotels like The Sofitel Victoria Regia at Carrera 13#85-80 and Hotel Virrey.
AirBnB works very well in Bogota. There isn't a minimum to stay and many owners don't care about having guest. Prices are around $50USD a night for an apartment with a walkable distance from Zona Rosa. If you decide to stay longer and the place is still available, you can get an agreement with the owner and get a good price.
Couchsurfing works well, but you need to send the request to as many girls as possible to get lucky and as an advice to increase the chances to get a host, you need to read their profiles and reviews with the purpose of find something you have in common with her like hiking or cooking and use that as an excuse to get a spot in her place. Also you can try to bring a gift from your country for your host as it's a Colombian rule to bring a present if you visit someone.
You can find also short-time hotels called motels at Street 63 - Chapinero area - and close to the nightlife clubs in the area. Depends on where you are staying and its policies it well be easier visiting the short-time hotels where you can pay for a room per hours with jacuzzi -ask your girl which room she likes as those places offer different types of rooms-.
How to Get There and Move Around
By air: Bogota has amazing opportunities for people who are planning to fly in to the city. There is one good located airport in Bogota El Dorado International Airport is Latin America's 3rd busiest airport and one of the top 100 busiest in the world. The airport has abundant space for lines, souvenir shops, cafes and a well-structured security check. The duty-free area with abundant attractive staff offers the top luxury candies, perfumes, liquors, clothing and personal effects. It's 12 km away from Downtown and you can have many ways to arrive from there to your place to stay as TransMilenio (public transportation system), Taxis or Uber.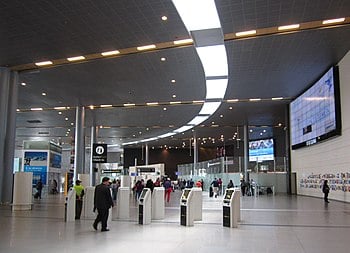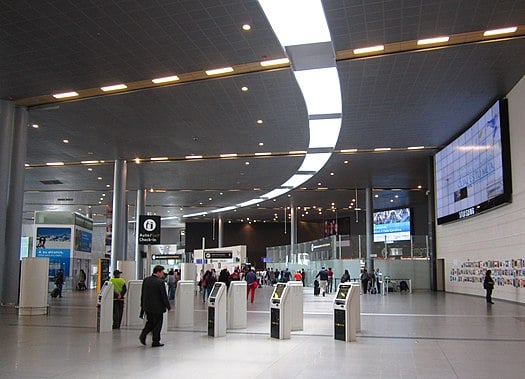 By bus: There are two Bus terminals the main one is El Salitre located at Dg. 23 #69a – 55 and the other one is located at the south of the city in calle 57Q NO 75F – 82. There are several bus companies in Bogota which have daily routes to every city in Colombia before going there please check on their websites about the routes and their schedule.
By car: Uber and Cabify work really well in Colombia and you can pay them with cash if you prefer but they are not legally services yet thus it is normal if the driver asks you to sit in the front. Most foreigners in Bogota are using Uber, Cabify or taxis when moving around the city as it's cheap to use it. Rush-hours are usually on weekdays from around 7AM to 9AM and from 5PM to 8PM.
By Motorcycle: Picap is an app which gives an affordable and convenient ride at motorcycle, you just have to enter the pickup location and payment method and request a ride; you will receive driver details like name, photo and details of the motorbike. Compare to Uber and Taxis is really cheap and convenience for the traffic in the city.
Visas: Check if you need a visitor/tourist visa to travel to Colombia at the Colombia Ministry of Foreign Affairs website.
Foreigners that don't require a visa for entry can stay up to 90 days; after that, they do require a visa. Check with your consulate to see what the requirements are for you.
Transportation moving around in Bogota:
TransMilenio: It might be very crowded though during rush-hour it's much wiser to it because it has its own line. It is not often used by foreigners in Bogota as this is quite complicated to understand. In case you want to use it, you must buy a card $1 and then you can charge it with money. The cost to ride TransMilenio is $0.73. If you download an app called TransmiBOG it will help you to know which bus goes to your destination.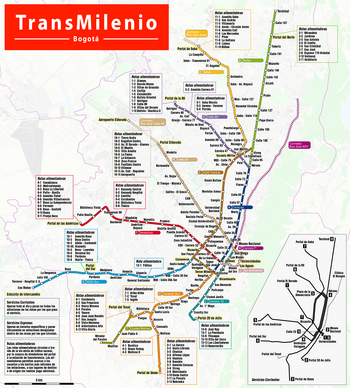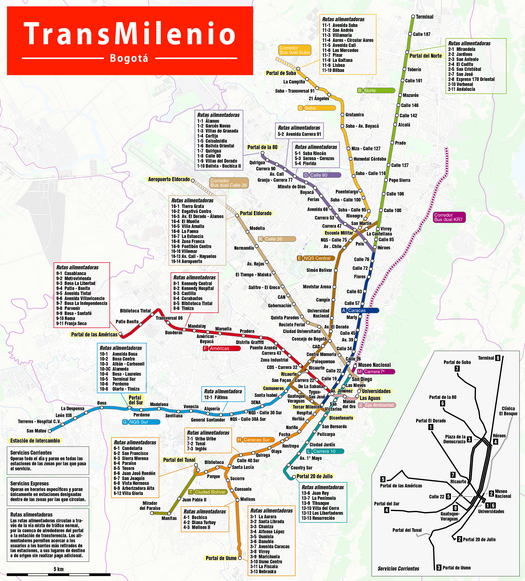 Uber: Uber works really well in Bogota compare with the States or Europe rates are cheap and you can pay with cash if you want. Uber X is the regular service and the cheaper one. You can also call for Uber Pool where you can share the Uber with more people along your way, but it is not recommended it if you are in a rush. Don't forget to sit in the front and don't slam the car door as many drivers complain about foreigners because they are not careful with that.
Digital Nomads and Remote Work
Some of the foreigners who live in Bogota are working in their own company via internet or working for a multinational corporation. In the last 5 years, approximately 200 foreign companies began their operations in the country, building new plants, business offices, and subsidiaries.
It's very common that people who are working in online businesses are enjoying the freedom to live anywhere in the world because the work can be done anywhere. All you need is a laptop and wifi and Bogota offer many places with free wifi and good coffee.
Bogota has good co-worker spaces where you can find a place to work with different facilities. Here is a list of places:
Hub Bogota: Located at Calle 98 #18-71, 2nd floor. They have different spaces and capacity for 6-60 people. They offer daily and monthly rates.
Sectortic: Located at Cra 18 A # 103 – 11. It opens from 7am to 10pm. They offer daily and monthly rates. It includes coffee or water, locker and high-speed internet access.
Workspot 108: Located at Calle 108 # 15A – 70. They offer hourly, daily, weekly and monthly rates. A private office includes coffee or water, fruit, receptionist, photocopies and high-speed internet access.
Work&Go: They have two locations. One at Calle 95 # 11a-94 and the other one at Avenida 82 # 11-40, 3rd floor. They offer daily and monthly rates. You can have a share or a private spot. It includes coffee or water and high-speed internet access.
Panda Lab: Located at Carrera 8b #106-45. The rent a minimum of 40 hours. You can have a share or a private spot. It includes coffee or water and high-speed internet access.
Urban Station: They have two locations. One at Calle 70 No. 4 – 08 – lobby Hotel Mika Suites, and the other one at Calle 81 # 9 – 12, 3rd and 4th floor. You can have a share or a private spot. All their services have included unlimited coffee break service (coffee, infusions, croissants, toast, fruits, cookies and water) WIFI Wireless broadband with UPS, headphones, laptop locks, lockers and concierge service.
Internet and Mobile Operators
Bogota has great internet options and mobile operators are modern and works well for both domestic and international calls. Cellphone coverage is extensive and inexpensive, companies do not charge you to receive calls, only to make them.
The three major providers are Claro, Movistar and Tigo. Claro has the best countrywide coverage, though all networks now have competitive data and call packages and of the smaller providers, ETB is regarded as having the best internet speed.
You can bring your own phone from home and buy a Colombian SIM card, which usually costs between $1 to $3. You will need to take ID to buy a SIM from one of the phone companies, you can also buy them from third parties but eventually you need to register with the company or risk having your handset blocked.
After getting the SIM, you can get online with your phone all over Colombia and call with your local phone number.
Gambling and Casinos
In Colombia Gambling and casinos are legal and regulated by a gambling commission. You will find huge casinos with full of Colombian people playing Roulette, Poker and other casino games. Some of the tables at the VIP area have huge bets. Legal age to play at the casino is 18 and you should show your ID at the entrance.
There are Casinos in almost every big mall in the city. The best casinos in Bogota are:
Luckia: Located at Calle 82 #12-50. You can find there a restaurant, sport bar, 4 floors and 2 VIP gambling rooms, more than 100 casino games and electronic roulette. It is open 24 hours.
Crown Casino Zone T: Located at Carrera 13 No 82-85. You can find there a restaurant, gambling rooms, casino games, bingo and electronic roulette. The second floor is the VIP area you can play electronic roulette, Black Jack and more than 50 casino games VI. This casino is open 24 hours.
Casino Rio: Located at Carrera 19 #122-64 . In this casino you can enjoy a night playing while enjoying the Rio's carnival with traditional casino games and poker room.
Ipanema Bogotá: Located at Carrera 15 127- 23. You can find casino games, electronic roulette and events It is open 24 hours.
Online gambling is currently legal in Colombia and you can bet on your favorite sports if you are 18+.
Weed and Drugs
Drugs are illegal in Colombia, however there are lots of drugs on the streets in Bogota. If you want to take the risk, you can find people who are selling weed, cocaine, heroin or synthetic drugs.
Drugs are really cheap in Colombia, Cocaine on the streets it is sold for around $7 to $15 USD a gram and you can buy a gram of weed for around $2.20USD ; drug dealers hang out around popular party places normally they offer you candies or chewing gum and then they will offer you weed or cocaine.
If you are looking for synthetic drugs there is one popular Bogota, known as 'pink cocaine' is becoming the new designer drug of choice among club-goers and high society, local media has reported. Dealt almost exclusively in nightclubs, 2CB is a synthetic hallucinogenic drug that is allegedly popular with fashion models and beauty queens.
If you are purchasing drugs in Colombia you are committing a criminal act, this kind of illegal action will take you to jail. Don't do anything stupid.
Health, Fitness, Gyms and Massage
Most of the Colombians girls are worried about their appearance. That's why there are hundreds of gyms and Yoga places in Bogota. Many of them have amenities as swimming pool, sauna and so on.
If you want to go to the different gyms, you can pay per day or class, but if you plan to go there more than 3 times it will be cheaper to pay a membership for an unlimited month it cost between $20 to $60 prices vary by location.
Here is a list of places:
Bodytech: The personal trainers are very qualified, and their training programs are well structured. This gym has a bunch of locations where you can find girls from all ages all of them looking great on their yoga pants. You can look on their website about their locations and find one close to you. You should check the ones located in La Cabrera, Chico, Cedritos and Calle 63.
Spinning Center: They have cheaper prices than Bodytech, also offer good locations along the city and really pretty girls go there. If you are staying in Zona Rosa, you can go to the one located close to Calle 85 or in Zona G.
Stark Gym: It has 4 locations in Chapinero and in the North Area, a membership cost $30 and has different classes and services.
Yoga also occupies a distinct role in Bogota. With a handful of relaxing studios, Bogota offers the traveller anything from Hatha, Anyusar, Iyengar, Heated Flow and Prenatal yoga. Most places will provide mats and towels, so don't feel forced to bring your own.
Here is a list of places:
Happy Yoga: They have 5 locations in Bogota. The main one at Cra. 9 #70-29. They have hatha yoga and kundalini yoga. The price per class is $14 but you can have a discount if you buy 4, 8, 12, or 20 classes.
Yoga Studio: Located at Cra. 14a #82 – 42. The price per class is $15. They have Vinyasa, Anusara Inspired, Jivamukti, Dharma, Power Yoga, Yoga Kids.
Brikam Yoga: Located at Calle 67 No. 4 – 15. For $30 you can go 2 weeks to unlimited classes.
Natural Yoga: Located at Cra 12a #78-78. They have Yoga and Meditation for all levels. The price per class is $13 but if you buy 4, 8, 12 it will be cheaper.
Pilates pro Works: They have 3 locations, if you are staying close to Zona Rosa the closest one is located at Calle 79 #8-54. The price per class is $14 but you can have a discount if you buy 10, or 20 classes.
If you want to save some money Bogota has many outdoors gyms at parks that you can use for free.
Massage parlors in Bogota are quite prevalent, and generally offer a good deal for the money. You can opt for a standard massage for no action for around $10USD or get full service -sex- for around $57 USD. You may have to ask for the prices during your massage, but everything generally falls below $62 USD or less.
There are bunch of places which offer different services the most popular place is Abejitas Spa is one of the longest established sex massage parlors. Another place is Absolut Spa is one of the bigger massage parlors, and usually has around 20 chicks on hand, and prices under $57USD. One Relax Center has slightly cheaper prices.
STDs and HIV
Colombia has a relatively low rate of HIV infection at 0.4% but use protection always when having sex in Bogotá!
Pharmacies are selling abortion pills called post day pills they cost around $7 if you have had an unpleasant accident with a girl last night.
Stay Safe
Bogotá is not as dangerous as it is perceived to be, but still a little crazy. Its once insanely high murder rate, which was the highest in the world, has dropped to a rate comfortably below most major Latin American cities, like Rio de Janeiro, São Paulo, Caracas, and Mexico City. Bombings and kidnappings are a thing of the past, and should not be a concern to visitors at all—this is no war zone.
Street crime is Bogota's biggest problem. Hold your bags close throughout the trip and keep a watchful eye on people around you. A suspicious tourist is an unwelcoming target. Muggings and armed robbery are a danger, especially after dark in known tourist areas like La Candelaria and near the Monserrate cable car. Delightful areas are never too far from dangerous zones, and a two-block detour can put you in danger. Bolivar Square is one attraction you won't want to wander too far from.
Keeping a low profile in Bogota don't wear valuable jewelry or watches. Don't walk alone at night or in slum areas. Avoid any dubious areas and always have an idea of where you are going and walk with purpose.
Withdrawing Money ATMs are hotspots for muggers, but also express kidnapping attacks. It is best to visit ATMs during daytime, if possible, have a buddy while withdrawing and make an effort to only use ATMs inside of banks.
If a police officer approaches you asking for identification or money to check if its counterfeit, ask to see a badge or an official police identification. Some of those "officers" Are occasionally imposters or corrupt official and the are trying to get your money, and sometimes they even plant drugs so that you have to pay a hefty fine.
Don't accept drinks from unknown people or leave your drink while you go to the bathroom you can be victim of a drug called Scopolamine that robbers can put on your drink using beautiful girls at nightclubs, Scopolamine is odorless, tasteless and is used to incapacitate victims before a robbery, it alters the victim's memory, inhibitions and with a high doses it can be fatal.
If you are staying in La Candelaria, you will definitely need to take a taxi from the nightlife clubs, get an Uber or download an app for taxis like Tappsi or EasyTaxi. Shared your location with your friends if possible, never take taxis on the streets as frequently in Bogota there is a scam known as "millionaire rides" in which taxi drivers mug their passengers.
Scams
With common sense you will be able to avoid the scams in Bogota, if you are in downtown be careful if people spill something on your clothes when you are walking they are doing that to pick your pocket, they will take your wallet and phone so quick that you won't notice it, so if something like that happens don't let people help you or get close to you.
If you want to buy stuff better ask in your hotel about the item price so when are ready to buy it don't show the money to the vendor before ask for the goods price because If they see you have a large note, they will charge a higher price.
Before you get in a taxi, always agree on a price and ask if he has change for a large note -if you don't have small ones-. Pay attention during the money exchange, often, when a traveler hands over a 20,000 note to the driver, he distracts you for a moment and then tells you, showing a 2,000 note, "Oh, you only gave me $ 2,000". Or, you hand the driver a 50,000 note and he return the bill saying, "No change" and return you a fake note.
Also pay attention and use an offline GPS to ensure that you are going in the right direction, and not going around in circles, wasting time so that you end up paying more.
Food and water
In Colombia, you can find the typical fruits that are easy to find in North America and Europe like apples, bananas, pineapples and strawberries. But one of the benefits of living in Colombia is the tropical fruits, which are delicious, inexpensive and plentiful. The country has over 56,000 plant species registered. There are more birds and more orchids found in Colombia than are found in any other country.
In addition, there are countless small local tiendas or even in the streets in the city selling Colombian fruits and vegetables typically for lower prices.
Several fruits are sweet or sour. In addition, many of these Colombian fruits typically aren't eaten whole but are consumed as juice or smoothies and all of them are what you'd call organic.
You can drink the water. It's a common misconception that drinking tap water in Colombia will give make you sick. In actuality, the tap water in Bogota is perfectly safe to drink but if you want to make sure your water is clean you can buy bottles of water for $1.
See Also