Guyana
Guyana dating guide advises how to pick up Guyanese girls and how to hookup with local women in Guyana. Travel, enjoy and have fun with hot single girls and you might even meet the love of your life. Read more on how to date Guyanese women, where to find sex and how to get laid in Guyana, South America.
Guyana is a South American country located in the North Atlantic coast. The country is culturally connected to the Caribbean: English-speaking, cricket, and calypso music. Guyana is also defined by its dense forests. Georgetown is the capital and biggest city in the country. Georgetown is known for its British colonial architecture that includes the famous St. George's Anglican Cathedral. Out of the total population of the country (790,0000), around 32 percent (250,000) lives in Georgetown. Moreover, no other city in Guyana has a population of over 50,000. Therefore, Georgetown is the only major city in the country. The best time to visit Guyana is from February to August.
Guyana Top 10 Overview:

Chance of picking up girls: 3.5 / 5

Picking up at daytime: 3 / 5

Picking up at nighttime: 4 / 5

Looks of girls: 3 / 5

Attitude of girls: 3.5 / 5

Nightlife in general: 2 / 5

Locals' English level: 4 / 5

Transportation: 3.5 / 5

Budget per day: US$60- $500

Accommodation: US$30 - $400
Guyanese Girls
Guyanese girls are optimistic, picky, and religious. Guyana is a unique country in its own rights. Guyana is the only South American country where the official language is English. Guyanese girls, in spite of being South American, look a lot like Caribbean girls. They are mostly religious, and why not because the three major religions in Guyana are Christianity, Hinduism, and Islam. However, Guyanese women are not fanatics, and religion never becomes a hurdle. However, some girls might be more conservative because of their religion, but stereotyping is not common in Guyana.
Guyanese girls might not be the best-looking girls in the world, but similar to Caribbean girls, and they are very loyal and family-oriented. From a very young age, they know how to take care of the family and raise children. Guyanese girls are also picky when it comes to dating guys. Although they are friendly and polite to visitors, when it comes to dating, you might have to pass some of their tests. Guyanese girls are always curious and attracted to westerners for obvious reasons. However, if you are a westerner, you need to be careful because many Guyanese girls intent to benefit from westerners.
Talking about tourism, Guyana is not a very popular tourist destination. Annually, almost 250,000 tourists visit Guyana. 60 percent of the total area of Guyana is covered with forests, making it a major attraction for nature lovers. Guyana shares 459 km of its border with the North Atlantic Ocean and has numerous beaches that attract a lot of visitors too. The majority of tourists visiting Guyana are South Americans, followed by Americans and a small number of Europeans. If you visit Guyana between February and August, you can find a decent number of tourist girls as well.
| | |
| --- | --- |
| | Looks of girls: 3 / 5 |
As mentioned earlier, Guyanese girls are not one of the best looking girls in the world. The majority of the girls are of East-Indian ethnicity: dark hair and dark brown skin. In addition to East-Indians, a large number of girls are blacks, similar to the Caribbean women. Don't expect Guyanese girls to dress well. Guyana is still a lost country with not much development and foreign interest. The girls are not used to see and interact with foreign visitors, and thus, don't dress to impress. Guyanese girls have curvaceous bodies and are rarely obese.
| | |
| --- | --- |
| | Attitude of girls: 3.5 / 5 |
Guyanese girls are warm, polite, kind, and friendly. However, if you try to date them, you might need some specific qualities. Guyanese girls are friendly with strangers, but when it comes to dating someone, they consider it for the long term. Having sex with Guyanese girls is not easy because of the conservative nature and some religious beliefs. If you are up for a serious relationship, Guyanese girls can be the perfect wife material as they are loyal, honest, good cooks, and can take care of family and children.
Where to Get Sex Now
It is easy to get sex online in Guyana. You just need to find the best available girls. See Girls Online Here!
How to Pick Up Girls
Picking up girls in Guyana is probably the easiest of all countries in South America. Since English is the official language, almost all girls in Guyana speak English. Therefore, one of the biggest hurdles that guys face in other countries is the language. For Guyanese girls, you don't need to learn any other language. If you are fluent in English, you are all set to talk to Guyanese girls. However, there are a few things you need to focus on before approaching them. As discussed earlier, Guyanese girls are choosy and picky when it comes to choosing guys for dating. And to get approved, there are a few things you need to change in your behavior and appearance.
First of all, your look plays a vital role. Since Guyana is not a rich country, Guyanese girls go crazy over rich westerners. Therefore, the first thing you need to do is show off. Purchase some clothes, shoes, and a watch that looks expensive. Carry it with confidence, and you are done with the appearance part. Make sure you are well-groomed as well. Once your appearance is on point, you need to work on your attitude. Since Guyanese girls are picky, you need to be picky too. Most of the guys in the race are already behaving like desperate nerds, and Guyanese girls are tired of rejecting them. All you need to do is stand out of the crowd.
If you find a girl attractive, here is a simple process to follow. First of all, confirm that she is alone, and not with her parents or boyfriend. A simple way to do this is by observing her for a few minutes. After confirming that she is alone, figure out whether she is shy or confident. This step is not mandatory, but doing so can give you a massive advantage. If you don't know how to do so, read on the internet about personality traits. Now, approach the girl with confidence and greet her. Depending upon the response, you can either accelerate the process or take it forward slowly. The more girls you talk to, the better you get at it.
| | |
| --- | --- |
| | Chance of picking up: 3.5 / 5 |
The chances of picking up girls in Guyana are very good if you stick to the rewarding areas. All the fun lies along the coastline of the country. Georgetown is the only city you should stay in if you want to increase your chances of picking up girls. Beaches are also great pickup spots, and thus, utilize your daytime to visit beaches as well. During the nighttime, try spending more time in Georgetown. Dress well, and you should have a smooth hookup experience in Guyana.
Tips for Daytime
One of the biggest advantages of picking up girls in Guyana is that you don't have to cover a lot of places. Only once city: Georgetown, along with a few beach destinations is all you need to visit in Guyana. When you land in Guyana, you should spend the first week of your trip to Georgetown itself. No matter how much you read on the internet, the information and experience you will get if you are physically present at a location are invaluable. Therefore, dedicate the first week in exploring the place, visiting malls and cafes, talking to people, and creating a plan to pick up girls effectively.
Firstly, you should start with the city of Georgetown. Georgetown has a lot of cultural and historical attractions that you should visit. Although you may not find a lot of tourists in Guyana, you can expect all of them to be either in Georgetown or on the beaches. Therefore, visiting tourist spots can be a rewarding and exciting experience. Picking up tourists is comparatively easy. Most of the tourists speak English, and if you build up a synergy, hooking up will not be a difficult task. Some popular tourist destinations in Guyana are:
St. George's Cathedral, Georgetown
Stabroek Market, Georgetown
Guyana National Museum, Georgetown
After you have completed in city spots, head on to the beaches. Although the beaches of Guyana are not regarded as the best in the world, they provide all you need to have fun. Moreover, beaches are one of the major attractions in Guyana. Beaches are excellent spots to pick up girls as well, which gives another reason to visit the beaches. Some of the best beaches in Guyana are:
63 Beach Berbice
Bartica Beach
Lastly, you cannot look over the 129,000 (approx.) forest area of the country. Although you don't have to spend nights alone in the Amazons, there are a few excellent destinations in Guyana that are naturally beautiful and mesmerizing. You might not find a lot of people in these areas except for a few adventurous travelers, and these places are worth your time. Some of the most naturally beautiful places in Guyana are:
Kaieteur National Park
Iwokrama Forest
Kanuku Mountains
| | |
| --- | --- |
| | Chance of picking up at daytime: 3 / 5 |
The chances of picking up girls during the daytime are good. Being the only major city in the country, you can expect a lot of people moving around the city. If you are confident enough to pick up girls directly, you can go for the old school method of picking up girls on the streets. You can also visit shopping malls and cafes to find more local people. If that does not work out, leave the locals for the nighttime, and focus on tourists. Visit beaches and tourist attractions. You will certainly get success if you try so much different approaches.
Best Places to Meet Girls
Georgetown has a lot of good places to meet single girls. Being a former colonial country, bars are common in Guyana and are great places to meet girls. You can also find a good number of girls at street food corners, urban plazas, and casual dining spots like coffee shops and cafes. Shopping centers and malls are also excellent spots to find single girls. You can also visit parks during the evening as a lot of people prefer visiting parks after the sunset. Last but not least, go for education spots. Colleges can be decent spots to pick up girls. Similarly, workplaces and offices are also okayish spots to meet girls. To clear the confusion, a few of the best spots to meet girls in Georgetown are mentioned below.
Café Georgetown
Gurney Paragon Mall
San Gabriel Park
Grace Street Coffee Roasters
Berry Springs Park
Blue Bottle Coffee
Georgetown College
Saxbys
School of Nursing and Health Studies
Gurney Plaza
Tips for Nighttime
The night game in Guyana should be utilized to pick up local girls. In the case, you did not get success in picking up local girls during the daytime, and you can cover it up by playing it smart and bold in the nighttime. The nightlife of Georgetown is dominated by bars that are spread in every corner of the city. Although bars are not considered to be the best spots to pick up girls, bars in Georgetown are slightly different. Bars in Georgetown resemble nightclubs in terms of the culture inside. Therefore, even if you don't find a good nightclub in Georgetown, finding a good bar would be enough as it would serve the purpose of picking up girls.
The nighttime is the time where you need to be more aggressive and direct in your approach. Make sure you have checked all the prerequisites before picking up girls in Guyana: rich appearance and bold behavior. Then, all you need to do is find girls and try to talk to them. Try not to be creepy because you have to present yourself as a person who is not desperate for girls. Small greetings or passing small, direct compliments are enough to give the girl a signal. In many cases, the girl herself will approach you. If not, try making small talks about getting an idea about the girl's interest. If the girl is not interested, move on, and find another girl.
Although Georgetown is not the biggest of the cities, it is big enough to move around finding ideal nightspots. There are a few areas where the nightlife is incredible, and that is where you should go. As a general rule, always stick to areas that are closer to the coastline. That being said, some popular nighttime areas in Georgetown are:
Lebuh Light
Beach Street
Jalan Penang
| | |
| --- | --- |
| | Chance of hooking up at nighttime: 4 / 5 |
The chances of picking up girls during the nighttime are excellent. Since Georgetown is the only place where you have to put in efforts, you can get excellent results during the nighttime. With so many bars and clubs in the city, you will always multiple places to visit. However, the only things you need to take care of are your appearance and attitude. There is a certain way in which you have to carry yourself to get success with girls in Guyana. If you do so, you will easily get laid during the nighttime.
Best Nightclubs to Meet Girls
Although nightclubs are not prevalent in Guyana, you can find a lot of them in Georgetown. Nightclubs are the best spots in the city to pick up girls. But, since bars in Georgetown are no less than nightclubs, you will have a plethora of options to choose form. However, with so many options in front of your eyes, the chances are that you can get confused. The best move is to analyze the culture of the bar or nightclub. If the place is too chaotic or too empty, look for other options. Find a place where you feel you can talk to girls without any disturbance and obstructions. Some nightclubs that fall in this category are:
Palm Court
Gravity Lounge
Club Privilege
Bollywood Night Club
Latino Bar and Night Club
| | |
| --- | --- |
| | Nightlife in general: 4 / 5 |
Georgetown has an excellent nightlife. Other cities don't have much to do during the nighttime. Georgetown has a lot of things to do during the nighttime. If you want to pick up girls, you can visit nightclubs. If you want to get drunk and party with your friends, you can go to bars. And if you want to keep it clean, you can visit some fine dining restaurants and have some Guyanese dinner. Whatever your choices and preferences are, the nightlife of Georgetown has something for you.
Mature Ladies and Cougars
Another department where Guyana is better than other Latin American countries is the chances of picking up mature women. However, that does not mean that hooking up with mature ladies will come in like a piece of cake. As discussed earlier, loyalty, and being family-oriented is one of the Guyanese women's qualities. Therefore, you will need to take some time in finding such women who are either single or want to cheat on their husbands. Online dating plays a massive role in picking up mature ladies. More details about online dating are discussed in further sections.
Regions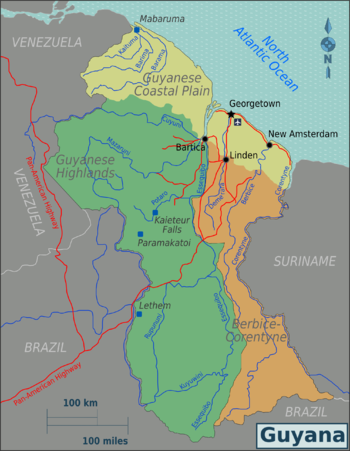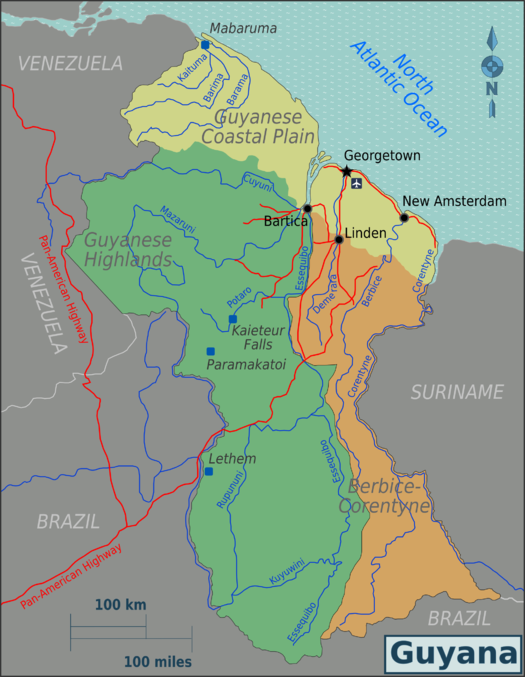 Cities
Georgetown - Capital of the country, situated in the county of Demerara.
Dating
When visiting Guyana, dating can be a fun and interesting experience. AdultFriendFinder.com, lets you meet local members in Guyana and get to know them on a personal basis before you arrive. It just takes a few minutes, you simply create an account, upload a few images and tell a little about yourself. Since time in your destination may be limited, get to know each other's desires beforehand so when you do meet, you can skip the awkward introductions and start having some real fun.
Top Dating Tips
On the contrary to tips for picking up girls, you need to be real at the time of dating. If you are on a date with a girl in Guyana, chances are she is interested in you. Therefore, it is better to show the real version of yourself. Make sure you gain her trust by discussing everything about yourself and asking her about her life. The more you talk, the better your chances become to get laid. Try making her more comfortable by cracking jokes and complimenting her at regular intervals.
Relationships and Love
Thousands of single women in Guyana are searching for a partner and potential future husband. Check out an ultimate guide for dating local girls, relationships, love and marriage: Relationship & Love Guide to Guyana
Online Dating
Online dating is not very popular in Guyana, but lately, more and more people have started using online dating. Not only young girls, but mature women also use online dating services. Using online dating can have a significant impact on your chances of picking up girls. Two popular dating sites in Guyana are:
LatinAmericanCupid - Although Guyana has nothing similar to that of other Latin American countries, you cannot deny the fact that it is a Latin American country. Thus, you will find a decent number of profiles of Guyanese girls on this website.
CaribbeanCupid: Similar to the above website, Guyanese women can also be found on Caribbean Cupid. You may find decent success from these two websites, but you should not rely a lot on online dating.
Live Cam Dating
Are you looking for virtual satisfaction in Guyana? Chat with live web camera models and find the best girl for your needs. There are thousands of girls online 24/7 waiting for you: Live Cam Girls
What Kind of Guys Have the Best Chances
Westerners have the best chance. Rich guys also have a great chance to pick up girls in Guyana. However, even if you are none of them, no worries because you can still pick up girls in Guyana. Guys who are familiar with the Guyanese culture also have a good chance to impress girls. At last, guys who look good have the best chance.
Risks while Gaming
Like every other South American country, you need to watch your back from thieves and scammers. Theft is common during the night. Currency frauds are also common. Many people claim to exchange foreign currency at attractive rates, and you should stay away from them. Taxi drivers to online ticket bookers, scammers, are common in Guyana and should stay alert.
How to Get Laid as Soon as Possible
Finding gold diggers is the easiest way to get laid quickly in Guyana. You will find a lot of gold diggers in Georgetown, and if you are rich, you will not have any problem in getting laid quickly. If you don't want to spend money, you should try to find horny females. Nightclubs and bars are excellent spots for finding such women. Lastly, use online dating to the fullest. Although online dating scene is not huge in Guyana, it can create a significant difference in your hookup chances.
Gold Diggers and Sugar Babies
Guyana is full of hot girls looking for a mutually beneficial hookup with travellers. There are lots of girls who don't charge by the hour but who will do anything for a guy who is willing to help them pay their bills. If you are looking for a more personal and less transactional alternative to escorts, a good place to find these sexy open-minded girls in Guyana is SecretBenefits.
BDSM
Looking for a new bondage partner while traveling? ALT.com is a community of like-minded people with members around the globe. Our members are interested in submissive sex, power exchange, locating persons for new slave roles, erotic BDSM, bondage & fetish sex, as well as live sex dates. Find thousands of play partners for whatever your fetish may be; bondage, foot, cockold, spankings, role-play, electric or water play, sadism and masochism all while traveling in Guyana.
Swinging and Naturism
Not many swinger clubs are known in Guyana because of recent police raids. Baroombar and Rio Nightclub are a couple of known adult clubs in Georgetown. Public nudity is not allowed in Guyana. However, if you want an adventure, you can try stripping off at some of the less busy beaches on the Guyana coastline.
Costs of Living
Guyana is a moderately expensive country to live and travel. One of the main wallet drainers can be luxurious resorts and exotic restaurants. If you stick to basic hotels and medium-range restaurants, you can easily have a budget-friendly trip to Guyana.
| | |
| --- | --- |
| | Single traveler's budget per day: US$60 - $500 |
As mentioned above, if you stick to the basics and don't overspend, you can easily have a vacation fo for $60 per day. However, if you want a luxurious stay, you can live in beachside resorts, which will increase your daily expense to around $500.
| | |
| --- | --- |
| | Accommodation per night: US$30 - $400 |
Accommodation is an important factor that can decide the cost of your vacation. You can get a hotel for as low as $30 n Georgetown. However, you can also get five-star resorts for $300-400.
| | |
| --- | --- |
| | Beer in a grocery shop: US$2 - $3 |
A beer bottle in a grocery shop costs $2-3 in Guyana. Banks DIH is the most popular bear brand in the country.
| | |
| --- | --- |
| | Beer in a bar or restaurant: US$03 - $04 |
A bottle of beer in a bar or restaurant costs $3-4 in Guyana. The most popular bars in Guyana are:
The Vintage Wine Bar, Georgetown
Seeta's Bar, Georgetown
Plaisance Guinness Bar, Georgetown
| | |
| --- | --- |
| | Meal in a restaurant: US$29 - $48 |
The meal in Guyana costs around $29-48 in a medium-range restaurant. If you want to save up some money, you can eat in inexpensive restaurants for $4-8. The best restaurants in Guyana are:
Night Cap, Georgetown
Aagman Indian Restaurant, Georgetown
Maharaja Palace Restaurant, Georgetown
Accommodation
Guyana has a lot of accommodation options. However, all of them are located in Georgetown. In Georgetown, you will find a wide variety of accommodation options ranging from basic, inexpensive resorts to costly, luxurious beach resorts. In the end, it depends on your budget and preferences about what do you want out of your hotel.
How to Get There and Move Around
The transport sector of Guyana includes various transport modes and infrastructures connecting the country internally and internationally. Most of the public transport revolves around Georgetown and nearby areas.
By air:
Georgetown International Airport, officially the Cheddi Jagan International Airport is the only international airport serving Guyana. It is connected to Miami, New York, Port of Spain, Panama City, Paramaribo, and Orlando.
By bus:
The local public transport in Georgetown and nearby areas are served by privately owned minibusses. In the case of long transportation, long transportation, Guyana has an extensive road network, containing all the major areas including forest villages and coastal cities.
By car:
Taxis are one of the best modes of travel in Guyana. However, the fares of taxis are less regulated, and the chances of getting scammed are more. It is always recommended to go for online taxi services like Uber and Swift's for more regulated pricing.
By train:
Guyana has a total rail network of 187 km. But, all of it is dedicated to ore transport, and thus, there are no passenger train services in Guyana.
By boat:
Guyana has three ports: Georgetown, Port Kaituma, and New Amsterdam. It has ferry services to Suriname.
Visas:
The citizens of major countries like USA, Canada, Russia, Australia, and almost all EU member states can enter Guyana without a visa for 90 days. Presently, a total of 55 countries are allowed visa-free entry to Guyana, whereas, the remaining countries need a visa before arrival. However, citizens of Guatemala, Haiti, and Mexico are allowed visa-free access if they have an approved visa for Canada, the United States, or a Schengen member state.
Digital Nomads and Remote Work
Guyana is one of the least recommended places for digital nomads. The internet speed and connectivity is not good. Not many workplaces are known in Georgetown. The opportunities for digital nomads in Guyana are also very less, almost zero. If you go to other cities, internet speed and connectivity might deteriorate even further.
Internet and Mobile Operators
The average internet speed in Guyana is 3-5 Mbps, which is bad. Guyana is not a good place for digital nomads, and even as a traveler, you should not expect flawless connectivity. Guyana is a place where you can visit if you want to take a break from the fast-moving world, but it is not a place to work and stay connected. Some popular telecom companies in Guyana are:
Digicel
Cellink Plus
CelStar
Gambling and Casinos
Gambling is legal in Guyana. Two legal casinos are functional in Guyana, both located in Georgetown. These casinos are:
Sleepin Hotel and Carnival Casino
Guyana Princess Hotel and Casino
Weed and Drugs
Use of cannabis is illegal for all purposes in Guyana. However, it is widely grown and consumed in the country. Possession of 15 grams or more can result in drug trafficking charges.
Health, Fitness, Gyms and Massage
Healthcare services are not the best in Guyana. There are a few decent hospitals in Georgetown, but you should not expect high-class treatment and services in the city. Some good healthcare options in Guyana are:
Balwant Singh Hospital, Georgetown
Davis Memorial Hospital, Georgetown
Georgetown Hospital, Georgetown
Some of the best gyms in Guyana are:
Orangetheory Fitness, Georgetown
Georgetown Fitness, Georgetown
House Of Gainz, Georgetown
Some good spas in the country are:
Novita Spa On The Square Medical Rejuvenation
Spa Luxe
Breeze Salon & Day Spa
STDs and HIV
The HIV prevalence rate in adults in Guyana around 1 percent. 6.1 percent of sex workers have HIV, whereas gay men have a prevalence of 4.9 percent.
Stay Safe
Georgetown is notorious for petty street crime. Do not walk alone at night, or even in the day, unless you know the area well. Areas such as the Tiger Bay area east of Main Street and the entire southeastern part of the city including Albouystown and Ruimveldt are traditional high crime areas but one can be relatively safe in groups and with native escorts. Police are unlikely to help you unless they see the crime in action. Be sensible about wearing jewellery. Exercise common sense.
See Also