Chile
Chile dating guide advises how to pick up Chilean girls and how to hookup with local women in Chile. Travel, enjoy and have fun with hot single girls and you might even meet the love of your life. Read more on how to date Chilean women, where to find sex and how to get laid in Chile, South America.
Chile is one of the most stable and prosperous countries in South America. On a map, Chile looks like a narrow piece of land which borders Peru, Bolivia, and Argentina but it is a country that has a lot to offer, both in terms of nature and culture.
One of the most unique and striking things about the country is the vast and varied geography it offers, from the deserts in the north to the forests, lakes, and volcanoes found in the south. Chile even claims a part of Antarctica as its territory!
Other than its geography, the nation is known for its rich history and its vibrant culture which is something every traveller must experience at least once in his life. More details about the country, the nightlife, the girls, and many other travelling details can be found in the sections provided below.
Chile Top 10 Overview:

Chance of picking up girls: 3 / 5

Picking up at daytime: 3 / 5

Picking up at nighttime: 3 / 5

Looks of girls: 4 / 5

Attitude of girls: 4 / 5

Nightlife in general: 4 / 5

Locals' English level: 2 / 5

Transportation: 3 / 5

Budget per day: US$102 - $300

Accommodation: US$62 - $200
Chilean Girls
When it comes to girls from Latin America, Chilean girls are not often talked about as much as girls from Argentina or Brazil. However, even though there are some differences that set girls from Chile apart from girls in other Latin American countries, they are just as exotic looking and have a lot to offer when it comes to dating.
The first thing you'll notice about girls from Chile is the presence of a language barrier. Most of the local girls are not great at speaking English but they even speak Spanish with an accent that is not exactly easy to understand but also filled with a lot of slang which makes it even harder to understand.
However, in case you do start a conversation with a girl from Chile, she'll not stop talking! Girls from Chile love to talk and they talk a lot! Even if you ask them simple questions, you'll get large answers which never seem to end. Being a good listener is one of the key things that can help you win the heart of a Chilean sweetheart. Fortunately, a lot of the girls here will not be great at English but will be decent enough at it for you to understand what they're saying! Learning a little Spanish will make them understanding them much easier in the long-run too.
While the girls here do like to talk, what sets apart Chilean girls from the other girls in Latin America is that they're not as hyper-active as the other girls. They're some of the most laid-back girls you'll find in Southern America. While you might come across girls who are more intense and dramatic, you're likely to experience that far less than in a country like Argentina. The girls here are often easy-going and have a quiet quality in their personality.
When it comes to relationships or casual hookups, as long as you're upfront and honest with the girls here you would be okay. The girls here prefer knowing what to expect and are often okay with anything as long as you're honest with them. Setting the right expectations is very important when it comes to hooking up with the girls here.
Lastly, the girls in the country like to keep it close to their family due to the cultural importance of family values in the country. In case you do end up in a relationship with a Chilean woman, you will most likely meet the entire family at some point during that relationship. The girls here also have a tendency to go out in groups so when you're out approaching a Chilean girl, you should aim for the entire group of friends and be friendly with all of them if you want a proper chance.
| | |
| --- | --- |
| | Looks of girls: 4 / 5 |
The girls here are naturally beautiful and they share a lot of features with other Latin American girls found in Argentina or Colombia. While they do not rely on makeup a lot, they take care of their skin and bodies. The girls here usually have clear skin with a slight tan and they love to dress up using the latest clothes in fashion to highlight the beauty of their bodies.
Most of the local girls here are naturally thin and have excellent bodies due to the culture of eating healthy food in the country.
| | |
| --- | --- |
| | Attitude of girls: 4 / 5 |
In terms of personality and attitude, Chilean women can be a bit overwhelming but not as much as the other girls from Latin America. Most of the girls here are very laid-back, easy-going, and open to conversations. They also do not have a snobbish personality because Chile is not really as well known as the other countries in Latin America known to have the most beautiful women in the world. The girls here do love to talk though so you should prepare for that.
Where to Get Sex Now
It is easy to get sex online in Chile. You just need to find the best available girls. See Girls Online Here!
How to Pick Up Girls
Picking up girls in Chile is undoubtedly easier than other Latin American countries like Brazil or Argentina. There are many reasons for this other than just the personality of the girls you'll come across here.
Girls in Chile are into men who are well-traveled and educated. It is true that Chilean girls love learning new things and if you can come across as a well-traveled and well-read man, you'll have a much higher chance of picking up the girls here.
Usually, most of the girls you would like to approach would be found in groups so if you're looking to pick up girls in Chile, it is a good idea to approach the entire group instead of just the girl you want. Fortunately, since most of the girls here are laid back and chill, it's easier to approach groups in Chile than in other parts of the country.
Most of the girls here prefer men who are taller and older than them but since most of the girls here are only 158 cm tall, it's not that hard to be taller than them. While the nation is progressive and forward-thinking, traditional gender norms still apply and the women here usually want a man who they can rely on, not necessarily financially but definitely emotionally.
| | |
| --- | --- |
| | Chance of picking up: 3 / 5 |
While the laid back nature of the girls you'll find in the country makes it easier to pick up, the evident language barrier can often make it a bit hard too. Knowing a bit of Spanish can massively improve your chances of picking up in Chile but overall, even if you don't know a word of Spanish, there is a pretty high chance of picking up a girl in Chile.
Tips for Daytime
While there is a language barrier to be found in the country, most of the younger girls here under the age of 25 do know enough English to at least have a decent conversation which makes day game an excellent opportunity to find dating opportunities. Of course, you should learn a few Spanish phrases to make your approach easier.
In cities like Santiago, Valparaiso, and Vina del Mar, you can expect to find hot locals on the streets and have generally good results from gaming during the day. There are also a lot of universities in the town of Santiago so results can be exceptionally better in that place.
The best way to approach Chilean girls during the day time is to use the lost tourist approach and let them do most of the talking. Of course, having a reasonable amount of personal style and being witty will help make your approaches much better during the day.
The girls here can be very friendly and approachable so picking up during the day isn't a hard thing to do in the country. Being honest about your intentions will only increase your chances as most of the young girls here are looking for something interesting and they prefer men who would rather be honest with them about their intention instead of beating around the bush.
| | |
| --- | --- |
| | Chance of picking up at daytime: 3 / 5 |
Depending on your location, you can expect your chances of picking up girls during the daytime to be somewhere between good and great in Chile. As long as you keep your approach casual, laidback, and not creepy, you can have a great time picking up girls during the daytime in Chile.
Best Places to Meet Girls
Santiago is the best city for doing day game in Chile. Of course, other places may give you better results but when you consider all the factors and statistics, Santiago will still be the best place to pick up girls during the day in the country. Here are some of the best spots to meet girls in the city:
Fuente Alemana Alameda (Santiago)
Teatro Del CEAU UChile (Santiago)
Cerro San Cristobal (Santiago)
San Pedro de Inacaliri River
Tips for Nighttime
Chile has a very lively nightlife and you can expect to have an absolute blast when it comes to picking up girls in the country. Most of the younger girls here like to party till the early hours in the morning and are open to new adventures and waiting for people to enter their world.
Approaching a girl during the night is not that hard at all in Chile. One of the best ways to make a move on the girls at nightclubs is to try to start a conversation in broken English with them. The girls here are very friendly and will definitely entertain you and then it is up to you where to take it.
Most of the girls do not have an attitude problem and are much more approachable in the country and you can find plenty of girls having fun out in the nightclubs especially in a student-centric town like Santiago.
Lastly, remember to be friendly in your approach and do not forget to entertain the entire group of girls as you're most likely to encounter groups of girls during your time and it can be hard to isolate a girl when you haven't won the group over. Fortunately, most of the group will be friendly and receptive if you play your cards right.
| | |
| --- | --- |
| | Chance of hooking up at nighttime: 3 / 5 |
The chance of hooking up with girls really depends on your location but if you're in a major city like Santiago, you can expect a pretty good chance of hooking up with girls during the night time in Chile. Remember to keep your approaches casual, laid-back and friendly to maximize the chances of hooking up with the girls from Chile at nighttime.
Best Nightclubs to Meet Girls
Some of the best nightclubs in the country include the following:
Barrio Bellavista (Santiago)
Cerro Concepcion (Valparaiso)
Cerro Alegre (Valparaiso)
Bajo Molles (many clubs, located in Iquique)
| | |
| --- | --- |
| | Nightlife in general: 4 / 5 |
Overall the nightlife, in general, is pretty decent in Chile. Some of the major cities to truly experience the nightlife include Santiago, Concepcion, Valparaiso, Concepcion, La Serena, and Iquique. These cities provide nightclubs, bars, and pubs of many kinds and varieties so you can definitely find something that is your style in any of these cities. The girls here love to party and you can expect to meet a lot of hot girls during the night time in Chile!
Mature Ladies and Cougars
Even though there are always exceptions, you'll most likely not come across a large number of mature ladies over the age of 40 during your time in Chile.
Regions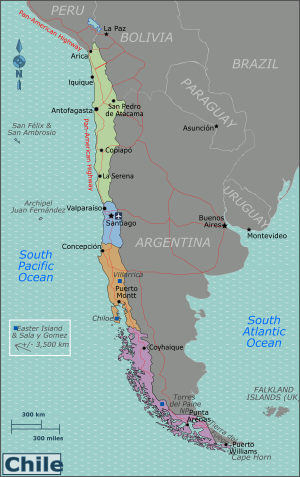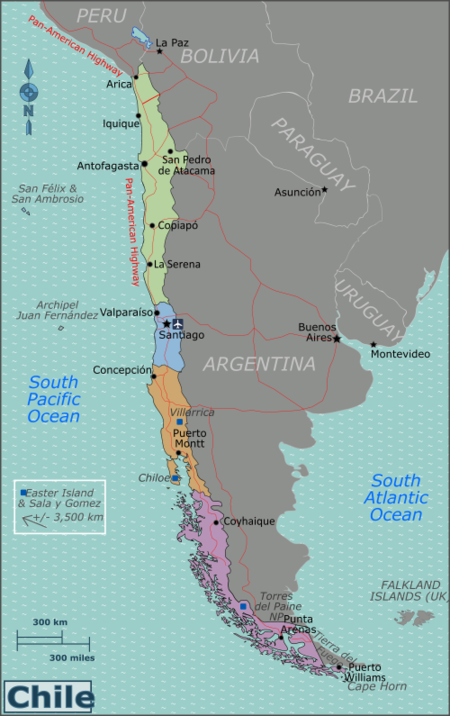 Central Chile (Valparaíso, Santiago)
The heart of the country, you can visit the main cities, famous vineyards and some of the best ski resorts in the Southern Hemisphere.
Easter Island (Rapa Nui or Isla de Pascua)
A lonely island in the middle of the Pacific Ocean, is home of one of the most mysterious civilizations in the world.
Cities
More Cities
Dating
When visiting Chile, dating can be a fun and interesting experience. AdultFriendFinder.com, lets you meet local members in Chile and get to know them on a personal basis before you arrive. It just takes a few minutes, you simply create an account, upload a few images and tell a little about yourself. Since time in your destination may be limited, get to know each other's desires beforehand so when you do meet, you can skip the awkward introductions and start having some real fun.
Top Dating Tips
Most Chilean girls have pleasant personalities and do not like playing games. It is better to be upfront with a girl from Chile about what you want right from the start. They're usually looking for something casual and most of the girls here are into men who know what they want.
It is a good idea to cultivate an air of adventure and mystery about you if you want to increase your chances of getting laid in this country. Most of the girls prefer doing most of the talking during the dating process so it's better to take a listener role and when you do pitch in something to the conversation, you make sure it is something that is worth it.
The girls here are into men who are usually older than them. Even if you're young, having a worldly feeling to you will definitely help you when it comes to the girls here in Chile. Knowing how to approach groups and isolating the main girl will definitely help you in Chile as you will mostly come across groups of girls when you're out and about in Chile.
While there is definitely an advantage of being a tourist when it comes to your dating opportunities, you must remember that this advantage is not a huge one and your results will largely depend on how well you can play this to your advantage. You can increase your chances by following some of the standard things that work well across the world such as booking your accommodation nearby to the nightlife centre of the city you're staying in and generally having a good sense of fashion and style about you.
Relationships and Love
Thousands of single women in Chile are searching for a partner and potential future husband. Check out an ultimate guide for dating local girls, relationships, love and marriage: Relationship & Love Guide to Chile
Online Dating
Online dating is more of a hit and miss when it comes to Chile. While you can definitely come across many girls on the various online dating websites and apps, you are also likely to get better success picking them up in real life.
When it comes to dating websites, you will struggle to find websites which are actually decent with lots of girls on it. One of the major sites that do work in Chile is:
In case you prefer using dating apps over websites, here are some of the most popular dating apps in the country:
Tinder- 
Tinder is the biggest dating app in the world and you will definitely find a lot of local girls on the platform when you use it in Chile. While it works best in major cities like Santiago and Valparaiso, you can find potential matches almost anywhere in the country. While the girls on Tinder are most likely looking for some casual, you might come across a few girls looking for something more serious. How Tinder operates is pretty simple, you can see all the girls in the geographical region you're in and you can either swipe them right or left. If the girl and you both swiped right on each other, the app will match you two and you can start messaging each other.

Badoo
- While it often markets itself as a social media platform, Badoo is actually a dating application and you can find some great opportunities on the app in Chile. The girls on Badoo are usually looking for something more serious than just casual hookups so you should keep that in mind while using the platform.

Happn- 
Happn is a new dating application which works on an innovative principle. Instead of allowing you to potentially match up with all the girls in a set definite geographical location you're in, Happn tries to match you up with the girls who you might have crossed paths with in real life. This app is great when traveling as you're likely to meet some very interesting girls and this can serve as a backup if you didn't open initially. Of course, you should expect to meet more tourists on this platform than the local girls.
While you can get pretty decent results via online dating in Chile, it is better to have it as a complementary method of picking up girls rather than relying on it completely.
Live Cam Dating
Are you looking for virtual satisfaction in Chile? Chat with live web camera models and find the best girl for your needs. There are thousands of girls online 24/7 waiting for you: Live Cam Girls
What Kind of Guys Have the Best Chances
If you're a good listener, have a great personality and know how to present yourself, you will have a pretty great chance of hooking up with a Chilean girl. Knowing a bit of Spanish will also definitely help your chances in getting laid in the country.
Since traditional gender norms still dominate the country, if you're a stable, strong man who knows what you want, you'll have a much better chance of picking up the girls here. Being honest is another thing that'll give you a significant advantage over the other guys here. As long as you're truly honest about your intentions, you can expect some truly great results with the local girls here.
Lastly, even though it is not the biggest factor, being a tourist will definitely help in a country like Chile where the girls are looking for something new, fresh and unique.
Risks while Gaming
Chile is considered as one of the safest countries in Latin America so you do not have to worry about too many risks while gaming here. However, you should definitely consider basic safety practices when it comes to gaming such as following unknown girls into shady looking areas or picking fights with the locals.
As long as you keep your approaches cool and casual, gaming in Chile is pretty safe. The major cities such as Santiago are the safest to game in and if this is your first time visiting Chile, you should stick to them for the best results!
How to Get Laid as Soon as Possible
Night game in Chile will definitely get you laid sooner than day game. While it depends on your abilities, there are a lot of girls in the major cities looking for something casual and they are very approachable and friendly.
The fastest way to get laid in the country is to learn a bit of Spanish and go to a city with a major college student population to game during the night where most of the girls are looking for something casual.
Approach the girls with charm, friendliness and wit. Pay attention to the entire group you'll most likely encounter while creating a connection with the girl you liked and you'll find results very quickly if you know how to play your cards right.
Gold Diggers and Sugar Babies
Chile is full of hot girls looking for a mutually beneficial hookup with travellers. There are lots of girls who don't charge by the hour but who will do anything for a guy who is willing to help them pay their bills. If you are looking for a more personal and less transactional alternative to escorts, a good place to find these sexy open-minded girls in Chile is SecretBenefits.
BDSM
Looking for a new bondage partner while traveling? ALT.com is a community of like-minded people with members around the globe. Our members are interested in submissive sex, power exchange, locating persons for new slave roles, erotic BDSM, bondage & fetish sex, as well as live sex dates. Find thousands of play partners for whatever your fetish may be; bondage, foot, cockold, spankings, role-play, electric or water play, sadism and masochism all while traveling in Chile.
Swinging and Naturism
While there isn't any established swinging culture in the country, you can still expect to find a few clubs in the big cities. Here is a list of some options:
Swinger Club Les Libertines (Santiago)
SYO Swinger Bar (Santiago)
Costs of Living
Overall, the costs of living aren't too high in Chile. Since the country has such a diverse range of options to choose from when it comes to almost anything, you can definitely find the perfect trip for your budget. More details on the costs of living are provided below broken down into relevant sections.
| | |
| --- | --- |
| | Single traveler's budget per day: US$102 - $300 |
The average daily cost for a single traveler in Chile should at least be $102. You can, of course, increase your budget to make your trip more luxurious but the lowest you should expect to spend per day should be at least $102.
| | |
| --- | --- |
| | Accommodation per night: US$68 - $200 |
The cost of accommodation per night for one person should cost you around $68. Of course, there are also some higher-end hotels available which will cost a bit more but $200 per night should be more than enough for finding high-quality accommodation per night in Chile.
| | |
| --- | --- |
| | Beer in a grocery shop: US$01 - $02 |
The cost of a beer in a grocery shop should be around $1 to $2. Of course, this will depend on the brand of the beer and the size of the bottle but in general, it shouldn't cost more than $2 per bottle.
| | |
| --- | --- |
| | Beer in a bar or restaurant: US$03 - $04 |
The cost of a beer in a bar or restaurant should be around $3 to $4 per bottle. It largely depends on the restaurant or bar you're going to and some of them might be a bit higher-end and charge more. However, for the average bar or restaurant, a bottle of beer should cost $3 to $4.
| | |
| --- | --- |
| | Meal in a restaurant: US$06 - $38 |
The cost of a McMeals at McDonalds is $6 in Chile. You can experience a meal at an inexpensive restaurant for around $8 while a proper three-course meal for two people at a mid-range restaurant cost around $38.
Accommodation
Chile is a huge country and you should have no problem finding accommodation in most of the major cities. There are plenty of hostels, hotels, and services like Airbnb for you to choose from. Of course, the availability may vary depending on city to city but overall, finding accommodation in Chile isn't too hard.
How to Get There and Move Around
Chile is a major country in South America and is connected well to most of the world. There is a wide range of transportation options available for getting to Chile and moving around. More details are provided in the sections given below!
By air:
Santiago Airport is the most common entry point for Chile. It is the main airport serving the city and both domestic and international flights operate on the airport. The airport is connected to countries in Europe, Oceania, and the Americas. There are also other airports that provide international service in the country in cities like Iquique, Antofagasta, Concepcion, and others.
Santiago is also connected to other cities in the country via an airport network so you shouldn't have a problem finding connectivity via air between the cities.
By bus:
The country is connected to Argentina, Peru, Bolivia, and Brazil. For travel within South America, buses can be a cheap option. As for getting around, there are bus services that serve the entire country such as Turbus and Pullman. The prices and the services vary a lot and it is a good idea to check out the reviews of the bus service before deciding to go with one! There are also "micro" bus services that run within cities.
By car:
There are a large number of car rental services that are available in most of the major cities. Even though some car rental services can ask you for an international driver's permit, it is not always needed in actual practice. Most of the car available in Chile will likely to have manual transmission and cars with automatic transmission cost more to rent.
While the roads in major cities are well-maintained and signed, most of the street signs are not in English and Spanish only. It can be a good idea to memorize some of the common phrases you're likely to encounter on the signs before you go on your Chilean road trip!
By train:
You can find trains that connect the major cities like Santiago and Talca. Most of the passenger rail service is used by Trenes Metropolitanos. The main train station in Santiago is Estacion Central and tickets can be booked at the station itself or online.
By boat:
The country's biggest port is San Antonio. You can travel to Puerto Varas, Chili from Bariloche, Argentina via a ferry. Small boats can also be hired to travel from Lago Puelo, Argentina but you should take them at your own risk!
Visas:
The visa requirement for Chile vary a lot depending on the country you're coming from. Chile allows nationals of some countries like Australia, Argentina, the United States to stay up to 90 days without a tourist or business visa while it allows nationals from some countries like Greece and Indonesia to stay up to 60 days without a business or tourist visa. There are other categories of countries too, each having a different deadline. It is best to check which category your country is in before coming to Chile to have a good understanding of the visa requirements.
Digital Nomads and Remote Work
While the cost of living is reasonable, Chile is not the best country to work as a digital nomad. It is, however, a decent destination for digital nomads as the country has good internet connectivity, good quality of life, and a high level of safety.
Internet and Mobile Operators
The country has decent internet and mobile connectivity overall. Here are the best internet and mobile operators in the city:
Entel
Movistar
Virgin Mobile
Movil Falabella
WOM
Claro
Gambling and Casinos
There are a few casinos in the country and if you're looking for gambling in the country, you won't be disappointed. Here is a list of casinos in Chile:
Casino Coquimbo
Casino Iquique
Hotel del Lago Resort and Casino
Casino Puerto Varas
Casino Vina del Mar
Weed and Drugs
While marijuana is illegal when it comes to production and consumption in public, smoking privately is allowed and a lot of people smoke weed in the country. Although you should be careful when trying to buy weed, it shouldn't be too hard to find a dealer.
Other drugs can also be found in the country, especially near the nightclub areas in the major cities of the country.
Health, Fitness, Gyms and Massage
There are plenty of great hospitals in Chile that provide excellent healthcare services when you need it. Here is a list of some of the best hospitals in the country:
Hospital Clinico Regional
Complejo Hospitalrio
Hospital Del Salvador
Hospital Barros Luco Trudeau
In case you're the kind of traveler who likes to keep his workout regime in check when traveling, there are a lot of great gyms to be found in the country too! Here is a list of some of the best gyms in the country:
Sportlife
Hard Candy
Smart Fit
Haka Fitness
Gym Squash
Gimnasio Bioaccion
Accion Crossfit
Energy 2.0
There are also numerous quality spas in the city that provide excellent massaging and relaxation services. Some of the best spas in Chile include:
Jo Masaje
Body Massage
Masajes Luz
Acqua Spa
Massage Express Spa
SoulMassages
STDs and HIV
Even though it is not an epidemic, HIV infections have been on the rise in Chile and you should definitely be careful when having unprotected sex. It is advised to use protection during any interaction you have in the country for your safety.
Stay Safe
Like most big cities in South America, Santiago suffers from a high rate of pickpocketing and muggings. It's advisable not to travel in the downtown area wearing expensive-looking jewelry or watches, even during the day. Stay alert and be especially careful in all crowded areas in Santiago. It is recommended to wear your backpack at the front of your body in crowded areas. Laptops and the newest mobile phones can be lucrative for thieves, so remember to be on your guard once using them in public places.
See Also