Panama
Panama dating guide advises how to pick up Panamanian girls and how to hookup with local women in Panama. Travel, enjoy and have fun with hot single girls and you might even meet the love of your life. Read more on how to date Panamanian women, where to find sex and how to get laid in Panama, North America.
Panama is situated in the region of Central America. Officially recognized as the Republic of Panama, it has the Pacific Ocean to the South, the Caribbean Sea to the North. While Colombia and Costa Rica border it to the South-East and West respectively. The country has a population of almost 4 million people and more than 50% of these live in the capital city of Panama City. Which is also the largest city in the entire country. Panama, mainly witnesses tourists coming into the capital city and the women here are one of the biggest factors for evergreen tourism. More details about this are given in this article.
Panama Top 10 Overview:

Chance of picking up girls: 3 / 5

Picking up at daytime: 2 / 5

Picking up at nighttime: 3 / 5

Looks of girls: 3 / 5

Attitude of girls: 3 / 5

Nightlife in general: 3 / 5

Locals' English level: 2 / 5

Transportation: 2 / 5

Budget per day: US$70 - $400

Accommodation: US$30 - $300
Panamanian Girls
The region of Central America is known to be harsh and one that has immensely high beauty standards. This is highly evident in Panama where the women are considered to be average looking despite being considered as beautiful and attractive by the tourists who visit the country. Yes, the women of Panama are good looking but it is also true that most of these women are no match to the women in the region, especially when compared to the women of South American countries. The women are often considered to be in the league of Guatemalan women, but if you are a tourist visiting the country, you shouldn't be too disappointed as you shall be able to spot a few women who are extremely beautiful and sexy while you shall also find some seriously ugly looking women, while the rest are in the range of spectrum in-between.
To begin describing the looks of the women in Panama let us learn a bit about their ancestry. Most of the women who are in the country are of mixed American and European ancestry. They are often known as Mestizos. While the minorities include women who are purely of European ancestry or hail from African ancestry. Based on the type of ancestry these women in Panama hail from, you shall see variations in skin tones. While it is safe to categorize most of the women to be brown-skinned, there are a few with pale and white skin, while some who have the typical dark skin as seen in African nations. Nonetheless, most of the women are beautiful and attractive in their way. This is primarily because most of the women have their stunning European features retained from their mixed ancestry.
If we begin discussing about the looks of the upper and middle-class beauties who live in some of the most upscale neighbourhoods in Panama City or decent areas of other cities such as Colon and David, we shall find that most of them are beautiful, they have stunning features. They are often fair-skinned or have a bronze tan which is pretty close to the brown skin often seen on Panamanian women. They have naturally occurring dark-colored hair or are dirty blondes at best, most of these women have lighter shades of eyes which range from hazel to green, they have a particularly oval to a squarish facial structure which has a partially distinguishable jawline. They have a pretty smile, dark eyebrows, medium-sized flat noses, and plump lips.
While most of their facial features are in some ways similar to average Panamanian women, there are slight differences that set them apart. But when we move beyond their facial features and check out their bodies, things get much more interesting. The women are ravishing! Most of these women have a banging body, with a proper hourglass figure with curves in all the right places. Especially when one gets to see the Panamanian women in shorts, or even in a bikini, only then shall their true potential be discovered. They truly can make any man get a boner with their super sexy figures. Most of the women have a perfect tan. To add to that are their perfect bodies, which include a gorgeous pair of breasts that are medium to large-sized, perfectly round, and too inviting to be true.
After moving past that hourglass figure and we move to their legs, it is impossible to not stare at those shining well-tanned legs too, they are truly seductive, and lastly, you shall choose to follow most of the women in Panama, owing to their derrière. Those buttocks are firm, in shape, and when exposed in a bikini, you shall want to smack them. To summarise, one can safely say that what most of the Panamanian women lack in terms of facial features, they make up for it with their smoking hot bodies. It would also be a fair assessment if these women were compared to Latinas as they almost have the same set of physical features.
Panama is a country which is doing quite well economically in Central America and while most of the women do decently for themselves, much credit can be given to the compulsory education program that the country has for children between the ages of 6 and 18. After this, many of them have basic education and go on to apply to universities for higher studies. The women often choose to work and support their families for the initial stages of their career and later if there is a need they continue to work. With most women from the middle class and poor backgrounds being closely related to tourism industries. As a result of this, a few of these women understand English and can speak the language decently while the other women in the country can only speak fluently in Spanish.
| | |
| --- | --- |
| | Looks of girls: 4 / 5 |
The women who hail from the country of Panama are known to be smoking hot, while they certainly aren't the poorest looking in the Central American region, they are not the best looking either. However, most of the tourists shall be attracted to the gorgeous few women of the upper and middle-class societies.
| | |
| --- | --- |
| | Attitude of girls: 3 / 5 |
The attitude of the women in the country of Panama is quite good, while they are well educated and have decent knowledge, language is often a barrier and their introvert nature on a personal level might make them come across to be a little aloof, but after breaking the ice, you can actually enjoy a fruitful conversation and see their warm and friendly side.
Where to Get Sex Now
It is easy to get sex online in Panama. You just need to find the best available girls. See Girls Online Here!
How to Pick Up Girls
As described in the sections above, it is highly evident that Panama does offer a considerable amount of options of women to men visiting the country. These options are in terms of looks. These Panamanian women are of different skin tones, are short, have nice long brunette hair, and most importantly they have an incredibly sexy and desirable body. All of this does make most of these women a hot favorite amongst tourists. To pick up these women, a tourist needs to have a good plan, visit the right places (depending upon which city he is in), and be able to speak Spanish. With the latter being a must as most of the women do not appreciate English speaking gringos who are in their country only for sex.
| | |
| --- | --- |
| | Chance of picking up: 3 / 5 |
The chance of picking up horny girls in Panama is quite good, considering the fact that most of the women are liberal and open-minded, willing to hook up with tourists, but the task of initiating a conversation, breaking the ice, charming them, and eventually convincing them to join you in bed depends upon you and your plan.
Tips for Daytime
The daytime game in Panama is quite poor. Yes, as disheartening as it might sound, it is true. The women are often busy in their world and would barely respond positively to flirtatious advances made by tourists and travellers. While they are open-minded and love foreigners hitting on them, they do have a few criteria that you must meet to be appealing to them. Additionally, the tropical weather of the country does ensure that it is hot during the daytime for the most of the year and that women could be irritable if you are annoying in your pursuit of these women.
So while gaming during the daytime, make sure you keep things casual and dress up well, as most of the local women hate gringos who look like backpackers, and lastly, approach women with a good plan and some witty one-liners in Spanish, more about correctly approaching the local women is given in the section below, so read on to find out more.
How to approach the girls?
Those men who wish to approach the local girls in Panama must keep their strategy in-line with the city they are in. If you have the liberty to choose which city you want to be in for daytime gaming, simply choose Panama City as not only is it the capital city and also the largest city, it shall also offer you a large population of women who are progressive, good-looking, and open to casual sexual relationships. So approach them by being yourself, do not put on a fake persona and try to be something that you are not. Begin your conversation in Spanish as most of the local women prefer men who can speak their language, even if it is broken or incorrect. They mainly appreciate the effort that you put in to make an actual connection with them. It also gives them the signal that you are not the laid-back sex tourism foreigner who only cares about getting laid. While having a conversation, be friendly, be warm, be a good listener, and also keep women entertained with a good deal of wit and humor. Just remember, that most of this will work if you are respectful and well behaved as well.
| | |
| --- | --- |
| | Chance of picking up at daytime: 2 / 5 |
Chances of picking up women at daytime are poor as most of the women are focussed doing their work and they seldom interact too much while the sun is out. Additionally, you will have to do most of the work if you wish to get lucky during the daytime.
Best Places to Meet Girls
The situation in Panama is such that approaching women during the daytime is difficult owing to two major factors. The first being the economy and lifestyle. Most of the women in the major cities of the country, who hail from upper and middle-class backgrounds earn decently enough to buy themselves a car and use that as the primary mode of transportation, this kills the chances of you coming across women who are single and use the public transport to work or college on a daily basis.
The second being the climate, the tropical climate ensures that it is sunny and hot throughout the day for the most of the year, thereby prompting women to not lounge on the streets or the common places where there is little to no air conditioning, women often get done with their chores or travel and prefer rushing to their homes or workspaces without wasting too much of time. Hence, the best places to meet women in the country of Panama are malls, cafes, and waterfronts. These usually have a considerable number of single women who are open to being approached and hit on. The best places to meet single women in the country, as mentioned above, depends on where you are in Panama, with the best place being Panama City. The Obarrio, Cisco Viejo, and Marbella neighborhood here often house some of the most beautiful women who are exposed to the global culture and traditions as well.
If you approach them in the right way, you might just get lucky. On the other hand, you could try more conventional methods and go visit the malls, Multiplaza, Multicentro, and Albrook, are your three options in the capital city, which give you a good chance to meet horny girls who are willing to have sex with tourists.
Tips for Nighttime
The night time game in Panama is certainly not as good as it is in neighbouring Central American countries and possibly way worse than the gaming scene in the South American countries of Colombia, Brazil, Chile and Argentina, as the women there are hotter, the parties are crazier, and drugs, rock & roll are part of the culture in some ways. But, the night time gaming scene in Panama does offer you way more opportunities than the daytime and it also makes getting laid a lot easier.
To begin with, the big cities have a lot of hot women who step out at night time and are willing to meet friends, socialize, and even interact with strangers, have a few drinks, and looking to hookup at the end of it all. So, dress up, plan your visits to some of the most happening areas in these cities, make a few local friends and then go out to game. Remember, the most important part in all of this is making a few friends in whichever city you are in, as most of the hot local women who hail from good backgrounds only party with friends and large circles, they hardly interact with men who are alone or in pairs, so make sure you have a few contacts and a sizeable group around you which make things easier for you.
Also, be sure about the kind of women you are devoting your time to and the amount of money you are spending as there are scores of gold diggers and prostitutes who butter you up through the night only to later reveal that she shall charge you money to have sex at whichever place you decide to take her. Given in the following section are best nightclubs and places to meet women at nighttime.
| | |
| --- | --- |
| | Chance of hooking up at nighttime: 3 / 5 |
The chances of hooking up at night time are good, while they certainly may not be the best in the region, it does open an array of opportunities for you to explore with some of the hottest and horniest women in town. Much like the daytime, your chances of hooking up are directly proportional to the way you approach women in Panama.
Best Nightclubs to Meet Girls
The nightlife in Panama is good and while it is crazy and ecstatic in some cities, it is just lame and boring. Hence, one must choose wisely and plan out before chalking out a trip to the country. You should head to the capital, Panama City for the best nightlife in the country. Here, the bars and clubs have a great crowd, the ambiance is amazing, and the women are super-hot, if you speak Spanish you shall do extremely well here.
Casco Viejo and Marbella neighborhoods have some of the best discos in town. La Tana, Relic Bar, and pretty much all the nightclubs in the Hard Rock Hotel are worth visiting if you want to meet and interact with some of the hottest women in the city. If you wish to explore beyond the boundaries of the capital city, you could head to David, which is the second-largest city in the country and has a good nightlife considering its proximity to the beach. Bocas del Toro is also an option as it is immensely popular amongst the youth of the country and it is also a favorite of backpackers listing Panama, you are bound to score big here.
| | |
| --- | --- |
| | Nightlife in general: 3 / 5 |
The nightlife in Panama is good, depending upon which area of the country you choose to explore. The best regions house some popular nightclubs with good drinks, great music, the perfect ambiance, and some of the hottest women looking to get laid. The above rating is given after rationalizing all of the mentioned points.
Mature Ladies and Cougars
The tourists who are visiting Panama to get laid with mature ladies and cougars shall find a few opportunities to make their dream come true. The local women, despite being family-oriented tend to be attracted to foreigners who are good looking and those that can speak Spanish. These are two important criterions especially if you wish to woo wealthy cougars. On the other hand, there is a large number of women who despite being above the age of 40 and irrespective of their marital status choose to hookup with tourists regardless of their age only because of lust and social status, not to forget the perks of having with a wealthy traveler.
Regions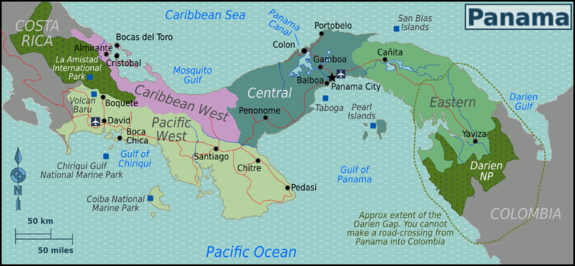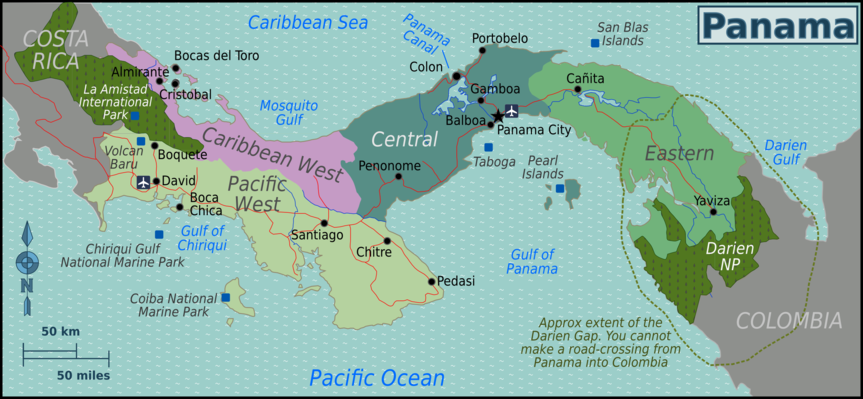 Central Panama
Panama City plus Colon and Cocle Provinces.
Caribbean West
Bocas del Toro province and Ngöbe-Buglé Province as well as the northern portion of Veruguas Province.
Pacific West
Many of Panama's major attractions in Chiriqui Province plus all of Herrera and Los Santos Provinces, and the southern portion of Veraguas Province.
Eastern Panama
The forests and swamps of Darien Province, some of Panama Province, Kuna Yala and the San Blas Islands.
Cities
Other Destinations
Dating
When visiting Panama, dating can be a fun and interesting experience. AdultFriendFinder.com, lets you meet local members in Panama and get to know them on a personal basis before you arrive. It just takes a few minutes, you simply create an account, upload a few images and tell a little about yourself. Since time in your destination may be limited, get to know each other's desires beforehand so when you do meet, you can skip the awkward introductions and start having some real fun.
Top Dating Tips
Those men who are visiting Panama and wish to date the local women, you can try and ask them out. But you should know that many of them do not prefer anything beyond a hookup with a foreigner. So you could begin by asking her about her views of dating one. If she seems okay with the idea, you could go ahead and ask her. To much of your good fortune, this could work, especially if she hails from a decent family and she is probably tired of being objectified as a sex object by tourists visiting the country. Take her out for a date to the beach, a nearby park, or even a small ferry ride. All of these are great options apart from the popular ideas of picnics and romantic dinner dates.
Relationships and Love
Thousands of single women in Panama are searching for a partner and potential future husband. Check out an ultimate guide for dating local girls, relationships, love and marriage: Relationship & Love Guide to Panama
Online Dating
The entire belt of Central America, despite its proximity to the United States of America, is not very technologically advanced. Most of the young population yet prefers making a move on the women face to face, rather than cowering behind a mobile phone screen and asking her out or for a hookup. But gradually with time, things have changed and people have begun using apps and websites to find a date. The pros of being efficient, effective, and convenient have drawn a considerable number of youngsters. Those visiting the country can surely try using online dating websites such as Latin American Cupid, which is not just popular in the country but also the entire belt of Central America as it helps you find local hotties, who are added at the rate of 300+ every day on these portals. While gringos, i.e., you as a tourist can continue using Tinder as many young users who are obsessed with the possibility of hooking up with a gringo, which is an unspoken fantasy for many, use the app.
Live Cam Dating
Are you looking for virtual satisfaction in Panama? Chat with live web camera models and find the best girl for your needs. There are thousands of girls online 24/7 waiting for you: Live Cam Girls
What Kind of Guys Have the Best Chances
Panama is a country which has a better financial situation than the other Central American countries, as a result of this, those men who have a good amount of money are the ones who have the best chances as they can afford the expensive lifestyle of the big cities and the women residing in them. Also, as repeatedly mentioned, most of the local women who aren't hookers and are genuinely hot, hailing from good family backgrounds are known to be attracted to only those tourists who know decent Spanish, this is because it is in a way a gesture that tells them that you are in town not just to hook up with prostitutes, but actually woo classy women and make a connection with them.
Risks while Gaming
Panama is quite a safe country if most of the tourist popular destinations are taken into consideration. But the biggest threat to tourists is the large chunk of women who are gold diggers or are straight up prostitutes pretending to be average local girls and indulging in casual sex only for their benefits. If you are available to navigate your way through much of this you do not run the risk of being in trouble. As most of the local hookers do not tell you until you are about to have sex or are done and wake up the following morning.
How to Get Laid as Soon as Possible
Those who wish to get laid as soon as possible must try heading to some of the popular bars and nightclubs, while there shall be scores of prostitutes here and getting laid wouldn't you more than 10 minutes, the choice remains yours and the challenge of hitting on a girl, impressing her, and the orgasm stemming from the sweet victory of winning her over is a different high altogether.
Gold Diggers and Sugar Babies
Panama is full of hot girls looking for a mutually beneficial hookup with travellers. There are lots of girls who don't charge by the hour but who will do anything for a guy who is willing to help them pay their bills. If you are looking for a more personal and less transactional alternative to escorts, a good place to find these sexy open-minded girls in Panama is SecretBenefits.
BDSM
Looking for a new bondage partner while traveling? ALT.com is a community of like-minded people with members around the globe. Our members are interested in submissive sex, power exchange, locating persons for new slave roles, erotic BDSM, bondage & fetish sex, as well as live sex dates. Find thousands of play partners for whatever your fetish may be; bondage, foot, cockold, spankings, role-play, electric or water play, sadism and masochism all while traveling in Panama.
Swinging and Naturism
Most of the women who hail from Panama are known to be sexually very active and horny. These women are into swinging while naturism is not widely seen here barring a few beaches. This is besides the prostitutes, who shall do pretty much anything if you pay them well.
Costs of Living
The country of Panama is relatively expensive to visit in comparison to the other Central American countries, especially Panama City, which is probably the most expensive in the region and is virtually a big NO for broke backpackers. Given below is an estimate of the costs of a trip to the country:
| | |
| --- | --- |
| | Single traveler's budget per day: US$70 - $400 |
The solo traveler who is headed to the country shall not spend more than 70 USD per day if he is on a budget trip to Panama and if he wishes to spend more to have a better quality trip, he shall spend around 400 USD.
| | |
| --- | --- |
| | Accommodation per night: US$30 - $300 |
The travelers who are visiting the country of Panama shall find accommodation ranging from 30 USD per night to 300 USD per night at best.
| | |
| --- | --- |
| | Beer in a grocery shop: US$02 - $03 |
Beer which is purchased from a regular grocery shop costs not more than 3 USD a pint.
| | |
| --- | --- |
| | Beer in a bar or restaurant: US$04 - $06 |
As the trend suggests a beer which is enjoyed at a bar or a restaurant shall be at least the double of the price that is commanded at a grocery store, hence, one can estimate a pint of beer to cost 4-6 USD at a minimum.
| | |
| --- | --- |
| | Meal in a restaurant: US$04 - $20 |
The food found in the country isn't too costly. You can have a meal for approximately 4-7 USD at a simple restaurant while you can enjoy a traditional meal at a reputed restaurant for 20 USD per meal at best.
Accommodation
The students and young backpackers headed to the country of Panama can stay at hostels, AirBnBs and small rooms for a minimal cost of 10-15 USD in small cities, while the same doubles in the capital, Panama City. While luxurious hotels in the country start from 80 USD and go up to 300 USD. Depending upon your budget you can make a choice.
How to Get There and Move Around
Details about the transportation system in the country of Panama are given below:
By air:
There are 53 airports in the country at present, with the Tocumen International Airport being the foremost in the entire country. It is located in Panama City and is responsible for most of the international and domestic loads.
By bus:
The local bus transportation network in the country of Panama is truly in shambles. They aren't punctual, there is little to no ease of navigation, they have poor amenities, and lastly, they are unsafe.
By car:
The roads in the country of Panama are spread over 15000+ kilometers but only 40% of these are paved. There are four major expressways in the country and they connect the major parts in exchange for a toll that you have to pay to use these.
By train:
The rail network of the country is very small and extremely limited. It has only 355 kilometers of track. But the metro network of the capital, Panama City is quite good and serves the citizens extremely well. It is also in great condition as it was inaugurated only half a decade ago.
By boat:
The country has waterways that are navigable by shallow-draft vessels, approximately 800 kilometers in length.
Visas:
Those who are visiting the country and do not need a visa to travel can directly enter with a valid passport while others can apply for a tourist visa for Panama.
Digital Nomads and Remote Work
The country of Panama is an average place for a digital nomad. The best option in the entire country would be the capital city. Overall, the country offers great places to work from and is friendly to foreigners but the poor healthcare, poor safety, lack of English speaking people, and extremely high costs of living in some parts do break the deal altogether.
Internet and Mobile Operators
The country of Panama has decent coverage for mobile network and good internet access. The average internet speed is quite fast at 10-15 Mbps. Some of the biggest telecom operators in the country are as follows:
Claro
Digicel
Movistar/Tigo
+movil
Gambling and Casinos
Gambling in Casinos in the country of Panama is a good source of entertainment for tourists. Gambling was made official in the year 1997 and the country houses almost 17 casinos which collectively offer an array of live table games, poker, and slot machines.
Weed and Drugs
The entire belt of Central America is internationally infamous for its drug culture. Even in Panama, there are a considerable number of users. While weed is excusable, other drugs can land you in trouble. With weekend checkpoints, and partygoers being searched and tested thoroughly. It is recommended that you either avoid using drugs or carry quantities that can be hidden and won't land you in any sort of trouble with law enforcement.
Health, Fitness, Gyms and Massage
Those who are gym enthusiasts and plan to visit Panama are highly advised to book rooms in hotels that offer complimentary gym access as local gyms, despite being well equipped and safe, tend to overcharge for short term memberships. While those who want to enjoy a massage can choose from a range of Thai spas or even a spa that offers massages at scenic locations by the beach.
STDs and HIV
Panama has a low rate of HIV amongst women, while gay men and transgenders are affected the most. But there is a culture amongst most youngsters of not using a condom even while having casual sexual encounters. This is extremely risky and you never know what kind of STDs can be passed around. Hence, it is recommended to always use protection when engaging in sexual intercourse with a stranger in the country.
Stay Safe
Most of Panama is very safe. People in rural areas are generally extremely friendly and very helpful. If you want to visit Latin America, but are paranoid about security, Panama might be a good place to cut your teeth. One exception is the border region between Panama and Colombia, which is considered extraordinarily dangerous due to Colombian rebel groups and drug traffickers.
See Also