Montenegro
Montenegro dating guide advises how to pick up Montenegrin girls and how to hookup with local women in Montenegro. Travel, enjoy and have fun with hot single girls and you might even meet the love of your life. Read more on how to date Montenegrin women, where to find sex and how to get laid in Montenegro, Europe.
Located in Southeast Europe, Montenegro is a small country that borders the Adriatic Sea. While the country is not really famous for being a tourist destination, it is slowly becoming a major one. Other than the beautiful people and the culture, the country is also filled with beautiful mountains and pristine beaches.
The country is especially known for its beautiful coastline which has some truly breathtaking scenery and is truly a paradise for people who love beaches and the sea. For those who like mountains, there are the majestic mountains of Durmitor and Prokletije.
This relatively small and unexplored country can be an amazing destination for a vacation. More details about the country like the culture, the women, the nightlife, and more are provided below in different sections.
Montenegro Top 10 Overview:

Chance of picking up girls: 3 / 5

Picking up at daytime: 3 / 5

Picking up at nighttime: 3 / 5

Looks of girls: 4.5 / 5

Attitude of girls: 4 / 5

Nightlife in general: 3 / 5

Locals' English level: 2 / 5

Transportation: 3 / 5

Budget per day: US$59 - $200

Accommodation: US$24 - $100
Montenegrin Girls
While you're likely to see a wide range of appearances and looks when it comes to the girls here, there are some features that most of them share. The girls here are usually taller than most Balkan girls and are known for their long legs. They are also known to have feminine features and delicate looks.
While you can come across a few overweight girls in the country, most of the girls here are usually lean and you can expect to see stunners walking around everywhere you go in Montenegro.
The culture of Montenegro places a huge importance when it comes to looks and most of the girls feel the need to look pretty early in their life, due to the customs of the country. This is evident by the number of beauty services and salons that you can find everywhere in the country.
The girls here love fashion and know how to dress themselves up to highlight their best features. While during the day you can expect the girls to be wearing street or sports fashion, the girls take it to the next level when it comes to dressing up for the night. They like wearing sexy outfits and love showing their flawless skin.
When it comes to personality, most of the girls here usually have traditional values and prefer relationships where they are very loyal and devoted. Most of the girls are also very affectionate which means once a local girl likes you, she'll definitely let you know in many ways.
The fact that Montenegro is a richer country than the average Balkan state means you are less likely to find a girl who's just looking at your wallet. The girls here prefer men who are adventurous and have a personality.
However, the girls here also conform to traditional gender roles and are usually attracted to men who have leadership skills. The girls here, once they like a guy, are willing to do almost anything to keep their man happy. The older girls in the country usually prefer to be mothers and housewives even though they can work hard if required too.
Most of the girls, especially in the city, know how to speak decent English as they are usually taught English early on in school. Most of the younger girls are also smart as well as great caregivers. However, most of the girls here love expensive clothes, fancy cars, and jewelry so they usually prefer dating successful guys.
| | |
| --- | --- |
| | Looks of girls: 4.5 / 5 |
Most of the girls here are usually tall with long, slender legs and beautiful figures. They also have the advantage of winning the genetic lottery and most of them are usually naturally very beautiful.
What makes the women here truly stunning is their intense focus on doing things to make themselves look better, whether it is following an extreme skincare regime or finding the best clothes that truly complements their beautiful bodies.
When it comes to the looks, the women here can easily be considered among the most beautiful women on a global level and you can expect to find stunners everywhere you go
| | |
| --- | --- |
| | Attitude of girls: 4 / 5 |
When it comes to personality, the girls are usually polite, calm, and feminine. They prefer men who like taking the lead and who they can support. They know they are pretty and have a high opinion about their looks. While the younger girls in the cities are open to casual dating and sex, most of the older girls believe in a more traditional approach towards dating and are looking for long term relationships.
Where to Get Sex Now
It is easy to get sex online in Montenegro. You just need to find the best available girls. See Girls Online Here!
How to Pick Up Girls
When it comes to picking up girls in Montenegro, you have to remember that first impressions matter a lot in this country. If you want to pick up a lot of girls in the country, it is important to pay attention to your dressing sense and style as it implies value in the eyes of the girls here. They love fashion and prefer men who can have a solid first impression on them.
Secondly, you should remember to be as confident as you can be when it comes to the interactions you'll have with the girls here. Confidence is something that is truly attractive to the girls here as they usually have a more traditional view towards gender roles and expect their man to be a confident leader.
Lastly, it is important to keep the conversation fun and let her do most of the talking. If a girl likes you here, she would make an effort to participate in the discussion as much as possible so it is better to let her do most of the talking. However, this doesn't mean you shouldn't participate in the conversation at all but just that it's better to have a bit of intrigue about yourself here when it comes to finding success in dating.
| | |
| --- | --- |
| | Chance of picking up: 3.5 / 5 |
The chance of picking up girls here is pretty decent. There are stunners almost everywhere in the country here and you can definitely score with some of them if you play your cards right. You'll have the highest chances of picking up girls in urban areas like Podgorica and Tivat. Overall, you can expect to have some really good times in Montenegro.
Tips for Daytime
When it comes to gaming during the day, what you're wearing becomes more important than ever as it'll define the impression you'll have on the girl when you approach her. Other things that are important to maintaining a good first impression is to approach them directly with confidence and ask them out.
You might experience a bit of a language barrier as most girls do not know English well here but the language barrier is lower in urban areas than in the countryside. Also, the directness of your approach should also depend on the area you're in when you're gaming during the day. In some places, an indirect approach works much better than a direct one. For example, the old lost tourist rouse still works perfectly fine in most of the country.
It is also a good idea to focus on working out a bit and developing a vocal tonality that is masculine and grounded. Most of the girls here usually prefer men who are in good shape and are traditionally masculine. Your voice is another factor that plays a huge role in the first impression you have on the minds of the girls here.
Another tip that can help you when it comes to day gaming is to stop getting attached to every single approach that you do. Fortunately, there seems to be a countless supply of hot women in Montenegro and even if you strike out a few times, it is important to remember that there will always be opportunities in a country like this. Most people usually let a few bad interactions ruin their entire trip or vacation.
Lastly, remember to keep your logistics in order. While having proper logistics is more important during the night time, it is still important during the day to have a basic plan of where you want things to go.
| | |
| --- | --- |
| | Chance of picking up at daytime: 3 / 5 |
While the chances of picking up girls at the daytime aren't too high, you can still find somewhat decent results. It really depends on the place where you're gaming, for example, finding hot girls willing to go out with you on an instant-date isn't really possible outside the major urban hubs of the country.
Regardless, there are plenty of hot girls waiting for you to approach them and if you do things right, you will definitely find a lot of success when it comes to picking up girls during the day.
Best Places to Meet Girls
As mentioned above, not all spots in the country are filled with stunners but fortunately, here is a list of the best spots to meet the hottest girls in the country during the day:
Mall of Montenegro (Podgorica)
Sveti Stefan (Sveti Stefan)
San Giovanni Fortress (Kotor)
Tips for Nighttime
There are a lot of nightclubs and bars in the country to game in during the night. While both Kotor and Budva have a decent night scene, the best nightlife can be found in Podgorica where there are tons of nightclubs that are filled with hot girls.
The girls you'll meet in the night are more likely to be open to getting approached so it is a good idea to keep most of your approaches direct during the night to get the best results. Knowing how to dance can be an advantage when it comes to picking up girls at nightclubs but it is definitely not required.
It can be a bit tough to approach girls during the day as you'll be gaming girls in venues where there is a high level of stimulation going on and most of the girls don't know how to speak English well. This is where knowing a bit of their language can help. Body language is also massively important when it comes to picking up girls at nightclubs.
In case you do not prefer the loud noises of the nightclubs, you can try experimenting with a few pubs and bars where you feel comfortable would be advised.
| | |
| --- | --- |
| | Chance of hooking up at nighttime: 3 / 5 |
The chance of hooking up with a girl at nighttime is also pretty decent in Montenegro. However, if you do not have a solid body language, you might find it a bit hard to get some decent results during your nights here.
Fortunately, the girls you'll meet at nightclubs will most likely be open to casual dating and sex. They are also likely to be more open to meeting new people. If you can play your cards right, you can definitely find a lot of good results in Montenegro during the night.
Best Nightclubs to Meet Girls
Here are some of the best nightclubs and venues to meet hot girls in Montenegro:
Alpe Bar (Podgorica)
Buddha Bar (Podgorica)
Carine (Podgorica)
Greenwich (Podgorica)
Grand Cafe (Podgorica)
Soul II Soul (Podgorica)
Switch Cafe (Podgorica)
Top Hill (Budva)
Torine (Boreti)
Street bar (Podgorica)
| | |
| --- | --- |
| | Nightlife in general: 3 / 5 |
While the overall night, in general, is decent, the nightlife of Montenegro is best during the summer as most of the open bars and cafes are functional during the season. Also, a large number of tourists come to the country during the summer and most of the local young population are on a break from their university.
Most of the nightlife in Montenegro is situated in Podgorica which has not only the best nightlife in the country but one of the best nightlife in all of Europe. Kotor and Budva are other cities in Montenegro that are known for their nightlife.
Mature Ladies and Cougars
While there is a chance of meeting mature ladies, most of the local ladies here usually prefer a more traditional approach towards dating and hence most of them are usually married by the time they hit their 30s.
Regions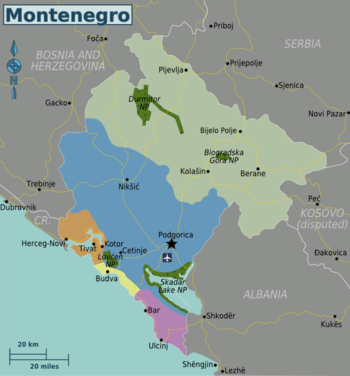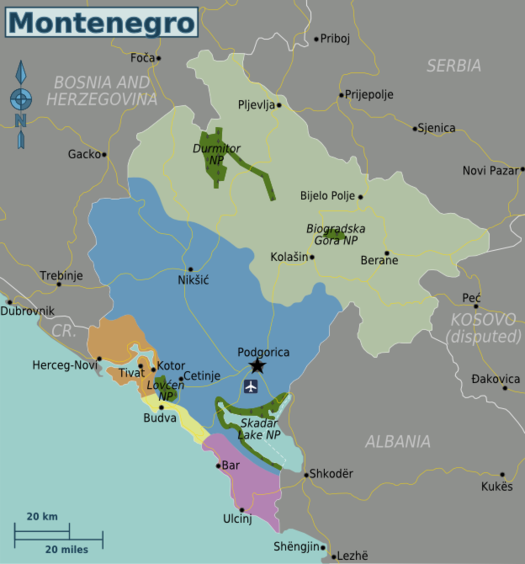 Bay of Kotor
This bay is considered one of the most beautiful bays of Europe, and features the UNESCO World Heritage Sites of Perast and Kotor, as well as other typically Mediterranean towns.
Budva Riviera
The main tourist drag with nice beaches, historic villages and wild nightlife.
Central Montenegro
This is the heart of the country with the state capital Podgorica, the historical capital Cetinje and the industrial center Nikšić. It is also home to natural beauty, such as Skadar Lake National Park and Lovćen National Park.
Montenegrin South Coast
The Adriatic coast around the towns of Bar and Ulcinj, the latter one having an Albanian majority.
North Montenegrin Mountains
This region is entirely situated within the Dinaric Alps, famous for its untouched wild nature. A must is the Tara River Canyon in Durmitor National Park. Žabljak is Montenegro's winter sports capital.
Cities
Dating
When visiting Montenegro, dating can be a fun and interesting experience. AdultFriendFinder.com, lets you meet local members in Montenegro and get to know them on a personal basis before you arrive. It just takes a few minutes, you simply create an account, upload a few images and tell a little about yourself. Since time in your destination may be limited, get to know each other's desires beforehand so when you do meet, you can skip the awkward introductions and start having some real fun.
Top Dating Tips
The most important dating tip in Montenegro is that you should definitely know how to lead to get some great results here. The girls here are usually looking for a man who can take care of their emotions and provide a strong foundation for them. Having a strong masculine vibe will definitely help your dating here.
Confidence is the most important characteristic that girls here are looking for in a man. Other things like status, money, and even looks are secondary to confidence. While the girls here definitely care about how you dress up, they definitely care more about how you talk and carry yourself.
Having a good sense of humor is also very important when it comes to the girls here. They love talking to guys who can keep things playful. A sense of humor also helps to make the girl comfortable throughout the entire process. However, you should also note that a sense of humor doesn't necessarily mean telling jokes but more as a part of your personality and who you are.
You should also remember it is very important to have a sense of freedom when it comes to girls. If it seems like you do have any other choices, most girls will not find you very attractive as they're looking for a high-value guy who has lots of girls around him all the time. Fortunately, it is not that hard to have an abundance mindset in Montenegro where stunners are almost everywhere!
Relationships and Love
Thousands of single women in Montenegro are searching for a partner and potential future husband. Check out an ultimate guide for dating local girls, relationships, love and marriage: Relationship & Love Guide to Montenegro
Online Dating
Online dating can provide some pretty excellent results in Montenegro and you actually have a pretty decent advantage in online dating just by being a foreigner. Here are some of the dating platforms that work in Montenegro:
Tinder - Tinder is the biggest dating platform over the world and naturally, there are tons of girls from Montenegro on the platform too. Tinder is definitely worth trying out in Montenegro but be advised that you might match up with a lot more tourists than the local girls here.

Badoo - Badoo is another dating platform that is somewhat popular in Montenegro and you can find some pretty decent local girls on the platform. It works much better in urban areas like Budva where more girls are likely to be using dating apps.
Happn 
- This is a dating app that is meant for travel. Instead of matching up with girls in a given geographical location, Happn matches you up with girls who might have crossed paths with you during the day. It can definitely provide some interesting results.
Live Cam Dating
Are you looking for virtual satisfaction in Montenegro? Chat with live web camera models and find the best girl for your needs. There are thousands of girls online 24/7 waiting for you: Live Cam Girls
What Kind of Guys Have the Best Chances
Guys who know how to be direct will definitely have the best chance when it comes to getting laid in Montenegro. The girls here prefer men who are direct and are very attracted to men who fulfill the traditional male stereotype.
Other than being direct, guys who can dress well or at least have a sense of style will also fare much better when it comes to the girls here. Most of the girls here will judge you based on your appearance and your dressing style as that is one of the easiest ways of estimating your worth so it is a good idea to wear the best clothes you can to maximize the chances of getting laid here.
Lastly, guys who are ambitious, successful or just self-reliant, will have the best chances when it comes to the ladies here. It is not really important for you to have a lot of money as most of the girls here are not gold diggers but it is still important for you to have goals and ambitions for your future as most of the girls here think of it as something they can invest in.
Lastly, guys with confident body language will definitely always have an edge when it comes to the girls here in Montenegro as that is one of the best demonstrations of the core values that these girls are attracted to.
Risks while Gaming
Overall, the country is pretty safe and you shouldn't worry about facing any risk while gaming here. Of course, it is important to practice some precautions when you're out during the night or the day. Also, it is a good idea to prevent yourself from doing something stupid like following a girl you barely know into a shady area or part of the town as that can lead to unfortunate incidences. However, overall, the country is pretty safe and there are minimal risks while gaming here.
How to Get Laid as Soon as Possible
The best way to get laid is to game during the night mostly and hit up the clubs which are frequented by the younger girls who are more into the casual sex and know English better. These clubs are usually found in Podgorica.
Using online dating can also help you get better results and if you have a decent online game, you can get laid pretty quickly. In addition, as a tourist, you'll have quite an advantage when it comes to online dating.
Lastly, being confident in your own skin and having a masculine vibe will definitely help you find the fastest and the most high-quality results.
Gold Diggers and Sugar Babies
Montenegro is full of hot girls looking for a mutually beneficial hookup with travellers. There are lots of girls who don't charge by the hour but who will do anything for a guy who is willing to help them pay their bills. If you are looking for a more personal and less transactional alternative to escorts, a good place to find these sexy open-minded girls in Montenegro is SecretBenefits.
BDSM
Looking for a new bondage partner while traveling? ALT.com is a community of like-minded people with members around the globe. Our members are interested in submissive sex, power exchange, locating persons for new slave roles, erotic BDSM, bondage & fetish sex, as well as live sex dates. Find thousands of play partners for whatever your fetish may be; bondage, foot, cockold, spankings, role-play, electric or water play, sadism and masochism all while traveling in Montenegro.
Swinging and Naturism
There are some great naturist destinations in Montenegro which include the Ada Bojana Naturist Beach, Crvena Glavica, Camp Full Monte and others.
As for swinging clubs, you might be able to find some clubs here and there in different cities but there is not really a huge swinging scene in Montenegro so definitely keep your expectations low.
Costs of Living
The cost of living in Montenegro is definitely affordable for most people. Factoring in the quality of the services provided, Montenegro definitely provides great value for money when it comes to a vacation. More details about the costs of living in Montenegro are provided below under different sections.
| | |
| --- | --- |
| | Single traveler's budget per day: US$59 - $200 |
The average cost for a single traveler in Montenegro is $59. You can always opt for a better quality trip on a bigger budget but for most people, going over $200 shouldn't be required.
| | |
| --- | --- |
| | Accommodation per night: US$24 - $100 |
The cost of accommodation in Montenegro is really cheap and you can find accommodation for as low as $24 per night. Of course, there is a wide range of hotels, hostels, and other accommodation where you might have to pay a bit more but you can get a really premium hotel room at $100 per night easily.
| | |
| --- | --- |
| | Beer in a grocery shop: US$01 - $02 |
The cost of beer in a grocery shop shouldn't exceed $2 per bottle in Montenegro. You can expect some brands to be a bit more expensive but on average the cost of beer is $1 to $2 per bottle in the country.
| | |
| --- | --- |
| | Beer in a bar or restaurant: US$02 - $05 |
The cost of beer in a bar or restaurant should be around $2 in most bars and restaurants in Montenegro. Of course, some bars may charge a premium price for providing a higher-quality ambiance.
| | |
| --- | --- |
| | Meal in a restaurant: US$03 - $27 |
The cost of a proper multi-course meal at a mid-range restaurant should be around $27 and it should be enough for two people. A meal at a local street restaurant should cost you around $6 while fast food usually sells for $4 for the equivalent of a meal.
Accommodation
Finding accommodation in Montenegro shouldn't be too much of a problem as there is a wide range of options available when it comes to finding a place to stay in the country. Not only will you find lots of hotels, ranging from basic to premium, but also a lot of hostels and other accommodation services like Airbnb.
The cost of accommodation in Montenegro is also generally very cheap but it largely depends on the type and range of accommodation you pick to stay in.
How to Get There and Move Around
Getting in Montenegro and moving around is pretty easy as there are multiple modes of transportation available. More details are provided below.
By air:
The main international airport in Montenegro is Podgorica Airport which is located 12 km away from Podgorica. The primary airline that serves the airport is Montenegro Airlines, the country's national airline carrier. Other important airports in Montenegro include the Tivat Airport, situated near the city of Tivat. The Dubrovnik Airport, located in Croatia is also just a half-hour drive away from the country.
The main city of Podgorica is connected to the airport by a minibus service but there is a significant lack of transportation options to reach the coastal areas of the country. However, you can find a number of taxis that are more than willing to take you there.
By bus:
Montenegro is bordered by Bosnia and Herzegovina, Serbia, Kosovo, Albania, and Croatia. It is possible to enter the country from all its neighboring countries. The prices of tickets are very cheap and shouldn't go over 25 euros. You can also find more seasonal lines during the summers.
Regarding moving around the country, there are buses running frequently throughout the country. While most local buses do not have air conditioning, they are still one of the easiest ways of getting around when you're in Montenegro. The cost of bus travel largely depends on the destination.
By car:
The country can be accessed from Bosnia and Herzegovina, Serbia, Albania, and Croatia by car as the European routes E65, E80, and others run through the country. However, entering the country from Albania might take a long time.
Also, it is important to have an internationally recognized insurance certificate when you're entering the country by road.
As for moving around, Montenegro lacks a proper road infrastructure and the roads here are not up to the general European standard. The roads in the country are usually curvy and hilly and it might not be possible to travel fast on these roads. It is also compulsory to wear seat belts and have your headlights on at all times, even during the day.
The local drivers are not really the most friendly drivers in the world and you might have some problems driving around the country if you're not used to driving in hostile conditions.
By train:
There are a few trains that run into the country from Belgrade. The trains go through a number of cities and ultimately reach Bar, which is the main seaport of the country.
Traveling inside the country is one of the most economical ways of travelling through the country and some routes are also known to be very scenic.
By boat:
Bar is connected to Bari and Ancona in Italy by ferry lines which are pretty regular and operate almost throughout the year.
Visas:
Nationals from certain countries like Andorra, Argentina, Brazil, Croatia, Denmark, France, and others are allowed to enter the country without a visa and can stay in the country up to 90 days. The visa requirements for Montenegro depend on your country of origin but they usually have very fair visa regulations so getting in the country shouldn't be too much of a problem for most tourists.
Digital Nomads and Remote Work
Montenegro can be a decent place to live in as a digital nomad. The internet speed is fast, the climate is pleasant, and the country is generally considered to be pretty safe. The cost of living is also pretty affordable as a digital nomad.
However, some of the negative points about living in Montenegro include a language barrier, bad traffic safety and the country's tendency to not be so liberal when it comes to interacting with foreigners and LGBT segments of the population.
Internet and Mobile Operators
The country is well connected when it comes to the internet and mobile connectivity. Here are some of the top internet and mobile operators in the country today:
Gambling and Casinos
If you're looking to gamble in Montenegro, there are a few casinos where you can go. While it is definitely no Vegas, the casinos here can offer some pretty great night outs. Here are some of the best casinos in the country:
Sveti Stefan Casino (Sveti Stefan)
Maestral Casino (Sveti Stefan)
Queen of Montenegro (Budva)
Also, even though these casinos are not super high quality, the Montenegro Casino was featured in the James Bond movie, "Casino Royale."
Weed and Drugs
Weed and marijuana are not legal in the country and while you can find weed dealers in the country, it would be advised to be very careful when it comes to buying weed in a foreign place.
The same applies to other drugs as well but it is even harder to find dealers for hard drugs in Montenegro and it is advised to avoid buying drugs in the country, even if you can find a dealer unless you actually know them.
Health, Fitness, Gyms and Massage
Montenegro has a lot of quality healthcare options if you require treatment or medical care during your time here. Here are some of the best hospitals in the country today:
Predstavništvo LIV Hospital Crna Gora (Podgorica)
Bolmica (Stari Bar)
EsteWorld Montenegro kancelarija za Balkan (Podgorica)
Risan Hospital (Risan)
If you like to work out during vacations too and maintain your fitness regime, there are also a few decent gyms spread throughout the country that can help you. Here are some of the best gyms in Montenegro:
Soko Gym (Podgorica)
Positive Fitness Club (Budva)
CORE Fitness Tivat (Tivat)
Maximus - Gym and Fitness (Bar)
Golden Gym (Berane)
In case you're looking for massage or relaxation services, you can find a lot of decent quality spas in Montenegro. Some of the best spas in the country include the following:
Pura Vida Day Spa (Tivat)
Palmon Bay Hotel and Spa (Herceg Novi)
Bianca Resort and Spa (Kolasin)
Kamalaya Spa Budva (Budva)
STDs and HIV
The rate of HIV is very low in Montenegro (0.1%) so you shouldn't be worried about STDs or HIV when you're in the country. However, for your health's sake, it is advised to use protection anytime you have sex with a girl you don't know.
While the chances of contracting HIV is still pretty low, it is always better to use protection in order to prevent any unwanted consequences.
Stay Safe
Montenegro is generally a safe country. There is, like all countries in the world, criminal activities, but police forces are generally fast in their duties.
See Also