Connecticut
Connecticut dating guide advises how to pick up Connecticotian girls and how to hookup with local women in Connecticut. Travel, enjoy and have fun with hot single girls and you might even meet the love of your life. Read more on how to date Connecticuter women, where to find sex and how to get laid in Connecticut, United States of America.
Situated in the southernmost state in the New England region of the northeastern part of the United States of America, Connecticut is bordered by Long Island Sound, New York, Massachusetts, and Rhode Island. The most populous city in Connecticut is Bridgeport and the state's capital is Hartford. Of all the states in the U.S., Connecticut is the fourth most densely populated, the 29th most populous, and in terms of area, it's the third smallest state by area. Connecticut is fondly referred to as the "Nutmeg State" and its major cities and towns in terms of population are Waterbury, Stamford, New Haven, Bridgeport, Bristol, Greenwich, New Britain, Danbury, and Norwalk.
Connecticut Top 10 Overview:

Chance of picking up girls: 3.6 / 5

Picking up at daytime: 3.5 / 5

Picking up at nighttime: 3.7 / 5

Looks of girls: 3.9 / 5

Attitude of girls: 3.7 / 5

Nightlife in general: 3.8 / 5

Locals' English level: 5 / 5

Transportation: 3.8 / 5

Budget per day: US$150 - $600

Accommodation: US$70 - $500
Connecticuter Girls
People who live in Connecticut are known as Nutmeggers and there are lots of interesting things you should know about them, especially the beautiful ladies who reside in the state. Nutmeggers generally have a lot of charming and enticing features and this is not just because they're nature explorers who can help you find secret water holes in the woods or the best lakes but, they're extremely community-minded. If you date a girl from Connecticut, it won't be long before you will make more friends because she would help you meet a lot of people. Generally, Nutmeggers are people who love making new friends, meeting new people, and you will easily notice this with the way they welcome people with their arms wide open. Once you start dating a girl from Connecticut, you've already become a part of her family. But the issue is, do you really fancy family gatherings? Well, it's better you do because you'll get more of it. It's a known fact to many that parents in Connecticut are well-known for checking in, hovering, and skilled networking. So, if you really want to date a girl from Connecticut, it's almost impossible for you to avoid seeing her parents because they would love to know almost everything about you! And, that's if they've not already found out everything about you beforehand through their researches. Connecticut girls are creature fanatics. Most of them grew up with jellyfish, crabs, turkey, deer, and many others. In fact, there are some girls who grew up around farm animals. So now, you see why they adore creatures. Another interesting thing about Connecticut girls is that they appreciate the little things. Whether it's a local event or a small gathering, they'd really love it. They love fresh food too. You're also likely to meet girls who are sport fanatics in Connecticut and you won't be able to escape some sports debates. Have you heard of "Connecticuddles?" Well, prepare for them. This is a free hug that's invented by Nutmeggers and if you're dating a girl from Connecticut, you'll get to receive more of these because Nutmeggers love sharing body warmth.
| | |
| --- | --- |
| | Looks of girls: 3.9 / 5 |
If you've not been to Connecticut, then you're really missing out on an opportunity to roll with girls with beauty and brain and, the state is packed with gorgeous White girls, Blacks, American Indians, Native Hawaiians, and Asians.
| | |
| --- | --- |
| | Attitude of girls: 3.7 / 5 |
Nutmeggers don't argue, they debate - this already shows how intelligent and versed they are. They're also very lovely and they make new friends easily.
Where to Get Sex Now
It is easy to get sex online in Connecticut. You just need to find the best available girls. See Girls Online Here!
How to Pick Up Girls
| | |
| --- | --- |
| | Chance of picking up: 3.6 / 5 |
Owing to the fact that Connecticut girls are always open to meeting new people, you should find it easy to pick up girls in the state. This doesn't mean picking up girls in Connecticut is super easy and have no fear, it's not a difficult task as well, you just need to put a few things into place. Foremost, you need to have a very good approach, secondly, be nice, and thirdly, don't be a freak. Actually, Connecticut girls are always ready to be friends with you and you might even be lucky to get to be included as a part of their family but still, you will need a very good communication skill to hook up with a girl in Connecticut during the day or at nighttime.
Tips for Daytime
| | |
| --- | --- |
| | Chance of picking up at daytime: 3.5 / 5 |
There's no much difficulty with picking up girls in Connecticut during the day. For your day gaming in Connecticut, you don't need too much or some definite places to go, just go out there and be nice to the people around you. One of the best places for your day gaming in Connecticut is the beach. Actually, the state has lots of nice beaches like Calf Pasture Beach in Norwalk, Hammonasset Beach State Park in Madison, Harvey's Beach in Old Saybrook, Hole-in-the-Wall in the town of East Lyme, Ocean Beach Park, and the Town Beach. These beaches receive lots of crowd during the day, especially on weekends. While there are some that might be noisy, there are others that are quite serene and offer a very peaceful environment where you can effect your day gaming without stress or any bickering. More so, you necessarily don't have to limit your day gaming to the beach, you can extend your day gaming to other places like restaurants, coffee shops, and shopping malls.
Best Places to Meet Girls
Connecticut offers lots of opportunities to meet new people, mingle, and have fun. But, it's up to you to go out and communicate with the people around you. Connecticut is a state with world-class higher institutions of learning and it's reputed for its dynamic arts scene and plenty of shops. Whether you want to meet young or older natives, tourists, or sexy college girls, Connecticut is a nice place to be because it has lots of areas that cater to people with a wide variety of interests. With the presence of the prestigious Yale University, the state offers an opportunity to meet and hook up with beautiful, young, vibrant, intelligent college girls. And if you want to meet tourist girls, you can just try out any of its many fine beaches. If you want to meet a creative girl who's an artist by heart, you can check out any of the state's creative arts workshop. Parks are other places where you can meet charming girls in Connecticut and you can also try out shopping districts, bookstores, and coffeehouses.
Tips for Nighttime
| | |
| --- | --- |
| | Chance of hooking up at nighttime: 3.7 / 5 |
The nightlife atmosphere in Connecticut is fun-filled. From cabarets to cafes and fine restaurants to eclectic dance clubs, Connecticut has a lot of events and activities that will help you have a pleasurable night out. Live music is banging at some of the top music venues in the state and you can visit a karaoke bar if you prefer to create your own tunes. It's all about the fun. New Haven is home to Yale University and it is recognized to be one of the biggest college party towns in the nation at large. The city also has a lot of awesome venues like the upstart College Street Music Hall and the legendary Toad's Place which offer interesting live music and if you want to enjoy jazz music, your best option is the Firehouse 12. For clubbing, hit up Crown Street, especially on weekends, and you'll have no regrets. Hartford is another city with a great nightlife. Its downtown club district, particularly around Allyn Street is where you'll find some of the best bars and clubs in the city. One of the best venues in the city where you can enjoy awesome jazz and blues music is the Black-Eyed Sally's. In Bridgeport, Fairfield Avenue is home to nice restaurants, clubs, and bars where you can enjoy dining and listening to live local music. New London's nightlife is a bit concentrated at Bank Street where you will find notable venues like the Garde Theater, the Telegraph, the Brass Rail, and the Oasis. You can also spend your night out at the casino. The two popular casinos in Connecticut; Mohegan Sun and Foxwoods, have different bars and clubs with a lot of entertainment to offer.
Best Nightclubs to Meet Girls
Connecticut has a lot of nice bars and nightclubs where you'll have fun like never before. Whether you seek a spot where you can enjoy delicious food and spirits, dance like never before or enjoy beautiful tunes of live music, Connecticut does have it all in good quality and quantity! You love clubbing? Here are your best options:
Club Barcelona in Harford
The Brickyard Cafe in Harford
Sully's Pub in Harford
Club Blu in Harford
Outer Space Ballroom in Hamden
Hula Hank's in New Haven
Alchemy Nightclub in New Haven
Van Dome in New Haven
Toad's Place in New Haven
Bar in New Haven
Ballaro in Norwich
Sports Page in Bridgeport
Tuxedo Junction in Danbury
The Loft in South Norwalk
| | |
| --- | --- |
| | Nightlife in general: 3.8 / 5 |

The nightlife atmosphere in Connecticut is fun-filled and furnished with diverse options of venues where you can enjoy passing your night.
Mature Ladies and Cougars
There's a great chance of hooking up with cougars and mature ladies in Connecticut. Nutmeggers generally are known for their friendliness and the cougars, at times, can also be very lovely and accommodating. Once they find you attractive and sweet, you're good to go. However, where to meet cougars in Connecticut can make your quest a very daunting one. Be that as it may, you'll meet a lot of cougars in Connecticut on the beach. And the good thing is, Connecticut has some beaches that are very quiet and peaceful, these kinds are where you'll meet sophisticated and mature Connecticut ladies. You can just come and keep the company of the beautiful cougars here. You can also meet cougars in Connecticut at the bars and clubs. Once you spot a cougar sitting alone, you can just walk up to her and offer to be her company for the night. Even if she's seated amidst her friends, approach her with enough confidence, tell her she's beautiful and you would love to buy her a drink. And you're good!
Regions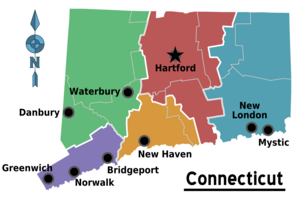 Litchfield Hills
Northwest Connecticut. Here you will find the less dense areas with colorful leaves in the autumn. There are some smaller cities such as Torrington, Danbury, and New Milford.
Greater New Haven
South central Connecticut. Home to Yale University, and numerous museums and theaters. It includes cities such as New Haven and Milford.
Connecticut River Valley
From North central Connecticut to the coast. Home to New England's 2nd most populous region, the Knowledge Corridor, featuring Connecticut's state capital Hartford and many historic sights.
Mystic-Eastern
New London, Tolland and Windham Counties in eastern Connecticut. A good place to get a view of the Long Island Sound, with beaches, and the famous Mystic Seaport/Aquarium. Has two of the biggest casinos in the world. Includes cities such as New London, Mystic, Uncasville, and Ledyard.
Cities
Dating
When visiting Connecticut, dating can be a fun and interesting experience. AdultFriendFinder.com, lets you meet local members in Connecticut and get to know them on a personal basis before you arrive. It just takes a few minutes, you simply create an account, upload a few images and tell a little about yourself. Since time in your destination may be limited, get to know each other's desires beforehand so when you do meet, you can skip the awkward introductions and start having some real fun.
Top Dating Tips
It's a natural thing to be bothered about the perfect place to take a girl to for a date. But if you're in Connecticut, this, however, should be the least of all your worries because of the plentiful of things to see and do in the state. Starting with, Connecticut has lots of romantic and naturally beautiful vineyards where you can go enjoy a wine tasting. One of the best is Miranda Vineyard but mind you, there are several others. Look within your location unless you want to add a little bit of road trip to the plan, which is actually not a bad idea. If you're on a date with someone who loves history, you can decide to spend your night in a historic inn and thankfully, New England town has a lot of nice ones. Do you love gambling? If yes, hit up Foxwoods Resort Casino. The casino also offers other activities like fine dining, swimming, shopping, and other fun things to do so basically, it's not just limited to gambling.
Relationships and Love
Thousands of single women in Connecticut are searching for a partner and potential future husband. Check out an ultimate guide for dating local girls, relationships, love and marriage: Relationship & Love Guide to Connecticut
Online Dating
Connecticut is a state teeming with intelligent, young ladies and confident older ladies. Regardless of when you visit the state, you'll surely meet a lot of beautiful ladies. And if you can't go out to meet them physically during the day, signing up on online dating sites will help you get connected to many easily.
Coffee Meets Bagel: Quality is the principal feature of this dating website - quality people and quality connections. On this dating site, matches are referred to as bagels and you are given a circumscribed number each day, it may be close to 21 for men and for women, it's determined by the number of men who recently "liked" their profiles. It was the three sisters; the founders, that created this approach so as to save singles time and make the dating app more women-friendly.
Happn: There is something special about Happn, it has a mysterious way of connecting you with someone special you had once met before with its mixture of online dating with offline dating. This dating app gets you connected with people that you have crossed paths with in reality, it tells you how many times it has occurred and leave you to take the necessary action.
Hinge: This dating site is guided by authenticity and it is inspired by love as it is committed to providing long-term relationships and monogamous commitments to those who seek them. One of the specialties of this dating website is that it allows people to comment on other pictures which is a cool way of breaking the ice.
Tinder: Tinder seems to be the most largely used online dating website in Connecticut. When it comes to finding a quick fling, virtually everyone sees Tinder as a last resort. Guys who want to meet beautiful girls in Connecticut on this dating site must be very attractive or else they will have a very tough time getting hooked up with a girl because there are lots of Connecticut girls that are getting spammed non-stop. Make sure you upload a very cute and nice photo of yours that will help you stand out from others.
Live Cam Dating
Are you looking for virtual satisfaction in Connecticut? Chat with live web camera models and find the best girl for your needs. There are thousands of girls online 24/7 waiting for you: Live Cam Girls
What Kind of Guys Have the Best Chances
Money is a tool that will help you in your gaming and you also need to be very nice and easy. Connecticut women may appear a bit hard at first but by the time you start rolling together, you'll really enjoy dating them.
Risks while Gaming
Most Nutmeggers are known to be versed debaters so, you might want to avoid getting into a very heated conversation if you know you can flare up quickly.
How to Get Laid as Soon as Possible
In a college town like New Haven, you might meet young college girls at some clubs who won't mind having a one-night stand with you. But still, you can't really bank on that being a straight method to get laid as quick as possible and this is why online dating sites may be your fastest option to get laid in Connecticut.
Gold Diggers and Sugar Babies
Connecticut is full of hot girls looking for a mutually beneficial hookup with travellers. There are lots of girls who don't charge by the hour but who will do anything for a guy who is willing to help them pay their bills. If you are looking for a more personal and less transactional alternative to escorts, a good place to find these sexy open-minded girls in Connecticut is SecretBenefits.
BDSM
Looking for a new bondage partner while traveling? ALT.com is a community of like-minded people with members around the globe. Our members are interested in submissive sex, power exchange, locating persons for new slave roles, erotic BDSM, bondage & fetish sex, as well as live sex dates. Find thousands of play partners for whatever your fetish may be; bondage, foot, cockold, spankings, role-play, electric or water play, sadism and masochism all while traveling in Connecticut.
Swinging and Naturism
Connecticut has a handful of swinger clubs like Leisure Time Club in Hartford, Club4Play Parties in Windsor Locks, and DISCREET Lifestyle Club in Hartford.
Costs of Living
Connecticut is one of the most expensive states in the U.S.
| | |
| --- | --- |
| | Single traveler's budget per day: US$150 - $600 |
The cost of living in Connecticut is a bit high but actually, not everything is costly in the state and this is why a budget spending of about $150 - $600 should be okay for you as a solo traveler.
| | |
| --- | --- |
| | Accommodation per night: US$70 - $500 |
The cost of renting an apartment in Connecticut is not really expensive and there are lots of nice hotels in the state.
| | |
| --- | --- |
| | Beer in a grocery shop: US$2 - $4 |
A beer in a grocery shop is likely to be sold for about $2 - $4.
| | |
| --- | --- |
| | Beer in a bar or restaurant: US$4 - $15 |
A beer in a bar or restaurant is likely to be sold for about $4 - $15 depending on how sophisticated the venue is.
| | |
| --- | --- |
| | Meal in a restaurant: US$7 - $70 |
In an expensive restaurant, a meal could be sold for about $40 - $70 but you can spend lesser if you eat in an inexpensive restaurant where a meal costs about $12 - $25.
Accommodation
The cost of renting an apartment in Connecticut is not really expensive. Getting a bedroom apartment in Bridgeport may cost about $1,200 and a two-bedroom apartment may cost almost $2,000. In Hartford, a bedroom apartment is around $1,300 but in New Haven, you may need almost $2,000 before you can get a nice bedroom apartment in the city center. Asides the option of renting an apartment, you can also lodge in any of the nice hotels in the state.
How to Get There and Move Around
By air: The largest airport in the state is Bradley International Airport (BDL) in Windsor Locks. Other airports serving the state are:
Tweed New Haven Regional Airport
Waterbury-Oxford Airport
Sikorsky Mem'l Airport
Meriden Airport
Danbury Municipal Airport
By bus: Connecticut Transit (CTTRANSIT) offers bus transport service in some parts of the state but there's a free electric trolley system serving New Haven and Bridgeport does have its own service.
By car: You can always take Uber or rent a car.
By train: Amtrak provides frequent service to many destinations in Connecticut. You can also get around the state by rail. It's very convenient and decent.
By boat: The Bridgeport-Port Jefferson Ferry provides transportation to cars and passengers between Bridgeport, Long Island, and Port Jefferson. Cross Sound Ferry also carries cars and passengers and it links Orient Point and New London.
Visas: If you want to visit Connecticut for a period of 90 days or less without a need for visa, you may apply for the Visa Waiver Program. However, there are certain criteria you must meet to travel with this opportunity. One of them is to be a citizen or National of a VWP-participant country. Currently, there are just 38 countries worldwide that are participants of the Visa Waiver Program. Another option for you to travel to Connecticut as a non-US citizen is to obtain a visitor or tourist visa.
Digital Nomads and Remote Work
You might come across a few remote works in Connecticut. Mingle with the knowledgeable locals around, they might have a great hint for you.
Internet and Mobile Operators
There are 13 internet options in Connecticut and the best internet providers in the state are:
Xfinity
Frontier
Cox Communications
Viasat
HughesNet
Optimum
Consolidated
Thames Valley
Gambling and Casinos
There are 19 casinos in Connecticut and the biggest one is Mohegan Sun. It has 377 table games and 5532 gaming machines.
Weed and Drugs
It is illegal to consume marijuana for recreational use. Howbeit, marijuana can be used for medical reasons and possessing little amount of it is decriminalized.
Health, Fitness, Gyms and Massage
With the beautiful and gorgeous setting of Connecticut, the enjoyable nightlife, and friendliness of Nutmeggers, you should further complement your stay in the state by keeping fit. Connecticut has high-end gyms and the regular ones where you can engage in regular workouts. And, the state is also furnished with nice spas where you can get a very relaxing massage.
STDs and HIV
In the year 2016, over 10,000 people were recorded to be living with HIV in Connecticut. The rate of STDs is also high in the state.
Stay Safe
Although Connecticut is well known for its affluence, and is the third wealthiest state in America, there are sections in the state's largest cities (especially Bridgeport, New Haven and Waterbury) that have dangerous potential, especially at night. Common sense will more than likely keep you far from any signs of trouble in Connecticut, as the state is widely considered to be one of the safest in the country.
See Also