Rhode Island
Rhode Island dating guide advises how to pick up Rhodean girls and how to hookup with local women in Rhode Island. Travel, enjoy and have fun with hot single girls and you might even meet the love of your life. Read more on how to date Rhode Islander women, where to find sex and how to get laid in Rhode Island, United States of America.
Situated in the New England region of the United States of America, Rhode Island is bordered by the Atlantic Ocean, Massachusetts, New York, and Connecticut. Of all the states in the United States of America, Rhode Island is the second-most densely populated, seventh least populous, and in terms of area, it is the smallest. The most populous city in the state is Providence and it's as well the state's capital.
Rhode Island Top 10 Overview:

Chance of picking up girls: 3.5 / 5

Picking up at daytime: 3.4 / 5

Picking up at nighttime: 3.6 / 5

Looks of girls: 4 / 5

Attitude of girls: 3.7 / 5

Nightlife in general: 3.7 / 5

Locals' English level: 5 / 5

Transportation: 3.5 / 5

Budget per day: US$100 - $800

Accommodation: US$30 - $700
Rhode Islander Girls
Girls from Rhode Island are unique in their own ways. However, there are a couple of things you should know about girls from Rhode Island if you plan to date one or be a casual friend. Foremost, a large number of girls in Rhode Island love to spend a lot of time on the beach. The state is home to about 100 beaches and there's a high possibility that your Rhode Islander sweetheart would be living very close to a beach and this is why she won't always be far to the beach to pick up seashells or get baked in the summer sun. Secondly, a large number of girls in Rhode Island love taking Autocrat coffee syrup and you'll always get to find this in their fridge. They'd mix it with milk or perhaps, prepare a coffee cabinet with milk, coffee syrup, and coffee ice cream. Thirdly, you must not be intimidated by a large extended family if you plan to date a Rhode Islander girl. In fact, if you're going out with your Rhode Islander sweetheart, there's a high chance that will she keep bumping into her cousins, uncles, aunts, friends of friends, friends of the family, and many others and you just have to learn to get mixed and be friendly because she would really appreciate that. Fourthly, if you're dating a Rhode Islander, especially a girl that grew up in Cranston, make sure you don't make the mistake of taking her to a bad Italian restaurant. There are lots of nice Italian restaurants in the state and if you're not sure of a perfect place to go, let her be the one to choose because she knows where to get a very good Italian food. If you get hooked up with a lady in Rhode Island and you do not plan to live in the state, get ready for frequent summer visits and, she would need your presence during cool events like Water Fire, Newport Jazz Festival, and Newport Folk Festival. Dating a girl from Rhode Island also means you'll have to embrace the state's food culture. Rhode Island is home to a lot of unique foods and you'll have to be ready to visit spots like Matunuck Oyster Bar, Aunt Carries, and Iggy's to enjoy clear chowder and clam cakes, calamari, steamers, lobster, oysters, and quahogs - the list of fresh seafood to eat is endless. Another thing you should know about Rhode Islander girl is that they're very proud of their beloved Ocean State. So, you should not make jest or ridicule her state because that would actually piss her off. If your Rhode Islander sweetheart is from Providence or Warwick, there's a high chance that she would have an accent. Thus, it would be lovely if you appreciate her beautiful accent.
| | |
| --- | --- |
| | Looks of girls: 4 / 5 |
There's a large number of beautiful White girls in Rhode Island and you'll also get to come across a few Asians, Blacks, and Native Hawaiians.
| | |
| --- | --- |
| | Attitude of girls: 3.7 / 5 |
Girls from Rhode Islander are unique in their own ways. They're lovely, friendly, and adore staying close to the ocean.
Where to Get Sex Now
It is easy to get sex online in Rhode Island. You just need to find the best available girls. See Girls Online Here!
How to Pick Up Girls
| | |
| --- | --- |
| | Chance of picking up: 3.5 / 5 |
There's a great chance of picking up girls in Rhode Island. The state does offer enough social activities and this is why a lot of hooking up does happen in the state. From flings and casual dates to romantic relationships, the festivals, fairs, and venues in the state give you the opportunity to meet and hook up with Rhode Islander girls. Whether you want to pick up girls in Rhode Island during the day or at nighttime, there's a great chance, all you just have to do is to go out there and get involved at whatever is going on during the day. If you're taking a stroll and you come across a girl you like, having a nice way of introducing yourself and looking very attractive will speed up your chances of getting hooked up.
Tips for Daytime
| | |
| --- | --- |
| | Chance of picking up at daytime: 3.4 / 5 |
There's a great chance of picking up girls in Rhode Island, however, the chances of picking up girls in Rhode Island during the day may vary based on the particular city you're in. Cities like Newport, Providence, and Warwick are places where you can easily meet girls in Rhode Island during the day because of their huge population and a large number of college kids who want to get to meet and socialize with new people. Other cities in Rhode Island where you can easily meet Rhode Islander girls during the day are East Providence, Valley Falls, Tiverton, Westerly, and Central Falls. However, regardless of the city you're in, you can meet and hook up with Rhode Islander girls at restaurants and coffee shops because they're often crowded with a huge number of beautiful ladies.
Best Places to Meet Girls
There's an array of shops, stores, restaurants, gyms, shopping malls, and higher institutions of learning in Rhode Island and these are great places where you can meet girls. There are as well lots of nice parks in the state and they are often crowded with lots of beautiful younger and older girls. To include, the beaches offer a lot of opportunities to get hooked up as they receive a massive crowd from time to time, especially on weekends.
If you would love to go to the beach to meet girls, here are some of the best beaches where you can meet girls in Rhode Island:
Goosewing Beach in Little Compton
Misquamicut State Beach in Westerly
East Beach in Watch Hill
Narragansett Town Beach in Narragansett
Easton's Beach in Newport
Ballard's Beach in Block Island
East Mutunuck Beach in South Kingstown
If you're in Providence, you can meet girls at any of these places:
Providence Place
The Arcade Providence
North Providence Marketplace
Shopping Providence
Branch Avenue Plaza Shopping Center
City Side Parking, Providence Place
Arcade Farmer's Market
The beautiful city of Warwick has a lot of malls and shopping centers where you can meet and hook up with girls:
Warwick Mall
Rhode Island Mall
Cowesett Corners Shopping Center
1000 Bald Hill Road
Meadowbrook Shopping Center
Bald Hill Plaza
Warwick Center
Buttonwoods Plaza Shopping Center
Buttonwoods Shopping Center
Governor Francis Shopping Center
If your destination is Cranston, here are some nice spots where you can meet beautiful Rhode Islander girls:
Garden City Center
Cohoes Commons Shopping Center
Chapel View
Park N Shop Center Shopping Center
Marshalls Plaza
Garden Hills Plaza
Oaklawn Village
Phenix Plaza
If you're in Newport, you can meet girls at any of these places:
Long Wharf Mall
Bellevue Gardens Shopping Center
RK Newport Towne Center
Bowen's Wharf
Other places where you can meet girls in Rhode Island are:
Blackstone Place in Pawtucket
Wampanoag Plaza in East Providence
Lorraine Mills in Pawtucket
Lincoln Mall in Lincoln
Wakefield Mall in Wakefield
The Crossing at Smithfield in Smithfield
North Providence Marketplace in North Providence
Tips for Nighttime
| | |
| --- | --- |
| | Chance of hooking up at nighttime: 3.6 / 5 |
Rhode Island may be a small state but its nightlife is not in any way little. Hit up the club when it's dark and break out your dancing shoes. From hip hop to Latin and jazz music, you will find different kinds of scene in Rhode Island where you can get your body grooving and enjoy great music. There are lots of party options in Rhode Island and the state's spirit of the party crowd and the area's charm all add up to the fun. If you're in Providence, there are lots of fun things to do for the night. You can decide to enjoy the city's diverse music scene at any of the lounges, bars, or music venues, break out some dance moves at the dance club, go laugh out loud at a comedy club or go sing your heart out at karaoke. The nightlife scene in providence is interesting and there are lots of venues and spots that can give you a pleasant and memorable evening:
AS220
Dave & Buster's of Providence
The Hot Club
Murphy's
Axe Bar
The Rosendale
Snookers Sports, Billiards, Bar & Grill
Whether you prefer to dance the night away or enjoy specialty cocktail, wine or a local brew at a spot, there are plenty of hot spots in Newport where you can enjoy passing your night out:
Boom Boom Room at Clarke Cooke
Cappy's Hillside Cafe
Celtica Public House
Dockside
Fifth Element
Gas Lamp Grille
The Landing Restaurant
The Lounge & Firepit
Midtown Oyster Bar
Narragansett Café
Newport Blues Cafe
O'brien's Pub
In Westerly, you can meet and unwind with beautiful Rhode Island girls at any of these spots:
Tapped Apple Cidery & Winery
Knickerbocker Cafe
The Malted Barley
Vintage Cigar Lounge & Club
The Brazen Hen
Other nightlife spots where you can meet and hook up with girls in Rhode Island at nighttime are:
T & T's 133 Club in East Providence
The Breachway Grill in Charlestown
Scottie's Pub in Fall River
Cherry Hill Grille in Johnston
Mishnock Barn in West Greenwich
The Square Peg in Warren
Breaktime Bowl & Bar in Pawtucket
Yellow Kittens in New Shoreham
Captain Nick's Rock N' Roll Bar in New Shoreham
COMMON PUB & GRILLE in Bristol
Doherty's Irish Pub in Pawtucket
Bar Louie Foxboro in Foxborough
Murphy's Law in Pawtucket
PJ's Pub in Cranston
Havana Cigar Club in Warwick
Brewskis in Middletown
St James Irish Pub in Fall River
The Lafayette Club in Taunton
Chan's in Woonsocket
Churchill's Smoke Shop & Lounge in East Providence
Best Nightclubs to Meet Girls
Rhode Island is richly filled with a lot of nice clubs and bars where you can have fun and hook up with pretty Rhode Islander girls:
Norey's in Newport
The Parlour in Providence
The salon in Providence
Dusk in Providence
Parlor Bar & Kitchen in Newport
The Pineapple Club in Newport
Tantric Lounge in Providence
Mishnock Barn in West Greenwich
Aidan's Pub in Bristol
| | |
| --- | --- |
| | Nightlife in general: 3.7 / 5 |

There are lots of party options in Rhode Island and the state's spirit of the party crowd and the area's charm all add up to the fun. From hip hop to Latin and jazz music, you will find different kinds of scene in Rhode Island where you can get your body grooving and enjoy great music.
Mature Ladies and Cougars
The chances of meeting and hooking up with cougars in Rhode Island is dependent on the city you're in. But generally speaking, Rhode Island cougars love to enjoy life and this is why hooking up with a cougar in Rhode Island is not a difficult thing to do. You can meet Rhode Islander cougars virtually everywhere you go. You can meet them at the club, bar, grocery stores, and even at the gyms. Once you're nice, good-looking, and know how to hold an interesting conversation, you'll have more chances.
Regions
Counties:
There are five counties in Rhode Island: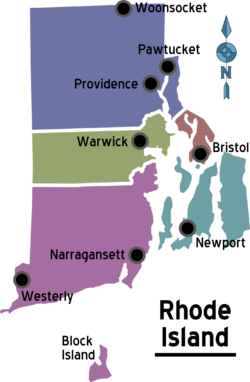 South County (Washington County)
Rhode Islands summer region, full of small communities on and near the beach
Cities
Dating
When visiting Rhode Island, dating can be a fun and interesting experience. AdultFriendFinder.com, lets you meet local members in Rhode Island and get to know them on a personal basis before you arrive. It just takes a few minutes, you simply create an account, upload a few images and tell a little about yourself. Since time in your destination may be limited, get to know each other's desires beforehand so when you do meet, you can skip the awkward introductions and start having some real fun.
Top Dating Tips
Rhode Island is a beautiful state with plenty of date opportunities and nice beaches. And, this is why you'll hardly have an issue with where to go on a date. For a date night, you can take your date to a romantic restaurant to wine and dine. And afterwards, you may go watch a movie or a comedy show. You can even play escape games at a place like The Great Escape Room in Providence if you want something different. For your day date, you can visit any of the fun parks, go to the zoo or the museum.
Some of the best places for an amusing date in Rhode Island are:
Showcase Cinema De Lux in Foxborough
5 Wits Patriot Place in Foxborough
Base Station VR Lounge in Providence
Newport Indoor Golf in Portsmouth
Elite Indoor Gun Range in South Kingstown
Johnston War Memorial Park in Johnston
North Attleboro World War I Memorial Park in North Attleboro
Bring Your Own Improv in Warwick
Sky Zone Indoor Trampoline Park in East Providence
Online Dating
Signing up on online dating sites is one of the things you should do if you want to get to meet more beautiful girls during your stay. It will even save you from the stress of moving from one place to another just to get to meet new people.
Meetup.com: This social network offers a lot of chances for you to meet new people. Although it's actually not a regular dating app, but it's more of an app that brings people together. In fact, the app lay claim that it connects close to 100,00 people in a week. The interesting thing about Meetup is that you can set up in-person meetings or have your own group of interest created. Since there's no harm in trying, you can join a group and start tagging along in the conversation and from there, you'll get to meet your girl. And, it's free!!!
Zoosk: If you're in Rhode Island and you're not yet on this online dating app, you're really missing out. This dating app has an inviting, playful, and functional interface and it uses a very easy approach to match members. It's a gender-equal site, there's no fuss about who will message first, and there's no need to fill a three-hour-long questionnaire. To get more chances of hooking up with a girl here, it's advisable to upgrade to paid membership so as to be able to communicate well with others.
Match: This is one of the most popular online dating websites in Rhode Island. This dating app is known for its innovative features, innovation, and improved technology. If you stay in a city like Newport or Providence, you will record great success in using this dating app because of its location-based feature; Misse Connections, that welcomes a new idea of connecting people easily.
Tinder: Without doubts, Tinder is one of the popular online dating websites in Rhode Island. A lot of people have used it, are still using it and it really works. Whether you're looking for someone to have flings with or searching for a life partner, this dating app offers opportunities for both. A lot of couples have testified to how they got hooked up with their dream spouse on this dating website and with a sprawling members of about 50 million, getting hooked up on this dating app shouldn't be a problem once you have a nice photo and an interesting bio.
Live Cam Dating
Are you looking for virtual satisfaction in Rhode Island? Chat with live web camera models and find the best girl for your needs. There are thousands of girls online 24/7 waiting for you: Live Cam Girls
What Kind of Guys Have the Best Chances
Rhode Island is a small state but yet, it's repleted with a lot of beautiful girls. To have a higher chance with these girls, you need money, be charming, and well-dressed.
Risks while Gaming
Take precautions and stay conscious of your environment at all times. More so, disengage yourself from ladies that are already attached to another man.
How to Get Laid as Soon as Possible
While it's possible to get sex from tipsy girls at the club, online dating sites might be your quickest option of getting laid in Rhode Island if you're not a skilled gamer.
Gold Diggers and Sugar Babies
The Sugar Baby scene in Rhode Island is still quite new but there are a lot of beautiful young girls looking for a Sugar Daddy. The best and safest way to hook up with a Sugar Baby is online. At SecretBenefits there is a wide selection of nice girls who are looking for an older guy to take care of them. These babes are easy to approach and you can settle everything before meeting up.
Anyone can be a sugar daddy. Just create your free account at SecretBenefits and start enjoying the wide selection of Sugar Babies available.
BDSM
Looking for a new bondage partner while traveling? ALT.com is a community of like-minded people with members around the globe. Our members are interested in submissive sex, power exchange, locating persons for new slave roles, erotic BDSM, bondage & fetish sex, as well as live sex dates. Find thousands of play partners for whatever your fetish may be; bondage, foot, cockold, spankings, role-play, electric or water play, sadism and masochism all while traveling in Rhode Island.
Swinging and Naturism
There are a few swinger clubs in Rhode Island. Some of the popular ones are:
Group Escapades in Providence
RI Playground in Providence
Choice Social Club in Johnston
Creations in Providence
Costs of Living
Rhode Island ranks among the top 10 most expensive states in the United States of America.
| | |
| --- | --- |
| | Single traveler's budget per day: US$100 - $800 |
If you're visiting a city in Rhode Island, it's advisable to come with enough cash so that you can enjoy your stay better.
| | |
| --- | --- |
| | Accommodation per night: US$30 - $700 |
Rhode Island has lots of nice hotels. You can even lodge at some casino resort hotels if you want to enjoy gambling during your stay.
| | |
| --- | --- |
| | Beer in a grocery shop: US$1 - $3 |
The cost of a beer in a grocery shop is likely to be between $1 - $3.
| | |
| --- | --- |
| | Beer in a bar or restaurant: US$4 - $20 |
The cost of a beer may be influenced by the sophistication of where you're drinking and thus, a bottle of beer may be sold for about $4 - $20.
| | |
| --- | --- |
| | Meal in a restaurant: US$8 - $150 |
Food expenses vary within Rhode Island. A meal in an inexpensive restaurant may cost about $8 - $30, while eating in an expensive restaurant may gulp around $40 - $150.
Accommodation
Accommodation is expensive in most parts of Rhode Island. And thus, the cost of renting an apartment is always high. For example, in Providence, you could get a bedroom apartment in the city center for about $1,500 but in Newport, you will need over $2,000 to secure one. Nevertheless, Rhode Island has lots of nice hotels; the luxurious and affordable ones, where you can stay during the course of your visit.
How to Get There and Move Around
By air: The two major airports serving the state are:
Theodore Francis Green State Airport
Boston's Logan International Airport
By bus: Rhode Island Public Transportation Authority (RIPTA) offers bus transportation in the state and there are other bus service providers such as Megabus, Greyhound Bus, and Bonanza Bus Lines that serve the state.
By car: Renting a car is a convenient way of getting around the state by car.
By train: Amtrak operates in the state.
By boat: There's a seasonal ferry operated by RIPTA that runs from Providence to Newport.
Visas: If you want to visit Rhode Island for a period of 90 days or less without a need for a visa, you may apply for the Visa Waiver Program. However, there are certain criteria you must meet to travel with this opportunity. One of them is to be a citizen or National of a VWP-participant country. Currently, there are just 38 countries worldwide that are participants of the Visa Waiver Program. Another option for you to travel to Rhode Island as a non-US citizen is to obtain a visitor or tourist visa.
Digital Nomads and Remote Work
Rhode Island has a lot of quality internet service providers. And, there are great chances of finding a remote work in Rhode Island.
Internet and Mobile Operators
There are 14 internet options in Rhode Island and the best internet service providers in the state are:
Cox Communications 
HughesNet 
Xfinity
Spectrum
Consolidated
Windstream
Gambling and Casinos
There are just two casinos in Rhode Island.
Weed and Drugs
Marijuana is only legal for medical use in Rhode Island.
Health, Fitness, Gyms and Massage
There are lots of quality gyms, fitness clubs and health centers in Rhode Island and if you're stressed, you can visit the spa to get a relaxing massage.
STDs and HIV
In the year 2016, about 2,300 people were recorded to be living with HIV of which 23.2% were Blacks, 27.4% were Hispanics and 45.0% were Whites, stay safe.
Stay Safe
Rhone Island is generally safe in most neighborhoods you would intentionally go to. The most dangerous part is probably driving, as the locals are prone to run red lights, shift lanes with no warning and turn out of parking lots with little regard to oncoming traffic. Locals are also known to run through stop signs. Many accidents are the results of not signaling properly when changing lanes and running through red lights and stop signs.
Providence is relatively safe, but be careful while walking around the capital city at night. Areas in which to exercise caution, unless you know where you are going, are Camp Street on the East Side, South Providence, and the Olneyville section of Providence. Broad Street and Elmwood Avenue on the South Side of Providence are also areas in which to exercise caution.
See Also