Utah
Utah dating guide advises how to pick up Utahan girls and how to hookup with local women in Utah. Travel, enjoy and have fun with hot single girls and you might even meet the love of your life. Read more on how to date Utahn women, where to find sex and how to get laid in Utah, United States of America.
Utah is a state situated in the western part of the United States of America and it is surrounded by Nevada, Arizona, Idaho, Wyoming, and Colorado. The state also shares a close proximity to New Mexico. Of all the states in the United States of America, Utah is the 11th-least-densely populated, 30th-most-populous, and 13th-largest by area.
Utah Top 10 Overview:

Chance of picking up girls: 3.2 / 5

Picking up at daytime: 3 / 5

Picking up at nighttime: 3.4 / 5

Looks of girls: 3.5 / 5

Attitude of girls: 3.4 / 5

Nightlife in general: 3.5 / 5

Locals' English level: 5 / 5

Transportation: 3.5 / 5

Budget per day: US$100 - $600

Accommodation: US$30 - $450
Utahn Girls
Whether you want to date a girl from Utah or you just want to be a casual friend, there are a few things you should know about Utah girls' if you want your relationship to go smoothly. Foremost, a large number of girls in Utah love hiking. With the state's wonderful setting and plenty of outdoor opportunities, you should be ready to go out often of you want to date a girl from Utah. Activities like snowmobiling, boating, and four-wheeling are some of which you should prepare for and after you and your Utahn sweetheart have spent a couple of times together being outside, it's likely that their parents would invite you to a family outdoor play session". You would as well get to meet her nieces, nephews, and distinct cousins, uncles, and aunts, while you attend some of the family's noise parties. More so, you'll be involved in the family's many contests like ping pong tournaments and volleyball games. It's all fun anyways so, get prepared. You're also likely to meet girls who are into football in Utah. So, if you're a football lover, you might have an edge over others who are not football fanatics. In addition, a lot of girls in Utah love Disneyland and they've all been there a couple of times. Thus, you shouldn't be surprised if your Utah girlfriend has a plethora of Disney-themed apparel, a collection of snowglobes and mugs, and several pairs of Mickey ears. Nevertheless, people who live in Utah are known for their practice of marrying early at a young age. So, if you're up for dating a Utahn, she might be expecting you to pop the question after eight weeks of dating. Another interesting thing about Utah girls is that they're very skillful. They can prepare delicious meals and they're quite knowledgeable to do some old-fashioned crafty things. You're also likely to meet girls that play a musical instrument.
| | |
| --- | --- |
| | Looks of girls: 3.5 / 5 |
Girls from Utah are cute and gorgeous. You'll meet a lot of White girls in Utah and a very few Asians, Blacks, and Native Americans.
| | |
| --- | --- |
| | Attitude of girls: 3.4 / 5 |
Girls from Utah are lovely, playful, skilled, and adventurous.
Where to Get Sex Now
It is easy to get sex online in Utah. You just need to find the best available girls. See Girls Online Here!
How to Pick Up Girls
| | |
| --- | --- |
| | Chance of picking up: 3.2 / 5 |
Picking up girls in Utah may not be an easy thing to do but it's not extremely difficult because girls from Utah are known to be fun-loving, lively and, these factors have a way of influencing your chances of getting hooked up. However, your chance of picking up girls in Utah may vary according to the city you're in. Of all the cities in Utah, Provo ranks higher as a place where you can enjoy picking up Utahn girls because of its young population, buzzing hotel scene, and plenty of late-night partying. Murray is another considerable place. Even though it has a small population of residents, the presence of the few universities in the city makes the atmosphere enjoyable and there are lots of bars and shops everywhere. Other cities in Utah where you can easily pick up girls are:
Salt Lake City
Logan 
Orem 
Ogden 
St. George 
Cottonwood Heights 
South Salt Lake 
Midvale 
Sandy 
Tips for Daytime
| | |
| --- | --- |
| | Chance of picking up at daytime: 3 / 5 |
You'll probably experience a couple of nos from some girls during the day but this shouldn't get you deterred. Hang around places that have huge traffic during the day and when you spot a girl you like, cautiously walk up to her, introduce yourself smartly and express your interest in her. Simple as ABC. However, there are some girls in Utah that may appear to be somewhat unfriendly, just ignore them and focus on other possibilities.
Best Places to Meet Girls
One of the best ways to meet women in Utah is to join groups and clubs that do stuffs that interest you. If you love painting, skiing, hiking or any other thing, join a club that offers such activity and you will get to meet lots of girls that share the same interest with you. If you're in Salt Lake City, you can meet women at the busy downtown streets because these areas offer lots of opportunities to mingle and hook up. You can as well try out these other shopping districts and malls:
City Creek Center
Valley Fair
Trolley Square
Sugar House
Outlets Park City
If you're in Ogden, you can meet girls at any of these places:
Newgate Mall
Riverdale Shopping Center
Ensign Plaza South
The Family Center at Ogden 5-points
The Cannery Center
Five Points Plaza Retail Center
If you're in Provo, you can meet girls at any of these places:
Provo Towne Centre
The Shops At Riverwoods
Riverwoods
If you're in Orem, you can meet girls at any of these places:
University Place
Orem State Street Plaza
University Festival Shopping Center
Carillon Square
The Family Center at Orem
If you're in Park City, you can meet girls at any of these places:
Snow Creek shopping center
Outlets Park City
Galleria Mall
Newpark Town Center
Redstone Center Drive
Canyon Corners
The Market at Park City
If you're in St. George, you can meet girls at any of these places:
Red Cliffs Mall
The Shoppes at Zion
Red Rock Commons
The Shops at Green Gate Village
Tips for Nighttime
| | |
| --- | --- |
| | Chance of hooking up at nighttime: 3.4 / 5 |
If you're in Salt Lake City, the Central City area and downtown are the main areas for singles nightlife. You will find lots of nice bars and clubs at the arena and convention center but hooking up at nighttime with girls in Salt Lake City might not be enjoyable enough because of the 1 a.m closing hour and the fact that some girls might be religious and won't be ready to let loose. Cruise Main Street is another good area for nightlife as it is the city's historic main street as well the city's heart of entertainment and business districts as a result of its revivification that has attracted many bars, restaurants, theater and a shopping center to the block. Other nightlife spots where you can meet and hook up with Utahn girls in Salt Lake City at nighttime are:
Eccles Theatre
The Rest
Abravanel Hall
The State Room
The Bayou
SKY SLC
The Westerner in West Valley
In Park City, the nightlife commences before it gets dark. And when it's gradually getting dark, you can start your unwinding at any of the city's plenty after-dark spots where you can enjoy entertainment, quality food, and drinks. If you're in the mood for late-night partying, Park City is gratified with numerous clubs and bars where you can have fun and hook up with pretty girls.
501 On Main
Baja Cantina
Billy Blanco's
Boneyard Saloon & Wine Dive
The Brass Tag at Deer Valley Resort
Burgers & Bourbon
Butchers Chop House & Bar
The Cabin
Collie's Sports Bar & Grill
Corner Store Pub & Grill
Daly's Pub & Rec
O'Shucks Bar & Grill
No Name Saloon & Grill
The Spur Bar and Grill
In Alta town, you will find a lot of nice places where you enjoy a cocktail with the company of beautiful people around you. Although Alta is not really famous for late-night watering holes and nightclubs, it does have a unique bar and nightlife scene.
Alta Peruvian Bar  
The Eagle's Nest 
Sitzmark Club  
The Goldminer's Saloon
Baldy Brews
Ogden is all fun when it comes to nightlife as there are lots of bars to explore and these are cool places you can get entertained with cocktails and all.
Alleged
Shooting Star Saloon
The Monarch
Angry Goat Pub & Kitchen
The Yes Hell
The City Club
HARP AND HOUND
Historic Place
Best Nightclubs to Meet Girls
Some of the best bars and nightclubs in the state are:
Draft's Burger Bar in Park City
Downstairs in Park City
Red Rock Junction in Park City
Park City Live in Park City
Kokomo Club in Ogden
Kamikazes in Ogden
Lighthouse Lounge in Ogden
Funk 'N Dive in Ogden
The Hog Wallow Pub in Salt Lake City
Karamba in Salt Lake City
Beer Hive in Salt Lake City
A Bar Named Sue in Salt Lake City
The Red Door SLC in Salt Lake City
| | |
| --- | --- |
| | Nightlife in general: 3.5 / 5 |
Night owls in Utah will enjoy the nightlife in the state as there are lots of nice after-dark hotspots where they can enjoy passing their night out.
Mature Ladies and Cougars
Utah is a beautiful place with a lot of gorgeous women. If you can afford to explore some parts of the state, there are countless beautiful cougars and mature ladies you'll come across. There's a great chance of picking up cougars in Utah and classy restaurants and bars are part of the hottest spots to meet and hook up with a mature lady in Utah. Bars with a classy and laid-back atmosphere attract the attention of Utah cougars because of their live music performance, amazing food, and awesome cocktails. Venues like these are renowned for three things; great meal and drinks, awesome music and lots of beautiful cougars eager to hook up with younger men.
Regions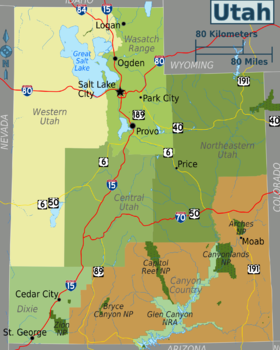 Wasatch Range
The most urbanized area of the state - home to Salt Lake City, the majority of Utah's population, a number of LDS temples, and world-class skiing and snowboarding
Canyon Country
Mars on earth; few people reside here, but some of the world's most extraordinary desert landscapes and enormous national parks await
Northeastern Utah
High desert landscape, mining settlements, and the Uinta Mountains, home to Utah's highest peaks
Dixie
Utah's southwest is home to striking desert landscapes, forested mountains, ranchland, and the warmest spot in the state
Central Utah
Rolling hills, agricultural land, and historic Mormon settlements abound in the Central region
Western Utah
Endless desert, some high mountains, rugged terrain, salt flats, and the Great Salt Lake
Cities
Dating
When visiting Utah, dating can be a fun and interesting experience. AdultFriendFinder.com, lets you meet local members in Utah and get to know them on a personal basis before you arrive. It just takes a few minutes, you simply create an account, upload a few images and tell a little about yourself. Since time in your destination may be limited, get to know each other's desires beforehand so when you do meet, you can skip the awkward introductions and start having some real fun.
Top Dating Tips
Your date night in Utah could be at a fine romantic restaurant or a movie theater. The beautiful thing about Utah is that it does offer lots of options for both your day date and date night. Escape rooms can be a better option if you want to avoid the idea of a typical dinner date. Asides that, you could go play board games or go watch popular comedians perform at any of the nicest comedy clubs in the state. You can as well make your day date more fun by going for fun activities like hiking, fishing, swimming, or any other thing that comes to your mind.
Relationships and Love
Thousands of single women in Utah are searching for a partner and potential future husband. Check out an ultimate guide for dating local girls, relationships, love and marriage: Relationship & Love Guide to Utah
Online Dating
You definitely need to sign up on online dating websites if you want to enjoy hooking up with Utah girls without stress. Online dating sites give you the option of choosing the kind of girl you desire to hook up with and there's a huge number of single girls in Utah you'll get to connect with.
Match.com: It is one of the best online dating sites to meet single ladies in Utah around you. The dating site was created in 1995 and it's among the first dating websites ever. More than any other dating sites, the site is reputed to have matched many people up in marriages and relationships. The matching system of the dating site emphasizes personality, life goals, and dating preferences which facilitates lasting connections. There are over 30 million members signed up on Match.com and it's one of the best dating sites where you can get hooked up with a beautiful girl in Utah.
Elite Singles: If you're looking for a partner who values education in Utah, Elite Singles has made it all easy for you. Those signed up on the dating site are those who have completed their diplomas and degrees, the dating app is where you can get connected and hooked up with a professional woman in Utah.
eHarmony: When you sign up on this dating app, you'll be required to go through a personality test which will help in checking your characters, beliefs, and values, so as to help you find a compatible partner. Signing up on this dating site is not free, plans for members range from one month to a year.
Bumble: One good thing about this dating website is that it is the ladies who make the first move. If you're a good gamer, you'll get hooked up with lots of local Utah girls on this online dating website.
Tinder: When it comes to finding a quick fling, virtually everyone sees Tinder as a last resort. Guys who want to meet beautiful girls in Utah on this dating site must be very attractive or else they will have a very tough time getting hooked up with a girl because there are lots of Utah girls that are getting spammed non-stop. Make sure you upload a very cute and nice photo of yours that will help you stand out from others.
Live Cam Dating
Are you looking for virtual satisfaction in Utah? Chat with live web camera models and find the best girl for your needs. There are thousands of girls online 24/7 waiting for you: Live Cam Girls
What Kind of Guys Have the Best Chances
A little bit of cash to spend will actually make some girls to loosen up. However, other rules of attraction are very important too; dress well, speak sharply, smell nice and look very charming.
Risks while Gaming
Utah is not a state filled with tons of aggressive people and even though there seems to be a very slim chance of getting into a fight, do not stir up one for yourself.
How to Get Laid as Soon as Possible
If you're looking for who to quickly have sex with in Utah, online dating sites might be the best option to go for because the girls on these dating apps already know what you want. And thus, the process of getting laid is often quick.
Gold Diggers and Sugar Babies
Utah is full of hot girls looking for a mutually beneficial hookup with travellers. There are lots of girls who don't charge by the hour but who will do anything for a guy who is willing to help them pay their bills. If you are looking for a more personal and less transactional alternative to escorts, a good place to find these sexy open-minded girls in Utah is SecretBenefits.
BDSM
Looking for a new bondage partner while traveling? ALT.com is a community of like-minded people with members around the globe. Our members are interested in submissive sex, power exchange, locating persons for new slave roles, erotic BDSM, bondage & fetish sex, as well as live sex dates. Find thousands of play partners for whatever your fetish may be; bondage, foot, cockold, spankings, role-play, electric or water play, sadism, and masochism all while traveling in Utah.
Swinging and Naturism
There are a few swinger clubs in and around the state.
Costs of Living
The cost of living in Utah is varied.
| | |
| --- | --- |
| | Single traveler's budget per day: US$100 - $600 |
Depending on what you plan to do, a daily budget for a solo traveler in Utah may be around $100 - $600.
| | |
| --- | --- |
| | Accommodation per night: US$30 - $450 |
The cost of renting an apartment in Utah is affordable in some cities but very expensive in some other parts of the state. However, there are lots of nice hotels around the state where you can stay comfortably.
| | |
| --- | --- |
| | Beer in a grocery shop: US$1 - $4 |
A beer in a grocery shop is usually sold for about $1 - $4.
| | |
| --- | --- |
| | Beer in a bar or restaurant: US$3 - $8 |
A beer in a bar or restaurant is usually sold for about $3 - $8.
| | |
| --- | --- |
| | Meal in a restaurant: US$9 - $90 |
In an expensive restaurant, a meal may cost about $35 - $90 while a meal in an inexpensive restaurant may cost about $9 - $15.
Accommodation
The cost of renting an apartment in Utah is affordable in some cities but in some other places, it's high-priced. For example, in Salt Lake City, you can get a nice bedroom apartment in the city center for about 1,000 monthly but in Park City, you'll need up to about $2,600.
How to Get There and Move Around
By air: Some of the major airports serving Utah are:
Salt Lake City International Airport
St. George
Vernal
Cedar City  
Canyonlands Field
By bus: The Utah Transit Authority (UTA) operates public transportation in the state.
By car: A better way of getting around the state by car is to rent one.
By train: Amtrak serves the state and Frontrunner, a commuter train, which is operated by UTA offers means of getting around the state by train.
By boat: There's no means of getting in and around the state by boat.
Visas: If you want to visit Utah for a period of 90 days or less without a need for a visa, you may apply for the Visa Waiver Program. However, there are certain criteria you must meet to travel with this opportunity. One of them is to be a citizen or National of a VWP-participant country. Currently, there are just 38 countries worldwide that are participants of the Visa Waiver Program. Another option for you to travel to Utah as a non-US citizen is to obtain a visitor or tourist visa.
Digital Nomads and Remote Work
You're likely to find a few remote works in Utah.
Internet and Mobile Operators
There are 44 internet options in Utah and the best internet service providers in the state are:
HCTC
UTOPIA
CenturyLink
Veracity
Xfinity
FrontLine
Windstream
EarthLink
Gambling and Casinos
All forms of gambling are illegal in Utah. Online Gambling, Social Gambling, Charitable Gaming, Lottery, Dog Racing Betting, Horse Racing Betting, Poker, Tribal Gambling, and Casino Gambling are all considered illegal.
Weed and Drugs
It is illegal to use cannabis for recreational use in Utah. If you are caught with a little amount, it is a misdemeanor crime and it is punishable. Nevertheless, in November 2018, the city legalized the medical use of cannabis.
Health, Fitness, Gyms and Massage
Utah does have a lot of nice gyms, fitness centers, spas, and massage studios where you can build your shape or relax yourself by getting some nice soothing touch.
STDs and HIV
The rates of HIV and sexually transmitted diseases in Utah are low but gradually increasing, stay safe.
Stay Safe
Scam artists target Utahns frequently, and property crime is a considerable risk. Lock up, use common sense, and store valuables and personal information out of sight.
Violent crime in Utah is generally rare.
See Also