Idaho
Idaho dating guide advises how to pick up Idahoan girls and how to hookup with local women in Idaho. Travel, enjoy and have fun with hot single girls and you might even meet the love of your life. Read more on how to date Idahoan women, where to find sex and how to get laid in Idaho, United States of America.

Idaho is situated at the Pacific Northwest region of the United States of America. Being one of the states in the United States located in this region, Idaho enjoys being surrounded by Oregon, Washington, Utah, Nevada, Montana, and Wyoming. The state also shares a close proximity with the Canadian province of British Columbia. Idaho is populated by about 1.7 million residents and of all the states in the United States of America, it's the 7th least densely populated, 12th least populous, and the 14th largest. Boise is the largest city in Idaho and it's also the state's capital. Idaho is fondly referred to as the "Gem State" due to its natural beauty. It's a rugged state known for its wilderness and wildlife, high desert, dense forests, whitewater rivers, and snow-capped mountains. Some of the significant industries in the state are tourism, forestry, mining, agriculture, and manufacturing.
Idaho Top 10 Overview:

Chance of picking up girls: 3.5 / 5

Picking up at daytime: 3.4 / 5

Picking up at nighttime: 3.6 / 5

Looks of girls: 3.7 / 5

Attitude of girls: 3.5 / 5

Nightlife in general: 3.7 / 5

Locals' English level: 5 / 5

Transportation: 3 / 5

Budget per day: US$80 - $400

Accommodation: US$30 - $300
Idahoan Girls
The Gem State does have a lot of beautiful girls, ranging from gorgeous whites to splendid Asians and cute African Americans. With Idaho girls being one of the gems that make up the Gem State, there's indeed a lot of natural beauty to behold during your course of visit. If you're single and you're ready to mingle in Idaho, there are lots of charming and sweet single ladies in Idaho and they have a lot of interesting features that make them unique. One of them is their adventurous personality.Idaho girls are always up for adventure. Dating a girl from Idaho can never be boring because if you're not exploring the state's incredible landscape together, you're definitely still engaging in something interesting together, either its ziplining or doing some base jumping. More so, Idaho girls can be very romantic. One of their definitions of romance is to spend the warm night together star-gazing and when the sun is up, the romance continues with a leisure walk. Idaho girls are also the easy-going type. This simply means that their goal is not to stress or frustrate you. They understand if you want to "slow things down and enjoy the moment" and they can also be very loyal once they've got a very soft spot for you. Another interesting thing about Idaho girls is that most of them are well-raised, taught to respect people, and to love their loved ones without borders. You're also likely to meet a girl in Idaho whose dad is a hunter. So, if you meet a girl in Idaho and she tells you her dad is a skilled hunter, don't be taken aback, just make sure you don't break her heart because there's a high chance that her dad never miss his shot and the young lady might have an excellent aim too. Stay safe. Smiles.
| | |
| --- | --- |
| | Looks of girls: 3.7 / 5 |
This is the gem state, what do you expect? Ugly girls? NO! Cute girls? YEAH! Idaho thrives with a lot of splendid White girls, African Americans, Asians, Native Hawaiians, and cute American Indians.
| | |
| --- | --- |
| | Attitude of girls: 3.5 / 5 |
With all that has already been said, it's quite easy to summarize the attitude of Idahoan girls into these three adjectives - "romantic", "adventurous", and "well-raised".
Where to Get Sex Now
It is easy to get sex online in Idaho. You just need to find the best available girls. See Girls Online Here!
How to Pick Up Girls
| | |
| --- | --- |
| | Chance of picking up: 3.5 / 5 |
Idaho is a very beautiful state and it is also blessed with lots of nice cities. You should have no difficulty in picking up a girl in Idaho because of the girls' mannerism and the plenty of recreational opportunities the cities offer to meet and mingle with new people. Idaho is home to the popular city of Moscow which has remained to be the biggest party town in the state because of the presence of the University of Idaho. The city has a huge bar scene, a very young population, and a great number of college kids. So, whether you're looking for a quick fling or a long term thing, the city of Moscow in Idaho has lots of possibilities for you. Boise and Coeur D'Alene are another cool places to be if you want to enjoy picking up Idahoan girls because they have a young crowd and interesting nightlife. Other cities where you can easily pick up and get laid with Idahoan girls are Rexburg, Twin Falls, Lewiston, Nampa, and Idaho Falls because of the population of young singles who are ready to mingle and party.
Tips for Daytime
| | |
| --- | --- |
| | Chance of picking up at daytime: 3.4 / 5 |
Idaho is a state that is known for its wilderness and wildlife, high desert, dense forests, whitewater rivers, and snow-capped mountains. With plenty of things to do in the state, meeting a girl in Idaho is very much feasible. Girls in Idaho are very outdoorsy and this is why you'll always get to meet them once you step out of the comfort of your room. To record great success during your day gaming in Idaho, you need to step outside and enjoy what the state has in stock for you. You can visit any of the state's many attractions to explore its natural beauty or hit up any of the nicest restaurants or coffee shops wherever you are. Generally, for your day gaming in Idaho, you need to be very friendly and social. More so, have a very good way of approaching the girls because if you approach them in a very appalling or disrespectful manner, you won't record enough success as you should.
Best Places to Meet Girls
Idaho is the 12th least populous state in the United States of America. This already tells that the state is not as big as other states in the U.S. and because of that, there's this kind of easiness in getting to meet one another, It's not like all the girls in the state are concentrated in one particular place or spot and this is why you can easily meet girls in Idaho at different parts of the state. However, it's the kind of girl you're hoping to hook up with that will determine where you should go. For example, if you'd love to meet and hook up with athletic girls or fit girls, yoga studios and gym centers are your best shots. You can hit up a gym center that's largely frequented and sign up for membership. If you'd love to meet a classy or sophisticated girl in Idaho, places like art centers and museums are great ideas for you. If you prefer to hook up with college girls in Idaho, you can just hang around the environs of the University of Idaho or Boise State University. Nevertheless, places like shopping malls, restaurants, and grocery stores always have different options of girls to meet and hook up with.
Tips for Nighttime
| | |
| --- | --- |
| | Chance of hooking up at nighttime: 3.6 / 5 |
Idaho has an interesting and diverse nightlife. Depending on where you are in the state, you will find numerous nice wine establishments, high-end cocktail bars, and college type go-get-drunk bars. The state also offers a wonderful dining experience. You will find different kinds of dining options ranging from northwest casual cuisine to Asian specialties like distinct sushi varieties which include fine Vietnamese, Thai, and many other exclusive dining options. For most cities in the state, the liveliest nights occur from Wednesday till Saturday. There are lots of venues in the cities that offer interesting live music. More so, there are music festivals that take place in some parts of the state. In the capital city of Boise for example, there's this Tree Fort Music festival that takes place in mid-march. There are also some stunning outdoor venues in the state that offer great entertainment with live music concert from both international and smaller local acts. Of all the cities in Idaho, Boise boasts of a more interesting nightlife. The city has historical and modern buildings that house a plethora of nightclubs, breweries, and bars. The city's downtown area is packed with lots of different venues where you just can't escape having fun. Whether you want to hook up with beautiful Idahoan girls, drink at some of its finest bars like Whiskey Bar, Diablo & Sons, The Olympic, or Spacebar or perhaps, you just want to party like you've never done before at nightclubs like Hannah's, Fatty's, Amsterdam Lounge, Neurolux, or at the Mode Lounge, the Boise's downtown area has several venues that offer something unique for both travelers and residents. In Idaho Springs, you'll also enjoy pool tournament, karaoke, game night, and live music as part of the fun packages for the night. Ketchum is known for its friendly residents and the city also has a lot of watering holes and restaurants that have a daily happy hour all through the week.
Best Nightclubs to Meet Girls
Bars and nightclubs in Idaho receive a lot of crowd when it's dark, especially from Wednesday till Saturday. Starting from Thursday, you'll enjoy live music at different venues and with the company of the beautiful ladies that will always be around, you won't be spending your night out alone. Some of the popular nightclubs and bars where you can meet and pick up girls in Idaho are:
Sawtooth Club in Ketchum
Whiskey Jacques in Ketchum
Grumpy's in Ketchum
Cruisers Bar & Grill in Post Falls
The Sapphire Room in Boise
Coeur D'Alene Casino Spa in Worley
Samoa Club in Idaho Falls
Tap-N-Fill in Idaho Falls
Junkyard Sports Bar in Idaho Falls
Hurricanes in Idaho Falls
219 Lounge in Sandpoint
The Hogfish in Coeur d'Alene
Corner Club in Moscow
Amsterdam Lounge in Boise
The Front Door in Boise
Humpin' Hannah's in Boise
| | |
| --- | --- |
| | Nightlife in general: 3.7 / 5 |
Whether you want to hook up with beautiful Idahoan girls, drink at some of the finest bars or you just want to party hard, there are several nightlife venues across the state that offer something unique for both travelers and residents.
Mature Ladies and Cougars
For guys who love to hook up with cougars and mature ladies, there's a lot of work to do because where to meet cougars in Idaho can sometimes be a challenging task because of the way the cities in the state are spread out. However, Idaho is blessed with lots of nature spots and adventurous activities where you can easily come across an older lady skiing or hiking. Going to the bars to meet cougars in Idaho can sometimes not be fulfilling because there's always more college girls at some particular bars and clubs. But, you can meet cougars in Idaho at The Village at Meridian and Shanti Yoga Studio. Still, if you do not want to go through the stress of going here and there looking for a cougar to hook up with, you can just move closer with your friends in the state and tell them you'd love to hook up with a cougar. Surprisingly, they might have someone for you because Idaho is like a state where everyone knows each other.
Regions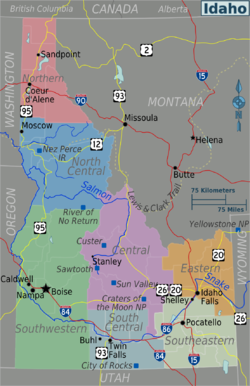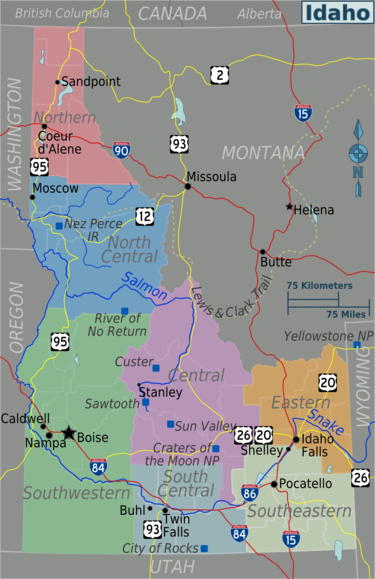 Cities
Dating
When visiting Idaho, dating can be a fun and interesting experience. AdultFriendFinder.com, lets you meet local members in Idaho and get to know them on a personal basis before you arrive. It just takes a few minutes, you simply create an account, upload a few images and tell a little about yourself. Since time in your destination may be limited, get to know each other's desires beforehand so when you do meet, you can skip the awkward introductions and start having some real fun.
Top Dating Tips
If you're in Idaho and you're looking for a very nice spot where you and your date can hang out together, there's no need to be stressed out because there are lots of nice spots in the city where you and your date can enjoy being together. If you seek a spot where you can enjoy sunset views over the water and a valentine dinner cruise, then you should try out the Lake Coeur d'Alene romantic cruise. Another option for your date in Idaho is to take a romantic stroll through the trees at a Cedar grove. Idaho is known for its wilderness and you and your date can go enjoy the togetherness and sounds of nature or perhaps, work out a picnic and take lovely photos together. You can also go watch a show at one of the many theatres in the state. The Nu Art is one of the historic theaters in the state where you can enjoy watching a movie together.
Relationships and Love
Thousands of single women in Idaho are searching for a partner and potential future husband. Check out an ultimate guide for dating local girls, relationships, love and marriage: Relationship & Love Guide to Idaho
Online Dating
Signing up on online dating websites will help you to meet and connect with more girls in Idaho.
Match.com: This is one of the most popular online dating websites in Idaho. This dating app is known for its innovative features, innovation, and improved technology. If you stay in a city like Boise or Moscow, you will record great success in using this dating app because of its location-based feature; Misse Connections, that welcomes a new idea of connecting people easily.
Zoosk: If you're in Idaho and you're not yet on this online dating app, you're really missing out. This dating app has an inviting, playful, and functional interface and it uses a very easy approach to match members. It's a gender-equal site, there's no fuss about who will message first, and there's no need to fill a three-hour-long questionnaire. To get more chances of hooking up with a girl here, it's advisable to upgrade to paid membership so as to be able to communicate well with others.
Meetup.com: This social network offers a lot of chances for you to meet new people. Although it's actually not a regular dating app, but it's more of an app that brings people together. In fact, the app lay claim that it connects close to 100,00 people in a week. The interesting thing about Meetup is that you can set up in-person meetings or have your own group of interest created. Since there's no harm in trying, you can join a group and start tagging along in the conversation and from there, you'll get to meet your girl. And, it's free!!!
Tinder: Tinder is one of the most used online dating websites in Idaho. There are lots of beautiful girls from Idaho signed up on this dating website and once you get signed up, you'll start to get to connect with some pretty ladies too. However, it's quite pertinent that you upload your best picture on your created profile so that the girls will be wowed when they see it.
Live Cam Dating
Are you looking for virtual satisfaction in Idaho? Chat with live web camera models and find the best girl for your needs. There are thousands of girls online 24/7 waiting for you: Live Cam Girls
What Kind of Guys Have the Best Chances
As earlier said, Idaho girls are not the type that will stress or frustrate you. Even if you want to "slow things down and enjoy the moment", they would understand but, it's important for you to value them just as they value you.
Risks while Gaming
Be conscious of your environment at all times and don't get involved in disputes that do not concern you.
How to Get Laid as Soon as Possible
If you're looking for who to quickly have sex with in Idaho, online dating sites might be the fastest option for you.
Gold Diggers and Sugar Babies
Idaho is full of hot girls looking for a mutually beneficial hookup with travellers. There are lots of girls who don't charge by the hour but who will do anything for a guy who is willing to help them pay their bills. If you are looking for a more personal and less transactional alternative to escorts, a good place to find these sexy open-minded girls in Idaho is SecretBenefits.
BDSM
Looking for a new bondage partner while traveling? ALT.com is a community of like-minded people with members around the globe. Our members are interested in submissive sex, power exchange, locating persons for new slave roles, erotic BDSM, bondage & fetish sex, as well as live sex dates. Find thousands of play partners for whatever your fetish may be; bondage, foot, cockold, spankings, role-play, electric or water play, sadism, and masochism all while traveling in Idaho.
Swinging and Naturism
Naughty Neighbors in Idaho in Boise and The Idaho White Rose in Post Falls are some of the popular swinger clubs in Idaho.
Costs of Living
Cost of living in Idaho varies depending on the city you're staying.
| | |
| --- | --- |
| | Single traveler's budget per day: US$80 - $400 |
If you're a solo traveler in Idaho, you may prepare to spend about $80 - $400 per day depending on your daily activity.
| | |
| --- | --- |
| | Accommodation per night: US$30 - $300 |
The cost of renting an apartment is less expensive in a few cities but there are lots of pricey hotels in some areas of the state. Nevertheless, you'll surely find a few cheap and nice hotels around you.
| | |
| --- | --- |
| | Beer in a grocery shop: US$2 - $4 |
A bottle of beer in a grocery shop may be sold for about 2- $4.
| | |
| --- | --- |
| | Beer in a bar or restaurant: US$4 - $10 |
Some sophisticated bars in Idaho may sell their beer at a very high price while others won't. Usually, a bottle of beer in a bar or restaurant may be within the range of $4 - $10.
| | |
| --- | --- |
| | Meal in a restaurant: US$6 - $70 |
It's advisable to eat in an inexpensive restaurant where meals are usually sold for about $6 - $20 if you're on a budget trip because a meal in an expensive restaurant may be about $30 - $70.
Accommodation
In Boise, you can get a bedroom apartment for about $1,200 and in Moscow, the sum of just $600 or thereabout can fetch you a lovely apartment. In Idaho falls, you might only be spending $650 to get a bedroom apartment but you'll need up to about $800 if you want to get one in Twin Falls. Nevertheless, Idaho has lots of cheap and expensive hotels where you can lodge if you don't want to rent an apartment.
How to Get There and Move Around
By air: Boise Airport is the largest airport in Idaho and the northern part of the state is primarily served by Spokane International Airport. Other airports serving the state are:
Idaho Falls Regional Airport
Friedman Memorial Airport
By bus: There's no mass transit in Idaho but there are a few bus service providers serving the state.
By car: If you're visiting from a nearby state, you can just drive in or probably rent a car.
By train: Amtrak serves the state and it only has a stop, which is in Sandpoint.
By boat: There's no means of getting around by boat.
Visas: If you want to visit Idaho for a period of 90 days or less without a need for visa, you may apply for the Visa Waiver Program. However, there are certain criteria you must meet to travel with this opportunity. One of them is to be a citizen or National of a VWP-participant country. Currently, there are just 38 countries worldwide that are participants of the Visa Waiver Program. Another option for you to travel to Idaho as a non-US citizen is to obtain a visitor or tourist visa.
Digital Nomads and Remote Work
Idaho has a few industries but you can't be guaranteed that you would find a remote work. However, this doesn't mean it's impossible to get one. Ask the locals around and make further researches online.
Internet and Mobile Operators
There are 32 internet options in Idaho and the best internet service providers in the state are:
CenturyLink
Spectrum
Cable One
Viasat
Frontier
Suddenlink
Sparklight
Hughesnet
Cox
Gambling and Casinos
There are 13 casinos in Idaho and the biggest one is the Coeur D'Alene Casino Resort Hotel.
Weed and Drugs
It's illegal to possess marijuana in Idaho.
Health, Fitness, Gyms and Massage
The largest city of Idaho; Boise, has a lot of nice gyms and spas like:
Idaho Fitness Factory
Jack City Fitness
Idaho Fitness Factory
Axiom Fitness
Anytime Fitness
Blissful Massage
Pur Zen Massage Therapy
Pasinee Thai Massage
Organic Origins Spa
Relax Massage
Idaho Falls is also furnished with a large number of gyms where you can enjoy keeping fit and its spas are plentiful as well:
Gold's Gym
Planet Fitness
YMCA of Idaho Falls
Bodifi - Idaho Falls
Apple Athletic Club
Anytime Fitness
Soothing Massage
Oasis Massage
Asian Bodywork & Aromatherapy
Cure Touch Massage Therapy
Other cities in the state have a couple of nice spas too:
Tranquil Turtle Massage in LLC in Coeur d'Alene
Coeur d'Alene Resort Spa in Coeur d'Alene
Gravity Fitness and Tennis in Hailey
The Cove, an Authentic McCall Spa in McCall
Burgdorf Hot Springs in McCall
Maple Grove Hot Springs in Thatcher
Highland Day Spa in Post Falls
Durfee Hot Springs in Almo
Green Canyon Hot Springs in Newdale
Two Rivers Salon and Spa in Eagle
Zenergy Ketchum in Ketchum
Cedar Spa in Fort Hall
Magical Foot Spa in Nampa
Cure Touch Massage Therapy in Rexburg
Namaste Spa and Salon in Rexburg
Gemstone Climbing in Twin Falls
STDs and HIV
The rates of HIV and sexually transmitted diseases (STDs) like chlamydia, gonorrhea, and syphilis are on the increase in Idaho.
Stay Safe
Idaho cities are by and large quite safe. While seedy neighborhoods and organized street gang activity exist, people rarely get into trouble without actively looking for it first. Local police tend to be courteous, professional and at times even lenient provided they don't suspect you of any major wrongdoing. They do, however, take an especially dim view of drunk driving and illegal drug possession.
In stark contrast to several of its neighbors, marijuana remains highly illegal in Idaho. Even medical marijuana and oils will get you in trouble here.
See Also