Oklahoma
Oklahoma dating guide advises how to pick up Oklahoman girls and how to hookup with local women in Oklahoma. Travel, enjoy and have fun with hot single girls and you might even meet the love of your life. Read more on how to date Oklahoman women, where to find sex and how to get laid in Oklahoma, United States of America.
Situated in the South Central region of the United States of America, Oklahoma is surrounded by Colorado, New Mexico, Arkansas, Missouri, and Kansas. Its capital and largest city is Oklahoma City and people who live in the state are referred to as Oklahomans. Of all the states in the United States of America, Oklahoma is the 28th-most populous and the 20th-most extensive.
Oklahoma Top 10 Overview:

Chance of picking up girls: 3.6 / 5

Picking up at daytime: 3.5 / 5

Picking up at nighttime: 3.7 / 5

Looks of girls: 4.2 / 5

Attitude of girls: 3.8 / 5

Nightlife in general: 3.8 / 5

Locals' English level: 5 / 5

Transportation: 3 / 5

Budget per day: US$90 - $500

Accommodation: US$20 - $400
Oklahoman Girls
Oklahomans are fabulous people and if you're fortunate to date a girl from Oklahoma, you would definitely not regret it because Oklahoman girls are amazing in their own way. Even though they can be very sweet, lovely, honest, and laid-back, it still doesn't obliterate the fact that there could be some little challenges. Thus, there are a few things you need to know before you proceed with your romantic relationship with your Oklahoman heartthrob. To start with, Oklahoman girls love to enjoy the simple things in life. Nevertheless, for Oklahoman girls, having a good time doesn't necessarily relate to wining and dining but to enjoy the simple things in life without creating a room for regrets. Secondly, a large number of girls in Oklahoma are "addicted" to college football. With this, it's best if you are on the same side with her team choice so that things wouldn't get ugly and because of this, you might have to dress in her team colors from time to time. Just as the girls have a strong thing for college football, they also adore fried food. So, get the food fried if you would love to fry your way into her heart. Thirdly, Oklahoman girls love spending time outdoors, especially when the weather is very nice and due to this, you can't avoid exploring the state together. In addition, Oklahoman girls also fancy going to concerts. The state has a great music scene and they love to attend the state's concerts to support the local artists in the state. With all that being said, it's important for you to know that your Oklahoman girl can have a gun in her possession so, stay safe and don't mess up. But be that as it may, Oklahoman girls are very compassionate and loving. The state is richly filled with a lot of friendly, funny and smart people and this is one of the reasons why you'll actually enjoy dating a girl from Oklahoma.
| | |
| --- | --- |
| | Looks of girls: 4.2 / 5 |
There are lots of beautiful girls in Oklahoma. From stunning white girls and dazzling black beauties to splendid Asians, you'll find a lot of cute and gorgeous girls in the state.
| | |
| --- | --- |
| | Attitude of girls: 3.8 / 5 |
Oklahoman girls are very compassionate, loving, and smart. And, they can be very friendly and funny.
Where to Get Sex Now
It is easy to get sex online in Oklahoma. You just need to find the best available girls. See Girls Online Here!
How to Pick Up Girls
| | |
| --- | --- |
| | Chance of picking up: 3.6 / 5 |
There's a great chance of picking up girls in Oklahoma because of the plentiful of young, single girls and the numerous party hotspots in the state. Tahlequah, Ada, Tulsa, and Weatherford are some of the top cities where you can easily pick up and get laid with girls in Oklahoma because they have a huge bar scene, a young population, and a good number of college kids. Other cities in Oklahoma where you can easily pick up Oklahoman girls are:
Oklahoma City
Durant
Okmulgee 
Bethany
Shawnee 
Tulsa
Miami
Altus 
Tips for Daytime
| | |
| --- | --- |
| | Chance of picking up at daytime: 3.5 / 5 |
Hooking up with girls in Oklahoma during the day is not a difficult task but it can be a bit challenging. For your day gaming in Oklahoma, you can take a stroll around some of the streets that are known to have heavy traffic, eat in a fine restaurant, or take a coffee at the coffee shop. Colleges and universities like Oklahoma State University - Oklahoma City, Southwestern Oklahoma State University, East Central University, and a few others are great spots for your day gaming and you can just hang around the shops or parks around them if you can't game on campus. Another option for your day gaming in Oklahoma is to sign up on online dating sites. Oklahoma is home to a large number of smart and educated women and you would be surprised with the terrific amount of beautiful Oklahoman girls you'll get to meet online.
Best Places to Meet Girls
Due to the fact that there's a good population of women in the state, meeting and hooking up with a lady in Oklahoma shouldn't be a very difficult task to accomplish. If you're in Oklahoma City, you can meet a lot of women at the Deep Deuce and Bricktown areas as there are lots of girls passing here during the day. Shopping malls are another great places where you can meet and hook up with women in Oklahoma City:
Penn Square Mall
Quail Springs Mall
Northpark Mall
OKC Outlets
Sooner Mall
If you're in Tulsa, you can take a walk around downtown or near Blue Dome for these two areas are often crowded with women and they hold great potential for meeting lots of sexy girls. Another place where you can meet women in Tulsa is Utica Square because it is the prime shopping district area. Other places where you can meet a lot of girls in Tulsa are:
Tulsa Hills Shopping Center
Woodland Hills Mall
Tulsa Promenade
The Farm Shopping Center
If you're in Moore, here are some nice spots where you can meet and connect with Oklahoman girls:
Shops At Moore
Sooner Shopping Center
Showplace Market
Southgate Shopping Center
Vans Plaza
Avondale Square Shopping Center
Leonard Curtis
New City Center
You can also meet girls in Norman at any of these places:
Sooner Mall
University Town Center
Parkway Plaza Shopping Center
Brookhaven Village
Robinson Crossing Shopping Center
West Lindsey Shopping Center
Carriage Plaza Shopping Center
Alameda Square
Sunglass Hut
Main Center
Tips for Nighttime
| | |
| --- | --- |
| | Chance of hooking up at nighttime: 3.7 / 5 |
When it's dark, the party never stops in Oklahoma as the girls in the state are always out to have a good time. If you're in Oklahoma's capital and largest city; Oklahoma City, the Bricktown area is a great spot to hook up with women and this is where you will find some of the nicest clubs and bars in the city. To include, this area is the principal singles nightlife district in the city and there will be lots of girls around this area coming to party for the night. Some of the best nightlife spots in this Bricktown area are:
The Criterion
The Mantel
Tapwerks
Harkins Theatres
Exhibit C
Another district in Oklahoma city that has a good nightlife and potential of getting laid with Oklahoman girls is Deep Deuce. If you want to hook up with young, sexy girls in Oklahoma City, this area is where you should be. One of the best spots in this area is Deep Deuce Grill and this venue is crowded with lots of young professionals in Oklahoma City. If you love to drink at one of the best bars in the city, stay around Midtown. This area has a lot of nice spots like Packard's New American Kitchen's, McNellie's Public House, O Bar, Fassler Hall, Dust Bowl and R&J where you can enjoy drinking and unwind with beautiful Oklahoman girls.
In Tulsa, the only area that is most crowded with a good number of girls partying and turning up at nighttime is the principal area for singles nightlife which can be found at Blue Dome Entertainment District. You will find a large concentration of singles bars and nightclubs. In fact, this district is reputed to house some of the best nightlife venues in the city and it is an area that swarms with a great number of sexy girls when it is dark. Other areas that are great spots to party in Tulsa are Cherry Street and Brady District.
Some of the top nightlife spots that are great for picking up girls in Tulsa are:
Soundpony Lounge
Hunt Club
Caz's
Arnie's Bar
McNellie's Pub
Enso Bar
The Unicorn Club
Club Majestic
In Stillwater, you'll find a lot of nice after-hours hotspots, wine bars, and restaurants with a cozy ambiance where you can enjoy a great evening with the presence of cute, sexy girls.
T.F.S.
Brannigans Bar & Grill
Buffalo Wild Wings
College Bar
The Copper Penny
Finnegan's Pub
George's Stables
Best Nightclubs to Meet Girls
Whether you want to dance or stay at a spot where you can enjoy your drink and listen to nice, buzzing music, Oklahoma has a lot of nice spots for you and you'll surely be surrounded by beautiful, young girls who are not ready to give you a tough time because they themselves, are looking for a partner to spend the night with together. Some of the popular bars and nightclubs in Oklahoma are:
Michael Murphy's Dualing Pianos in Oklahoma City
Valkyrie in Tulsa
Put A Cork In It Winery in Oklahoma City
The Max Retropub in Tulsa
The Patriarch in Edmond
Hodges Bend in Tulsa
Kroner & Baer Pub in Tahlequah
Libby's Cafe in Goldsby
The Martini Lounge in Edmond
Nowhere on Route 66 in Afton
Vintage 22 in Ada
Old Ice House in Durant
Turek's Tavern in Choctaw
Pinot's Palette Riverwalk in Jenks
| | |
| --- | --- |
| | Nightlife in general: 3.8 / 5 |
Having fun at nighttime in Oklahoma is guaranteed as there are numerous venues in each city offering lots of things to do for the night and with the propensity of girls in the state to party when the sun goes down, the fun is just getting started!
Mature Ladies and Cougars
There's a huge dating scene in Oklahoma but regardless, hooking up with a cougar in the state might be a bit challenging. You can meet and connect with cougars in Oklahoma in different ways but it's up to you to select the perfect option that is best for you. From museums to gyms, local bars, and dating sites, there are lots of options of places where you can meet cougars in Oklahoma. However, if you prefer going to a local bar to meet Oklahoman cougars, make sure you don't go to college bars such as La Brasa or The State Room but you can try out spots like The Garage Burgers and Beer, Whiskey Chicks, Groovys, or Redrock Canyon Grill.
Regions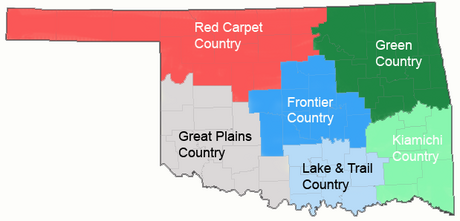 Cities
Dating
When visiting Oklahoma, dating can be a fun and interesting experience. AdultFriendFinder.com, lets you meet local members in Oklahoma and get to know them on a personal basis before you arrive. It just takes a few minutes, you simply create an account, upload a few images and tell a little about yourself. Since time in your destination may be limited, get to know each other's desires beforehand so when you do meet, you can skip the awkward introductions and start having some real fun.
Top Dating Tips
There are lots of date ideas in Oklahoma. For your date night, you can just keep it simple by going to a very nice restaurants where you can laugh and gist together. And if it's a day date, here are nice suggestions for you:
Oklahoma City Museum of Art in Oklahoma City
Fred Jones Jr. Museum of Art in Norman
Arcadia Lake in Oklahoma City
The Myriad Botanical Gardens in Oklahoma City
Tulsa River Parks in Tulsa
Guthrie Green in Tulsa
Stinchcomb Wildlife Refuge in Oklahoma City
Firehouse Art Center in Norman
Lake Thunderbird State Park in Norman
Martin Park Nature Center in Oklahoma City
The Zoo in Tulsa
Woodward Park in Tulsa
Academic Singles
Thousands of singles are looking for a chat, a date, a partner for love, and a wonderful future. Using scientifically designed questionnaire, with Academic singles you will only be matched with partners that are compatible. Get your questionnaire, your personality assessment and your matches all completely free. Start now: Academic Singles
Online Dating
Whether you want to meet the local girls or the college girls in Oklahoma, online dating sites are where you will get to easily connect with either or both. Some of the most used online dating sites in Oklahoma are:
Tinder: Whether you're visiting Oklahoma for a short or long period of time, Tinder can help you achieve a lot when it comes to hooking up with beautiful girls. If you're not the clubbing type or you don't have enough confidence to talk to girls directly, Tinder could help relieve your tension and all you have to do is to simply swipe and chat. Once you get signed up, make sure you upload a very cute photo that shows your handsome figure and, have an interesting bio.
Hinge: This dating site is guided by authenticity and it is inspired by love as it is committed to providing long-term relationships and monogamous commitments to those who seek them. One of the specialties of this dating website is that it allows people to comment on other pictures which is a cool way of breaking the ice.
Coffee Meets Bagel: Quality is the principal feature of this dating website - quality people and quality connections. On this dating site, matches are referred to as bagels and you are given a circumscribed number each day, it may be close to 21 for men and for women, it's determined by the number of men who recently "liked" their profiles. It was the three sisters; the founders, that created this approach so as to save singles time and make the dating app more women-friendly.
Happn: There is something special about Happn, it has a mysterious way of connecting you with someone special you had once met before with its mixture of online dating with offline dating. This dating app gets you connected with people that you have crossed paths with in reality, it tells you how many times it has occurred and leave you to take the necessary action.
Live Cam Dating
Are you looking for virtual satisfaction in Oklahoma? Chat with live web camera models and find the best girl for your needs. There are thousands of girls online 24/7 waiting for you: Live Cam Girls
What Kind of Guys Have the Best Chances
Oklahoman girls do not require too much from a guy, just smell nice and look good. And if you have a couple of cash to spend for the ladies, that's good too.
Risks while Gaming
To an extent, Oklahoma is quite safe but do ensure to stay away from women who are already hooked up and stay conscious of your environment.
How to Get Laid as Soon as Possible
If you are visiting the state and you are looking for who to have sex with quickly, it will be quite challenging to find a girl that would subscribe to having sex with you at first sight except she's super into you. In fact, it would be a foolhardy thing to walk up to a girl and demand for sex when she is not a hooker. Getting laid with girls in Oklahoma is often "natural" but if you are up for a fast gaming, your best choice is to sign up on online dating websites where you will meet ladies who share the same motive with you.
Gold Diggers and Sugar Babies
Oklahoma is full of hot girls looking for a mutually beneficial hookup with travellers. There are lots of girls who don't charge by the hour but who will do anything for a guy who is willing to help them pay their bills. If you are looking for a more personal and less transactional alternative to escorts, a good place to find these sexy open-minded girls in Oklahoma is SecretBenefits.
BDSM
Looking for a new bondage partner while traveling? ALT.com is a community of like-minded people with members around the globe. Our members are interested in submissive sex, power exchange, locating persons for new slave roles, erotic BDSM, bondage & fetish sex, as well as live sex dates. Find thousands of play partners for whatever your fetish may be; bondage, foot, cockold, spankings, role-play, electric or water play, sadism, and masochism all while traveling in Oklahoma.
Swinging and Naturism
Some of the popular swinger clubs in Oklahoma are:
Club Secrets in Tulsa
The Club in Tulsa in Tulsa
The Green Door Tulsa in Tulsa
TheClubinOKC in Oklahoma
City
City
Costs of Living
The cost of living in Oklahoma is not really high.
| | |
| --- | --- |
| | Single traveler's budget per day: US$90 - $500 |
As a solo traveler in Oklahoma, you may be spending close to $90 - $500 per day
| | |
| --- | --- |
| | Accommodation per night: US$20 - $400 |
The cost of renting an apartment in Oklahoma is not quite expensive and you will still get to find a cheap, nice hotel around you.
| | |
| --- | --- |
| | Beer in a grocery shop: US$1 - $3 |
A beer in a grocery store may be sold for about $1 - $3.
| | |
| --- | --- |
| | Beer in a bar or restaurant: US$4 - $12 |
A beer in a bar or restaurant may be sold for about $4 - $12 depending on the sophistication of such place.
| | |
| --- | --- |
| | Meal in a restaurant: US$7 - $150 |
In an inexpensive restaurant, a meal may cost just $7 - $20 but eating in an expensive restaurant may make you spend more, around $30 - $150.
Accommodation
Renting an apartment in Oklahoma is a good idea for those who will be visiting for a long period of time. In Oklahoma City, you'll need about $1,000 to get a nice bedroom apartment in the city center while in Tulsa, you'll need around $800 to procure a nice bedroom apartment for a month. However, Norman seems to be a better option when it comes to renting an apartment because, with about $700, you can get a nice bedroom apartment.
How to Get There and Move Around
By air: There are two major airports serving the state:
Will Rogers World Airport in Oklahoma City
Tulsa International Airport in Tulsa
By bus: There are a few bus service providers serving the state.
By car: Getting around the state by car is convenient and you can always rent a car.
By train: Getting around by train is not really common in Oklahoma. However, there's this recent Eastern Flyer route that is operated by Iowa Pacific. It serves Tulsa and Oklahoma City.
By boat: There's no means of getting around by boat.
Visas: If you want to visit Oklahoma for a period of 90 days or less without a need for visa, you may apply for the Visa Waiver Program. However, there are certain criteria you must meet to travel with this opportunity. One of them is to be a citizen or National of a VWP-participant country. Currently, there are just 38 countries worldwide that are participants of the Visa Waiver Program. Another option for you to travel to Oklahoma as a non-US citizen is to obtain a visitor or tourist visa.
Digital Nomads and Remote Work
There's a great chance of finding a few remote works in Oklahoma.
Internet and Mobile Operators
There are 49 internet options in Oklahoma and the best ones are:
Spectrum
Cox Communications 
Xfinity
Windstream  
Suddenlink Communications 
HughesNet 
Fidelity
Sparklight
Gambling and Casinos
In Oklahoma, casino gambling, tribal gambling, charitable gaming, lottery, horse racing betting, and tribal poker are legal. However, social gambling and dog racing betting are not permitted by the law.
Weed and Drugs
It is legal to possess cannabis in Oklahoma and as well use for medical purposes. You can visit any of the approved stores to procure some if you'd love to.
Health, Fitness, Gyms and Massage
Spas in the state can be a nice option for your date and the gyms can be great spots where you can meet both young and older ladies. Oklahoma is home to a large number of gyms and spas that are dedicated to serving your health needs.
STDs and HIV
The rates of HIV and STDs in Oklahoma are a bit low.
Stay Safe
Crime against travelers is not a big problem in Oklahoma. It is safe to walk in the evenings in almost all Oklahoma cities. Some care should be taken in the major cities of Oklahoma City, Tulsa, Edmond, and Lawton due to a higher crime rate in some areas of these cities. There are many areas of Oklahoma City that are not well lit at night or which have no sidewalks. Travelers should exercise common sense in walking in well-lit areas, staying on busy streets, removing valuables from vehicles, and locking vehicles.
Most Oklahomans will readily help anyone in need, regardless of whether they are known to them or a stranger. There is very little "ice" among people in Oklahoma. A traveler in need of assistance should expect a helpful and friendly attitude.
See Also