Czech Republic
Czech Republic dating guide advises how to pick up Czech girls and how to hookup with local women in Czech Republic. Travel, enjoy and have fun with hot single girls and you might even meet the love of your life. Read more on how to date Czech women, where to find sex and how to get laid in Czech Republic, Europe.
Czech Republic is a country in Central Europe. It covers an area of 78,866 square kilometers. Czech has a temperate continental climate. The population of Czech Republic is approximately 10,649,800. The capital of the country is Prague. The official language of Czech Republic is Czech, and some other languages that are spoken include German, Polish, Greek, Slovak, Russian, etc. The ethnic groups inhabited in this country are Czechs, Moravians, Slovaks, Ukrainians, and some of them are even unspecified.
The Czech Republic has become one of the top tourist destinations in Europe. Almost 20 million people visit this country yearly. Prague attracts the maximum number of tourists, but other cities are equally captivating. They include Karlštejn Castle, Kutná Hora, Brno, Český Krumlov, České Budějovice, Olomouc and the Lednice–Valtice Cultural Landscape. The Czech Republic has a lot of beautiful mountains and rivers and many other fascinating tourist places. Prague attracts large numbers of foreign tourists, mostly from Germany, Russia, Poland, United States of America, Israel, and the United Kingdom.
Czech Republic Top 10 Overview:

Chance of picking up girls: 4.5 / 5

Picking up at daytime: 4 / 5

Picking up at nighttime: 4.5 / 5

Looks of girls: 4 / 5

Attitude of girls: 4 / 5

Nightlife in general: 4.5 / 5

Locals' English level: 4 / 5

Transportation: 4 / 5

Budget per day: US$84 - $100

Accommodation: US$80 - $97
Czech Girls
The Czech Republic is a country where chances of picking up girls are fairly high. The women in Czech Republic are very pretty in their natural looks. They do not believe in putting up make-up, so they are beautiful in their natural way. Czech women do not believe in just staying at home. Instead, they gain some practical skills, find a job, and work for their independence. These women also adhere to diet and healthy style of life.
The girls in this country are fun to be with. They neither have a compulsion for getting into a serious relationship, nor do they have conservative values. Indeed, the chance of finding a conservative girl in Czech Republic is very rare. Czech women are more appealing to date as they are more sexually liberated compared to the women in other neighboring countries of Europe. These girls believe in equality of both men and women and are liberal in ways more than one.
Some of the tourists believe that Czech girls are too wild. To get in a relationship with a Czech girl is a risky affair as they are so liberal in sexuality, the men are often scared if the girls can play the game of monogamy in dating. Nonetheless, if you are looking for casual hookups and nothing serious, then this country is the best place for it.
| | |
| --- | --- |
| | Looks of girls: 4 / 5 |
The looks of girls in Czech Republic are a mixture of German-Slavic. The shape of their nose, in particular, is unmistakably Slavic. The women of this country have certainly been blessed with stunning beauty. Hair color is mostly light brown like most Slavs have. Sometimes, there are burning brunette and blondes. They have beautiful eyes. Girls of this country have authentic looks. As for clothes, casual shirt, jeans, sneakers are companions of an average Czech girl and to emphasize themselves they wear different glasses, scarves, and imitation jewelry. The girls have a quirky way of dressing up. Girls in Czech Republic are attractive and are known for their beauty in the whole of Europe.
| | |
| --- | --- |
| | Attitude of girls: 4 / 5 |
Czech girls are extremely affable. They are open to talk to strangers and do not shy away from them. Girls in Czech are very open-minded when it comes to casual dating and having fun. They are smart, independent, kind, and fun to be around. If you approach them, they will help you and even befriend you. That is how open they are. Girls often reciprocate the advances of the strangers. They flirt openly. These girls are also smart. They can see easily see through the facade if you put one. So be yourself and do not show something you are not. They will see right through you.
Where to Get Sex Now
It is easy to get sex online in Czech Republic. You just need to find the best available girls. See Girls Online Here!
How to Pick Up Girls
Picking up girls in this country is fairly easy. Girls in the Czech Republic are sexually liberated and are open to the idea of casual dating or casual sex. They are not conservative in their ideologies. Moreover, they know how to party. Prague, which is the capital of the country, is known as the sex city due to it's wild nightlife.
Just because these girls are open sexually, that does not mean you will approach them poorly dressed and talk to them in a snobbish way. Pop in a mint and put on deodorant. A girl can smell you if you are close enough. If you expect the girls to throw themselves at you when you talk nothing but nonsense and throw yourself openly at her, then you are dead wrong. Mutual attraction is necessary. You should know the right things to say and show up a good attitude. Girls appreciate the honest look, so don't pretend to be something you are not.
You can meet these girls, mostly all the cities of this country. Prague is a city where there are many places where you can meet and pick up girls. Some of the famous places are:
Chapeau Rouge (Bar, nightclub & live music venue spread over 3 floors)
Harleys (Bar)
Oldtown
Other cities like Plzen, Moravian Karst, Litomysl, Telc, Cesky Krumlov are also tourist destinations where you can meet and pick up girls.
| | |
| --- | --- |
| | Chance of picking up: 4.5 / 5 |
Chances of picking up girls are pretty amazing. Most of the girls here are open to the idea of casual sex. Rarely, you will find girls looking for relationships, that too in unknown small cities of the country. Being a foreigner is a cherry on top. In most of the cities, when you visit, there are high chances of being stood out as the cities face less number of foreigners. So small-town girls are mostly attracted to the new tourists in town. In Prague, it might be difficult for you to stand out. Nonetheless, it won't be difficult for you to pick up girls as they are generally open to the idea of getting to know the tourists.
Tips for Daytime
Picking up at daytime is as easy as picking up at nighttime. But you have got to play it right. The women in this country believe in walking from one place to another when going somewhere, rather than using transport vehicles. These women work during the daytime, but in spite of that, they are very approachable. All you have got to do is walk down the roads, and you will meet plenty of women going on about from one place to another. Ask them about the directions, or you can start a conversation about the weather. But do approach with a smart attitude, instead of looking dull. Smile a bit, look smart, and you will attract the attention of the girls easily. Keep the conversation light. Flirt a little bit and be peppy. Do not have deep conversations. You might lose the attention of the girl. Here are some of the places where you can approach girls during the daytime.
Prague - You can meet girls at:
Nove Mesto
Mala Stranaare
Palladium Mall
Atrium Flora
Petrin Hill Observation Tower
Charles Bridge
Telc - Some of the famous places are:
State Chateau Telc
House no. 15
Pansky Dvur
Rozhledna
Plzen - You can visit:
J.K Tyl Theatre
Three golden fountains on Main Square
The Pilsen Town Hall
Republic Square
Dinopark
Burgher's Hall
Cesky Krumlov - In this city you can try visiting:
Castle Complex
Medieval Centre
Baroque Theatre
Litomysl - The places to visit in this city are:
Litomysl Castle Hill
Litomysl Town Square
Mestska Galerie
| | |
| --- | --- |
| | Chance of picking up at daytime: 4 / 5 |
Chances of picking up girls during day time are very high. You need to be friendly and not overly aggressive. Do not try to be more intimate when you first approach the girl. The girls of this country are very friendly and do not reject the advances given that you play it well. The girls in Czech Republic often judge the appearance so dress up wisely and smartly.
Best Places to Meet Girls
There are many places in Czech Republic where you can meet and get to know the girls. Some of them are
Prague -
Cerna Ruze (Shopping Center)
Arkady Pankrac (Shopping Mall)
Centrum Chodov (Shopping Center)
Telc -
Litomysl -
Litomysl castle hill
Portmoneum
Pilsen zoo
Farmer markets
Castles close to Pilsen
The Pilsen City Hall
Tips for Nighttime
Picking up girls in Czech Republic is most easy. Girls in Czech during the night are mostly looking for fun. You need to relax and let loose with it comes to partying with the locals. There are pretty wild parties that take place during the night in Prague. Most often than not, there are many stag parties. You will see, most of the bars and the pubs put up a board saying No stag parties. Chances of hooking up during the night are very easy. Just approach a girl, talk smoothly, make her laugh and she'll reciprocate your advances in no time. Here are a few places in the following cities where you will find wild night-life and will have the best time.
Lucerna Music Bar (Wenceslas Square)
Roxy
Music Club
Karlovy Lazne
Cesky Krumlov - Zapa Bar, City Lounge Music Club and Bar, Cikanska Jizba and Gorilla Rock and Pub
| | |
| --- | --- |
| | Chance of hooking up at nighttime: 4.5 / 5 |
The probability of hooking up with girls at night is just as much as it is during the day. The girls in this country know how to party, so it won't be difficult for you to find a girl who wants to hookup. You can be as open as you want to when it comes to flirting but do not come off as creepy. If you are not having a great night, you can always try your luck at a different nightclub or bar. Live in a hotel, which is close to the nightclubs. In that way, you do not have to worry about going from one place to another, late at night.
Best Nightclubs to Meet Girls
There are many nightclubs in this country where you can try your luck to meet girls. Some of them are :
Some bars are famous in Prague and other cities that are beautiful with excellent music and a splendid vibe. Alcohol is very cheap in these bars. Some of the bars are-
| | |
| --- | --- |
| | Nightlife in general: 4.5 / 5 |
The nightlife in Czech is impressive in the way that it is vivaciously vibrant and happening. There are bars and local pubs all around the cities of this country, which gives a fun vibe. The locals come to enjoy the night-life sometimes almost every day and engage with the tourists. Some wild parties also go on in pubs or in general. You will also find many stag parties happening in the cities. All in all, if you are looking for a country with cheap booze, hot babes and wild parties, then the Czech Republic is the right country to visit.
Mature Ladies and Cougars
Probability of finding mature women and cougars are good in this country. Czech Republic is a country where you will find women of all ages looking for fun and having the day of their life. Cougars won't be hard to find. But do get a clear signal from the mature lady if she is interested in you or not. If you are looking for cougars, you can talk to them online on dating sites and apps too. There are many online dating sites for cougars where you can get laid easily. In general, remember to be careful and respectful when you approach these women.
Regions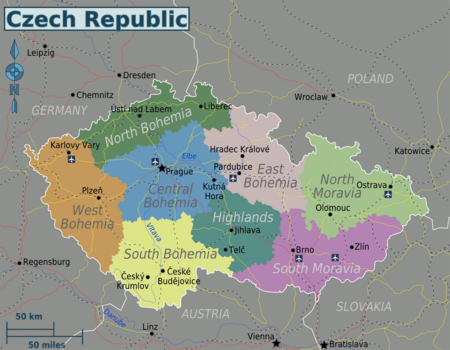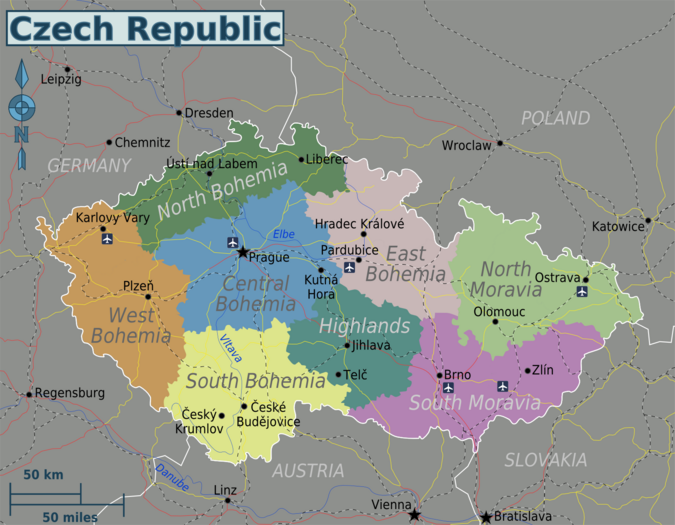 Central Bohemia
The central part of the Czech Republic with the capital Prague.
| | |
| --- | --- |
| | Bohemian-Moravian Highlands |
| | |
| --- | --- |
| | North Moravia and Silesia |
Cities
Dating
When visiting Czech Republic, dating can be a fun and interesting experience. AdultFriendFinder.com, lets you meet local members in Czech Republic and get to know them on a personal basis before you arrive. It just takes a few minutes, you simply create an account, upload a few images and tell a little about yourself. Since time in your destination may be limited, get to know each other's desires beforehand so when you do meet, you can skip the awkward introductions and start having some real fun.
Top Dating Tips
Girls in the Czech Republic are outgoing and fun to be with. So, of course, they will be looking for a guy who is fun to be with. You have to be charming when it comes to getting the attention of the women in this country. Make sure you are well dressed as the first impression matters a lot. Be friendly, smile a bit, and ease on to a light conversation. Getting a girl to go out with you is not that difficult. On the first date, take her somewhere, which is famous in the locals. You can try a fancy place if you want to, but the girls here are mostly down-to-earth and do not believe much in superficial things. Here are some of the restaurants in the cities famous for dates-
Portfolio Restaurant in Prague
Vegan's in Prague
Borgo Agnese in Brno
Tusculum in Karlovy Vary
Buffalo Burger Bar in Plzen
Other than that some of the day date places are Myslbek and Centrum Chodov in Prague, Pansky Dvur and Rozhledna in Telc and J.K Tyl Theatre and Three golden fountains on Main Square in Plzen. During the date, engage in a light conversation. Do not indulge in deep topics like personal life or politics. It may either bore her or make you seem like a bore. You can be physical as long as you know how to pull it off. Do not seem like a creepy guy talking nonsense just to get laid.
Relationships and Love
Thousands of single women in Czech Republic are searching for a partner and potential future husband. Check out an ultimate guide for dating local girls, relationships, love and marriage: Relationship & Love Guide to Czech Republic
Online Dating
Online dating is now very common. Almost, every other guy is dating online and getting laid. Instead of going out and meeting people, one can always make up their profile on any dating site or app and meet people there. There are high chances of meeting girls online who are there for casual sex and friends with benefits. There might be gold diggers here and there but one is sure to find a match for casual hook-ups.
Some of the famous dating apps are-
Tinder: It is the most popular app. One needs to put up their pictures, add in their bio writing what they are looking for, and done! You see girls, and if you like their picture and bio, you swipe them right. If not, you swipe left. If the girl accepts the match, you can chat and hook up.
Live Cam Dating
Are you looking for virtual satisfaction in Czech Republic? Chat with live web camera models and find the best girl for your needs. There are thousands of girls online 24/7 waiting for you: Live Cam Girls
What Kind of Guys Have the Best Chances
Czech is a country where girls are very open-minded with the idea of sex. They do not shy away with the prospect of talking to a stranger or even going out with them. The girls here are always looking for fun. But you need to show them that you are the person with whom she can have the most fun. There are a few things that the girls see in a guy.
The first impression is absolutely very important. You cannot just stroll in a road or a mall and meet a girl wearing ill clothes and smelling awful. When you approach a girl, she needs to be impressed at what she is looking for. Dress smartly. Wear casual clothes but dress in a good dressing sense and in a good color combination. Pop in a mint in your mouth and put on a deodorant just in case. If you look tip-top, there is a good chance of picking up a girl, and maybe you will get approached instead of you usually approaching them.
Girls also look out for the rich guys. Taking a girl out on a fancy restaurant often appeals to the girl and you have a better chance of getting laid. Do not be the guy who flaunts money. The inconspicuous behavior might help in attracting the attention of the girls. The girls in this country are very casual and usually kiss upon greeting. So you can be physical as long as it does not look creepy. There is a very good chance that you will get laid in a first date itself, so make sure you give the girl a perfect date to make her want to have sex with you.
Risks while Gaming
In this country, there aren't any major risks when gaming. This is because you'll find most of the girls reciprocating your advances. So, people are more acceptable when it comes to flirting and talking to strangers. But you need to be careful at all times, one wrong move and it can turn your own game into a disaster. Always make sure that you have the attention of the girl, you are wooing. If the girl gets bored by you, she may not even consider going out on a date with you, much less hooking up. Remember you are not the only tourist, playing your game and getting girls to like you. Also, behave well at all times and do not stand out of the crowd for any of the wrong reasons.
How to Get Laid as Soon as Possible
Getting laid as soon as possible in this country is not a major problem. One can get laid very easily even by meeting the girl during day time. The girls in this country are very liberal and open-minded when it comes to sex. Since they believe in casual sex and hook up quite often, it is not difficult for you to find these girls. But you need to be charming when you meet a girl and impress her to go out or rather hook up with you.
The key to hooking up is a mutual attraction. If the girl is not interested in you, you may find it very difficult to hook up in a new country. Although, you may hook up very easily in this country, still if it is taking the time or you are not in your A-game, you can always meet girls online. There are numerous dating sites where you can find girls for instantly hooking up. The girls on these sites are quite wild, and you may enjoy the nightlife of this country with these girls after hooking up. Another significant advantage is that the girls of this country are not looking for anything serious, and are not in a hurry to get in a relationship, which is a bonus.
Gold Diggers and Sugar Babies
Czech Republic is full of hot girls looking for a mutually beneficial hookup with travellers. There are lots of girls who don't charge by the hour but who will do anything for a guy who is willing to help them pay their bills. If you are looking for a more personal and less transactional alternative to escorts, a good place to find these sexy open-minded girls in Czech Republic is SecretBenefits.
BDSM
Looking for a new bondage partner while traveling? ALT.com is a community of like-minded people with members around the globe. Our members are interested in submissive sex, power exchange, locating persons for new slave roles, erotic BDSM, bondage & fetish sex, as well as live sex dates. Find thousands of play partners for whatever your fetish may be; bondage, foot, cockold, spankings, role-play, electric or water play, sadism and masochism all while traveling in Czech Republic.
Swinging and Naturism
These clubs are present and you might find them mostly in Prague. There is an erotic ANGEL Nightclub in Brno where you might find swingers. You can always join swinger groups online and arrange a meetup. Or you can visit bars and pubs regularly and get to know the people. You can get to know about their interests and can hook up with those who have similar interests. ALT.com is the best place for local singles, swingers, and couples in the BDSM community to connect with those interested in this.
Costs of Living
This section provides all information about the costs of living in the Czech Republic like budget per day, beer (shop or hotel), accommodation, etc. The costs may vary from one city to another but this section gives on an average cost, an estimate to help understand the budget for the visit.
| | |
| --- | --- |
| | Single traveler's budget per day: US$84 - $100 |
A single person may end up spending $84- $100 in a day including the cost of accommodation, transport, food, and sightseeing.
| | |
| --- | --- |
| | Accommodation per night: US$80 - $97 |
A single person may spend $80- $97 to stay at a decent hotel in the city.
A single person may spend $80- $97 to stay at a decent hotel in the city.
| | |
| --- | --- |
| | Beer in a grocery shop: US$1.5 - $2 |
On an average,$1.5-$2 is spent in buying beer from a shop at Czech. Beer is the cheapest in Czech as compared to other countries in Europe.
| | |
| --- | --- |
| | Beer in a bar or restaurant: US$03 - $04 |
Cost of a beer bottle in a neighborhood pub costs US$3-$4 all over the country.
| | |
| --- | --- |
| | Meal in a restaurant: US$06 - $17 |
Cost of a meal in a fairly inexpensive decent restaurant will range from US$6-$17.
Accommodation
The most famous cities of the Czech Republic offer good hotels, with an amazing view. They are of reasonable costs too. Try to find a hotel is near nightclubs or bars so it becomes easier to travel from one bar to another. Some of the best hotels also provide fitness gyms, spa, massages, and other top facilities.
How to Get There and Move Around
There are many transportation vehicles available to travel from one city to another in the Czech Republic. There are buses which take tourists from Prague to other cities. They also loan you cars to travel.
By air:
The Vaclav Havel Airport in Prague is the primary entry point for visitors not only to the Czech Republic but also to many other Central and Eastern European countries. Other international airports in the Czech Republic are located in Brno, Ostrava, Pardubice, and Karlovy Vary. While most of the Czech flights are international, domestic flights between Moravia and Bohemia are also available.
By bus:
Trips by bus are often the most pocket-friendly, and they'll get you to corners of the Czech Republic not accessible by plane or train. They range from luxury lines with air-conditioning and Wi-Fi, which run between major cities, to basic passenger outfits in more rural areas.
By car:
Travel by car provides faster transit between two points. Most of the trips take five hours maximum. Another bonus of car travel is that traffic is uncongested unless you're in a city during rush hour, and the six major motorways and numerous smaller roads are easily navigable. A range of cars is available to tourists, from zippy budget outfits to racy luxury vehicles, and they can be found in small local rental agencies.
By train:
An elaborate web of railways crisscrosses the Czech Republic; at around 5,900 miles of track, it's one of the largest rail networks in Europe. And compared to the West, prices are a steal. The main provider of train transit is the public Ceske drahy (Czech Railways), but private RegioJet and LEO Express have opened lines in recent years too. All are known for being efficient and reliable. Fares for all train travel are based on distance, and prices are discounted when tickets are bought in groups. 
By boat:
Whether you are planning to go on a visit, study or work and reside in the Czech Republic permanently, you will have to apply for a different Schengen Visa, accordingly. But you can apply for the visa online, and it is an easy procedure.
Visas:
Whether you are planning to go on a visit, study or work and reside in the Czech Republic permanently, you will have to apply for a different Schengen Visa, accordingly. But you can apply for a visa online, and it is an easy procedure.
Digital Nomads and Remote Work
One can always find a job in the Czech Republic. Look into the online jobs sites for vacancies, and you will find a job. You can also do some freelancing work and earn a bit in Czech. Prague, which is also the financial capital of the Czech Republic, offers many job opportunities for the digital nomads.
Internet and Mobile Operators
Internet in the Czech Republic and Internet access are largely provided by the private sector and is available in a variety of forms, using a variety of technologies, at a wide range of speeds and costs. There are mainly 4 mobile operators providing mobile telephone services in the Czech Republic. They are :
Telefonica O2 (Telephone codes:601, 602, 606, 607, 72 )
T- Mobile (Telephone codes:603, 604, 605, 73 )
Vodafone (Telephone codes:608, 77 )
U:fon (Telephone codes:79 )
Gambling and Casinos
Gambling is totally legal in the Czech Republic. There are 23 cities with gambling facilities in Czech which have 56 legal gambling facilities available in total. Some of the famous casinos in Czech are:
King's Casino in Rozvadov
Casino Ambassador Praha in Prague
Apex City Casino in Plzen
Casino Grand in Brno
Pupp Casino at Grand Hotel Pupp in Karlovy Vary
Casino Admiral Zelezna Ruda in Zelezna Ruda
Weed and Drugs
Marijuana is probably the most widespread illegal drug in the Czech Republic. Buying and selling of Marijuana are illegal. You might see people smoking weed in the bars on the streets. So you will be able to get hands-on drugs easily but do not smoke near the officials.
Health, Fitness, Gyms and Massage
People in the Czech Republic believe in a healthy lifestyle and adhere to a healthy diet. They go to the gym regularly. There are many gyms in this country. Some of the famous gyms include :
Aquapalace Praha in Prague
Original Salt Cave in Prague
W. Fitness and Spa in Prague
Minus 160 in Karlovy Vary
Luisa Novotna in Karlovy Vary
Getup Gym in Plzen
Avalon Fitness Center in Plzen
Spas in the Czech Republic are:
Lazne Pramen: Beer and Wine Spa in Prague
Beer Spa Bernard in Prague
Carlo IV Wellness and Spa in Prague
Beer Spa Beerland- Carlsbad in Karlovy Vary
Infocentrum Lazenska in Karlovy Vary
Infinit Maximus in Brno
Aquaforum in Frantiskovy Lazne
Beer Spa Beerland- Marienbad in Marianske Lazne
STDs and HIV
In a country with such thriving and liberal nightlife scene, it is not uncommon that the spread of infectious diseases is more prevalent than ever. It is advised to always use protection, in the form of physical barriers (condoms). There have been almost 1,779 cases of Sexually Transmitted Diseases (excluding HIV) in Prague from the year 2010. So it is highly recommended, for the individuals to monitor themselves for STD's carefully. These cases are not very common, but prevention is always better than cure.
Stay Safe
The Czech Republic is a safe country. Prague taxi drivers are known for taking you the longest possible way to earn more money. Watch your pockets, especially if there is a crowd.
See Also