Togo
Togo dating guide advises how to pick up Togolese girls and how to hookup with local women in Togo. Travel, enjoy and have fun with hot single girls and you might even meet the love of your life. Read more on how to date Togolese women, where to find sex and how to get laid in Togo, Africa.
The Togolese Republic, commonly known as Togo is a West African country that is surrounded by Ghana to the west, Benin to the east and Burkina Faso to the north. The country extends south to the Gulf of Guinea, where the capital city Lomé is located. It is one of the smallest countries in Africa. The country has sandy beaches, lagoons, high mountains, and many natural reserves with various flora and fauna to be seen, making it a rather beautiful place to visit.
The climate in Togo is generally a tropical one. In the northern regions of the country as well as along the coast, it has high temperatures ranging between 23 °C and 30 °C. In the south, there are two seasons of rain (the first between April and July and the second between September and November, even though the average rainfall is not very high.
Togo Top 10 Overview:

Chance of picking up girls: 3.5 / 5

Picking up at daytime: 3 / 5

Picking up at nighttime: 3.5 / 5

Looks of girls: 3 / 5

Attitude of girls: 4 / 5

Nightlife in general: 3.5 / 5

Locals' English level: 3 / 5

Transportation: 3 / 5

Budget per day: US$30 - $375

Accommodation: US$12 - $270
Togolese Girls
Togo is home to many African beauties. There are about 40 different ethnic groups in the country, meaning there are different heritages of African-American people. These women represent typical African beauty, with their dark skin, eyes, and kinky hair. The country is also home to some Indian and European beauties, although these are very few and makeup only 1% of the population.
As is typical with any place in the world, these women tend to vary when it comes to their personalities. Some of them are timid and strictly subscribe to their cultural and religious beliefs. However, others are more welcoming and open to having fun. The official language in Togo is French. The country has 38 other languages spoken, although onlyEwé and Kabiyé; have been chosen as the Togolese national languages. The use of English is quite rare in the country. The dominant religion is Christianity, followed by Animism and then Islam.
| | |
| --- | --- |
| | Looks of girls: 3 / 5 |
The women in Togo are considered as being typical African beauties. In most cases, they have the chocolate complexion and curvy bodies that are associated with women from the African continent.
| | |
| --- | --- |
| | Attitude of girls: 4 / 5 |
The general attitude of the girls in the country is pleasant. They are friendly people who are receptive to foreigners. There are many strictly cultural as well as strictly religious women as well.
Where to Get Sex Now
It is easy to get sex online in Togo. You just need to find the best available girls. See Girls Online Here!
How to Pick Up Girls
Togo is home to a variety of women who not only differ in looks but in character as well that tourists can attempt to pick up. You can approach the women that you come across during the day and be a charming gentleman that women would like at he first look. You can begin the conversation by asking about directions or any other general question and then carry the conversation forward, depending on how interested the woman is in talking to you.
Apart from that, visit all the happening places of the city that you are staying in, Make it a worthwhile experience and interact with a lot of the ladies. More details about the same, a few tips and tricks, are given in the sections below. So read on to find out!
| | |
| --- | --- |
| | Chance of picking up: 3.5 / 5 |
The chance of picking up girls in the country is really good. The women in Togo are, in most cases, open to dating tourists, but some factors could affect your chances of getting lucky. These factors include but are not limited to religion, culture, as well as the language barrier.
Tips for Daytime
The chances of picking up a girl at daytime in Togo are not very good. As a tourist, during the day is the best time to get in some sight-seeing to experience the beauty of the country. You can come across several girls during this sight-seeing process. Some of them could be unemployed and willing to join you on your tour, whereas you could meet others working at tourist hubs such as hotels, restaurants, museums, etc. You need to come across as charming as first impressions always count; therefore, if you catch the attention of a woman at work, you might get her number for later. Lastly, there is the issue of a language barrier as very few of the women speaks English, therefore when approaching girls, you need to be on the lookout for those who can understand you.
| | |
| --- | --- |
| | Chance of picking up at daytime: 3 / 5 |
Chances of picking up women during the day in Togo are rather average. This could be due to several factors, such as religious beliefs or the fact that you are approaching the wrong girls.
Best Places to Meet Girls
Togo is a rather beautiful country; with numerous places, you can visit to relax. There are multiple places you can visit to explore and relax during the day, and it is quite possible to meet girls at some of these places. These places could include tourist attractions, shopping malls, restaurants, and any other place that people enjoy daytime activities. It is important to remember that a majority of the population follows Animism, therefore when approaching girls, remember that there are some places they consider sacred. Therefore, your advances in said places can be regarded as a disregard for their culture. Given below is a list of the most popular places out of the many on the island:
Tips for Nighttime
The nightlife in Togo differs according to which part of the country you are in. The larger cities have a more exciting and entertaining nightlife than the smaller and remote areas. There are numerous things for one to do to keep themselves entertained throughout the night. After a long day of touring and site-seeing, the men should remember to take a bath and change clothes to be clean looking and smell fresh before they join the vibrant nightlife.
Also, you should be sweet, charming and most importantly, interesting and exciting to be able to gain the interest of the woman you fancy. It is important to remember that a large number of the population does not speak English; therefore, when approaching women, you should try to contact those who will at least understand your advances. The man should also make sure that the hotel they intend to take the girl back to is clean as the girls don't like or appreciate being taken to tacky backyard motels.
| | |
| --- | --- |
| | Chance of hooking up at nighttime: 3.5 / 5 |
Chances of meeting women at nighttime vary according to which part of the country you are in. In the big and modern towns with vibrant nightlife, your chances are rather high. However, in the smaller and remote areas, women are more cultural and afraid of what people will say, and this will lower your chances.
Best Nightclubs to Meet Girls
The major cities of Togo have many nightclubs with different environments, vibes, entertainment, and customers. You can select the one that you feel is best for you. The best nightclubs to meet girls are by far the fancier ones with a more expensive taste. These nightclubs boast of a variety of alcoholic and non-alcoholic drinks, good music, and a generally awesome vibe and are therefore worth visiting for both locals and foreigners. Below is a list of some of the best clubs in the country:
| | |
| --- | --- |
| | Nightlife in general: 3.5 / 5 |
The nightlife in Togo consists of numerous nightclubs, especially in the capital city. There is also the possibility of witnessing live shows of western African music. The country also has various restaurants for those who want to have a romantic night out. There are also several cinemas which show movies in both English and French. So, all in all, you will have fun in the capital and the bigger cities during the night.
Mature Ladies and Cougars
Relationships between younger men and mature ladies are not very likely to happen in Togo. Most of the mature ladies are married, and the single ones tend to want men in their age bracket, usually out of fear of judgment. However, there are a few of the single ones who are willing to spend their time enjoying with younger men but would probably want it to be a very private affair. Since secrecy is what married and mature women prefer, using online dating platforms regularly will benefit you a lot, as such women will be on these platforms to find a suitable partner.
Regions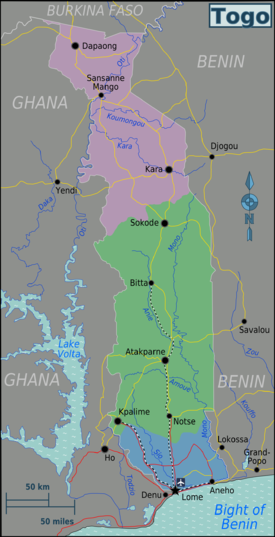 Maritime Togo (Lomé)
the Atlantic coast and the region that the vast majority of visitors see
Central Togo
rolling hills and forests, seldom visited
Northern Togo (Kara)
land of the Kabye people
Cities
Dating
When visiting Togo, dating can be a fun and interesting experience. AdultFriendFinder.com, lets you meet local members in Togo and get to know them on a personal basis before you arrive. It just takes a few minutes, you simply create an account, upload a few images, and tell a little about yourself. Since time in your destination may be limited, get to know each other's desires beforehand so when you do meet, you can skip the awkward introductions and start having some real fun.
Top Dating Tips
It is quite possible for tourists who stay for a long time in Togo to meet a girl who will be their holiday girlfriend. Some of the girls are quite bored with their life and find outsiders rather interesting. Therefore they are open to starting a relationship. Once you secure a date with someone in Togo, you should act like a gentleman on the date. These girls want their men to take charge of any situation and the best way to do that is to pay the bill yourself and keep making conversation during the date. You should also make her happy by getting her flowers or chocolates when going on the date. If your budget allows, you should take her shopping as well.
Relationships and Love
Thousands of single women in Togo are searching for a partner and potential future husband. Check out an ultimate guide for dating local girls, relationships, love and marriage: Relationship & Love Guide to Togo
Online Dating
Online dating has become a worldwide phenomenon and is available in Togo as well. Numerous dating sites allow those who haven't been able to physically meet their soulmate to be able to meet them online. Different people use different dating sites depending on what it is they are looking for. There are even sites whereby one can meet older women if that's what they are looking for. Given below are some dating apps you can use in Togo:
Mingle2: is quite a well-renowned dating site. It has thousands of profiles belonging to singles all over Togo who are looking for love, either on a long and serious term or even for short term relationships.
FirstMet: this is quite a popular dating site that is used by some people in Togo on Facebook. The website is open to all people across the world and allows you to go screen and narrow you're your search until you find single women in the country match what you are looking for.
InterracialDating: this is a dating site where numerous singles are found. It encourages the matching of interracial couples and is one of the most popular dating sites in Togo.
Datememe: is quite a large online dating site internationally. The site is focused mainly on hooking up people with black women. You can create a profile to try and connect with a black woman from Togo.
Live Cam Dating
Are you looking for virtual ssatisfaction in Togo? Chat with live web camera models and find the best girl for your needs. There are thousands of girls online 24/7 waiting for you: Live Cam Girls
What Kind of Guys Have the Best Chances
The guys with the best chances are the confident, fun-loving, and all in all exciting ones as compared to the shy guys. Also, good looking guys with well-toned muscles will have better chances around the beach areas. Having money and being a big spender is also an added advantage. Along with that, those who use online dating platforms regularly are more likely to get laid quickly.
Risks while Gaming
There are not a lot of risks when it comes to gaming in the country. All you have to do is to be more careful when you are making your move in a public place. Also, if a woman makes it abundantly clear that she is not interested in having a conversation with you, you should not pursue her any further. Lastly, don't lose hope if someone turns your down when you approach, cheer up and move on to the next one
How to Get Laid as Soon as Possible
The quickest way to get laid is probably is through the clubbing scene. Being a big spender could also speed up your chances of getting laid. Also, the use of dating sites might speed up the process of finding someone also interested in a quick lay without any of the extra hassles. Apart from that, you can generally just visit all the happening places in any city that you are in.
Gold Diggers and Sugar Babies
The Sugar Baby scene in Togo is still quite new but there are a lot of beautiful young girls looking for a Sugar Daddy. The best and safest way to hook up with a Sugar Baby is online. At SecretBenefits, there is a wide selection of nice girls who are looking for an older guy to take care of them. These babes are easy to approach, and you can settle everything before meeting up.
Anyone can be a sugar daddy. Just create your free account at SecretBenefits and start enjoying the wide selection of Sugar Babies available.
BDSM
Looking for a new bondage partner while traveling? ALT.com is a community of like-minded people with members around the globe. Our members are interested in submissive sex, power exchange, locating persons for new slave roles, erotic BDSM, bondage & fetish sex, as well as live sex dates. Find thousands of play partners for whatever your fetish may be; bondage, foot, cockold, spankings, role-play, electric or water play, sadism and masochism all while traveling in Togo.
Swinging and Naturism
There are no registered swinger clubs in Togo. Naturism is also illegal in the country. However, you can try browsing online to find any swinger communities that might exist in the country.
Costs of Living
Given below is an estimate of the costs of a trip to Togo:
| | |
| --- | --- |
| | Single traveler's budget per day: US$30 - $375 |
Any traveler visiting Togo would probably need anything in between $30 to $375 per day. This budget is completely dependant on the kind of luxuries and amenities you choose to avail during your trip.
| | |
| --- | --- |
| | Accommodation per night: US$12 - $270 |
The options for accommodation are truly vast, depending on the quality of the place you want to stay in, cost per night could range anywhere between $12 to $270.
| | |
| --- | --- |
| | Beer in a grocery shop: US$1 - $3 |
A traveler buying beer from a grocery shop would need less than $3 for a pint.
| | |
| --- | --- |
| | Beer in a bar or restaurant: US$2 - $4 |
The tourist wanting to have a drink at a restaurant or a bar should be prepared to spend around $4 on a single pint of beer.
| | |
| --- | --- |
| | Meal in a restaurant: US$4 - $25 |
The food in Togo is quite cheap. The country has numerous restaurants, offering various cuisines from local to western. The price of a meal depends on where you want to eat. A simple and small meal in a fast-food restaurant will cost roughly $4, while the cheapest meal which includes a drink in an inexpensive restaurant can be $5 and the most expensive restaurants go up to around $25. Some areas have mid-range restaurants with affordable prices; for example, it is possible to spend $14 on a three-course dinner for two.
Accommodation
Accommodation rates vary according to the quality of living that an individual prefers. It starts from as low as $12 in small lodges and can go up to $270 per night for 5-star holiday resorts such as the Le Patio hotel. Airbnb is also available and usually has good deals.
How to Get There and Move Around
Details about the transportation system in Togo are given below:
By air: Lomé–Tokoin International Airport is Togo's largest and only international airport. The airport mainly handles international flights because Togo has very few and infrequent domestic flights. You can use taxis or hotel shuttle services to move from the airport into the city.
By bus: Togo only has one bus service, which travels between Lomé and Cinkasse. The bus is reliable, affordable, and very comfortable. For the rest of the long-distance journeys the local use bush taxis.
By car:
A tourist can drive in Togo. However, most of the roads are in a state of disrepair, and it is wiser and safer for you to hire a car that comes with a driver who has experience with the roads. There are also taxis, which are an affordable and reliable mode of transport. The taxis are quite easy to identify as they have yellow license plates, and their registration numbers are printed on the cars.
By train:
Togo has no passenger trains.
By boat:
Boats are not a mode of transport that is used in Togo. However, in remote areas, it is possible to pay a local to take you across the lake or river with a boat in areas where cars cannot be used.
Visas:
Togo visa regulations vary depending on whether or not your country of origin is on the visa-exempt list. The visa can either be obtained at the country's embassy in your country, or you can obtain it upon arrival. Your passport is required to have at least two blank pages and be valid for a least a year from the date of entry.
Digital Nomads and Remote Work
The life of a digital nomad in Togo comfortable as the country is very cheap to live in. The country is spacious and not crowded, there is freedom of speech, and there is a high level of democracy. However, some of the conditions are not necessarily encouraging for digital nomads. These conditions include the fact that the internet connection is very weak and very slow, people don't speak English very well, very few nomads go there, and it is difficult to do business. Hence, as a conclusion, it would be fair to say that Togo is not an ideal place for digital nomads and remote workers.
Internet and Mobile Operators
Togo has two main mobile network operators, namely:
The internet in the country is not really fast and is also relatively cheap. Most hotels offer Wi-Fi access to their patrons.
Gambling and Casinos
As far as gambling is concerned, it is legal in Togo. However, there are not a lot of places where one can go to gamble or play. Togo has only one physical casino which is affiliated with the:
Weed and Drugs
Weed and drugs are available to buy in Togo, even though they are illegal, and there are high prison sentences for them. Weed is quite easy to get access to, especially in the nightclub scene. However, be very careful as police will usually charge you huge fines to get out of arrest.
Health, Fitness, Gyms and Massage
After a long day of touring, you might want to go for a relaxing massage. There are a number of spas in most of the cities in the country. Togo has gyms and spas that can be used by tourists in all its cities. Below is a list of the most popular ones:
Finesse Gym, Lomé
Pitbull Gym, Lomé
Vital Club
Hotel Ahoefa King Salomon Garden, Lome
Jess Hotel, Kpalime
Hotel Eda-oba
STDs and HIV
The HIV prevalence rate in Togo is quite low. This, however, does not mean that you should engage in risky behavior. Tourists, therefore, are advised to always use protection when engaging in sexual intercourse with a stranger in the country.
Stay Safe
As a rule, stay alert and careful at public beaches, where tourists find themselves mugged at any time of day or night. Most of the country has little crime, but Lomé is a clear exception and is a good deal more dangerous than any city in Ghana or Benin. If going somewhere at night, take a car taxi, and get the numbers of a few trusted taxi drivers if you plan to stay for a while. Also, the con artists sometimes work with women to scam and rob tourists, so you should be careful with your prized possessions and always try to be alert.
See Also