Arkansas
Arkansas dating guide advises how to pick up Arkansan girls and how to hookup with local women in Arkansas. Travel, enjoy and have fun with hot single girls and you might even meet the love of your life. Read more on how to date Arkansan women, where to find sex and how to get laid in Arkansas, United States of America.
Arkansas is a state situated in the south-central region part of the United States of America. As of 2018, it was recorded that the state was populated with over 3 million residents. Arkansas is referred to as the "Natural State" . The Ouachita Mountains are situated in the western-central area of the state, scenic Ozark Mountains are at the northwestern corner, and the northern part is forested and mountainous. Of all the states in the United States, Arkansas is the 33rd most populous and the 29th largest by area. Its capital city; Little Rock, which is also the most populous, is centrally located in the state and it's renowned to be a hub for culture, business, and transportation. In the southeastern part of the state, Pine Bluff is the largest city and it's Jonesboro, in the eastern part.
Arkansas Top 10 Overview:

Chance of picking up girls: 3.5 / 5

Picking up at daytime: 3.4 / 5

Picking up at nighttime: 3.6 / 5

Looks of girls: 3.8 / 5

Attitude of girls: 3.5 / 5

Nightlife in general: 3.7 / 5

Locals' English level: 5 / 5

Transportation: 3 / 5

Budget per day: US$80 - $300

Accommodation: US$25 - $200
Arkansan Girls
If you're planning to visit Arkansas for a short or long stay and you'd love to date a native, then you need to know a few things about Arkansan girls. To start with, there's a high probability that your Arkansan sweetheart would have a pet. Arkansas is a state where a lot of people have fish, cats, dogs, and even sugar gliders as pets. And funny enough, these pets are considered to be their best friends and a part of their family as well. So, if you want to date a girl from Arkansas, you must be ready to show some love for her pet too. More so, Arkansas girls do not treat their parents and family with levity. If you are entering a relationship with a girl from Arkansas, you can't avoid meeting her parents and its important you spend some quality time with your partner's parent so that you can get to bond and move along so well. In addition, Arkansan girls value guys who respect them and their feelings. They believe in good Southern manners and they will never tolerate people close to them to jokingly make disparaging, uncomfortable, or inappropriate comments about their partners. And, they also expect you to do likewise. You're also likely to meet girls that are religious and churchy in Arkansas. Arkansas is a state that's religiously diverse and a lot of people has the church as an important part of their lives. So, it is quite advisable to discuss religion before going on a date or in the process of getting to know each other better. Another interesting thing about Arkansas girls is their ability to handle a task. If you give an Arkansan girl a task to carry out, she wouldn't waste time waiting long for the support of anyone because she's very capable. And, you can always depend on her to deliver. Arkansan girls also love to eat. If you want to date a native girl from Arkansas, you must be ready to eat and take food seriously.
| | |
| --- | --- |
| | Looks of girls: 3.8 / 5 |
Arkansas girls are very cute. There's a large number of Whites and a considerable number of African Americans, Asians, Native Hawaiians, and Hispanics in the city.
| | |
| --- | --- |
| | Attitude of girls: 3.5 / 5 |
Arkansas girls may be religious but they're very nice, lovely, respectful, and cool to be with.
Where to Get Sex Now
It is easy to get sex online in Arkansas. You just need to find the best available girls. See Girls Online Here!
How to Pick Up Girls
| | |
| --- | --- |
| | Chance of picking up: 3.5 / 5 |
There's a great chance of picking up girls in Arkansas. Arkansas girls are known to be respectful and this can be a very advantageous factor for you. But still, you need to have a good way of approaching the girls. If you approach the girls in a very insulting or harassing manner, it's very much likely that you will find it difficult to get hooked up with a girl. Another factor that could impede your chances of hooking up with a girl is the fact that there are some girls that can be very religious. However, Arkansas is a very big state and there's a high probability that you'll get to find a girl that will be down for you. Nevertheless, picking up girls in Arkansas might be quite easier in some cities than others because of some factors. You'll have more chances of picking up girls at cities like Little Rock, Mountain Home, Harrison, Magnolia, Fayetteville, and Arkadelphia because of their huge bar scene, young population, and a large number of college kids.
Tips for Daytime
| | |
| --- | --- |
| | Chance of picking up at daytime: 3.4 / 5 |
Picking up girls in Arkansas during the day may not be very easy but it doesn't mean it's impossible. With a simple smile on your face and with your polished friendly personality, you can record great success in picking up a girl in Arkansas during the day as you take a stroll at some of the busy streets. A simple "HI" with a brief introduction of yourself can help you get things started and before you know, you're already hooked up in an interesting conversation. Arkansas has lots of nice shops and restaurants and these are cool places for your day gaming. It doesn't matter the city you are. Whether you're in Little Rock, Bentonville, Eureka Springs, or in Fayetteville, and you want to pick up a girl at daytime, coffee shops and restaurants hold great potential for the early and noon hour and you can also sign up on a few online dating sites to boost your chances.
Best Places to Meet Girls
Without doubts, restaurants are one of the best places to meet girls in Arkansas. Arkansan girls love to eat and you'll meet a large number of girls at the restaurants enjoying a great meal. Another place where you can meet girls in Arkansas are the gym. Here, Arkansan girls come frequently to perform their regular exercise. And, you can also come here to keep fit and enjoy the company of the healthy beautiful girls around you. Ladies go to grocery stores and shopping malls regularly to shop and it's definite that you'll meet a large number of girls at these places because, if they're not shopping to cook, they're definitely checking out a few things at the mall. Arkansan is home to over 20 colleges and universities thus, the state offers an opportunity to meet and hook up with beautiful, young college girls. With the presence of University of Arkansas at Little Rock in Little Rock, University of Arkansas in Fayetteville, Arkansas State University, and a host of others, meeting college girls in Arkansas can never be difficult. You can decide to game on campus or probably just hang around the shops, cafes, parks, and restaurants around the school area.
Tips for Nighttime
| | |
| --- | --- |
| | Chance of hooking up at nighttime: 3.6 / 5 |
Whether you want to enjoy your night out in Arkansas dancing at the club, dining in a fine restaurant or enjoy drinking in a bar, Arkansas has nice venues that will serve you well. Speaking of bars, the state has a lot of fine ones with bartenders that are very nice and helpful. Maybe you want to enjoy having a weekend get-together with the new friends you just made or you just want to relax over a couple of drinks, there are lots of delicious drinks served in the bars and the atmosphere is always cool. Bentonville is one of the cities in Arkansas with a very vibrant night scene. Speaking of speakeasies to sophisticated cocktail bars and neighborhood pubs to local breweries, Bentonville has a lot in stock. Its downtown area is furnished with lots of lively spots and cool venues for relaxation. Eureka Springs has an extraordinary nightlife as well. Its downtown area is bustling with more than 20 clubs, bars, and restaurants, providing you a wide range of options of venues to choose from and an opportunity to extend your gaming from one venue to another. Downtown Eureka Springs is where you will enjoy live music of any kind, local flavor, and grooving and, it also has lots of nice hotels where you can lodge in so that you don't have to take the stress of walking a long distance to where you want to have fun, which will also serve as a means of increasing your chances of getting laid with a girl. The capital city; Little Rock, has its nightlife concentrated in the River Market District which is home to awesome night clubs, top entertainment spots, and interesting live music venues. With the presence of the campus of the University of Arkansas, Fayetteville boasts of an interesting nightlife scene, of which its entertainment district which is at the Dickson Street area is very close to the campus area. The city of Fayetteville also has spots like Theo's, Kingfish, Apple Blossom Brewery, and Maxine's Tap Room which receive a lot of crowd at nighttime. With all that has been said so far, you should know that Arkansas has a lot in stock for you when it's dark, particularly if you're visiting some of its larger cities. Arkansas has different spots to satisfy whatever your plan for the night is, whether you just want to have a couple of drinks with friends enjoy watching theatrical performances, groove at dance clubs or listen to amazing live music from local talents and regional touring artists. Cities like Fort Smith, Eureka Springs, Hot Springs, El Dorado, Little Rock and the three giants of Northwest Arkansas; Fayetteville, Rogers, and Bentonville offer after-hours entertainment and incredible nightlife opportunities.
Best Nightclubs to Meet Girls
There is a large number of nightclubs and bars in Arkansas and these are places where you can meet girls in Arkansas without having to bother about the religion factor. The music at these venues are very interesting and apart from the fact that you'll get to mingle with the sexy single ladies, you will as well enjoy your night out. Some of the popular bars and nightclubs where you can pick up girls in Arkansas are:
Discovery Night Club in Little Rock
Electric Cowboy in Little Rock
Buzz Hookah Lounge in Fayetteville
Envy Private Club in Little Rock
Black Apple in Springdale
Flying Saucer Little Rock in Little Rock
Fossil Cove Brewing Co. in Fayetteville
George's Majestic Lounge in Fayetteville
Harry's Downtown in Fort Smith
Ernie Biggs Dueling Piano Bar in Little Rock
Core Public House in Fort Smith
Willy D's in Fayetteville
Jerry's Red Door Bar & Grill in Springdale
Infusion Bar in Fayetteville
Farrell's Lounge Bar and Grill in Fayetteville
| | |
| --- | --- |
| | Nightlife in general: 3.7 / 5 |
Whether you just want to have a couple of drinks with friends enjoy watching theatrical performances, groove at dance clubs or listen to amazing live music from local talents and regional touring artists, Arkansas has different spots to satisfy whatever your plan for the night is.
Mature Ladies and Cougars
Anything is possible in Arkansas and so is hooking up with cougars and mature ladies. Or, do you think Arkansas is called the Land of Opportunity just for 'calling sake per se'? Of course not! Arkansas truly has a lot of potentials for you but it's up to you to unravel and discover it. If you seek for cougars in Arkansas to hook up with, you just need to look in the right direction. The beautiful thing is that there are lots of beautiful single cougars in Arkansas hunting for young men to hook up with. Once you're charming, agile, and attractive, you'll have a great chance but you need to know spots where you can meet these older beauties. If you're visiting Little Rock, Pleasant Valley can be a very good area where you'll meet a lot of cougars because it's a high-class area that has upscale shopping malls and yoga studios. Arkansas cougars can be found checking out the best foods at Whole Foods and you can just come around and flirt with the cougars shopping here.
Regions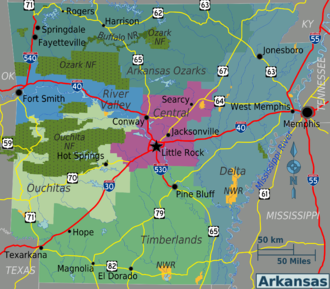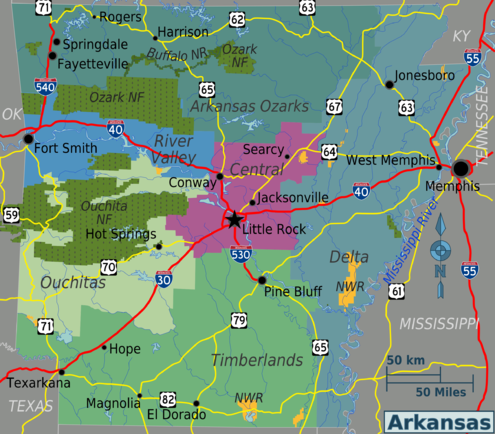 Central
The center of the state includes the state capital Little Rock
Delta
The eastern section of the state along the Mississippi River Delta and includes Jonesboro and West Memphis
Ouachitas
West central part of the state that is home to the Ouachita mountains (including the state's highest peak, Mt. Magazine) and Ouachita National Forest
River Valley
The area in northwest Arkansas along the Arkansas river and includes Fort Smith
Cities
Dating
When visiting Arkansas, dating can be a fun and interesting experience. AdultFriendFinder.com, lets you meet local members in Arkansas and get to know them on a personal basis before you arrive. It just takes a few minutes, you simply create an account, upload a few images and tell a little about yourself. Since time in your destination may be limited, get to know each other's desires beforehand so when you do meet, you can skip the awkward introductions and start having some real fun.
Top Dating Tips
Arkansas is richly blessed with beautiful lakes and rivers, mountains, lush terrain, and a moderate climate. Arkansas is a nice place to be because of its affordability, yearly organized thousands of free events, art exhibitions, festivals, and craft fairs in its distinct cities. Arkansas has a lot of activities for those who are nature lovers, history admirers, and culture fanatics. For your date in Arkansas, you can spend some quality time out in the woods. There are over 52 state parks in Arkansas and these are great spots where you can enjoy having a romantic walk with your sweetheart and take a cute selfie as you enjoy the atmosphere. Some of the nicest spots where you and your lover can enjoy walking hand in hand are:
Hot Springs National Park
Rush Historic District (Rush Ghost Town)
Magic Springs Water and Theme Park is a recreational spot where you and your date can have a fun time together. And if you would love to see wild cats, you can hit up the Turpentine Creek Wildlife Refuge. Museums are great ideas for your date too and the interesting thing is, Arkansas has a lot of nice ones like:
William J Clinton Library and Museum
Relationships and Love
Thousands of single women in Arkansas are searching for a partner and potential future husband. Check out an ultimate guide for dating local girls, relationships, love and marriage: Relationship & Love Guide to Arkansas
Online Dating
You definitely won't mind connecting with Arkansas girls online. In fact, signing up on online dating websites will help you to explore your options of girls to pick up. Just make sure you update a clear and nice picture of yours while setting up your profile.
PlentyofFish (POF): POF depends on a "chemistry test" in the creation of profiles. This test tracks the distinct personality dimensions which are important in maintaining a romantic relationship. Members can send messages to anyone that interest them after seeing their profiles. Even without signing up on the website, one can view the well organized and heavily used forums. The online site also has video and audio chat available. There are both free and paid membership but the paid version is likely to increase one's chance of meeting love.
Bumble: One good thing about this dating website is that it is the ladies who make the first move. If you're a tourist and a good gamer, you'll get hooked up with lots of local girls in Arkansas on this online dating website.
Tinder: Without doubts, Tinder is one of the popular online dating websites in the world at large. A lot of people have used it, are still using it and it really works. Whether you're looking for someone to have flings with or searching for a life partner, this dating app offers opportunities for both. With sprawling members of about 50 million, getting hooked up on this dating app shouldn't be a problem once you have a nice photo and an interesting bio.
Live Cam Dating
Are you looking for virtual satisfaction in Arkansas? Chat with live web camera models and find the best girl for your needs. There are thousands of girls online 24/7 waiting for you: Live Cam Girls
What Kind of Guys Have the Best Chances
Due to the nature of Arkansas girls, you basically don't need too much to impress the girls. Just look good, be nice and charming. Having enough cash to spend can be another advantage too.
Risks while Gaming
There's a low crime rate in Arkansas but this doesn't mean you won't come across a few aggressive dudes. But still, just stay conscious of your environment at all times and be the best version of yourself.
How to Get Laid as Soon as Possible
If you really want to get laid as soon as you can in Arkansas, online dating website might be your best option because most of the girls signed up on these sites already know what you want and, this alone will help to speed up the whole process.
Gold Diggers and Sugar Babies
Arkansas is full of hot girls looking for a mutually beneficial hookup with travellers. There are lots of girls who don't charge by the hour but who will do anything for a guy who is willing to help them pay their bills. If you are looking for a more personal and less transactional alternative to escorts, a good place to find these sexy open-minded girls in Arkansas is SecretBenefits.
BDSM
Looking for a new bondage partner while traveling? ALT.com is a community of like-minded people with members around the globe. Our members are interested in submissive sex, power exchange, locating persons for new slave roles, erotic BDSM, bondage & fetish sex, as well as live sex dates. Find thousands of play partners for whatever your fetish may be; bondage, foot, cockold, spankings, role-play, electric or water play, sadism and masochism all while traveling in Arkansas.
Swinging and Naturism
Arkansas has a few nice swinger clubs like:
4-SPC in Fayetteville
Arkansas River Valley Couples (ARVC) in Fort Smith
LR Passion in Little Rock
Xpressions in Fort Smith
Costs of Living
Arkansas is one of the top 10 states in the United States of America with a low cost of living.
| | |
| --- | --- |
| | Single traveler's budget per day: US$80 - $300 |
Due to the low cost of living in the state, a daily budget spending of about $80 - $300 should suffice.
| | |
| --- | --- |
| | Accommodation per night: US$25 - $200 |
The cost of renting an apartment in Arkansas is quite cheap compared to other states in the U.S.
| | |
| --- | --- |
| | Beer in a grocery shop: US$2 - $4 |
The cost of getting a beer in a grocery store is usually around $2 - $4.
| | |
| --- | --- |
| | Beer in a bar or restaurant: US$4 - $10 |
A beer in a bar or restaurant may cost about $4 - $10.
| | |
| --- | --- |
| | Meal in a restaurant: US$6 - $70 |
Meals are usually not expensive in Arkansas. For a low-priced restaurant, you won't have to spend more than $20 before you get a nice meal but in a high-priced restaurant, you may be spending close to $70 or more.
Accommodation
Arkansas is furnished with lots of nice hotels whose fees are not really exorbitant. And, the cost of renting an apartment is quite cheap in Arkansas. In Little Rock, you won't spend up to $900 before you'll get a nice one-bedroom apartment in the city center and in Fayetteville, you can get a one-bedroom apartment for just about $800.
How to Get There and Move Around
By air: Northwest region of Arkansas is served by Northwest Arkansas Regional Airport and the central part of the state is served by Little Rock National Airport.
By bus: Greyhound and Jefferson Lines operate bus services in the state.
By car: Finding a taxi to take you around is not difficult. And if you're visiting from a nearby state, you can just drive in.
By train: Amtrak serves some parts of the state with its once-daily Texas Eagle train.
By boat: There's no means of getting around the state by boat.
Visas: If you want to visit Arkansas for a period of 90 days or less without a need for visa, you may apply for the Visa Waiver Program. However, there are certain criteria you must meet to travel with this opportunity. One of them is to be a citizen or National of a VWP-participant country. Currently, there are just 38 countries worldwide that are participants of the Visa Waiver Program. Another option for you to travel to Arkansas as a non-US citizen is to obtain a visitor or tourist visa.
Digital Nomads and Remote Work
With a few researches made online, you might be lucky to find a few remote works in Arkansas.
Internet and Mobile Operators
There are 43 internet options in Arkansas and the best internet service providers in the state are:
CenturyLink
AT&T
Xfinity
Viasat
HughesNet
Cox
Spectrum
Suddenlink
Cable one
Gambling and Casinos
There are six casinos Arkansas and the biggest one is Saracen Casino Resort. It has 50 table games and 2300 gaming machines.
Weed and Drugs
You can consume marijuana in Arkansas for medical purposes.
Health, Fitness, Gyms and Massage
Health is wealth. And this is why the gyms in the state are committed to offering you an opportunity to stay healthy and stay fit. There are tons of nice and well-built fitness studios and gym centers in Arkansas where you can perform helpful daily exercise routine. And at these gyms, you'll meet the young and the old of the two sexes keeping fit to maintain their weight and enhance their lifespan.
STDs and HIV
Studies reveal that Arkansas has a high rate of HIV and STDs. Stay safe.
Stay Safe
Crime is generally low in most of the state, the main exceptions being the larger cities. Even though many small-town Arkansans view Little Rock as a particularly dangerous and unsafe city, its violent crime rates are in line with other United States cities of similar size. Property crime is more prevalent.
Drunk driving can be a danger, especially in rural areas at night. Arkansas is divided between "wet" and "dry" counties, so many drinkers in the state must drive 10–30 miles away from home for a good time.
See Also