U.S. Virgin Islands
U.S. Virgin Islands dating guide advises how to pick up U.S. Virgin Island girls and how to hookup with local women in U.S. Virgin Islands. Travel, enjoy and have fun with hot single girls and you might even meet the love of your life. Read more on how to date U.S. Virgin Island women, where to find sex and how to get laid in U.S. Virgin Islands, Caribbean, North America.
The US Virgin Islands (USVI for short) are situated between Puerto Rico and British Virgin Islands and consist of three large islands and fifty small islands. They are an unorganized United States territory. The main islands of USVI are St. Thomas, St. John and St. Croix. The population is about 107,000. The main industry of USVI is tourism, drawing around 3 million visitors per year. Although 2/3 of tourists are cruise ship passengers, the majority of revenues come from air travelers.
The white sandy beaches and lush, tropical appeal make it a perfect destination for recreation and romance. As a mixed society with peoples originating from Africa, Europe, Asia and the Americas through settlement, slavery and recent immigration, there is a high degree of cultural and social tolerance.
The majority of inhabitants on USVI speak American English and Virgin Islands English (one that retains some Creole features and is used in informal settings), while 35% of Virgin Islanders speak Spanish in addition to either one or both of the above.
U.S. Virgin Islands Top 10 Overview:

Chance of picking up girls: 4 / 5

Picking up at daytime: 4 / 5

Picking up at nighttime: 4 / 5

Looks of girls: 4 / 5

Attitude of girls: 5 / 5

Nightlife in general: 4 / 5

Locals' English level: 4 / 5

Transportation: 4 / 5

Budget per day: US$30 - $500

Accommodation: US$40 - $500
U.S. Virgin Island Girls
The island of St. Croix has a female population that outnumbers males, at 54% to 46% respectively. This is obviously good news for those seeking female companions. USVI provides a great mix of ethnicities in women.
The majority of the population claims African heritage, while 15% are white and the rest are Asian, other and multiracial. Hispanics of any race make up 17%. Because all Caribbean islands were once homes to indigenous people such as the Ciboney and Arawaks, indigenous blood still exists in modern Caribbean residents. This all tells us that USVI offer a rainbow selection of beauties when it comes to dating and hookups.
An unlimited combination of ethnic features can be found in each girl, such as chocolate skin with straight hair or blond Afros with green eyes. The tropical island climate gives girls a perfect glow and dew to their skin. Here is where women naturally look gorgeous without much makeup. Nutrient-dense tropical foods give females delightful body shapes that are rarely too skinny or too fat.
| | |
| --- | --- |
| | Looks of girls: 4 / 5 |
The girls in USVI have varied looks that will enchant different types of men. This famed Caribbean destination is filled with healthy-looking women with delicious curves and glowing skin. The tropical island climate gives women a natural sensuality that is not found in mainland US or UK. Welcome to paradise!
| | |
| --- | --- |
| | Attitude of girls: 4 / 5 |
The attitude of the girls in USVI is quite good. The relaxed and romantic atmosphere make girls very friendly and approachable. The mix of Caribbean and American cultures means that locals aren't insular but open to friendships or more with tourists.
Groups of single female tourists will always have at least a few members who are looking for romance and sex. Just beware of individual life situations, such as being in a relationship, being a short-term expat, having a husband back home in the US, etc. that may limit the female's involvement with a new guy.
Where to Get Sex Now
It is easy to get sex online in U.S. Virgin Islands. You just need to find the best available girls. See Girls Online Here!
How to Pick Up Girls
25% of people in USVI speak a language other than English, so knowing how to say words in a language such as Spanish or French will help one increase their charm, as well as impress the local woman one wants to get to know. As mentioned above, the chances of picking up girls in USVI is good. St. Thomas is the most populated island with the most shops, malls and nightlife, and hookup opportunities abound. St. Croix and St. John are more tranquil, but chances of meeting locals and tourists are still high if your looks and demeanor are attractive. Every tourist visiting USVI shall find at least one woman who appeals to their tastes. The downside is that there is a separation between locals and tourists. Locals who warm up to male tourists fast are aware of the economic differences and will use their sex appeal to obtain material benefits. Female tourists often come with their significant others. Most expats are male, or female spouses of male expats. That said, hooking up is still possible and common. Many of the couples that come and live in USVI break up, and in a romantic place like this, the women will want to look for new love interests. If you are open to it, some "attached" women are available for sexual encounters outside of their relationships. Although most residents are Christian, unless you are dealing with the extremely pious, it is possible to hook up for sexual activities. Different types of sexual arrangements are possible, from the traditional dating-sex-then monogamy sequence to one-night-stands, friends for benefits, and even swinging and threesomes. There can be a divide between the tourist/expat (primarily white) and local (primarily black) groups. When interacting with local women, use courtesy and common sense.
Although local women may display their body shapes in revealing outfits and act very warm and friendly, giving off the impression that they are sexually open, this is merely due to the tropical climate and culture. The accepted mores still require women to stay chaste unless in a committed relationship.
Men are advised against being direct with sexual advances unless they are looking for prostitutes and sugar babies who require a monetary exchange for sex. The game is similar to what one would face in any English-speaking city. Hence, one must come up with a good approach and use it to pick up USVI women efficiently and effectively.
| | |
| --- | --- |
| | Chance of picking up: 4 / 5 |
The chances of picking up horny women in USVI is good. Single tourists are very open to sexual hookups. With local women, some will be more open to hooking up with tourists. Men who take care of their appearance will stand a higher chance of scoring women than the "goofy tourist" or "beach bum." As is true elsewhere, careless speech and behavior are looked at as lowly and will be highly frowned upon.
Tips for Daytime
Daytime picking up in USVI is quite solid, due to the abundance of hangout spots that attract locals and tourists alike. Women can be found in large numbers at these locations. USVI's various folk music forms are heard even during the day, so opportunities for dancing and socializing abound in the daytime.
In fact, USVI is an ideal spot for the male traveler who resents the smoke, booze and overcrowding typical of nightlife, and one who subscribes to a healthier lifestyle preferably outdoor. The numerous beach, hiking and snorkeling destinations, especially away from the overdeveloped St. Thomas Island, will be prime spots for meeting female travelers seeking adventure, possibly in more areas than one. Women are looking for chances to relax, have fun, and make interesting connections. Shall the conversation keep flowing and you detect mutual interest, it won't be so hard to identify the women who are willing and happy to have a fling with you.
The countless bays, coves, hideouts, and remote beaches are perfect shall the two decide to spice things up a bit away from crowds. Of course, there is always a hotel room. As is common sense anywhere, USVI women would be attracted to a man who displays health, hygiene, good style, and self-confidence. Ensure that you put on sunblock lotion if you are fair-skinned, as red or orange complexion is never a good look.
How to approach the girls?
Whether one wants to hook up with a local or a tourist will determine the different methods. Initial questions to clarify the intent of a female tourist may sometimes be sufficient predecessor to sex. Approaching local women in USVI is going to require more than just good looks and smart pickup lines. Women here are usually educated and religious, and island culture emphasizes politeness and friendliness. Use terms like "ma'am" or "miss" when addressing a female. Lack of etiquette is frowned upon. Direct sexual advances will only attract girls looking for money. Be funny and friendly, then sex can be a possibility once you earn their friendship and trust. The best and safest pickup strategy is always something down-to-earth, friendly and sincere. Because of the diversity of ethnicities and lifestyles of women here, don't expect to catch all varieties of fish.
Target the types of women you know you have commonalities with. Finally, there is nothing wrong with being a classic gentleman- chivalry, sense of humor and confidence. No matter the women's preferences, they are more likely to give you a chance when they see that you know how to be a basic gentleman.
| | |
| --- | --- |
| | Chance of picking up at daytime: 4 / 5 |
Chances of picking up women in the daytime in USVI are good. USVI is full of outdoor natural beauty, giving everything and everyone a warm and romantic disposition. Also, many fellow tourists who are on a vacation are open to hooking up with a fellow tourist and have frisky fun that they may not want to have to take home to their place of origin.
Best Places to Meet Girls
There is no shortage of girls that you can meet and have a good time with before the sunsets. USVI has typical tropical weather accompanied by sea breezes, so it is never too hot and uncomfortable to be outside during the day. Beaches are a no brainer for men looking for girls. St. Thomas's capital, Charlotte Amalie, has amazing duty-free shopping. The diverse and rich musical traditions mean that music can be heard and danced to even throughout the day, providing opportunities to socialize and get to know women.
Beaches, malls, restaurants, and historical sites ensure that there is no shortage of social opportunities with members of the opposite sex. The Carnival is not to be missed; it is a time that even the religious and conservative get wild for just once a year. Young women dress in scanty costumes, revealing their bodies and allowing men to pick their favorites. The dancing and booze can lead to more. Below is a list of places, among many others, you can meet girls and pursue great times in USVI.
Carnival- April/May on St. Thomas, December/January on St. Croix, June/July on St. John
Tips for Nighttime
The USVI offers many, many nightspots that may not be as fancy as the ones in Miami or Vegas, but the attitudes of the people are probably much better and friendlier. St. Thomas has the most night clubs compared to the other islands. Whether you are into beer, sports, live music, DJs or food, USVI nightspots offer exciting opportunities to meet beautiful people.
| | |
| --- | --- |
| | Chance of hooking up at nighttime: 4 / 5 |
The chances of hooking up at nighttime in USVI are good. The tropical weather and open-air architecture mean that people freely move between the beach and the bar/club. The local women and tourists alike will be seen partying and enjoying themselves. Even married women can be seen at these spots, and some of them would be available for frisky fun. USVI produces its own rum, so alcohol is never in shortage. The aid of alcohol means that women will let down their guard. After exchanging contacts, you could go and meet the woman at a beach or hotel should you want to switch down the stimulation and make a woman feel special and attended to.
Best Nightclubs to Meet Girls
USVI may not have fancy night clubs with big name DJs, but due to the beach and tourist culture, bars are abundant in number. Some of the best places to visit for interacting and picking up ladies in Nottingham are:
Cloud 9 Ultra Lounge, St. Croix (club)
Skinny Legs Bar and Restaurant, St. John (sports bar)
Starz Nightclub, St. Thomas (club)
Reichhold Center for the Arts, St. Thomas
Duffy's Love Shack, St. Thomas (bar/club)
| | |
| --- | --- |
| | Nightlife in general: 4 / 5 |
The nightlife in USVI is good as the atmosphere is fun and relaxed, and the Caribbean and various pop music genres played are conducive to dancing and getting close to girls. Remember, naughty females do not always wear their true colors out in the open. Go with your instinct and not just your eyes when targeting girls with whom you want to have fun and wild times.
Mature Ladies and Cougars
Mature ladies and cougars, both locals and tourists, are not in the majority but still a significant portion of the dating scene. Single mothering is common in USVI, with one in three families headed by a female parent.
Henceforth, older age does not mean one is necessarily married. Divorcees, older singles and even widows are willing to hook up, provided the man is deemed worth their time and sensitive to their needs. Be considerate and caring, and they will be willing to provide good times that are mutually beneficial. Even if the older and sassy ladies aren't showing direct interest in hooking up, casual friendship with tourists coming into town can turn into more.
Islands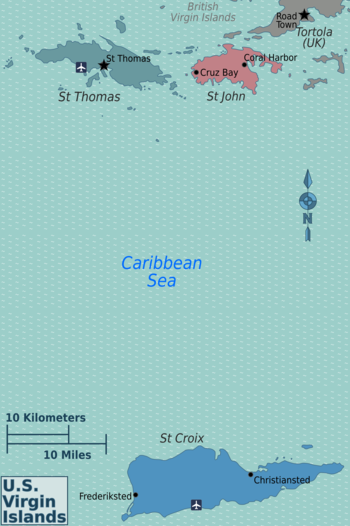 Saint Croix - The largest island far to the south of the rest of the Virgin Islands.
Saint John - Beautiful and more relaxed, home to a couple resorts, a small town, and Virgin Islands National Park, covering 60% of the island's territory.
Saint Thomas - Home to the bustling capital of the U.S. Virgin Islands—the most populated island.
Dating
When visiting U.S. Virgin Islands, dating can be a fun and interesting experience. AdultFriendFinder.com, lets you meet local members in U.S. Virgin Islands and get to know them on a personal basis before you arrive. It just takes a few minutes, you simply create an account, upload a few images and tell a little about yourself. Since time in your destination may be limited, get to know each other's desires beforehand so when you do meet, you can skip the awkward introductions and start having some real fun.
Top Dating Tips
Short- and long-term dating in USVI have good prospects for tourists and travelers who stay for the duration of a week to up to a couple months. Casual relationships are not uncommon, and many women enjoy having someone to share sex and emotional comfort with, even if the time span is short. Be confident, be yourself, and you shall attract the types that enchant and satisfy you.
Relationships and Love
Thousands of single women in U.S. Virgin Islands are searching for a partner and potential future husband. Check out an ultimate guide for dating local girls, relationships, love and marriage: Relationship & Love Guide to U.S. Virgin Islands
Online Dating
Many locals date other locals, as well as date long-distance, using online dating apps. The pool of singles can be limited on some islands, increasing the appeal of online dating men from other countries or the US mainland. The tourists can add more choices and convenience to their selection of local women using online dating apps. Not all women like to go out or be completely social with strangers, and online dating apps offer the ability to make careful selections and proceed more slowly than in-person interactions. Given below are some apps you can try:
LoveAwake: Free online dating site for USVI men and women and it's easy to use.
Badoo: A famous app that is popular globally and in USVI.
Mingle2.com: This is a completely free online dating site for USVI men and women.
Live Cam Dating
Are you looking for virtual satisfaction in U.S. Virgin Islands? Chat with live web camera models and find the best girl for your needs. There are thousands of girls online 24/7 waiting for you: Live Cam Girls
What Kind of Guys Have the Best Chances
The general tips apply everywhere so do not be too needy nor too distant. It is best to treat her equally and shower her with affection. She does not need a hopelessly romantic man, but you must show her that you are interested to know her. Take her out for a date, drink tequila or wine to make things smooth for both of you. Alcohol helps in breaking the ice!
Risks while Gaming
Beware of crossing roads and when driving, as USVI is the only US territory that drives on the left. Usual precautions for health in any tropical country should be taken, such as sunburn and bug bites, but thankfully, the USVI is free of malaria. Generally, the local population is warm and welcoming, but St. Thomas and St. Croix are experiencing increasing tourism-related crimes in recent years. Nighttime travel alone is not recommended, and valuables should be left in the hotel. Dirt roads on steep hills are not uncommon, and street lights can be scant on some roads. Due to bad cellphone network in rural areas, it is best to stay inside at night in these areas. Know the neighborhoods you are going into, and travel smart. Be aware of class differences, often based on racial lines. Prostitution is not rampant, but it is available. Be sure you know what you are looking for- whether money will be involved in your engagements with women. When interacting with women, make sure they don't show discomfort before you continue. The least you want is to be slapped a harassment accusation when what you are looking for is consensual fun.
How to Get Laid as Soon as Possible
Those who would like to get laid as soon as possible in USVI should frequent places where there are a higher number of women open to short-term flings: the clubs, bars, and beaches with single female and groups of female travelers. The Carnival is a time of the year locals, expats and travelers alike get loose. The likelihood of walking away with a sex partner during Carnival is higher than during other times of the year. Using dating apps to initially select women with whom one can have agreed upon affairs, or just in general to choose women to meet later, can help save time and money, as individual situations can be indicated more clearly during telecommunication, and their willingness to have flings can be determined ahead of time.
Gold Diggers and Sugar Babies
U.S. Virgin Islands is full of hot girls looking for a mutually beneficial hookup with travellers. There are lots of girls who don't charge by the hour but who will do anything for a guy who is willing to help them pay their bills. If you are looking for a more personal and less transactional alternative to escorts, a good place to find these sexy open-minded girls in U.S. Virgin Islands is SecretBenefits.
BDSM
Looking for a new bondage partner while traveling? ALT.com is a community of like-minded people with members around the globe. Our members are interested in submissive sex, power exchange, locating persons for new slave roles, erotic BDSM, bondage & fetish sex, as well as live sex dates. Find thousands of play partners for whatever your fetish may be; bondage, foot, cockold, spankings, role-play, electric or water play, sadism and masochism all while traveling in U.S. Virgin Islands.
Swinging and Naturism
There are no known swinger clubs in USVI, however, one can ask like-minded tourists and expats for swinger parties. Naturism is practiced throughout the Caribbean, as the climate is perfect for nudity. There is no known naturist beach or hotel in USVI, but one can simply ask. The general attitude toward these alternative lifestyles in USVI is tolerant, as long as they don't interfere with conventional life in society. Therefore, visitors wishing to partake in swinging or naturism will not be deprived of these opportunities.
Costs of Living
Given below is an estimate of the costs of a trip to USVI:
| | |
| --- | --- |
| | Single traveler's budget per day: US$30 - $500 |
A solo traveler headed to USVI shall need a sum of money ranging from 30 to 500 USD per day.
| | |
| --- | --- |
| | Accommodation per night: US$40 - $500 |
Accommodations range from luxury resorts and hotels, to apartments and budget hotels. The costs of accommodation range between 40 USD and 500 USD in USVI.
| | |
| --- | --- |
| | Beer in a grocery shop: US$4.50 |
Beer from grocery shops in USVI shall not cost around 4.50 USD for a pint.
| | |
| --- | --- |
| | Beer in a bar or restaurant: US$5 - $6 |
Clubs and restaurants shall charge a minimum of 5 USD for a pint of beer.
| | |
| --- | --- |
| | Meal in a restaurant: US$11- $50 |
A basic set meal in USVI shall cost 11 USD or more, but finer dining establishments may require up to 50 USD per meal per person.
Accommodation
Accommodation in USVI can be modestly priced for single travelers staring at 40 USD for a room in an AirBnB, to luxury hotels and vacation homes that charge $500 upwards per night.
How to Get There and Move Around
Details about the transportation system in USVI are given below:
By air:
The islands are served by Cyril E. King Airport on St. Thomas, and it handles all of the domestic and international loads coming into the area.
By bus:
Public buses run around St.Thomas. Bus fare is $2.00 each one-way ticket.
By car:
Travelers can rent a car, though driving is on the left side. Cabs in USVI are safe and convenient but higher priced than in US mainland. By train:
There is no train service in USVI.
By boat:
Many tourists arrive in USVI by sea on cruise ships.
Visas:
USVI is a United States of America territory, so US citizens do not need a visa or passport to visit, although a form of ID is required. That said, proof of citizenship such as a passport or birth certificate is recommended, as travelers will be asked questions about citizenship upon leaving US territories. If the connection flight takes place outside of the US, then travelers are required to bring their US passports in order to board the flight. Non-US citizens need to acquire a US visa in order to travel to USVI. For more info, see https://travel.state.gov
Digital Nomads and Remote Work
USVI has several internet providers and it is possible to live and work remotely, though internet connection is the strongest and most reliable in St. Thomas, followed by St. Croix then St. John. Find out how strong the internet connection is before booking a hotel, and compare internet providers before renting an apartment. Rent, fuel and food costs in USVI is higher than in most US cities, so make sure your job pays well enough for your stay to be affordable.
Internet and Mobile Operators
WIFI is available for free at most hotels and many restaurants and bars. Service can be slow at times and in some areas. Internet cafes still exist. USVI are served by Claro Puerto Rico and mainland US carriers:
Verizon treats calls from USVI as roaming.
Gambling and Casinos
Gambling is not the main draw in USVI. Divi Carina Casino on St. Croix is the most popular casino.
Weed and Drugs
Medical cannabis is legal in USVI since 2019, and recreational marijuana was decriminalized in 2014, though one can still face a fine or jail time for selling and possession. Weed is widely available in bars, clubs and on the street. Cocaine and heroin are used widely and many of the murders in USVI are related to criminal activities having to do with cocaine. Alcohol abuse is still the most common substance abuse in USVI.
Health, Fitness, Gyms and Massage
USVI being a vacation destination that require travelers to wear less clothes than they may be used to in their home cities, keeping a fit appearance is a priority. Health and fitness clubs such as Synergy Fitness and Wellness Center in St. Thomas and Platinum Fitness in St. Thomas have great ratings. St. Croix and St. John have less fitness clubs but more massage and spa centers, often attached to hotels and resorts.
STDs and HIV
USVI has the 3rd highest per capita rate of HIV in the US. As of 2011, USVI also has the highest rate of STDs in young people compared to other states and territories. Travelers who engage in casual sex or sex with prostitutes are at an increased risk for contracting HIV and STDs. Always use a condom in any sexual contact with travelers and locals.
Stay Safe
Some parts of St.Thomas, especially Charlotte Amalie, can be risky at night. Drug and other related crime is a problem. The USVI has the 7th highest homicide rate in the world and is the most violent place in the U.S. Tourists should exercise caution when getting around as some neighborhoods can be dangerous, even if a well-known restaurant is in this neighborhood. It is advised to take a taxi if you are going anywhere especially at night. This is the only US territory where driving on the left side of the road is still practiced.
See Also