Sierra Leone
Sierra Leone dating guide advises how to pick up Sierra Leonean girls and how to hookup with local women in Sierra Leone. Travel, enjoy and have fun with hot single girls and you might even meet the love of your life. Read more on how to date Sierra Leonean women, where to find sex and how to get laid in Sierra Leone, Africa.
Sierra Leone, officially known as the Republic of Sierra Leone and often referred to as Salone, is a country located in the southwest of the western region of Africa. Freetown is its capital and largest city. The Republic of [[Guinea[[ lies to the north and northeast of the country, The Atlantic Ocean to the west and south and Liberia to the east and southeast. It is divided into five regions, which are further broken down into sixteen districts. The land now known as Sierra Leone was first found and mapped by the Portuguese Pedro de Sintra, who named it 'Serra Lyon, ' meaning the 'Lion Mountains.' The names were given as a result of the breathtaking mountains and hills that border the harbor.
Despite the political unrest that plagued Sierra Leone from 1991 to 2002, the country has experienced certain levels of growth, especially in its private sector. There are about eighteen ethnic groups within the country, but Mende and Temme are those with the majority. The official language is English, but Krio is widely spoken among the people during the day to day life. It is known for its large harbor, mining of diamonds, gold, and bauxite. It is also known for subsistence agriculture, fishing, and processing of forest produce. It also boasts of very exciting beaches and rich cultural heritage.
Sierra Leone Top 10 Overview:

Chance of picking up girls: 3.5 / 5

Picking up at daytime: 3 / 5

Picking up at nighttime: 3.5 / 5

Looks of girls: 3.5 / 5

Attitude of girls: 4 / 5

Nightlife in general: 4 / 5

Locals' English level: 3.5 / 5

Transportation: 3 / 5

Budget per day: US$50 - $400

Accommodation: US$20 - $210
Sierra Leonean Girls
Sierra Leone ladies are beautiful, confident women. Though the country is one of the poorest in the world and the culture has not been fair to them in terms of domestic violence, gender equality, female genital mutilation, and early child marriage, yet these women raise their heads in strength and dignity. The rate of literacy among Sierra Leonean women is still on average though increasing. This also applies to urbanization.
| | |
| --- | --- |
| | Looks of girls: 3.5 / 5 |
Sierra Leonean ladies are beautiful women with glowing skins, predominantly dark-skinned. Though there are women is lighter skin colors such as café and caramel. Most of them have a very slender body, but there are plump and big ladies among them. Features you would notice on their faces include oval faces, fat cheeks, almond eyes, and full lips. These gorgeous women would turn the heads of any foreigner as they are not just endowed with beautiful faces but with sexy bodies too.
| | |
| --- | --- |
| | Attitude of girls: 4 / 5 |
The people of Sierra Leone are very accommodating and friendly. This also applies to the ladies there. They are very peaceful people; Muslims and Christians cohabiting with no incidence of religious fights and violence. As a tourist, these ladies would go out of their way to ensure you are comfortable. They are cultured, courteous, and well mannered. However, these women are also bold and have standards for their lives. They are not easily intimidated and can make an awesome company.
Where to Get Sex Now
It is easy to get sex online in Sierra Leone. You just need to find the best available girls. See Girls Online Here!
How to Pick Up Girls
Picking up girls in Sierra Leone should pose little or no problems for you as a tourist. The ladies here are very accommodating and would feel flattered when you approach them. Though English is the official language being spoken, the major language used by the people in everyday life is Krio. If you speak just a little of the Krio language, you can warm your way into the hearts of the people. The people value respect and greeting a lot. You should be courteous and show manners, especially to elders. When you walk into a place, make an effort to greet.
Though Sierra Leone is dominated by Muslims, it is a very liberal country, and its people have a certain level of open-mindedness towards life. You can dress as casually as you would need to, especially during hot weather. There are so many beautiful places you can visit to meet with these ladies. When you do, remember to act like a gentleman. You have to look good, smell great, and be confident. However, confidence should not be expressed to the point of superiority complex. Ensure you have the financial capacity to show these ladies a good time, as well as profit your date financially.
| | |
| --- | --- |
| | Chance of picking up: 3.5 / 5 |
You have a good chance of picking up a Sierra Leone lady, especially during the night time. These ladies are already welcoming and pleasant. The ball is majorly in your court to make this happen.
Tips for Daytime
Sierra Leone, during the day, is just like most African countries with the hustle and bustle. The major factor you would face would be a traffic jam. You are advised to leave early if you do have a date. There are so many amazing places to see during the day; beaches, markets, and other awesome scenery. Visiting these places would also give you a chance to meet with the lady of your dream from Sierra Leone. During the day, you can dress casually, especially in hot weather.
Dress lightly for comfort; much more if you intend going to the beach. Sierra Leone is quite a safe country. However, avoid carrying bags and valuables around to prevent being victims of pickpockets and petty thieves. The prices of goods are quite high in the country. The traders would likely increase them further on seeing a tourist. Bargain smartly with these people, so you do not get extremely cheated. The roads are quite smooth and in good condition. However, there is the issue of traffic. It would be great to rent a private car if you intend moving around with your date for greater comfort and privacy.
| | |
| --- | --- |
| | Chance of picking up at daytime: 3 / 5 |
You have a good chance of picking a lady from Sierra Leone during the daytime. These ladies are very polite and accommodating and would likely oblige keeping you company, especially if it promises to be a good time for them also.
Best Places to Meet Girls
The Islands: The Islands in Sierra Leone are beautiful places with water activities and amazing scenery. You should meet with a lady from Sierra Leone in any. These islands include:
Bonthe Island
Tiwai Island
Beaches: The beaches in Sierra Leone are a must-visit for you as a tourist. They should make some of the best beaches in the world. Examples are:
Lumley Beach
Outamba –Kilimi National Park: This Park that is home to a lot of chimpanzees and other big animals like elephants and hippos is a good place to spend an afternoon in Sierra Leone. You have a good chance of meeting a lady from Sierra Leone here.
Martello Tower: As a tourist, ensure you climb the Martello tower, which was built in the 19th century to protect the people of Freetown. You would find the lady of your dreams in this town.
Tips for Nighttime
Sierra Leone is alive at night, especially during the weekends. There are several places you can visit. Dress casually as you are headed for a night of dancing and drinking. Be security conscious, so you do not fall victim to petty thieves and pickpockets. Do not walk alone at night, and do not carry valuables. It would be great to rent a car and hire a driver to move you and your date around, especially at night. Look good and use a nice smelling cologne. Be courteous, kind, and respectful. Be in the mood for fun, and be ready to spend money.
| | |
| --- | --- |
| | Chance of hooking up at nighttime: 3.5 / 5 |
You have a good chance of picking a lady at night time. Nighttime is great in Sierra Leone, especially in Freetown. The ladies are more relaxed and ready for a good time.
Best Nightclubs to Meet Girls
Quincy's Bar and Nightlife: This club is a good place to visit at night with great music, dancing and drinking. You should find a lady from Sierra Leone here.
Roy's: Located on Lumley beach, this bar offers you pleasant scenery and a good time. You would likely meet a lady from Sierra Leone here.
Plan B: If you love a good selection of wine with great taste, this is a fantastic place to visit. You may find a Sierra Leonean lady here.
O Bar: This club offers an exciting time with cool hip-hop music and drinks. It makes a great spot to find a Sierra Leonean lady.
| | |
| --- | --- |
| | Nightlife in general: 4 / 5 |
The nightlife in Sierra Leone is exciting and fun. The weekends are bubbling and lit, and many who go out for a good time at night end up returning the next morning. There are clubs, pubs, and lounges to visit, especially in Freetown. You would experience a lot of drinking, dancing, and party life. You also get to be entertained by live bands and music art performances.
Mature Ladies and Cougars
The rate of child marriage is high in the country, and though the people are liberal, they still expect a certain level of restraints in certain areas. Hence, it would be a bit difficult to find mature ladies and cougars to date in the country. However, in order to make the most out of this situation, you should make good use of the online dating platforms to find mature women willing to hookup with younger men.
Regions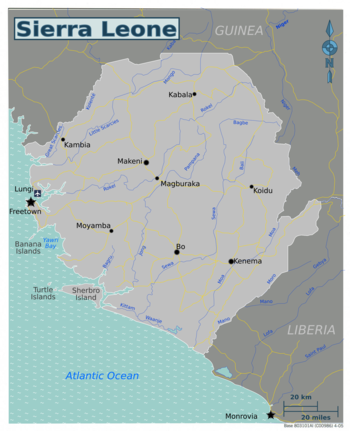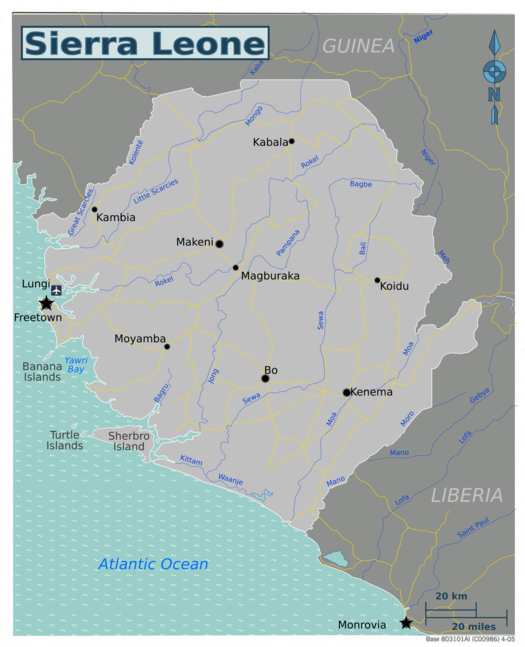 Western Area
Area of Freetown: the capital of the country.
Cities
Dating
When visiting Sierra Leone, dating can be a fun and interesting experience. AdultFriendFinder.com, lets you meet local members in Sierra Leone and get to know them on a personal basis before you arrive. It just takes a few minutes, you simply create an account, upload a few images, and tell a little about yourself. Since time in your destination may be limited, get to know each other's desires beforehand so when you do meet, you can skip the awkward introductions and start having some real fun.
Top Dating Tips
Speaking the Krio language gives you a certain level of an advantage as it makes an already welcoming people more accommodating. While conversing with your date, including issues surrounding their cultural heritage. Make inquiries about the family with sincere concern. Dress to impress but not to intimidate. Look good and smell nice. Be confident, but do not be mistaken for pride. Be kind and courteous. Show genuine love and respect to the people, especially the elderly. Greetings are highly valued in this part of the world. There are so many great places to visit in the daytime and at night. Take advantage of these beautiful places to give your lady a good time. Ensure you have the wherewithal to give you lady a fantastic time. Also, ensure she benefits financially from the interaction.
Relationships and Love
Thousands of single women in Sierra Leone are searching for a partner and potential future husband. Check out an ultimate guide for dating local girls, relationships, love and marriage: Relationship & Love Guide to Sierra Leone
Online Dating
Following are some of the online dating apps and websites that you can use while you are visiting Sierra Leone:
Interracialdatingcentral: This app helps connect people of different races, from all over the world. It is one of the free online dating apps used in Sierra Leone.
Datememe: This online dating site is filled with genuine members who are ready to mingle and find love!
Firstmet: This is a premium and free online dating site in Sierra Leone, where singles connect.
Mingle2: This is a 100 % free Sierra Leonean dating site for single men and women. Sign up for free!
Badoo: This is another trendy online dating app used by the beautiful ladies of Sierra Leone.
Live Cam Dating
Are you looking for virtual satisfaction in Sierra Leone? Chat with live web camera models and find the best girl for your needs. There are thousands of girls online 24/7 waiting for you: Live Cam Girls
What Kind of Guys Have the Best Chances
The kind of guy that has the best chances of picking a lady in Sierra Leone is one with good looks and a great heart. He who has the financial capacity to give the girl a great time, as well as profit her financially, the odds are more in his favour. If he speaks Krio a little or fluently, his chances are increased. That kind of guy has to be courteous, polite, and kind. He also has to have respect and appreciation for the people's culture and way of life. Along with all of that, those guys who use online dating platforms regularly will have a considerable better chance of finding women willing to hookup with them.
Risks while Gaming
The major risks you would likely face are the cultural and religious differences. Though the people are very liberal, they still attach value to their cultural heritage. Another risk you should be careful about is waterborne and other diseases. Other than that, there are no risks attached to gaming in particular.
How to Get Laid as Soon as Possible
Getting laid as soon as possible would require you to gaming more at night. Visit the clubs, lounges, and bars. The ladies there are in a better mood to have fun and would likely oblige you. Apart from that, you can try using online dating platforms regularly and in an efficient way to make the most out your trip.
Gold Diggers and Sugar Babies
The Sugar Baby scene in Sierra Leone is still quite new but there are a lot of beautiful young girls looking for a Sugar Daddy. The best and safest way to hook up with a Sugar Baby is online. At SecretBenefits, there is a wide selection of nice girls who are looking for an older guy to take care of them. These babes are easy to approach, and you can settle everything before meeting up.
Anyone can be a sugar daddy. Just create your free account at SecretBenefits and start enjoying the wide selection of Sugar Babies available.
BDSM
Looking for a new bondage partner while traveling? ALT.com is a community of like-minded people with members around the globe. Our members are interested in submissive sex, power exchange, locating persons for new slave roles, erotic BDSM, bondage & fetish sex, as well as live sex dates. Find thousands of play partners for whatever your fetish may be; bondage, foot, cockold, spankings, role-play, electric or water play, sadism, and masochism all while traveling in Sierra Leone.
Swinging and Naturism
Nudist activities and swingers' clubs are quite difficult to find in the country. If there are any, they would be operated with utmost secrecy and confidentiality.
Costs of Living
The cost of living in the country is high when compared to other African countries. Items may even be as high as double the price of these products elsewhere. As a tourist, you would be charged even higher, so it is advisable you bargain and negotiate smartly.
| | |
| --- | --- |
| | Single traveler's budget per day: US$50 - $400 |
As a tourist, make a budget of $50 to $400 for daily expenditure during your stay in the country.
| | |
| --- | --- |
| | Accommodation per night: US$20 - $210 |
Hotels in the country are quite scarce and mostly found in Freetown, the capital city. Make a budget of $20 to $210 for accommodation per night. This would, however, depend on your taste and preferences.
| | |
| --- | --- |
| | Beer in a grocery shop: US$1 - $3 |
To buy a bottle of beer in a grocery shop, budget $1 to $3 per bottle. However, this would largely depend on the brand and size.
| | |
| --- | --- |
| | Beer in a bar or restaurant: US$3 - $6 |
To get a bottle of beer from a bar or restaurant, make a budget of $3 to $6.
| | |
| --- | --- |
| | Meal in a restaurant: US$5 - $40 |
Budget $5 to $40 per meal. The type of meal you want to have and where you wish to have your meal will determine how much it will cost you.
Accommodation
Accommodation in the country is on the expensive end of the spectrum. There are hotels, guest houses, and lodges. You can take advantage of the cheap guesthouses in the villages, at the expense of the Chief's hospitality and little change. However, you should prioritise safety and comfort when deciding. You can also use Airbnb to make accommodation arrangements in the country. It will cost you anywhere between $20 to $210 per night, depending on the type of hotel you wish to stay at.
How to Get There and Move Around
Means of transportation used to move around the country include airplanes, boats, buses, taxis, cars, and motorbikes.
By air:
You can get into the country through the international airport that is Lungi International Airport also known as Freetown International Airport. Airlines that use this airport include British Airways, Royal Air Maroc, and Airk Air.
By bus:
You can also get into the country via buses through the road that links to Conakry and Liberia. Minibusses, also called pods-pods, are used in the country for moving around. They are very cheap but always crowded and in bad condition.
By car:
Private and bush taxis also gain entry into the country from Conakry in Freetown. Though it can a very uncomfortable ride. Cars are also used for movement in the country. Roads have been undergoing construction and repair since the civil war. Most of the main roads are in good condition. There are also car rental services in the country.
By train:
There is no railway service in the country since the 1970s.
By boat:
The country has the third-largest harbor in the world. There are also speed boats and ferries giving rides within the country.
Visas:
Citizens of ECOWAS do not require a visa to get into the country. Citizens of other nations would need a valid visa and passport to gain entry into the country.
Digital Nomads and Remote Work
Internet connection is fairly good in the country. There are internet cafes that offer Wi-Fi services in the country. It is quite difficult to get a job in the country, as a tourist, but it can be done. Note that you would have to pay for an annual work permit. Overall, Sierra Leone is not the ideal destination for digital nomads and remote workers.
Internet and Mobile Operators
Internet service providers in the country include:
Cajutel
Afcom
Iptel
Limeline
Sierra Wi-Fi
Gambling and Casinos
Gambling in Sierra Leone is legal. This includes land-based and online casino gambling. Two casinos in Sierra Leone are:
Bintumani Hotel and Casino
Lagoonda Casino
Weed and Drugs
Cannabis, which is generally known as 'diamba' in the country, is strictly prohibited. However, it is wildly grown, used, and exported to other countries. Even though you can get your hands on weed in the country, it is advised that you should refrain from indulging in activity involving weed or other drugs since getting caught can land you into considerable trouble.
Health, Fitness, Gyms and Massage
In case of urgent medical care, some hospitals you can visit include:
St John of God Hospital
Choithram Memorial Hospital
Connaught Hospital
If you need a good gym to work out and say in shape, the following are recommended:
Ashtanga Yoga Salone
The Edge Fitness
Core Fitness
Some nice spas that offer quality massage and body treatment include:
Radisson Blu Mammy Yoko
The Country Lodge
Na-Li Spa
STDs and HIV
The prevalence rate of HIV/AIDS in the country has been recorded at 1.5%. It is advised that you should always use protection when engaging in sexual intercourse with a stranger in the country.
Stay Safe
Despite the horrific violence of the 1990s—or actually, because of it— Sierra Leone is a very safe country to visit. While petty pick-pocketing, bag-snatching and other non-violent crimes are a problem in parts of Freetown (and the police are non-responsive), violent crime is extremely rare throughout the country by any international standards, even in the capital.
Corruption is less of a problem than it once was. There have been somewhat successful campaigns against corruption, with a series of high-level arrests and initiatives to, say, prevent police from charging bogus fines. Freetown (Lungi) airport has been refurbished and is quite good by African standards. The usual dangers found in undeveloped sub-Saharan Africa, though, are present: traffic and disease.
See Also