Mauritania
Mauritania dating guide advises how to pick up Mauritanian girls and how to hookup with local women in Mauritania. Travel, enjoy and have fun with hot single girls and you might even meet the love of your life. Read more on how to date Mauritanian women, where to find sex and how to get laid in Mauritania, Africa.
Mauritania, a country located in Northwest Africa and officially called the Islamic Republic of Mauritania is home to about 5 million people. It borders the Atlantic Ocean to the West, Senegal to the Southwest, Algeria to the Northeast and the Northwest and North lies Western Sahara. Though about a third of the country's landscape is a desert area, it still has other amazing features like exciting beaches, remarkable landscapes and is known to have the second-largest monolith. The country is also known to be rich in natural resources such as oil, ore, and gold, copper, fish, salt and for its involvement in agriculture and livestock. However, it still maintains a very low GDP and is regarded as one of the poorest countries in the world. Nouakchott is its largest city and the country's capital. 
Mauritania Top 10 Overview:

Chance of picking up girls: 3/ 5

Picking up at daytime: 3 / 5

Picking up at nighttime: 3/ 5

Looks of girls: 3 / 5

Attitude of girls: 4 / 5

Nightlife in general: 2.5 / 5

Locals' English level: 2 / 5

Transportation: 3 / 5

Budget per day: US$40 - $350

Accommodation: US$12 - $225
Mauritanian Girls
The Mauritania lady epitomises the saying, Big, Bold and Beautiful'. Contrary to the Western idea of what beauty should look like, the people of Mauritania do believe the bigger and the more stretch marks a woman has, the more beautiful she is. The size of a woman is seen as a way to measure the wealth and status of her family and a determinant to the number of suitors she will get. 
According to the Leblouh tradition, the young women are even sent to camps and at times overfed to achieve the big size and families are glad to see their daughters add weight, at times to the point of obesity. Some young ladies are even given pills just to ensure they add weight. However, in recent times Mauritania ladies are beginning to make conscious decisions to eat right, stay healthy and appreciate all sizes as beautiful.
| | |
| --- | --- |
| | Looks of girls: 3/ 5 |
Women in Mauritania are beautiful and endowed. If you love curvy ladies with big boobs and well-defined buttocks, the Mauritania lady is it. Although, you would still find some ladies with slender frames in the country they belong to the very little minority. The ladies in the country come in different shades of colors; light skin, custard, caramel, honey, café and some with dark cocoa skin.  Their faces are usually round, with plump lips, fat-cheeks, flat broad noses, beautiful almond eyes, long set necks, and flat foreheads.
| | |
| --- | --- |
| | Attitude of girls: 4 / 5 |
Women in Mauritania are peaceful, friendly and accommodating . The country itself is regarded as a cradle of peace within the African continent. The Islamic views make for a very reserved and conservative approach to life. There is an average level of literacy and urbanization within the country, despite its poor economy so the Mauritania lady has received a certain level of exposure and education.
Where to Get Sex Now
It is easy to get sex online in Mauritania. You just need to find the best available girls. See Girls Online Here!
How to Pick Up Girls
To pick up girls in Mauritania, you must bear in mind that it is a 100% Islamic country with cultural and behavioral views shaped around their religious beliefs. Though there are no cases of extremism and fanaticism as the people are known to be very peaceful, the people of Mauritania strive to be virtuous and to live according to the Islamic rules to life.
When it comes to dressing, you have to dress neatly and decently. You should not dress in a way to overexpose your bodies. For instance, wearing shorts. Wear loose clothes to give you sufficient comfort, despite the weather.
Be courteous, polite and kind as these are values these people hold to heart. This is one of the best ways to get into the heart of a Mauritanian lady. Public shows of affection and catcalls are frowned upon.
Look and smell good and walk confidently. However, do not exude an air of superiority. Give compliments to appreciate your lady regardless of size and color. Also, have the financial capacity to give a lady a good time.
| | |
| --- | --- |
| | Chance of picking up: 3 / 5 |
There is a moderate chance that you would hookup with a Mauritanian lady. These women are hospitable and very humble. They are easy to please and not demanding, but their religious beliefs and cultural norms make it difficult for them to socialise with stranger men. Regardless, the women will not be rude to you if you approach them and they will indulge you in a conversation, so take your chances and make the most out of it.
Tips for Daytime
During the day time, you should dress in lightweight and comfortable clothes that cover your body but still accommodate the heat during the day. The official language is Arabic, though French, English and other indigenous languages are being spoken among the people. If you speak the Arabic language or understand a few lines, it helps you communicate better.
The country is quite safe during the day time However, it would be good to move with a rented car and a cab driver when going out with a date. Also, avoid moving with bags or valuable items. There are several cool places where you can meet, as well as hang out with a Mauritania lady of your choice. You need to be sure you have the financial capacity to host your lady in these places.
| | |
| --- | --- |
| | Chance of picking up at daytime: 3 / 5 |
You have a fair chance of picking up a Mauritania lady during the day. The normal life during the day time involves the people going about their individual lives and seeking ways to earn their livelihood.
Best Places to Meet Girls
Best places to meet Mauritania ladies include:
Nouakchott Beach: This beautiful beach with white sand and blue skies make an amazing place to meet with and even take your Mauritania beauty to have a good time.
Parc National du Banc d'Arguin: This Park which has been noted as a World Heritage Site offers an incredible spot for bird viewing. It is also a great place to meet a gorgeous lady from Mauritania.
Reserve Satellite du Cap Blanc: This reserve allows you to interact with the pleasant creatures called Seals. Meeting a Mauritanian lady here should be easy.
Moroccan Mosque Market: This market where you can get the best of food products and fruits is also an excellent place to meet a lady from Mauritania.
Tips for Nighttime
To get the best of night time in Mauritania, you have to visit the hidden places where you can find alcohol. This is because night time in Mauritania is not as vibrant and bubbling as other countries as alcohol is illegal.
However, people take to drinking strong tea and smoking shisha at cafes and restaurants. There are also very few bars and clubs around where you can go in and have a good time. Dress decently and try to cover most parts of your body during the night as the desert lands make the areas much colder at night.
As you move around with your date or alone during the night, you must be security conscious as there are cases of petty theft and kidnapping within the country. There are also some landmines in different areas of the country. Stick to the paved roads. Ensure you offer a greeting once you enter a place as this is a cultural behavioural pattern for the people of the country.
| | |
| --- | --- |
| | Chance of hooking up at nighttime: 3/ 5 |
You have a good chance of meeting a lady from Mauritania at night, though the night time is not as vibrant as other cities and countries due to the conservative and reserved nature of the people
Best Nightclubs to Meet Girls
There are not so many night clubs and bars within the country. However, some exist which are owned and maintained by and for foreigners. They include:
Quoran Bar: This bar is a beautiful place to meet a Mauritanian lady.
Monotel: This is an amazing hotel with a bar and pool. It makes a great place to meet a date from Mauritania.
Naf's Café: This is a cool bar where foreigners and tourists alike get to chill. You should find a beautiful lady from the country here.
Café Savannah: This is also another bar where you get to chill and most likely get a date from the country.
| | |
| --- | --- |
| | Nightlife in general: 2.5 / 5 |
Nightlife in the country is generally on the low. This can be attributed to the fact that Mauritania is an Islamic country and the people live a conservative and reserved life. Alcohol ban can also be another reason why this is so.
However, there are certain bars and clubs where you can go to chill and have a good time. These spots are owned and managed by foreigners within the country to host other foreigners. You can also get to watch movies at the cinemas or plays at the theatres. There are also restaurants and cafes where you get served strong sweet tea.
Mature Ladies and Cougars
Due to the Islamic belief by which the people's lives are framed and the high rate of child marriage within the country, it would be quite difficult to get a mature lady or a cougar to date and hookup with. Your best hope of finding one is to use online dating platforms.
Regions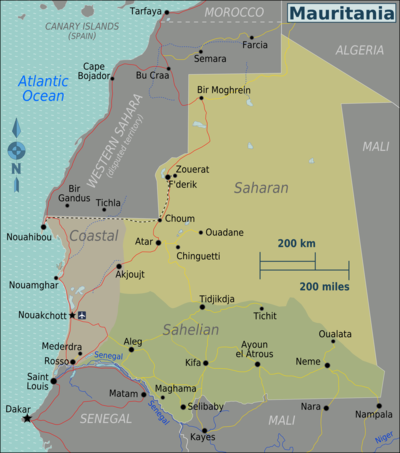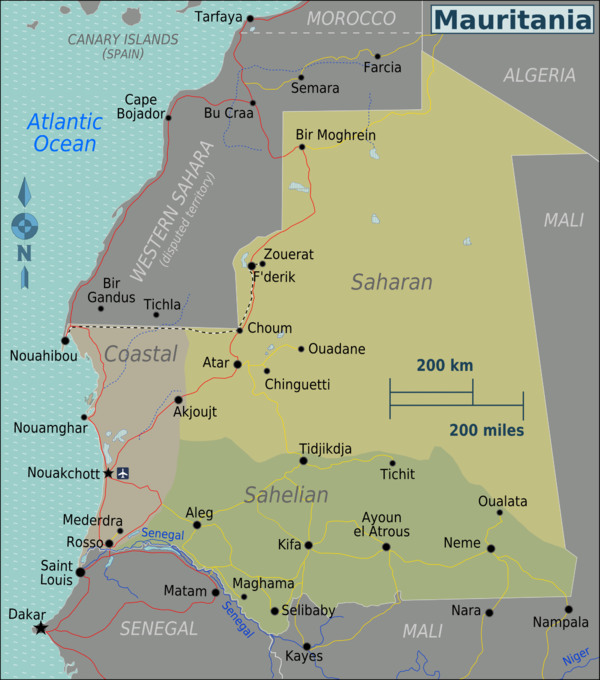 Coastal Mauritania 
the narrow coastal strip with a crashing Atlantic coastline and the capital city
Sahelian Mauritania
semi arid region in the south including the patchily lush Senegal River valley
Saharan Mauritania 
huge northern desert area which is largely very empty
Cities
Dating
When visiting Mauritania, dating can be a fun and interesting experience. AdultFriendFinder.com, lets you meet local members in Mauritania and get to know them on a personal basis before you arrive. It just takes a few minutes, you simply create an account, upload a few images and tell a little about yourself. Since time in your destination may be limited, get to know each other's desires beforehand so when you do meet, you can skip the awkward introductions and start having some real fun.
Top Dating Tips
Ensure you show complete respect to your partner's cultural and religious views, as well as to all the other locals. Make the most out of the day time to give your girl a good time as the night is often quiet and Mauritania ladies may not be found lurking in different bars and pubs.
Dress decently. Do not overkill the fashion style. Speak intelligently, including the cultural and family values as these are factors they prioritise. You should also ensure you give great consideration to security both for you and your date. Also, have the financial capacity to not just give her a good time but also guaranteeing she benefits financially from the interaction.
Relationships and Love
Thousands of single women in Mauritania are searching for a partner and potential future husband. Check out an ultimate guide for dating local girls, relationships, love and marriage: Relationship & Love Guide to Mauritania
Online Dating
You can use any of the following online dating apps and websites to look for a suitable partner while you are in the country:
Buzzarab: This online dating site was created to connect people around the world for dating, serious relationships, and marriage
Lovehabibi: It is a great platform to meet people from across different countries and religions to create friendship, establish dating or go as far as getting married.
Mingle2: This is a 100 % free Bahrain dating site for single men and women. Sign up for free!
Badoo: This is another trendy online dating app used by the beautiful ladies of Mauritania.
Firstmet: This app helps connect people from all over the world. It is one of the trendy online dating apps used in Mauritania.
Live Cam Dating
Are you looking for virtual satisfaction in Mauritania? Chat with live web camera models and find the best girl for your needs. There are thousands of girls online 24/7 waiting for you: Live Cam Girls
What Kind of Guys Have the Best Chances
The kind of guy that has the best of chances as a tourist is one who has complete respect for the people's views and religious beliefs, including religious sites and monuments. If he is a Muslim or if he speaks Arabic, he has a greater chance. If he is good looking, polite especially to elders and if he dresses decently, the odds would also be in his favor. He has to be one who can converse intelligently, who knows how to compliment his lady and who has the financial capacity to give her a good time.
Patient guys will do better with regards to picking up women in Mauritania. Since it is a conservative Muslim country, it takes time to find a woman willing to casual date and hookup with a foreigner. Along with that, men who make good use of online dating platforms will stand a better chance.
Risks while Gaming
One of the major risks while dating would be the cultural and religious differences, especially if you are not a Muslim or you do not understand Arabic. Most Mauritania families would prefer a Muslim date for their daughters. Another major risk would be the issue of security as you move about with your date. However, if you take the necessary safety precautions, you should have little or no problems at all.
Generally speaking, the people of Mauritania are very humble and accommodating. They are known to be peaceful and friendly and there is rarely any case of racism towards foreigners. However, you are advised to use your common sense and always be vigilant about avoiding any situation that you think would land you in trouble.
How to Get Laid as Soon as Possible
Getting laid as soon as possible may mean you should bring out your A-game. You would have to put your best foot forward to successfully get laid as soon as it is possible. You can also join online dating sites and apps. That way, it is easier to interact and establish connections with these beautiful women. 
Gold Diggers and Sugar Babies
Mauritania is full of hot girls looking for a mutually beneficial hookup with travellers. There are lots of girls who don't charge by the hour but who will do anything for a guy who is willing to help them pay their bills. If you are looking for a more personal and less transactional alternative to escorts, a good place to find these sexy open-minded girls in Mauritania is SecretBenefits.
BDSM
Looking for a new bondage partner while traveling? ALT.com is a community of like-minded people with members around the globe. Our members are interested in submissive sex, power exchange, locating persons for new slave roles, erotic BDSM, bondage & fetish sex, as well as live sex dates. Find thousands of play partners for whatever your fetish may be; bondage, foot, cockold, spankings, role-play, electric or water play, sadism and masochism all while traveling in Mauritania.
Swinging and Naturism
Mauritania is an Islamic country. Hence, there are no known swinger clubs or nudist spots in the country. If there are any, it would be done with maximum confidentiality.
Costs of Living
It is a little on the expensive side live in Mauritania, especially the capital city. This is when you compare it with other neighboring countries. The standard hotels are also not cheap.
| | |
| --- | --- |
| | Single traveler's budget per day: US$40 - $350 |
As a tourist in Mauritania, your daily budget should be between $40 and $350 as the cost of living. This would depend on the type of luxuries you choose to avail during your stay in the country.
| | |
| --- | --- |
| | Accommodation per night: US$12 - $225 |
When you consider standard hotels, accommodation within the country can be a bit expensive. For shabby motels and shared accommodations, you would have to spend as low as $12 per night. Whereas, staying at a 5-star hotel would cost you as mu as much as $225 per night. You can also fin decent 3-star hotels for around $100 per night to stay in.
| | |
| --- | --- |
| | Beer in a grocery shop: NOT AVAILABLE |
You can get non-alcoholic beers in the country for $3 to $7 per bottle from any of the grocery shops. Alcoholic beers are however not available at grocery stores.
| | |
| --- | --- |
| | Beer in a bar or restaurant: NOT AVAILABLE |
Non-alcoholic beers in bars and restaurants would be a bit more expensive than the regular grocery shops. Make a budget of $4 to $8 per bottle. Alcoholic beers are however not available at restaurants.
| | |
| --- | --- |
| | Meal in a restaurant: US$5- $35 |
Depending on the restaurant or hotel and based on your taste and preference, it can cost you anywhere between $5 to $35 for a meal.
Accommodation
There are great hotels and other places for accommodation with working facilities, great ambiance and free wi-fi connection. Always prioritise safety and comfort when deciding. Depending on the type of place you choose to stay at, it will cost you anywhere between $12 to $225 per night. Services like Airbnb are also available in the country.
How to Get There and Move Around
Getting into the country and around the country would involve the following means of transportation; cars, minibusses, trains, taxis, bush taxis, ferries, and airplanes.
By air:
There are about 26 airports in the country but the major airport in the country is Nouakchott International Airport receiving airlines that leave and come into the country. These airlines include Mauritania Airlines. Air Franc, Air Algerie, Turkish Airlines, etc.
By bus:
No public buses are operating in the country but you have minibusses operated by private companies.
By car:
Cars, taxis and bush taxis can access the country from neighboring countries. These forms of transportation also operate within the country. However, city cabs can be quite expensive. You can also get to rent a private car from any of the rental companies.
By train:
Train lines are connecting the country to other neighboring countries. However, within the country, there is a train line that links Nouadhibou with other towns. It is referred to as the longest train line in the world!
By boat:
There are many ports along the coast of the country and you can find ferries on the Senegal River.
Visas:
Except if you belong to any of the countries given an exemption By the Mauritania government, you would need a valid passport and a visa to enter the country.
Digital Nomads and Remote Work
Internet connection is quite fair in the country though not so many users. There are internet cafes in the capital city, Nouakchott. Hotels and most accommodations also offer free wi-fi service. However, the poor infrastructure in the country and the conservative culture might be a problem for some. Overall, Mauritania makes for an average destination for digital nomads and remote workers.
Internet and Mobile Operators
Internet providers in the country include:
Mauritel
Mattel
Chinguitel
Gambling and Casinos
Due to the Islamic laws ruling the country, all forms of gambling are forbidden in the country. This would include online and land-based casinos.
Weed and Drugs
The use and sale of Cannabis and other hard drugs are highly prohibited in Mauritania. The same law also applies to the growing and possessing of these substances. You would be arrested and prosecuted if found guilty. Hence, you are strongly advised to refrain from indulging in any activity involving weed or other drugs.
Health, Fitness, Gyms and Massage
In case of urgent medical care, some hospitals you can visit include:
Hospital Datar
Kaedi Regional Hospital
National Health Center
If you need a good gym to work out and say in shape, the following are recommended:
Millennium Sports Club 
Chez KIM Gym
Argus Mauritanie
Some nice spas that offer quality massage and body treatment include:
Beauty House Day Spa
Royal Suites Hotel
Alkhaima City Center
STDs and HIV
The prevalent rate of HIV/AIDS within the country has been estimated to be about 0.57%. Though this is quite low, it cannot be said to be conclusive as many people are not willing to volunteer to be tested. Hence, it is advised to always use protection when engaging in sexual intercourse with a strange run the country.
Stay Safe
The area near Western Sahara is heavily mined and travel through this area is highly inadvisable. Border areas lining Algeria and Mali are notorious for banditry. The single paved road coming from Morocco is especially dangerous, having been the site of Al Qaida kidnappings. If you must travel on this path, it is best to do so in a tight caravan. In other areas, one should avoid flaunting wealth or expensive wares. Daunting though it may seem, a bit of research and common sense will ensure a pleasant trip to Mauritania.
Check your embassy or consulate travel advisories carefully. Due to increasing numbers of attacks on Westerners in the past several years, most Western nations advise great caution. Resident expatriates travel between cities by day, in groups and on major routes.
See Also