Lesotho
Lesotho dating guide advises how to pick up Basotho girls and how to hookup with local women in Lesotho. Travel, enjoy and have fun with hot single girls and you might even meet the love of your life. Read more on how to date Basotho women, where to find sex and how to get laid in Lesotho, Africa.
Lesotho; whose official name is the Kingdom of Lesotho, is a landlocked country that is inside the border of South Africa. The name simply means the land of the people who speak Sesotho. The capital city is Maseru.
The climate in Lesotho is mainly cool throughout the year. Most of the rain falls as summer thunderstorms. The country has hot summers with temperatures that can go up to 30 °C. The winters can get very cold with the temperatures getting down to −18 °C at times. Snow is common in the highlands between May and September.
The economy is quite stable and a majority of the population is employed. Those who are not formally employed tend to be involved in farming. In as much as the residents struggle to access educational resources, the majority of them are literate, with women having a higher literacy rate than that of men. The population is relatively young, with roughly 60% of the people younger than 29.
Lesotho Top 10 Overview:

Chance of picking up girls: 3 / 5

Picking up at daytime: 3 / 5

Picking up at nighttime: 4 / 5

Looks of girls: 3 / 5

Attitude of girls: 4 / 5

Nightlife in general: 3 / 5

Locals' English level: 3 / 5

Transportation: 4 / 5

Budget per day: US$35 - $100

Accommodation: US$20 - $50
Basotho Girls
Lesotho is home to beautiful African women of different ethnic groups. Sotho is the largest group in the country. Sotho women are usually big-boned and curvy. There are also several Zulu women in the country; these women tend to be light-skinned beauties. There is also a small population of women from European, Asian and mixed ancestry.
These women tend to vary in their personalities. Sotho women are known for being very respectful of their culture and also for valuing their traditions. However, those in the urban areas are, for the most part, educated and a bit westernized so they are not as traditional.
Women in Lesotho are more literate than men, and they also dominate the job market. However, even though they do work, they also like to experience life and have fun. Sesotho is the main language of communication in the country; however in the urban areas, English is quite common. When it comes to religion, the majority of the population is Christian, mainly Roman Catholic.
| | |
| --- | --- |
| | Looks of girls: 3/5 |
The women from Lesotho are traditional African beauties, with the voluptuous curves that are associated with African women.
| | |
| --- | --- |
| | Attitude of girls: 4/5 |
The general attitude of the girls in the city is pleasant. They are friendly people who enjoy having fun in spite of their busy lives. They are also curious and interested in learning things about people from other countries.
Where to Get Sex Now
It is easy to get sex online in Lesotho. You just need to find the best available girls. See Girls Online Here!
How to Pick Up Girls
Picking up girls in Lesotho might be a bit tricky. This is due to the fact that the country is still well-rooted in its traditional beliefs. However, education has in the urban areas introduced westernization so it's not entirely impossible. To be able to pick up girls one needs to display a high level of charm, humor and the promise to ensure that the girls have fun.
Lesotho is a small country and most of the young people there have never been outside the country's borders, therefore by virtue of being a tourist you are automatically interesting. You should, however, make effort by showing interest in them and their country as well as sharing exciting stories about your country allowing them to dream. Also, a guy who has the propensity to spend will without a doubt be appealing. More details about the same, a few tips and tricks, are given in the sections below. So read on to find out!
| | |
| --- | --- |
| | Chance of picking up: 3 / 5 |
The chance of picking up girls in the country is relatively high. The country is full of young, beautiful women who enjoy having fun and making memories. They are also, for the most part, curious beings.
Tips for Daytime
The chances of picking up a girl at daytime in Lesotho are relatively low. The women make up a high percentage of those who are formally employed and therefore the probability of meeting them and asking them out during the day is low. As a tourist, during the day you would probably also want to get in a bit of sight-seeing to experience the various attractions of the country. It is possible to come across girls who work in tourism as well as hotels and restaurants during the day, and by virtue of being a tourist, you would be interesting and could be given contact details for later. How to approach the girls?
Due to the fact that Lesotho is a small country, most of the girls are timid, therefore when approaching them; one should be humble as being too forward might scare them away. The main trait that one needs to possess so as to be able to approach girls in Lesotho is self-confidence. The city is busy and there is endless competition so you need to find a way to stand out and catch the fancy of the girl you are approaching. Most of the women are open and fun-loving so approaching them should not be too hard. Being confident, humorous and overall an exciting person will make getting a girl easier for you.
| | |
| --- | --- |
| | Chance of picking up at daytime: 3 / 5 |
Chances of picking up women at daytime are average. Most of them are either employed or in school and rather busy so you can never truly be sure how your advances will be met at that time.
Best Places to Meet Girls
Lesotho is a beautiful place with numerous places you can meet girls. However, the places to meet girls during the day are limited to mainly the main tourist attractions such as museums and parks, and also to shopping malls and restaurants. Given below is a list of the most popular places out of the many in the city:
Maletsunyane Falls, Semonkong
Sehlabathebe National Park, Drakensberg
Morija Museum and Archives, Morija
Tips for Nighttime
Lesotho, due to the fact that it is a small country has a limited nightlife. However, this limited nightlife is exciting and enjoyable probably due to the dominantly young population. Chances of meeting a woman vary depending on the vibe of the area that you prefer. The fact that you are a tourist boosts your chances of meeting girls as you represent the unknown and are automatically exciting.
Many of the people work or study during the day and enjoy going out at night as a way to let loose and relax a little, especially over the weekend. After a long day of touring and site-seeing, the men should remember to take a bath and change clothes so as to be clean looking and smell fresh before they join the nightlife. The man should also make sure that the hotel they intend to take the girl back to is one of the clean and classy ones.
| | |
| --- | --- |
| | Chance of hooking up at nighttime: 4/5 |
The chances of hooking up at night time are very good and men must try and keep things interesting and exciting. Being a tourist in such a small country automatically makes you attractive and intriguing. If you are charming and interesting to talk to you will probably get lucky.
Best nightclubs to meet girls
Lesotho has a limited number of night clubs. They vary in the vibes that they offer and fit the scene of almost every individual according to their preferences. The nightclubs in Lesotho are lively, beautiful and exciting. They sport a variety of fancy as well as normal alcoholic and non-alcoholic drinks. The combination of loud music, dancing and alcohol is fantastic. Some clubs are frequented mostly by the younger girls and have an exciting vibe. Given below the top 5 nightclubs where one can have a good time.
Siscos, Foso
Club De Fasto, Maseru
Carmer's Public Bar, Maseru
Black Box Pub & Grill, Butha Buthe
Cloud 9 Lounge and Chesanyama, Hlotse
| | |
| --- | --- |
| | Nightlife in general: 4/5 |
Lesotho has a limited amount of nightlife and entertainment to choose from. Some hotels and restaurants sometimes have live entertainment. There are also several cinemas in Maseru and there are casinos at the two major international hotels. There are also several nightclubs that one can go to and have fun at. However, during the week, Lesotho nightlife is mostly dull.
Mature Ladies and Cougars
Lesotho is still a rather traditional and primitive country and therefore the idea of cougars is not only looked down upon, but it is actually shamed. Also, a majority of the mature population are located in rural areas. Finding a cougar is, therefore, a close to impossible task.
Regions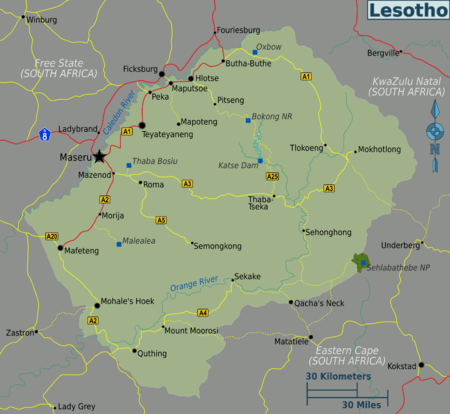 Cities
Dating
When visiting Lesotho, dating can be a fun and interesting experience. AdultFriendFinder.com, lets you meet local members in Lesotho and get to know them on a personal basis before you arrive. It just takes a few minutes, you simply create an account, upload a few images and tell a little about yourself. Since time in your destination may be limited, get to know each other's desires beforehand so when you do meet, you can skip the awkward introductions and start having some real fun.
Top Dating Tips
You would want to take the girl on a date she cannot forget. A lot of girls in Lesotho are materialistic; it would help if you buy them gifts. Providing for her needs would win you her hard.
You can take her to expensive restaurants and let her know that you will be there for her. Getting laid in Lesotho is not a big deal if you play the game properly.
Relationships and Love
Thousands of single women in Lesotho are searching for a partner and potential future husband. Check out an ultimate guide for dating local girls, relationships, love and marriage: Relationship & Love Guide to Lesotho
Online Dating
Online dating has become a worldwide phenomenon and is therefore available in Lesotho as well. There are numerous dating sites that allow those who haven't been able to physically meet their soulmate to be able to meet them online. Different people use different dating sites depending on what it is they are looking for.
Given below are some dating apps you can use in Lesotho:
MINGLE2: The app is a 100% Lesotho dating service. It is free and easy to use. The app is popular amongst women in Lesotho who are looking to meet men, either for a serious relationship or just or sex.
Dating Buzz: is a popular dating site that features profiles of people in Lesotho. You can sign up for this site and use it to find a potential mate.
Live Cam Dating
Are you looking for virtual satisfaction in Lesotho? Chat with live web camera models and find the best girl for your needs. There are thousands of girls online 24/7 waiting for you: Live Cam Girls
What kind of guys have the best chances?
Those men don't try too hard to impress women, have a good physique, have an adventurous nature, and smooth with conversations, are the ones with the highest chances in Lesotho.
== Risks While Gaming ==

Lesotho is, in general, a friendly place. However, it does have a significant crime rate, after picking up a woman men should be careful as picking up a con artist is quite possible. Also, local men tend to be jealous and threatened so it's important to tread carefully.
How to Get Laid as Soon as Possible?
Those who wish to get laid at the earliest must head to the nightclubs, especially those frequented by the younger population. Also, being flashy will draw attention to you and increase your chances.
Lesotho is full of hot girls looking for a mutually beneficial hookup with travellers. There are lots of girls who don't charge by the hour but who will do anything for a guy who is willing to help them pay their bills. If you are looking for a more personal and less transactional alternative to escorts, a good place to find these sexy open-minded girls in Lesotho is SecretBenefits.
BDSM
Looking for a new bondage partner while traveling? ALT.com is a community of like-minded people with members around the globe. Our members are interested in submissive sex, power exchange, locating persons for new slave roles, erotic BDSM, bondage & fetish sex, as well as live sex dates. Find thousands of play partners for whatever your fetish may be; bondage, foot, cockold, spankings, role-play, electric or water play, sadism and masochism all while traveling in Lesotho.
Swinging and Naturism
The Adult Hub Lesotho is an online platform where those who are interested in swinger clubs and naturism can find like-minded people.
Costs of Living
Given below is an estimate of the costs of a trip to Lesotho:
| | |
| --- | --- |
| | Single traveler's budget per day: US$40 - $400 |
Any traveler visiting the city of Lesotho shall need anything in between 40 to 400 USD per day.
| | |
| --- | --- |
| | Accommodation per night: US$20- $200 |
The options for accommodation are truly vast depending on the quality of the place you want to stay in ranging between 20 and 200 USD per night.
| | |
| --- | --- |
| | Beer in a grocery shop: US$1-$2 |
A traveler buying beer from a grocery shop won't need more than 2 USD for a pint.
| | |
| --- | --- |
| | Beer in a bar or restaurant: US$5 - $10 |
The tourist wanting to have a drink at a restaurant or a bar should be prepared to spend up to USD 3 on a single pint of beer.
| | |
| --- | --- |
| | Meal in a restaurant: US$3- $40 |
Lesotho has numerous restaurants that serve different cuisines to fit the different budgets of different people. The restaurants vary from fast food to fine dining. A simple and small meal in a fast-food restaurant such as MacDonalds will cost roughly USD 3, while the cheapest meal in a restaurant can be USD 5 and the most expensive go up to as high as 40 USD.
Accommodation
Accommodation rates vary according to the quality of living that an individual prefers. It starts from as low as 20 USD up to 100 USD for 4-star accommodations.
How to Get There and Move Around
Details about the transportation system in Lesotho are given below:
By air:
Moshoeshoe I International Airport is the only airport International airport in Lesotho, there are 27 other airports. It is in the capital city, to get to other cities from the International airport you would have to organize other modes of transport or book connecting flights.
By bus:
Buses, which are cheaper can be used. You can also use sprinters, which are faster, but which are more expensive than slow buses.
By car:
There are numerous car rental places at convenient places throughout the city that offer luxury transport. Renting a car is relatively expensive with prices ranging between USD40- USD100 per day. There are also public taxis that charge a fare to transport people from one place to another.
By train:
There are is one railway line that stretches from Maseru to Bloemfontein in South Africa.
By boat:
Lesotho is landlocked and thus, cannot be accessed by bus
Visas:
The requirement of a visa when traveling to Lesotho depends on your country of citizenship. 2 blank visa pages are mandatory.
Digital Nomads and Remote Work
Lesotho does not have free Wi-Fi in most places, so digital nomads will probably have to find their own data. The country does have a few places where you can sit down with your computer and catch up on your work. Some of the popular places that you can work from are:
Renaissance Coffee & Café, Maseru
Ouh la la, Maseru
Gondola Café, Butha-Buthe
Cafe Mojo, Morija
Internet and Mobile Operators
There are two mobile operators in Lesotho, namely Econet and Vodacom, Lesotho. The internet is quite good with an average of 5mbps.
Gambling and Casinos
The country has one casino and gambling place, this is the Avani Lesotho Hotel and Casino in Maseru.
Weed and Drugs
The use of all illegal drugs including weed in Lesotho is illegal for any use. However, the use of weed is largely tolerated and it is very easy and cheap to get access to it. The other drugs might be more difficult and expensive to get hold of.
Health, Fitness, Gyms, and Massage
After a long day of touring, there are a number of massage parlors that one can go to for a relaxing massage most of them are relatively affordable with the average price of USD 35 per hour. Also, if you want to keep in reach of your fitness goals while on vacation you can join one of the gyms or even use the hotel gym. In most cases, gyms and massage parlors are found in one area known as a wellness center. Below is a list of the most popular wellness centers:
Phela Health & Development Communications (Phela), Maseru
Hermitage Health Centre, Qacha's Nek
Matsieng Health Centre, Morija
One Planet Health And Fitness Club, Maseru
STDs and HIV
The percentage of people living with Lesotho is rather high, as the country has the 2nd highest HIV prevalence rate in the world. Tourists are therefore advised to take necessary measures to protect themselves at all times.
Stay Safe
It is risky to walk in Maseru alone at night. During the day, at least the main roads of Maseru are safe to walk alone.
As with pretty much everywhere else in the world, you may find friendly chats with locals turn in to veiled requests for money — stick to your principles and only give to registered charities.
At night time, it is the norm to drive through red lights — this is more just to speed up your journey (the police won't care), but also a precaution against carjackings.
See Also