Equatorial Guinea
Equatorial Guinea dating guide advises how to pick up Equatorial Guinean girls and how to hookup with local women in Equatorial Guinea. Travel, enjoy and have fun with hot single girls and you might even meet the love of your life. Read more on how to date Equatoguinean women, where to find sex and how to get laid in Equatorial Guinea, Africa.
The Republic of Equatorial Guinea located in Central Africa is the only African country with Spanish as its official language. This is because it was a Spanish colony until 1968 when it gained its independence. Besides Spanish, the French language was also adopted. Portuguese and Pidgin language is also widely spoken in the country. The country is divided into the Islands and the Mainland region. The Islands consist of the Islands of Boko and Annobon, another small Island.
On the north of the mainland region (Rio Muni) lies Cameroon and on the south and east lies Gabon. Equatorial Guinea is one of the largest oil producers in the world and is the richest country per capita in Africa. However, this wealth is only accumulated by the rich elite and the majority of the people still live in abject poverty. Besides oil, the majority of its people are also into forestry, farming, and fishing. Though the country is known for high levels of corruption, planned coups and human rights abuse, it is still a country with very beautiful landscapes, wildlife, exotic beaches rainforests, etc. 
Equatorial Guinea Top 10 Overview:

Chance of picking up girls: 3.5 / 5

Picking up at daytime: 3 / 5

Picking up at nighttime: 4 / 5

Looks of girls: 3.5 / 5

Attitude of girls: 3.5 / 5

Nightlife in general: 3.5 / 5

Locals' English level: 2 / 5

Transportation: 3.5 / 5

Budget per day: US$150 - $600

Accommodation: US$50 - $400
Equatorial Guinean Girls
The ladies of Equatorial Guinea are glamorous women with mostly slender frames, though you would still find some with plump shapes. They are usually dark in complexion and their skin appears polished. This is because the sunlight in the region is not too harsh. Their faces are structured to have flat foreheads, broad wide noses, fine bright eyes, attractive plump lips, and high cheekbones. These ladies are known to be very respectful, polite and well cultured.
| | |
| --- | --- |
| | Looks of girls: 3 / 5 |
The ladies of Equatorial Guinea are beautiful and attractive. Their glowing polished skin and great body frames are sufficient to make you look twice. Some of the ladies also come in caramel and coffee skin tones. Their bright glowing eyes and a charming smile are features to admire.
| | |
| --- | --- |
| | Attitude of girls: 4 / 5 |
The Equatorial Guinean lady is very respectful and polite. They are not demanding and very easy to please. Rather they go the extra mile to please their men. The rate of literacy in the country is quite high and is still on the increase, so these women are educated and have experienced certain levels of exposure.
They are cultured, well mannered and pay a lot of attention to their looks in public. This is also a country where women are referred to as inferior to the male folks and are usually objects of several forms of abuse. It would be great to be with a man who appreciates their worth and treats them as such.
Where to Get Sex Now
It is easy to get sex online in Equatorial Guinea. You just need to find the best available girls. See Girls Online Here!
How to Pick Up Girls
Picking up a girl in Equatorial Guinea should not be much of a problem. The major religion practiced is Christianity so they are a bit more liberal than other Muslim nations in the continent.
Tourism is still at its infant stage in the country due to political unrest and international isolation. There are also very few spaces and the available ones are quite expensive. However, as a tourist, you would still be met with a high level of friendliness and acceptance from the Equatorial Guinean lady. You would have the ball in your court to play it right.
The people of Equatorial Guinea love to look good in public and Western clothes are widely accepted. You should dress for comfort but also impress those you meet.
Respect for women, elders and their cultural views is a great way to get your potential date's interest. Be polite and courteous and begin your conversation with a compliment so your date is at ease t interact with you.
The official languages are Spanish and French. It would be great if you speak a bit about any of the mentioned languages. If not, you could hire a tour guide as a go-between.
| | |
| --- | --- |
| | Chance of picking up: 3.5 / 5 |
You have a good rate of picking up ladies from Equatorial Guinea. If you visit the areas built or preserved for tourist's influence, you are sure to get an Equatorial Guinean lady to look your way.
Tips for Daytime
The country is quite safe for living. However, there are no extra measures taken to ensure the safety of tourists and foreigners. Therefore, do not carry valuables of bags around so you do not fall victim to petty thieves.
You can dress as casually as you choose but overexposure of your body is certain to earn you more than just a stare.
Respect for elders and greetings are important aspects of their lives so it would be to your advantage.
If you speak any of the official languages; Spanish or French, it could go a long way in helping your communication. Converse intelligently as these ladies are educated and have certain levels of exposure. Smell nice and act confidently but without an air of superiority.
| | |
| --- | --- |
| | Chance of picking up at daytime: 3/ 5 |
You have a good chance of picking up a lady during the daytime. You increase your chances when you visit certain popular areas, especially Malabo or Bata or Rio Muni, the capital.
Best Places to Meet Girls
Best places to meet ladies of Equatorial Guinea include the following: Monte Allen National Park: This park offers the beauty of humid rainforests, amazing wildlife and chances of mountain hiking. You would likely meet a beauty from Equatorial Guinea here.
Beaches: Several nice beaches in Equatorial Guinea make great spots to meet your dream lady.
Bioko Islands: These are another exciting place both to visit and meet the lady of your dreams.
Tips for Nighttime
Nighttime in Equatorial Guinea is considered safe. However, avoid falling victims to petty thieves by adhering to safety tips. Do not carry around valuables or bags. Also, avoid moving alone at night.
The place way to enjoy night time in Equatorial Guinea would be to pay a visit to either Malabo or Bata. The best bars, night clubs, and lounges are located in these regions. Clubs often begin by 10 pm and continue into the early hours of the morning.
Dress casually but also to impress your date. You can break the ice by complimenting her and acting like a perfect gentleman. This is would be a pleasant surprise when compared to the attitude of the majority of the male folk towards women.
These ladies are quite educated and should be able to converse or contribute intelligently to most topics. However, it would be nice to make the culture of her specific ethnic group as a subject topic as that is a core issue they hold to heart.
| | |
| --- | --- |
| | Chance of hooking up at nighttime: 3.5 / 5 |
Nighttime in Malabo is known to be vibrant and bubbly. This is the best place to have high chances of meeting ladies from Equatorial Guinea.
Best Nightclubs to Meet Girls
The best spots to meet with up with Equatorial Guinean ladies are:
Aviator Pub and Cafe: This place offers beautiful scenery, great music, an opportunity to experience karaoke and good food. It is an excellent place to meet a date from Equatorial Guinea.
Bahai Sound Lounge: This night club, though offering expensive rates is a great place to experience an exciting night. You could meet your date from Equatorial Guinea here.
Roles Discoteca: This is another electrifying spot where you get to have good loud music, amazing ambiance and nice drinks. You are sure to meet a beauty form Equatorial Guinea here. 
Cervezeria Elik Melen: This bar offers an awesome view of the sea, nice music and a way for you to follow up on football matches. You are likely to meet up with beauty from Equatorial Guinea here.
| | |
| --- | --- |
| | Nightlife in general: 3.5 / 5 |
Nightlife in Equatorial Guinea can be vibrant and fun if you know and are willing to get to the right places being Bata or Malabo. There you would experience clubs, bars, and pubs with rich music, beautiful ambiance, exciting scenery and views, drinks and meals. You may find small bars and restaurants to chill in at night in other areas of the country.
The ladies are more relaxed and need a good time. You have a better chance of getting her attention and securing an exciting time for yourself. You should be ready to give great company too and have the financial capacity to make that happen.
The nigh time in Equatorial Guinea is quite safe. However, avoid moving with your valuables.
Mature Ladies and Cougars
Equatorial Guinea is one of the six countries whose laws are silent about the legal age for marriage. There are still incidences of child marriage in the country and many ladies are eager to be married before the age of 30. However, you still have a chance of meeting an older unmarried lady.
Regions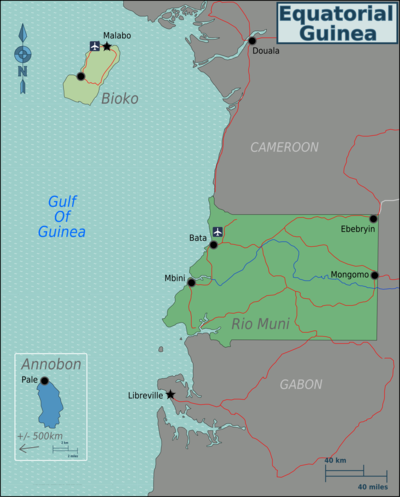 Río Muni (Bata)
all of the mainland
Bioko (Malabo)
island in the Gulf of Guinea, includes the capital city
Annobon
small island between Sao Tome Island and Principe Island out in the Atlantic
Cities
Dating
When visiting Equatorial Guinea, dating can be a fun and interesting experience. AdultFriendFinder.com, lets you meet local members in Equatorial Guinea and get to know them on a personal basis before you arrive. It just takes a few minutes, you simply create an account, upload a few images and tell a little about yourself. Since time in your destination may be limited, get to know each other's desires beforehand so when you do meet, you can skip the awkward introductions and start having some real fun.
Top Dating Tips
The first tip to dating in Equatorial Guinea is to appreciate the cultural and ethnic beauty in diversity. You should also dress well as these people are very particular about public looks. The Equatorial Guinean lady is cultured and respectful; you should also portray respect for elders.
Smelling nice and looking good is an added advantage. Public display of affection may be tolerated but not necessarily accepted or celebrated.
Be ready to have and give a good time; ensure your financial capacity is sufficient to handle the responsibility of giving your girl a great time.
Relationships and Love
Thousands of single women in Equatorial Guinea are searching for a partner and potential future husband. Check out an ultimate guide for dating local girls, relationships, love and marriage: Relationship & Love Guide to Equatorial Guinea
Online Dating
AfroIntroductions - The largest African dating site with over 2.5 million members.
Tinder: This app helps connect people from all over the world. It is one of the trendy online dating apps used in Equatorial Guinea.
Datememe: This online dating site is filled with genuine members who are ready to mingle and find love!
Firstmet: This is a premium online dating site in Equatorial Guinea where singles from allover connect.
Mingle2: This is a 100 % free Equatorial Guinean dating site for single men and women. Sign up for free!
Badoo: This is another trendy online dating app used by the beautiful ladies of Equatorial Guinea.
Live Cam Dating
Are you looking for virtual satisfaction in Equatorial Guinea? Chat with live web camera models and find the best girl for your needs. There are thousands of girls online 24/7 waiting for you: Live Cam Girls
What Kind of Guys Have the Best Chances
The kind of guys who have the best chances are the one who are good looking, dress well but not too glamorous, are polite and well mannered, have respect for elders and the people's cultural views and practices, speaks intelligently and knows how to give great compliments and finally one who have the financial capacity not only to give a girl a good time but also to ensure she benefits financially from the interaction.
Risks while Gaming
One of the risks while gaming may be that of security. Though the country is quite safe, there are no provisions for the protection of tourists or foreigners. Hence, your security should be ensured by you. The people are quite accommodating and friendly so you may have little or no problems with racism. However, cultural and tribal views may also still be a risk. The high costs of living for you as a tourist living in the country is another financial risk you must consider.
How to Get Laid as Soon as Possible
Getting laid as soon as possible would require you to gaming heavily at night in major cities like Malabo and Bata. However, be careful to differentiate between the sex workers and the local Equatorial Guinean girl who just wants some fun or who is in search of love.
Gold Diggers and Sugar Babies
Equatorial Guinea is full of hot girls looking for a mutually beneficial hookup with travellers. There are lots of girls who don't charge by the hour but who will do anything for a guy who is willing to help them pay their bills. If you are looking for a more personal and less transactional alternative to escorts, a good place to find these sexy open-minded girls in Equatorial Guinea is SecretBenefits.
BDSM
Looking for a new bondage partner while traveling? ALT.com is a community of like-minded people with members around the globe. Our members are interested in submissive sex, power exchange, locating persons for new slave roles, erotic BDSM, bondage & fetish sex, as well as live sex dates. Find thousands of play partners for whatever your fetish may be; bondage, foot, cockold, spankings, role-play, electric or water play, sadism and masochism all while traveling in Equatorial Guinea.
Swinging and Naturism
There are no public swinger clubs or nude beaches in the country. If they do operate, their activities would be carried out in utmost secrecy.
Costs of Living
The cost of living per day as a tourist in Equatorial Guinea is pretty high. This is mainly because tourism is at its infant stage and the government is not yet focused on the industry. Rooms are scarce and the available ones are quite expensive.
| | |
| --- | --- |
| | Single traveler's budget per day: US$150 - $600 |
As a tourist in Equatorial Guinea, you should budget between $150-$600 per day to cover all daily expenses.
| | |
| --- | --- |
| | Accommodation per night: US$50 - $400 |
For accommodation per night, you should budget between $50 and $400. Getting a good place to stay in the country is quite expensive.
| | |
| --- | --- |
| | Beer in a grocery shop: US$1 - $3 |
The cost of beer per bottle in grocery shops should be between $1 to $3 depending on brand and size.
| | |
| --- | --- |
| | Beer in a bar or restaurant: US$3 - $5 |
Getting a beer in a bar or restaurant should cost you around $3 to $5 depending on the brand and size of the bottle.
| | |
| --- | --- |
| | Meal in a restaurant: US$1 - $50 |
For meals, you have to decide if you would want the local or western cuisine. You can budget between $30 to $50 per meal depending on where you would want to get it. If you want to try local food, you may get it as cheap as $1 per meal
Accommodation
Accommodation is scarce and expensive ion Equatorial Guinea. When making your choice, always prioritize your safety and comfort.
How to Get There and Move Around
There are airlines operational in the country. The roads are also very fantastic as the government has invested heavily in them in recent years. You can get access to the mainland by roads too. The main means of transportation within the country are buses, taxis, and cars.
By air: There are seven operational airports in Equatorial Guinea with its main airport as Malabo International Airport.
The main airline is Ecuato Guneana de Aviacion. Other airlines are Jet Air, Iberia, Ethiopian Airlines, Turkish Airlines, etc.
By bus:
Buses are available at specific spots for movement around the country. However, if you can not stand to wait for them to be filled, or stand the overcrowding or you need more privacy, use the taxis or rent a car.
By car:
The roads are very accessible. You can either drive your car or get one from a car rental company. It is also wise to have a tour guide with you to handle the issues of bribery and extortion by officers.
By train:
There are no railway facilities in Equatorial Guinea.
By boat:
The major ports are in Bata, Malabo, Luba and Mbini. 
Visas:
Except you belong to one of the exempted countries, you need a visa and a valid passport to gain entry into the country. To get a visa, you would need a letter of invitation from a resident of the country. This is pretty difficult to get and at times, you would face the challenge of bribery and extortion from officers responsible for issuance of visas.
Digital Nomads and Remote Work
Internet connection is rather slow and a bit expensive in Equatorial Guinea. However, there are few cafes around where you can access a Wi-Fi connection.  
Internet and Mobile Operators
Some internet and network providers are:
VSat Satellite BroadBand
AfricaSat
Ku-Band Package
Gambling and Casinos
Casino gambling in Equatorial Guinea is legal and unregulated. There are about 10 Casinos in the country. Examples are:
Weed and Drugs
Cannabis may be illegal in Equatorial Guinea but that is just on paper. The people marijuana publicly and no one gets arrested. There is a common saying that Marijuana is all things to all men. It is also referred to as 'Sacred Weed' and you can get it from dealers for as low as $20.  
Health, Fitness, Gyms and Massage
In case of urgent medical care, some hospitals you can visit include:
Centro Medico La Paz
Hospital General de Bata
Hospital Malabo
  If you need a good gym to work out and say in shape, the following is recommended:
  Some nice spas that offer quality massage and body treatment include:
Grand Hotel and Spa Djibholo
Mwasi Beauty and Spa
Hilton Malabo
STDs and HIV
The prevalence rate of HIV/AIDS within the country is 5.2%. You should make extra efforts to ensure you are protected while engaging in sexual intimacy, especially with a stranger.
Stay Safe
Taking photos of any government properties is strictly prohibited without permission. Don't photograph airports, government buildings, or anything of military or strategic value.
Despite being a country with enough resources and the highest economic growth in Africa, Equatorial Guinea does not provide any legal certainty for foreigners working there.
See Also