Djibouti
Djibouti dating guide advises how to pick up Djiboutian girls and how to hookup with local women in Djibouti. Travel, enjoy and have fun with hot single girls and you might even meet the love of your life. Read more on how to date Djiboutian women, where to find sex and how to get laid in Djibouti, Africa.
The Djibouti Republic is a country located in the Horn of Africa is bordered on the south and west by Ethiopia, the Red Sea and the Gulf of Aden lie to the east of the country, Eritrea to the north and Somaliland which is a region that is being disputed on lies to the southeast. Somalia lays claim to this region which would make them the country lying to the east. Afar and Somali are the two major ethnic groups dominating the country with the Somalis forming the majority. Djibouti City is the capital of the country. Djibouti is a multilingual and multi-ethnic nation with Arabic and French as the official languages. Other ethnic languages being spoken are Somali and Afar. This country is known as an intersection for trade and commerce between other nations because it lies very close to the world's most used shipping lanes and has access to both the Red Sea and the Indian Ocean. Its location strategically places it as a nation with a huge presence of many foreign military bases. This also forms a major part of its revenue as nations would pay annually to maintain the presence of their military bases.
Djibouti Top 10 Overview:

Chance of picking up girls: 3 / 5

Picking up at daytime: 2.5 / 5

Picking up at nighttime: 3.5 / 5

Looks of girls: 4 / 5

Attitude of girls: 3.5 / 5

Nightlife in general: 3 / 5

Locals' English level: 2 / 5

Transportation: 3 / 5

Budget per day: US$100 - $525

Accommodation: US$65 - $420
Djiboutian Girls
With a mix of Africa and Arab both in looks and culture, the Djibouti ladies are one of the most beautiful girls on the continent. With oval faces, almond bright eyes, long pointed noses, pointed chin, set jaws, high cheekbones, and glowing chocolate skin tone, these women are naturally endowed. Most of them have slender tall frames but you can also find plump ones among them. They are very hospitable, gracious and friendly, especially towards tourists.
| | |
| --- | --- |
| | Looks of girls: 4 / 5 |
The average Djibouti lady is a tall, slender framed, gorgeous woman with plump lips that form a beautiful cupid shape when she smiles, laced with a set of white dentition. Her captivating bright eyes that are enhanced by the ray of sunshine in blue skies is one to certainly keep you desiring this natural beauty.
| | |
| --- | --- |
| | Attitude of girls: 3.5 / 5 |
Though Djibouti is a Muslim nation with a very conservative culture, these people are already very comfortable with having foreigners around. Tourism may still be in its infant stage but the presence of many military bases enables the locals to mix up with people of other countries and races. The Djibouti girls are reserved, maybe even shy, well cultured, gracious, hospital and friendly towards foreigners especially tourists.
Where to Get Sex Now
It is easy to get sex online in Djibouti. You just need to find the best available girls. See Girls Online Here!
How to Pick Up Girls
Djibouti is a pretty safe country; again thanks to the heavy presence of military officials. Hence, navigating around the country may not be much of a problem when it comes to security. As long as you avoid the borders and do not move or travel at night outside the major capital city also called Djibouti. French and Arabic are the official languages spoken in the country. Learning a few lines in any of these languages would certainly be of advantage to you.
Religion forms a major part of their culture. If you are a Muslim male tourist, you sure would meet certain pleasantness from the Djibouti lady. If not, just respect the culture and religious beliefs of the locals.
Picking up girls in Djibouti may not be as easy as it is in other Western countries. It is a Muslim country with a very conservative culture. The ladies here would not be seen openly flirting with you or trying to seduce you. Yet they are warm and accommodating so you have a fair chance of using this to your advantage.
| | |
| --- | --- |
| | Chance of picking up: 3 / 5 |
You have a fair chance of picking a Djibouti girl. These ladies are very gracious and friendly but would certainly not take kindly to catcalls or overtly sexual gestures from men.
Tips for Daytime
Djibouti during the day is pretty much like every other developing African country. The level of growth and development of infrastructural amenities is still on the low so you would not expect the usual hustle and bustle that is usually characterized by big cities. However, they have formed their own lives around agriculture and livestock herding. The climate can be very warm during the day; western clothing is allowed so you can dress casually. However, as a Muslim country, overexposure of the body would surely be frowned upon.
The best way to meet a Djibouti lady during the daytime would be to visit any of its popular tourist centers. You can always get a tour guide to take you around the city, except you already know your way around. Stick to paved roads, as there are still risks of getting caught in land mines. Show respect especially to the culture and do not carry an air of superiority. Look and smile nice and just be a perfect gentleman. You would be easily accepted that way.
| | |
| --- | --- |
| | Chance of picking up at daytime: 2.5 / 5 |
You have a very average chance of meeting and picking up a Djibouti lady during the day. If you visit any of the popular tourist centers, if you are a Muslim and if you speak any of the official languages, you have a higher chance. Most of the ladies that you will be able to pickup during the day would most probably be tourists.
Best Places to Meet Girls
Below are some of the very exciting places you must both see in Djibouti as a tourist and also visit to get your dream girl from Djibouti:
Lake Abbe: This natural salt lake is a great place to meet a Djibouti lady.
Lake Assal: This lake, also called Honey lake has the largest salt concentration in the world. This is a cool place to meet your dream Djibouti lady.
Hamoudi Mosque: This mosque which was built by an Arab businessman is a nice place for you to see. Just outside, you are likely to find a Djibouti beauty.
Khor Ambado Beach
Maskali Island
Tips for Nighttime
Nighttime in Djibouti is also pretty safe. Still, it is advisable not to carry around valuables while moving around or you could be a victim of pickpockets.
You can always dress casually at night. The people of Djibouti are not excessively given to vanity, and that includes the ladies. Though you can find the local men and women wearing their jellabiya and jilbab, western clothes are still very much accepted.
Djibouti is a country with beautiful landmarks and cool cities. However, due to its very conservative culture, the nightlife here is not as groovy or noisy as other countries. The major bars and clubs are mainly situated in Djibouti City, which is the capital of the country. Elsewhere, you can find people chilling in restaurants and cafes.
If you would want to have a great time at night, you would have a better chance of doing so in the capital city. Look good and have a little knowledge of French and Arabic to make conversation easier. Renting a car to help with the mobilization of you and your date would also be a good idea.
| | |
| --- | --- |
| | Chance of hooking up at nighttime: 3.5 / 5 |
You have a decent chance of hooking up a Djibouti lady at night; better than during the day time where they may be more focused on school or petty business. At night, there is a more relaxed atmosphere and despite the conservative culture, you would find some ladies who are out to have a good time. Prostitution is also on the increase in the country so be careful who you interact with; to differentiate the local girl who just wants to have fun and those who do so as a source of income.
Best Nightclubs to Meet Girls
If you take a visit to the cities of Djibouti, especially the capital city, you are sure to locate pubs, clubs, and bars where you can have a good time, as well as meet your date from the country. Some best places to visit in Djibouti at night are:
Le Palmier en Zinc: This exciting pub offers cocktails, beers, good music, and veggie dips. It is a great place to meet your Djibouti date.
L'Historil: This is Djibouti's most respected bar. You are certain to find a beautiful lady from Djibouti here.
Le Scotch: This is also another cool spot in Djibouti where you can get a date. It is a club that offers a captivating ambiance and good music.
| | |
| --- | --- |
| | Nightlife in general: 3 / 5 |
Nightlife in general in Djibouti is not as noisy as it is in other countries. Yet these people do have their fun time at night. The cities, especially Djibouti City are alive with clubs, bars, and pubs at night. You should expect nice cocktails, chilled drinks, lively music, red lights, amazing ambiance, karaoke, good food, etc. You can also get warm tea and coffee. Like they say, 'Tea is to Djibouti as Whiskey is to the American.'
Mature Ladies and Cougars
The people of Djibouti are quite reserved. Child marriage occurs but not so much on the rise. It is not impossible, yet pretty difficult to hook up with a mature lady. Most of the ladies aspire to get married before the age of 30 and even if they do not, it is frowned upon for them to live alone. Though they have had a job. So it is not very likely for you to hookup with mature women. However, you should not lose complete hope and apart from making conversation with older women in person at different places, you should also make good use of online dating platforms. As these platforms guarantee discretion, most of mature women willing to hookup and have fun will be on these platforms.
Regions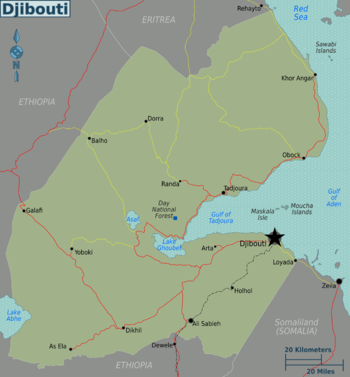 Cities
Dating
When visiting Djibouti, dating can be a fun and interesting experience. AdultFriendFinder.com, lets you meet local members in Djibouti and get to know them on a personal basis before you arrive. It just takes a few minutes, you simply create an account, upload a few images and tell a little about yourself. Since time in your destination may be limited, get to know each other's desires beforehand so when you do meet, you can skip the awkward introductions and start having some real fun.
Top Dating Tips
The most important tip to note while dating in Djibouti is to be conscious of and respect the cultural and religious views of the people. Your date would certainly be impressed by this. You do not have to show so much wealth and affluence; these people prefer it on the low.
You can dress to impress but you should also avoid overexposure of your body. Look good and smell nice. Speak intelligently, although you have to consider that about 60% of the women in Djibouti are not fully educated. Center your conversation on your gorgeous date and the beautiful culture of her people. Learn a bit of French and Arabic to make your conversation easier.
Djibouti is a poor but developing county. It would be great if the interaction is mutually beneficial; especially financially for your date. There are very many beautiful places to see in Djibouti and take your date around. If you have issues finding your way around, it would be great to rent a car and hire a driver.
Relationships and Love
Thousands of single women in Djibouti are searching for a partner and potential future husband. Check out an ultimate guide for dating local girls, relationships, love and marriage: Relationship & Love Guide to Djibouti
Online Dating
Though the ladies of Djibouti are conservative, they still do belong to online dating sites. Some popular online dating sites in the country are:
Tinder: This app helps connect people from all over the world. It is one of the trendy online dating apps used in Djibouti.
Datememe: This online dating site is filled with genuine members who are ready to mingle and find love! It is easy, quick and 100% free.
Loveawake: This is a premium online dating site in Djibouti where singles from allover connect.
Mingle2: This is a 100 % free Djibouti dating site for single men and women. Sign up for free!
Badoo: This is another trendy online dating app used by the beautiful ladies of Djibouti.
Live Cam Dating
Are you looking for virtual satisfaction in Djibouti? Chat with live web camera models and find the best girl for your needs. There are thousands of girls online 24/7 waiting for you: Live Cam Girls
What Kind of Guys Have the Best Chances
The guys who have the best chances in Djibouti are the good looking but polite, respectful and friendly ones. The locals here are very friendly so you should reciprocate. If you speak a bit of Arabic and French, you have a better chance. If you practice Islam, you are most likely already connected to your date on the matters of religion. If you have the financial capacity to not just give her a good time, but increase her financial status afterward, your chances are higher. Along with that, those who use online dating platforms regularly, will have more chances of finding a suitable partner during their stay.
Risks while Gaming
One of the major risks while gaming would be cultural and religious differences. There is also the issue with communication; except of course if you speak Arabic, French or any of the local languages. The people of Djibouti are quite accustomed to foreigners and are very receptive and friendly so you won't probably face any challenges regarding being accepted. Since it is a muslim country with a conservative outlook, before you approach a lady you should make absolutely sure that she is not accompanied by a male member of the family.
How to Get Laid as Soon as Possible
Getting laid as soon as possible would require you hitting the clubs, bars, and pubs at night where the atmosphere is more relaxed and the ladies are in the right mood for a good time. However, be careful to differentiate the sex workers from the local Djibouti girls out in search of a good time or companionship. Along with that, scour online dating platforms to enhance your chances of picking up women in Djibouti.
Gold Diggers and Sugar Babies
Djibouti is full of hot girls looking for a mutually beneficial hookup with travellers. There are lots of girls who don't charge by the hour but who will do anything for a guy who is willing to help them pay their bills. If you are looking for a more personal and less transactional alternative to escorts, a good place to find these sexy open-minded girls in Djibouti is SecretBenefits.
Djibouti is not common among tourists. Tourism is at its infant stage within the country.
Swinging and Naturism
As a conservative Muslim country, there are no known swinger clubs or nudist activities. If any of this exists, it must be done with the utmost discretion. Your only chance is to browse online to find any swinger communities that might exist in the country.
Costs of Living
The cost of living in Djibouti is considerably cheap and affordable for you as a tourist but this would also depend on your taste and preference. Accommodation will take up the largest chunk from your daily budget.
| | |
| --- | --- |
| | Single traveler's budget per day: US$ 100- $525 |
As a tourist, make a budget of about $100-$525 per day. This would however largely depend on your taste, need and preference.
| | |
| --- | --- |
| | Accommodation per night: US$65- $420 |
There are cool hotels with beautiful ambiance, good and working amenities and functional services. However, the cost per room may be high. You can get a place to stay at for anywhere between $65 to $420 per night.
| | |
| --- | --- |
| | Beer in a grocery shop: US$2 - $5 |
Alcohol is allowed in the country. However, it must be done discreetly. It would be frowned upon if a foreigner is seen drunk on the streets. Budget $2-$5 per bottle of beer. Though, this will depend on the brand and the size.
| | |
| --- | --- |
| | Beer in a bar or restaurant: US$4 - $6 |
Cost of beer per bottle in bars and restaurants are quite affordable. Make a budget of $4- $6 per bottle.
| | |
| --- | --- |
| | Meal in a restaurant: US$5 - $50 |
Your budget per meal would largely depend on your choice of cuisine; either local or western. Meal at local fast food chain would cost you as low as $5, whereas a fancy fine dining restaurant can charge you as much as $50 for a proper meal.
Accommodation
There are very nice hotels in Djibouti. However, the cost of staying in such hotels that offer premium services is high. You can book a room anywhere from hostel and dormitory to a luxurious 5-star hotel. Airbnb is also available in the country and usually has good deals.
How to Get There and Move Around
The different means of transport in Djibouti into the country are airplanes, buses, cars, trains and taxis are used to move around the country. Though the roads are bad and poorly maintained. Avoid driving at night because there are also roadblocks placed by the police that you may not see at night.
By air:
Djibouti Ambouli International Airport is a connecting platform for Djibouti and Dubai. It also has flights to other countries. All the tourists travel to and from the country using this airport.
By bus:
Roads are leading into the country from Eritrea. Buses move from Djibouti City to other towns and villages within the country.
By car:
There are also car rental companies where you could rent a car to use during your stay. However, you have to apply caution as the roads are bad and poorly maintained.
By train:
A new railway line has been designed to link Djibouti with other countries, but there are no local trains to travel within the country or even within a city.
By boat:
Djibouti is one of the most trafficked ports in East Africa. Some ferries can take you to Yemen. A reliable passenger boat operates twice weekly between Djibouti City and Tadjoura and between Djibouti City and Obock, north of the Gulf of Tadjoura.
By taxi:
Taxis are one of the main ways for movement within the country. Prices are quite affordable. You can easily get a taxi to travel from the airport to the town and the rates are fixed.
Visas:
If you are not a citizen of any of the exempt countries, you need a visa before entering the country. You should also have a validated passport whose validity would last 6 months after your arrival into the country.
Digital Nomads and Remote Work
Internet connection is fairly effective in the country. There are also internet cafes in the capital city. Outside the capital city, you would hardly find an internet cafe. Wireless networks are free and easily accessible in most hotels in Djibouti. The cost of living for a tourist can be a problem due to the expensive accommodation options. The fluctuating security situation in the country is a big question mark. Hence, the country is not an ideal place for digital nomads and remote workers.  
Internet and Mobile Operators
Some internet and mobile operators in the country are:
Djibouti Telecom
VSAT Satellite BroadBand
One Web Broad Band
Gambling and Casinos
As a Muslim nation, gambling is largely prohibited because according to Islamic beliefs, a Muslim should not get wealth via gambling, neither should he use it as a form of leisure. There are about 3 casinos, 2 of which are only opened to Tourists and foreigners. Locals are disallowed from gambling. These casinos include:
Kempinski Hotel and Casino
Aden Bay
Weed and Drugs
Growing and use of cannabis are illegal in Djibouti and these substances are very rare in the country for certain reasons. Due to the country's terrain, it is quite difficult to grow this substance domestically. Again, Djibouti is a khat county. 98% of the local men of Djibouti chew khat leaves. Its use is legal and acceptable. You will however not find it difficult to locate a dealer who could provide you with weed and other drugs, but since their use is illegal in the country, it is advised that you should stay away from any activity involving drugs.
Health, Fitness, Gyms and Massage
In case of urgent medical care, some hospitals you can visit include:
Hospital Peltier
Hospital Military Djibouti
FK Medical
If you need a good gym to work out and say in shape, the following are recommended:
Thunderstorm Arena
Camp Lemonnier Gym
MWR Gym
Some nice spas that offer quality massage and body treatment include:
Kempinski The Spa-Djibouti
Djibouti Palace
Kempinski Acacias Hotel
STDs and HIV
As of 2018, the percentage rate of HIV/ AIDS among adults between the ages of 15-49 was 1.2%. Even though the numbers are not too high, it is advised that you should always use protection when engaging in sexual intercourse with a stranger in the country.
Stay Safe
Natural hazards include earthquakes and droughts. Occasional cyclonic disturbances from the Indian Ocean bring heavy rains and flash floods. Visitors should be aware of the risk of banditry outside the capital city. Crime rate towards tourists is pretty low; still do not carry valuables around or cameras as if you are caught photographing structures or buildings; your camera can get confiscated. If you must carry a camera around, let the purpose be to take pictures with your date.
See Also